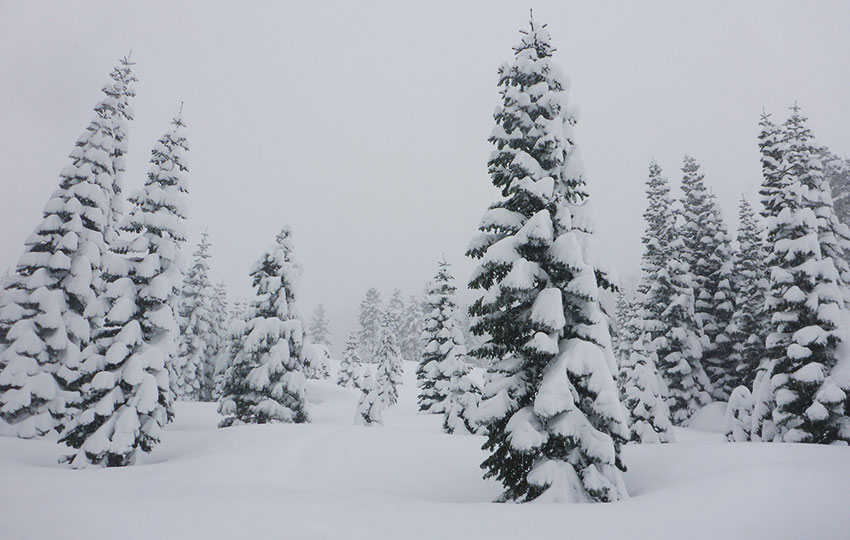 People have been cross-country skiing at Lake Tahoe since the mid-1850s. The incredible Snowshoe Thompson is one of the most notable people to ever ski in the Lake Tahoe region. For 20 years, Snowshoe Thompson transported mail across the Sierra Nevada Mountains. His 180-mile, 5-day round trip journeys extended from Genoa, NV, to Placerville, CA. Over 160 years later, cross-country skiing is still thriving at Lake Tahoe.
The cross-country ski terrain on the south shore of Lake Tahoe ranges from flat and easy to steep and strenuous. Please note, though, that you'll mostly find off-track and backcountry cross-country skiing areas around South Tahoe.
---
Support Tahoe Trail Guide with a financial contribution via PayPal (single contribution) or Patreon (reoccurring contributions). Your support of Tahoe Trail Guide is very much appreciated!

Become a Patron!
---
So, be prepared to embrace your inner Snowshoe Thompson when cross-country skiing in South Tahoe!
What I'm really trying to say is that you'll find plenty of winter adventure while cross-country skiing in South Tahoe. However, you'll need to be aware of your surroundings and limitations.
Snow travel can be strenuous and dangerous no matter how "easy" it looks.
Just an FYI … the only groomed areas in South Tahoe are:
Kirkwood XC
Camp Richardson
Lake Tahoe Community College (LTCC)
Spooner Lake Area
Unless Lake Tahoe is experiencing a huge winter, Camp Richardson, Lake Tahoe Community College, and the Spooner Lake area are not very dependable for having groomed terrain. So, before rushing out to cross-country ski at any of these locations read their descriptions below.
Considerations for Your Cross-Country Skiing Adventure in South Lake Tahoe :
Always be avalanche aware when traveling through mountainous snow country as is found at Lake Tahoe.
Assess the risks, weigh their consequences, know your limits, and be conscious of your decisions before taking action.
Leave your winter adventure itinerary with a responsible person who'll take appropriate action if you don't return at your prescribed time.
When in doubt, turn back.
Dress in layers in order to shed or add on articles of clothing.
Wear appropriate footwear and gloves for the winter conditions.
Carry the necessary safety gear for your specific adventure and know how to use it.
Stay adequately fueled and hydrated.
When parking, don't block traffic or Forest Service gates, and don't impede snow removal vehicles while they're operating.
Always practice the Leave No Trace Seven Principles.
Keep your dogs on a leash and pick up after them.
Public lands are for everyone.
Click for a more comprehensive look at considerations when traveling in the backcountry during the winter at Lake Tahoe.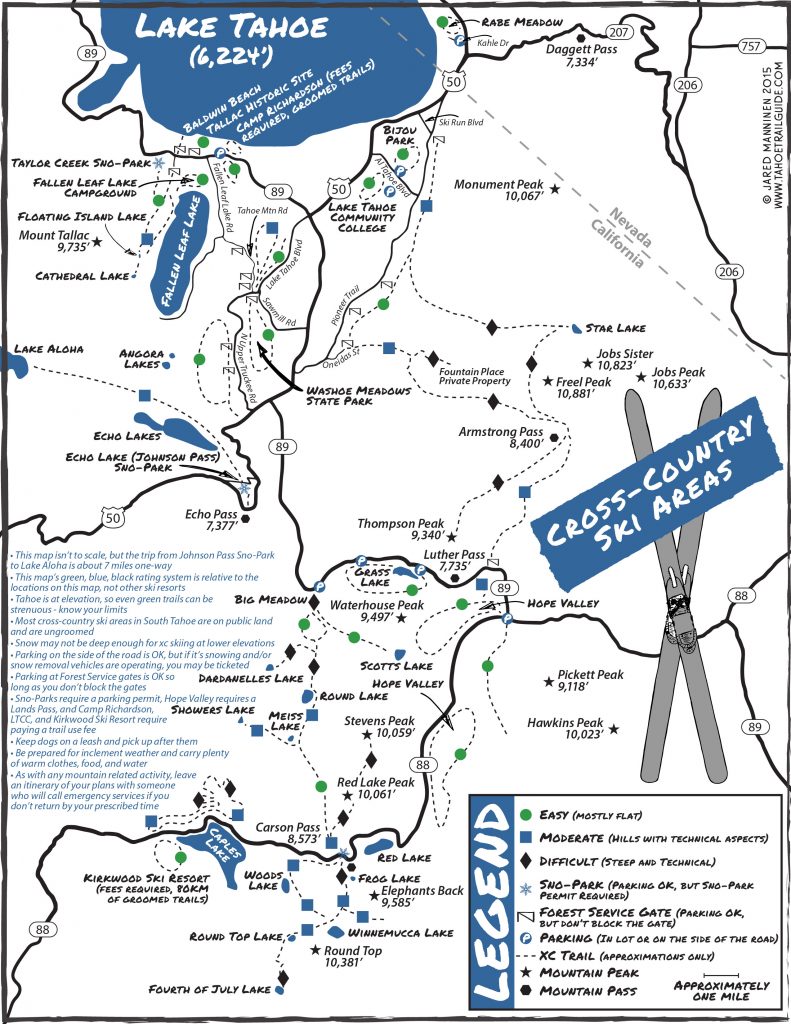 The rating system I've used on the map above is dynamic. Depending on snowpack, weather conditions, and your skill level, an easier location (i.e. green dot) may actually be quite challenging. Also, the map is of my own creation and not necessarily to scale
Green Dots = Easier terrain
Blue Squares = Moderately strenuous terrain
Black Diamonds = Steep and dangerous terrain
South Tahoe Cross-Country Ski Areas
Listed below are general areas in which to cross-country ski in and around South Lake Tahoe.
Again, there are very few locations that actually featured groomed terrain. So be prepared for off-trail and backcountry adventures when cross-country skiing in South Tahoe.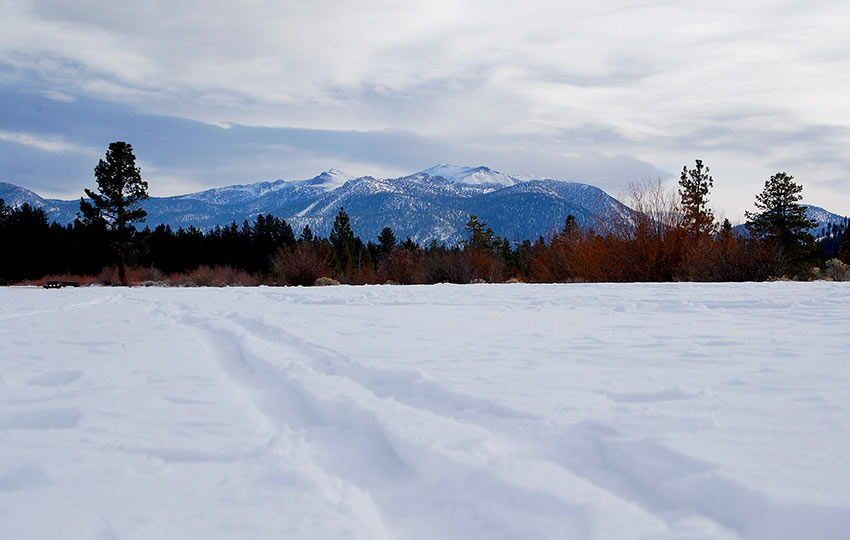 Fallen Leaf Lake Area
There are many locations to cross-country ski near Fallen Leaf Lake and along State Route 89 north of the "Y" (intersection of HWY 50/SR 89).
On the lake side of SR 89 you'll find terrain that's mostly flat and consists of shorter trails. These areas include Baldwin, Kiva, and Pope Beaches. Also, the Taylor Creek Visitor Area and the Tallac Historic Site offer beginner cross-country skiing terrain.
Camp Richardson (no pets, trail pass required) has groomed trails once the snowpack reaches two feet.
On the mountain side of SR 89, you'll find Mount Tallac Road, leading to Floating Island and Cathedral Lakes. And, the Taylor Creek Snow Play Area (Sno-Park permit required) provides access to Cathedral Meadow and Fallen Leaf Campground.
Keep in mind that all of the places along SR 89 north of the "Y" are at lake level. This means that they usually don't feature enough snow early or late in the winter in which to cross-country ski.
Fortunately, all of the above mentioned areas are easily accessible from SR 89 so you can assess them quickly for snow levels.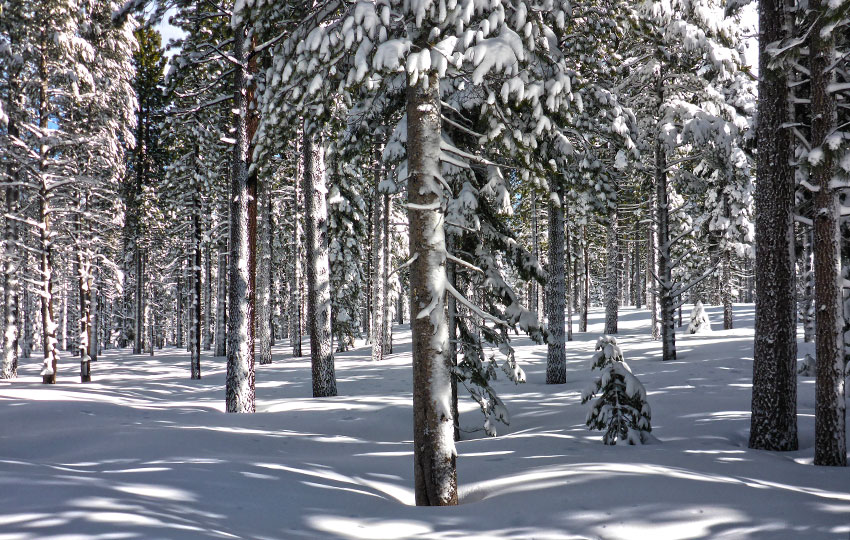 Meyers
West of the HWY 50/SR 89 intersection (the "Y"), you'll find many easy to moderate areas in which to cross-country ski. Locations to cross-country ski in this area include Washoe Meadows State Park, Tahoe Mountain, and the Angora burn area.
Drive along Lake Tahoe Boulevard west of the "Y." Then scout around Tahoe Mountain Road and North Upper Truckee Road (and adjacent streets) to find a Forest Service gate at which to park. Don't block the gates, and avoid parking in a manner in which you'll block traffic or impede snow removal operations.
The Lake Tahoe Golf Course is located adjacent to Washoe Meadows State Park on its east side (separated by the Upper Truckee River). Access the golf course via HWY 50). Keep in mind that Tahoe Snowmobiles operates a snowmobiling operation (basically a loop at the golf course) during the winter (snow permitting). So, it can be a bit noisy if they are busy. However, they need a lot more snow on which to operate than cross-country skis so xc skiing at the golf course early and late in the season is recommended.
Please note that the above mentioned areas in Meyers are close to being at lake level. Again, these locations may not have enough snow to cross-country ski on until later in the winter.
Also note that many of the Forest Service gates and spots in which to park for accessing cross-country ski terrain in Meyers are located within residential areas. So be courteous to locals and avoid trespassing on private property.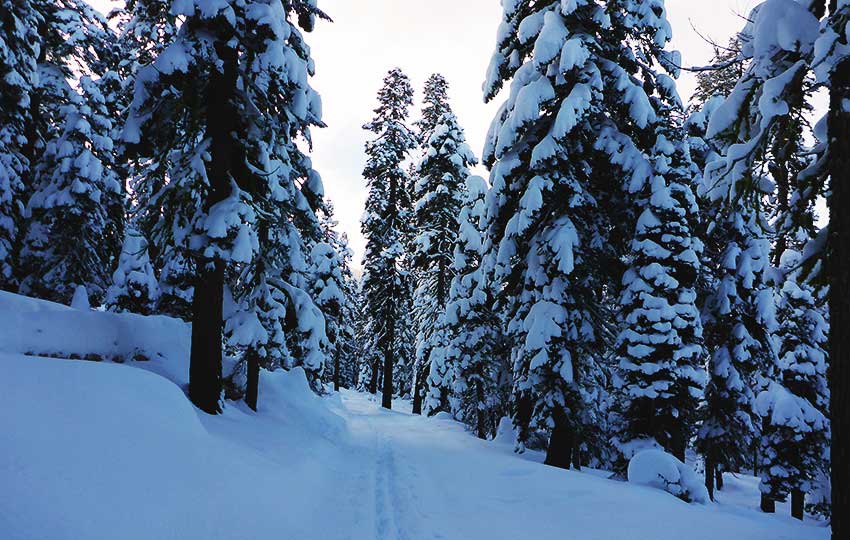 Echo Summit
On Highway 50, drive through Meyers and head just west of Echo Summit (as if you were going to Placerville). Then, turn right onto Johnson Pass Road (west side of summit). Drive up this road and park at the Echo Lakes Pass Sno-Park (Sno-Park permit required).
From the Echo Lakes Sno-Park, you can cross-country ski to Echo Lakes and further into Desolation Wilderness (i.e. Lake Aloha and beyond).
For travel from the Sno-Park to Desolation Wilderness, I recommend simply sticking to the main road that leads to Echo Lakes. Trying to actually follow the PCT/TRT, for example, may be more hassle than it's worth. And, you risk trespassing on private property.
The road to Echo Lakes isn't plowed in the winter. So, be sure to factor the extra time it takes you to cover that distance into your plans.
Another option for cross-country skiing out of the Echo Lakes Sno-Park is to travel south along the Forest Service Road that bisects Echo Summit. The route I've outlined is relatively short, but it's satisfying when you don't have much time or a storm is quickly approaching.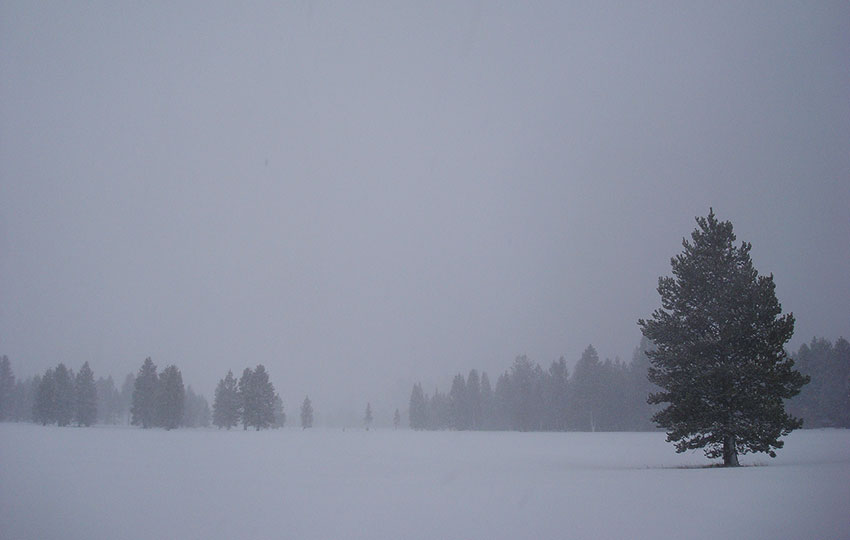 South Lake Tahoe (City)
Lake Tahoe Community College (LTCC) grooms about 5km of trails when snow permits.
Neighboring Bijou Community Park is ungroomed, but the park's terrain is flat.
Both locations are located centrally in South Lake Tahoe, which means they're also at lake level. So, the big challenge for cross-country skiing at either of these locations is whether or not enough snow has accumulated to warrant the use of skis. You may need to wait until winter is well underway to cross-country ski at either of these locations.
You may find more cross-country skiing options nearby along Pioneer Trail or at the end of Oneidas Street. Park at one of the Forest Service gates on either road and cross-country ski off-trail and toward the mountains.
Again, don't block the gates. And be courteous to locals as many of the locations at which to park along Pioneer Trail and on Oneidas Street are located within residential areas.
Stateline
Rabe Meadow, which is located at Kahle Drive, is convenient because of its proximity to town. However, the meadow is so close to the lake and located on the east side of the Tahoe basin. So, usually Rabe Meadow is only good for cross-country skiing when winter is in full swing.
A note about snow in the Tahoe Basin … snow travels across the Tahoe Region from the west. And it tends to dissipate quickly once it passes Echo Summit and the accompanying ridge. This generally leaves the eastern side of the Tahoe Basin with far less snow than the western side.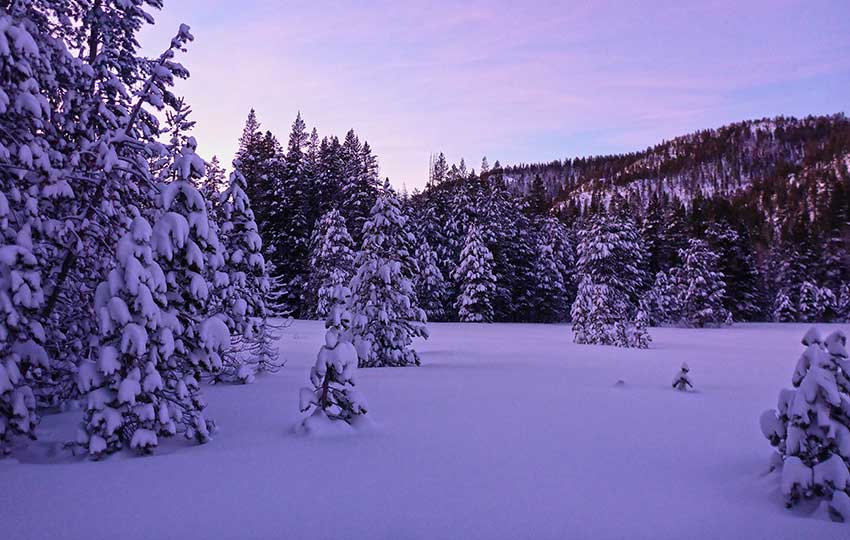 Luther Pass
Luther Pass (Grass Lake) is one of the most popular locations for cross-country skiing in South Lake Tahoe.
Parking is free and abundant along State Route 89 on Luther Pass. Grass Lake (on Luther Pass) is flat, making it a perfect location for beginner cross-country skiers. And, Luther Pass is located at a higher elevation than other places around South Lake Tahoe so it accumulates snow earlier and holds it longer during the winter.
The times I find Grass Lake to be most beneficial for cross-country skiing is at the beginning and ending of the winter, as well as during storms. Or, if I just want to hammer out a quick evening workout (two miles from end-to-end), I'll head up to Luther Pass.
Due to its close proximity to SR 89, you can get in and out of the "backcountry" at Luther Pass easily. This is why I like cross-country skiing here during storms and in the evening.
Big Meadow, which is on the very north side of Luther Pass (and downhill from Grass Lake), has some moderate climbs until you reach the meadow.
Parking and access can be problematic at the Big Meadow trailhead due to high snowbanks and there being only a handful of pullouts at which to park. Occasionally someone will take it upon themselves to carve out snow steps when the banks are high.
I prefer to cross-country ski at Big Meadow closer to spring, when the snow has receded back from the roads and parking/access to the trailhead is more dependable.
In the meantime, I'd recommend heading to Grass Lake.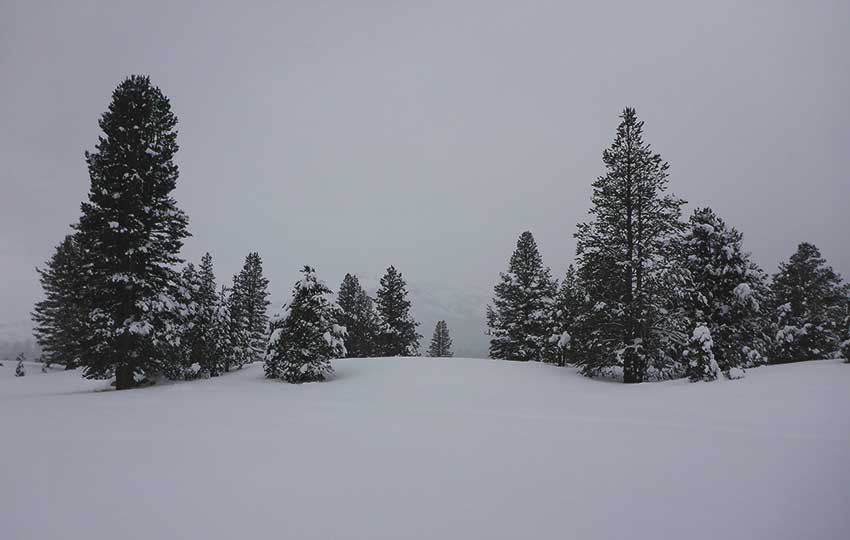 Hope Valley
Hope Valley is arguably the most popular locations at which to cross-country ski in South Lake Tahoe. The terrain is primarily flat, there's plenty of places to explore, and it's an ideal location for beginner and recreational cross-country skiers.
However, Hope Valley sits at a lower in elevation than nearby Luther Pass and Carson Pass. So, it can take some time for enough snow to accumulate for cross-country skiing in Hope Valley.
There are multiple locations at which to park in order to cross-country ski in Hope Valley. This is great for the sake of being able to find a spot at which to park. However, you need to know where you're planning to park beforehand.
There are two different and distinct paying options for parking in Hope Valley during the winter. And, they both require you to pay in advance.
To reiterate … there are no options for paying for parking anywhere in Hope Valley. Come prepare with either (or both) a Sno-Park permit or a Lands Pass.
For parking and cross-country skiing out of the Hope Valley Sno-Park on Blue Lakes Road, you'll need a Sno-Park permit. You need to purchase it in town or online.
For parking near Pickett's Junction (intersection of State Routes 88/89), you'll need to have a Lands Pass only available for purchase online from the California Department of Fish & Wildlife. Valid CA hunting and/or fishing licenses also are acceptable.
Please note that the Lands Pass needs to be carried on your person, while the Sno-Park permit needs to be displayed in your vehicle.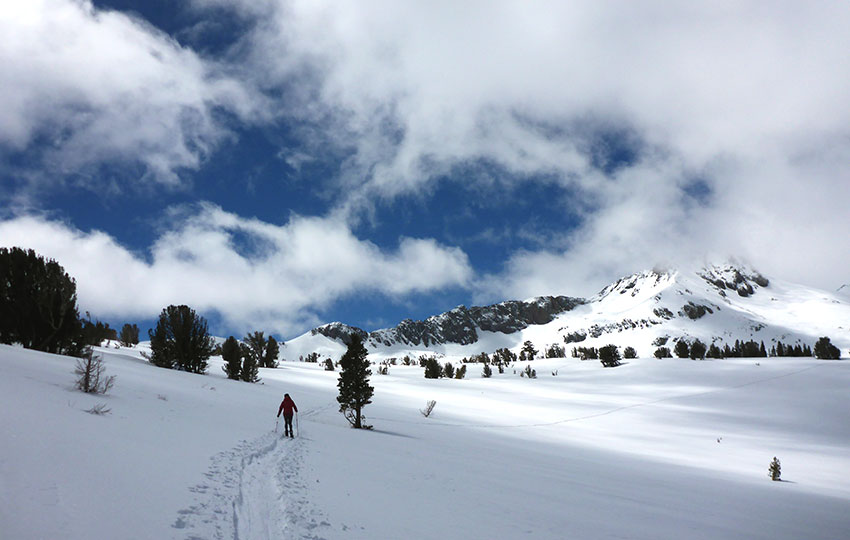 Carson Pass
Carson Pass is a very popular location for cross-country skiing, snowshoeing, and alpine touring. Whether you adventure on the north or south side of SR 88, Carson Pass features challenging uphill climbs and diverse terrain.
Carson Pass is an extremely popular location at which to have a winter adventure. However, if you're not savvy cross-country skiing in diverse (and somewhat technical) terrain or relatively physically fit, save this area for when you gain more experience.
That said, once you negotiate the first mile or so (traveling either south or north of the Carson Pass parking area), the trails will only be as technical as you want them to be. After those initial climbs, the terrain opens up and you can pick whatever line you want to cross-country ski.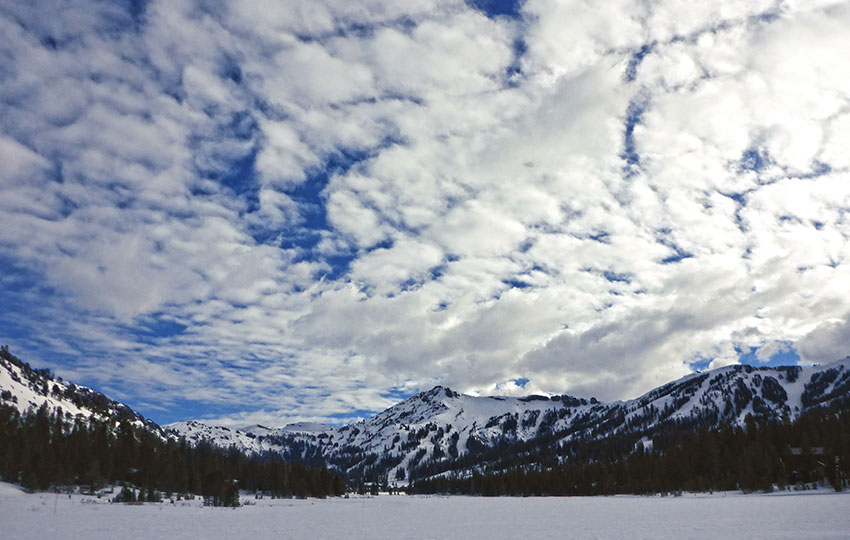 Kirkwood Ski Resort
Kirkwood Ski Resort, further west on SR 88, has a cross-country ski area (trail pass required, dogs only on designated trails) and rental/retail shop. The cross-country ski area boasts 80km of groomed trails (in optimal winter conditions) and features easy to advanced routes along their trail system.
My recommendation is to call ahead for grooming and accessibility. Kirkwood has a tendency to receive a lot more snow that other areas around South Tahoe. So, the roads may temporarily be closed or the xc area may not have been recently groomed.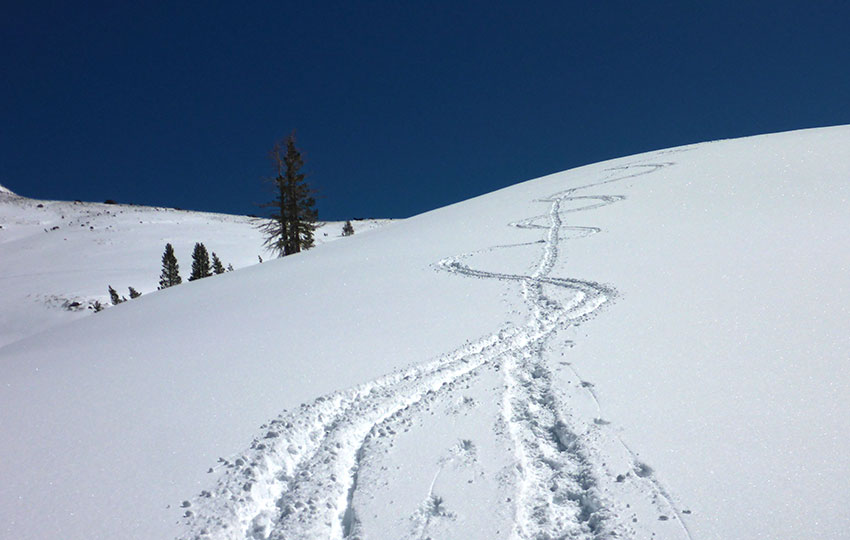 ---
Cross-Country Skiing Explained Articles and Videos
Please note that I wrote and produced the Cross-Country Skiing Explained series of articles and videos with the beginner and intermediate cross-country skier in mind. This is the demographic for whom I most often serve(d) while working in the outdoor recreation industry at Lake Tahoe. I basically treat these articles and videos as extensions of the conversations that I have (had) with those customers.
That said, expert skiers probably could take away something of value from these resources. Just know that I don't address race-oriented philosophy, technique, or gear selection.
Considerations for buying cross-country ski gear (new and beginner xc skiers)
Classic Cross-Country Ski Components
Waxing Your "Waxless" Cross-Country Skis (for beginner and intermediate xc skiers)
Cross-Country Skiing Techniques, Demonstrations, and Related Concepts