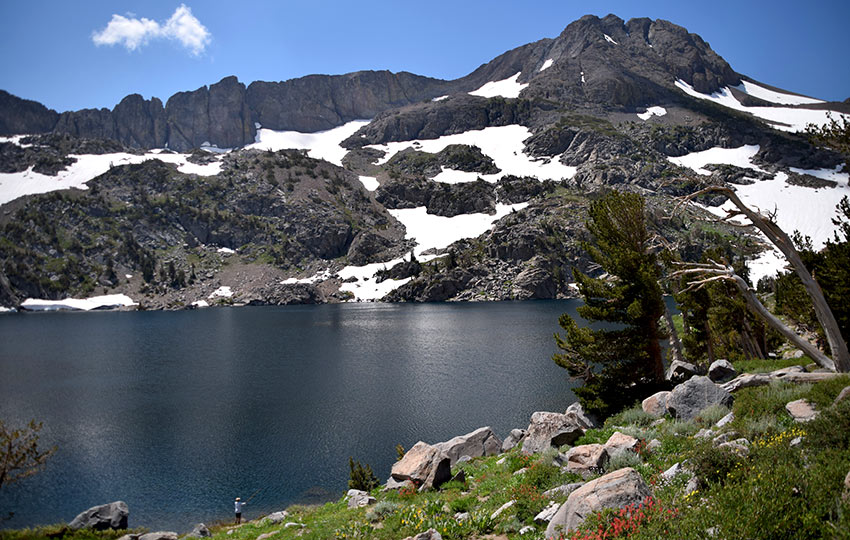 The hike to Winnemucca Lake is one of the quintessential hikes of South Tahoe, especially when it comes to searching for summer wildflowers. Not only is the hiking trail to Winnemucca Lake a favorite by long-time Tahoe locals, it's a mecca for wildflower enthusiasts from Sacramento to the Bay Area.
Hiking to Winnemucca Lake is relatively short at 5 miles round-trip, but it's a highly rewarding adventure. In addition to seeing numerous species of Sierra Nevada Wildflowers, you'll see excellent views in all directions.
---
Support Tahoe Trail Guide with a financial contribution via PayPal (single contribution) or Patreon (reoccurring contributions). Your support of Tahoe Trail Guide is very much appreciated!

Become a Patron!
---
From various aspects of the Winnemucca hiking trail, you'll be able to locate Elephants Back, Round Top, The Sisters, Caples Lake, Little Round Top, Red Lake Peak, and Freel Peak (in the distance). You'll also travel past Frog Lake, which is a nice place to take a short break.
I believe the primary draw for hiking to Winnemucca Lake during summer months is the incredible display of wildflowers. This is not surprising to me as the area features so many species, and many can bloom well into the late summer (sometimes you just have to hike a little higher up and past the actual lake).
Scroll to the bottom of this article to see a photo gallery of Winnemucca Lake wildflowers. Also, there's information about finding wildflowers at (and on the trail to) Winnemucca Lake.
There's decent fishing at Winnemucca Lake in the summer, and you'll be on the right track traveling along this trail if you're hiking either the Pacific Crest Trail or Tahoe-Yosemite Trail (just know they diverge at mile 1.3).
If, for whatever reason, you don't have the time or energy to make it all the way to Winnemucca Lake, hiking to Frog Lake and then just returning to the Carson Pass Information Center is an option. You may want to consider this idea if you're hiking with really young children or elderly folks.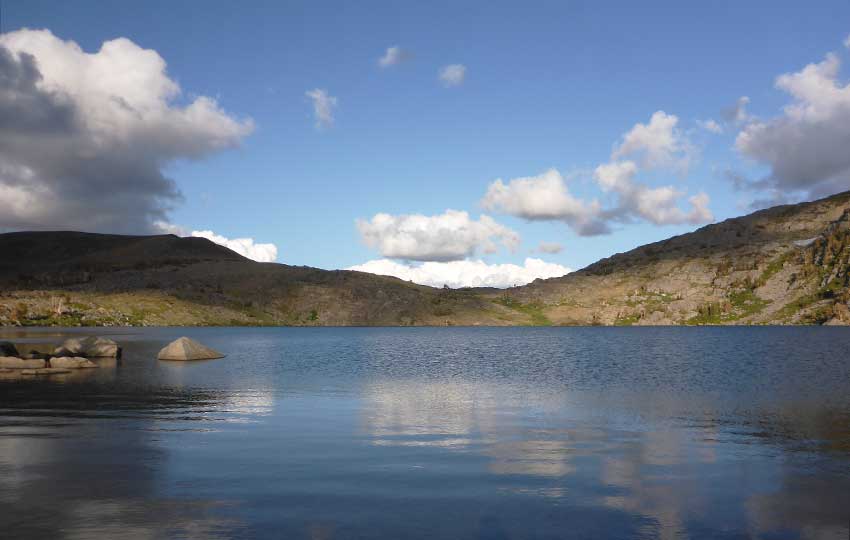 Another aspect to consider before heading to Winnemucca Lake is the previous winter's snowpack. Carson Pass is famous as a backcountry ski destination. Not only does Carson Pass receive snow early in the season, it also holds it late into spring (and summer).
For example, my 136th and final day of cross-country skiing for the 2018/19 winter (which was epic!) was on June 13, 2019. I only skied to Elephants Back that day to make a bunch of fun downhill turns. However, I could've easily went all the way to Winnemucca Lake. Roughly 90% of the trail was covered in snow beginning at the Carson Pass Information Station.
So in the winter, this route provides access to great (but) technical cross-country skiing. The same goes for backcountry alpine skiing, namely at Elephants Back and Round Top.
Visit XC Skiing & Snowshoeing to Winnemucca Lake for specific details regarding winter travel to Winnemucca Lake.
Winnemucca Lake Hiking Trail Data (approximations):
Location: South Tahoe – Carson Pass
Category of Hike: Short Hike, Day Hike
Total Mileage: 5.0 miles
Total Elevation Gain: 600 feet
Highest Point: 9,100 feet
Trail Conditions: Hard-packed soil with exposed rocks and roots
---
For other shorter hiking options, visit Short and Easy Hikes in South Lake Tahoe.
---
Considerations for Hiking Winnemucca Lake Trail:
Parking for the Winnemucca Lake hiking trail is at the Carson Pass Information Station and costs $5 (as of 2019) between May 31 – October 31 (best to bring cash)
Between November 1 – May 30 every year, the parking lots at Carson Pass officially become Sno-Parks and require a Sno-Park permit (purchase day or season permits in town before traveling to Carson Pass)
Admire, study, and take photos of the wildflowers, but don't pick them
Keep in mind that at Carson Pass snow arrives early and stays late, so check the trail conditions prior to arriving
Please note that snow arrives early Carson Pass and stays late, so check the trail conditions prior to arriving
Adhere to all Leave No Trace principles
There are few trail signs and markers on public lands in the Tahoe region, so unless there are tracks to follow, the correct route may be difficult to identify – when in doubt, turn back
Be prepared for inclement weather by carrying warm clothes, food, and water
Leave an itinerary of your plans with someone who'll call emergency services if you don't return by your prescribed time
Dogs are allowed, but keep them on leash and pick up after them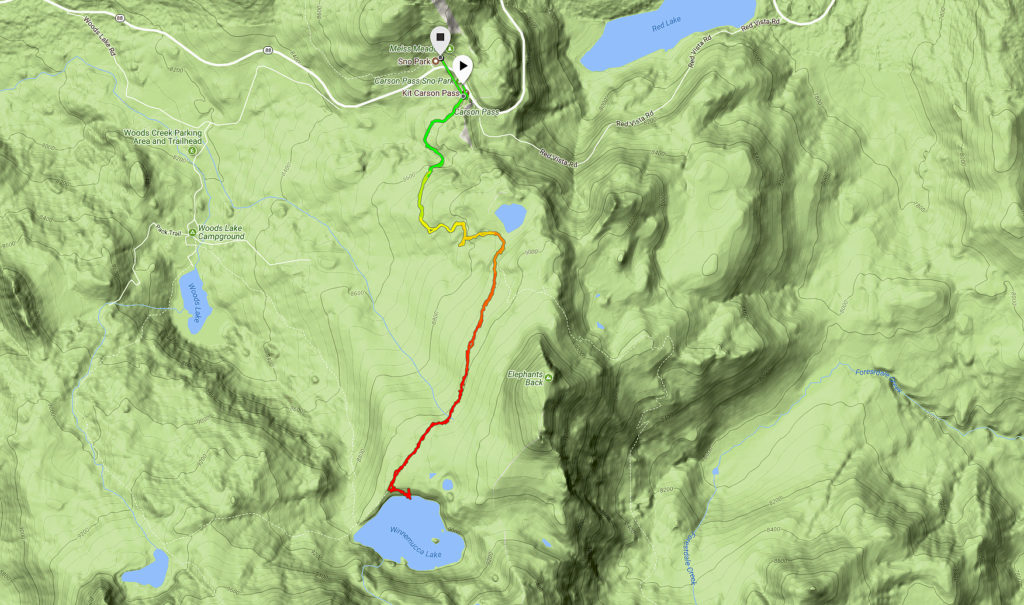 Parking Directions for the Winnemucca Lake Hiking Trail:
Park at the Visitor's Center/Sno-Park at the top of Carson Pass in order to travel south.
There's another parking lot just around the corner on the north side of State Route 88. However, only use it if the Visitor's Center lot is full or if you plan to travel north from Carson Pass. Crossing the road can be dangerous due to the serpentine nature of State Route 88 and resultant blind corners.
In the summer (May 31 – October 31) you'll need to pay a day-use fee (at the south or north parking lots), which was $5 in 2019. Probably bring at least $10 in cash ($5 and $1s) just in case the price changes.
You'll need a Sno-Park permit ($5/day, $25/season) for travel between November 1 and May 30th every year (regardless of snow levels). You need to purchase the permits prior to your arrival (not at the actual Sno-Park).
You can buy them in Meyers or South Lake Tahoe. And, they'll save you a $100 ticket (parking without a permit).
If the Carson Pass Information Station is open while you're at Carson Pass, check out their selection of books and maps. The store sells lots of cool stuff to get you interested and informed about the region's flora, fauna, and history.
The trailhead to Winnemucca Lake is located just behind the Carson Pass Information Station.
Here's a map to assist you in finding the parking area for Carson Pass.
Travel along the Winnemucca Lake Hiking Trail:
Be prepared for elevation gain because the trail to Winnemucca Lake is mostly uphill. The trail is hard-packed and obvious during the summer.
It's a favorite hiking trail for many people, so I recommend arriving early at the trailhead. You'll have better luck securing a parking spot and avoiding the crowds by arriving early.
The trail travels through diverse terrain, including forests and exposed rocky and grassy fields.
The trail is lined with multiple varieties of Sierra Nevada wildflowers for much of the summer. Keep in mind that because this location sits above 8,000 feet, the snow tends to remain later into the summer. After big snow years, the wildflowers may not start blooming until July or August. On the other hand, at lower elevations they'll start showing up in May and June.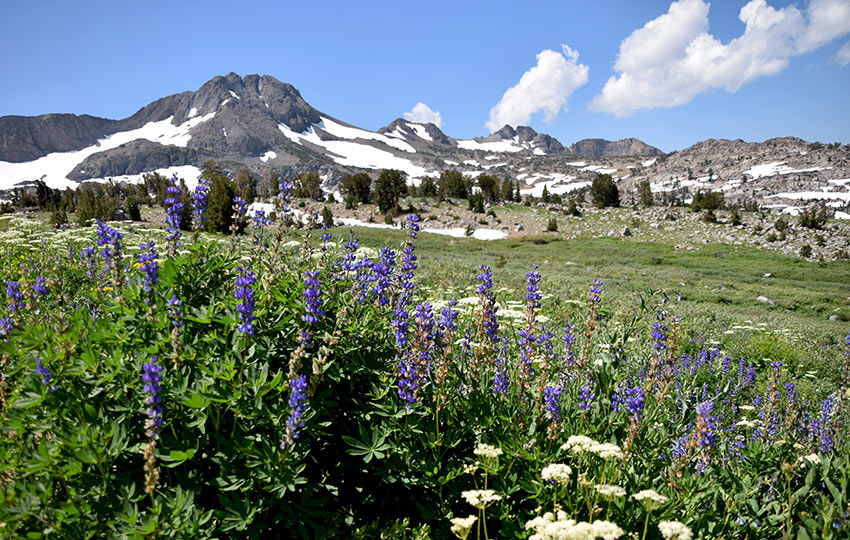 You'll be exposed to the elements once you hike past Frog Lake. The wind can be aggressive by the time you reach the Pacific Crest Trail at the Elephants Back junction. Bring extra layers and sun protection if you plan to spend the whole day out there.
The first 1.3 miles south from Carson Pass is the actual Pacific Crest Trail. Then it branches off from the route to Winnemucca Lake taking you west of Elephants Back.
This intersection is also where the Pacific Crest Trail and Tahoe-Yosemite Trail diverge. Continue straight along the trail to arrive at Winnemucca Lake.
Then, you could travel further along this trail to Round Top Lake, and Fourth of July Lake. Then, you could continue down into Summit City Canyon (which is the Tahoe-Yosemite Trail route).
---
For other shorter hiking options, visit Short and Easy Hikes in South Lake Tahoe.
---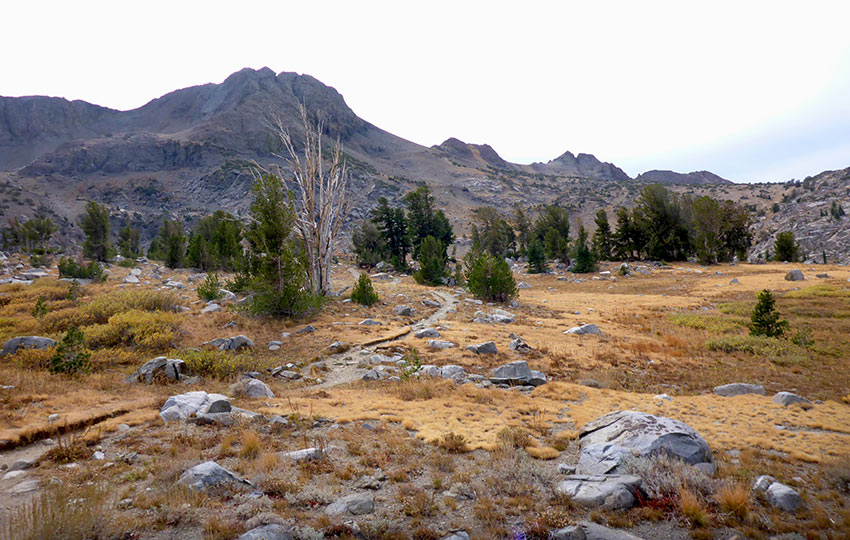 The actual trail is less obvious during the winter. However, the trail is frequented enough that most likely there'll be clearly laid tracks upon your arrival.
That said, there are some challenging sections early on with regard to cross-country skiing. So, I recommend reading Cross-Country Skiing and Snowshoeing to Winnemucca Lake for more specific information regarding this winter backcountry route.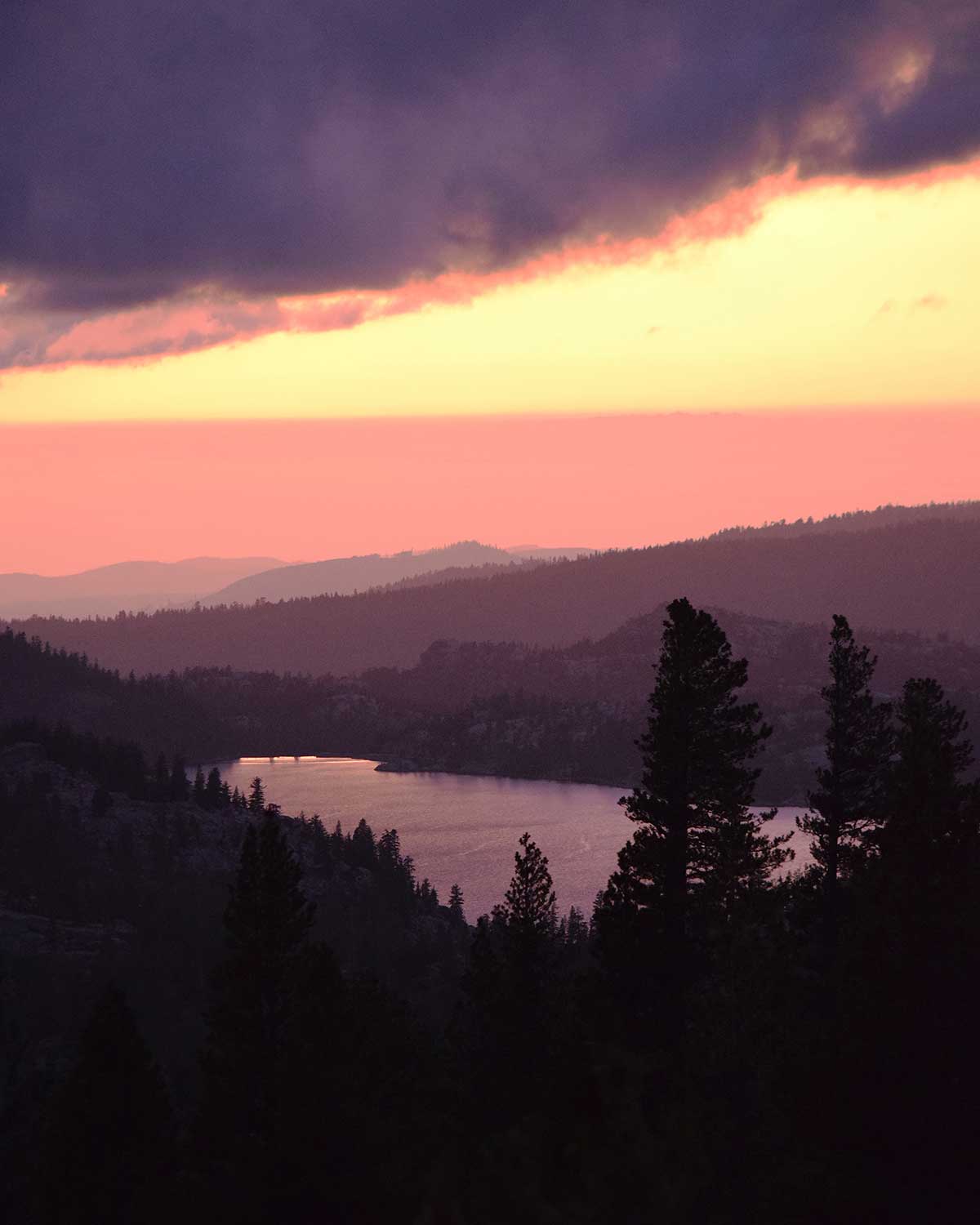 Wildflowers at Winnemucca Lake
Please note that I've compiled the following gallery of Winnemucca Lake wildflowers over various years. And, the photos are from different times during the summer(s). Therefore, don't expect to find all of the wildflowers presented here on one hike.
Also note that wildflower bloom times are often skewed at Carson Pass compared to other locations around Lake Tahoe. For example, Western Blue Flag will normally bloom closer to Lake Tahoe in the month of May. In 2019, however, I found many of those Wild Irises still in bloom at Winnemucca Lake on July 26th.
As I gather relevant photos of wildflowers found near Winnemucca Lake, I will update this gallery. In the meantime, post in the comment section the wildflower species that you believe are missing from the gallery.
Western Blue Flag – Iris missouriensis (8/26/19) © Jared Manninen

Coulter's Fleabane: Erigeron coulteri (8/21/19) © Jared Manninen

Little Elephant's Head – Pedicularis attollens (8/21/19) © Jared Manninen

Variety of Lupine (8/21/19) © Jared Manninen

Mountain Bluebells – Mertensia ciliata (8/21/19) © Jared Manninen

Nettle-leaf Giant Hyssop – Agastache urticifolia (8/21/19) © Jared Manninen

Nuttall's Larkspur – Delphinium nuttallianum (8/21/19) © Jared Manninen

Giant Red Paintbrush: Castilleja miniata (8/21/19) © Jared Manninen

Subalpine Fleabane: Erigeron glacialis (8/21/19) © Jared Manninen

Western Columbine: Aquilegia formosa (8/21/19) © Jared Manninen
Winnemucca Lake Merchandise
I created the following posters based on my photographs of hiking the trail to Winnemucca Lake. I will continue to update and upload new designs, so check back often.
You can purchase them (and other Tahoe Swag) at my RedBubble account. There are many other products available, in addition to posters, so please check out my Lake Tahoe-related art & designs.
---
Do you have other insight, feedback, or trail updates about hiking Winnemucca Lake?
If so, please post it in the comment section below for the benefit of everybody 🙂
---