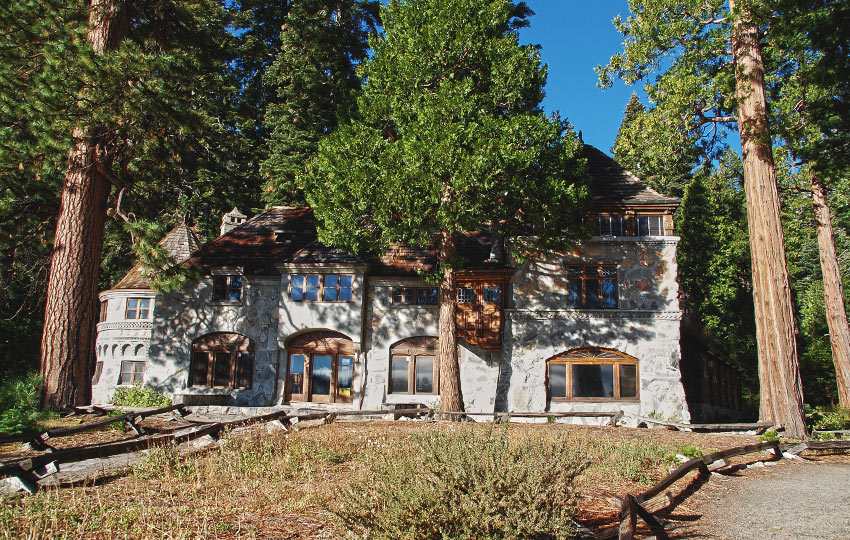 The hike down to Vikingsholm is, for all intents and purposes, a requirement when stopping at Emerald Bay. The distance is short and the trail is wide, but in that short distance you'll be descending (and then ascending on the return hike) nearly 500 vertical feet.
Don't let this discourage you from visiting Vikingsholm, however.
The history of the castle and its visionary, Lora Josephine Knight, is fascinating. I highly recommend taking a tour if at all possible, but if that doesn't work for you logistically, still hike down and marvel at its exterior, as well as the views from lake level of Emerald Bay.
Please note that this article features information about hiking down to and around Vikingsholm. My other article titled Vikingsholm: A Brief History discusses in more detail history of Vikingsholm and its visionary, Lora Josephine Knight.
---
Support Tahoe Trail Guide with a financial contribution via PayPal (single contribution) or Patreon (reoccurring contributions). Your support of Tahoe Trail Guide is very much appreciated!

Become a Patron!
---
Vikingsholm Castle Hiking Trail Data (approximations):
Location: South Tahoe – Emerald Bay
Category of Hike: Short Hike
Total Mileage: 2 miles (out-and-back)
Total Elevation Gain: 500 feet
Highest Point: 6,640 feet (Vikingsholm parking lot)
Trail Conditions: Packed dirt and asphalt road
---
For other shorter hiking options, visit Short and Easy Hikes in South Lake Tahoe.
---
Considerations for Vikingsholm Castle Hiking Trail:
Emerald Bay becomes excessively crowded, especially on the weekends during the summer so plan to visit on weekdays and/or arrive before 10 a.m.
Because Emerald Bay is so highly trafficked (i.e. being loved to death), be diligent about packing out your trash, creating as little impact as possible, using the park's toilets, not removing natural objects (i.e. pine cones, sticks, stones…), and not disturbing the wildlife
Bring cash to pay for parking
Adhere to all Leave No Trace principles
There are few trail signs and markers on public lands in the Tahoe region, so unless there are tracks to follow, the correct route may be difficult to identify–when in doubt, turn back
Be prepared for inclement weather and carry plenty of warm clothes, food, and water
Leave an itinerary of your plans with someone who'll call emergency services if you don't return by your prescribed time
Dogs are not allowed on any of the roads or trails that go down into Emerald Bay
Drones are not allowed in Emerald Bay or any other State Parks in the Sierra District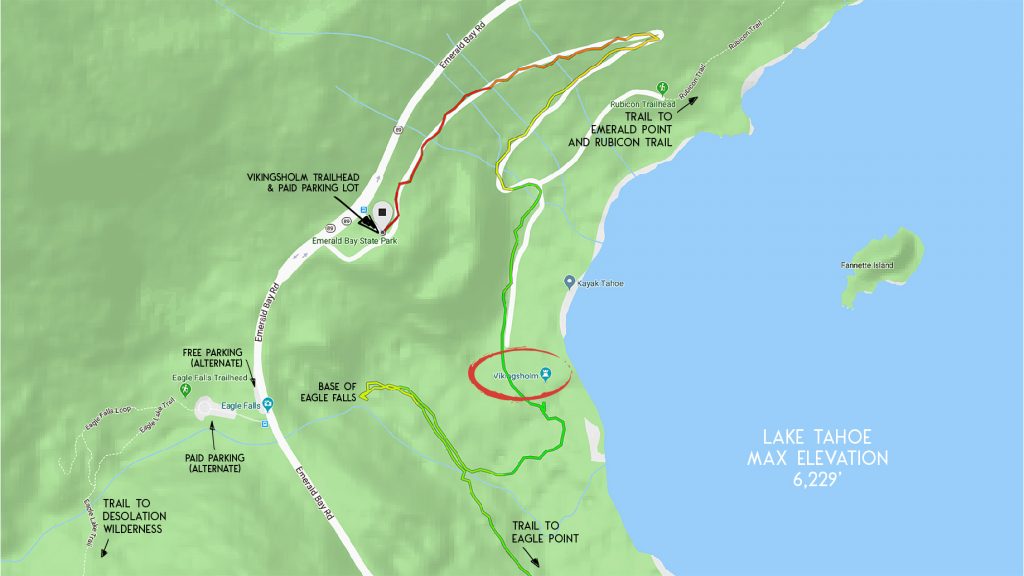 Parking Directions for Hiking to Vikingsholm Castle:
The three parking options for Emerald Bay and to access Vikingsholm are:
Vikingsholm parking lot – the large parking area on the lake side of SR 89 that overlooks Emerald Bay. This is a self-pay parking lot that costs $10 (2018), but you can pay with cash, check, or credit card.
Eagle Lake Trail parking lot – this parking lot is on the mountain side of SR 89 and provides access to Desolation Wilderness via the Eagle Lake Trail. This is also a pay lot that takes cash or check, but only costs $5 (2018).
Parking spots directly off of SR 89 on the mountain side of the road – these parking spots run perpendicular to SR 89 and are located between the Eagle Lake Trail parking lot and the Vikingsholm parking lot. There are about a dozen and a half spots and they're free, but they get filled up early in the day.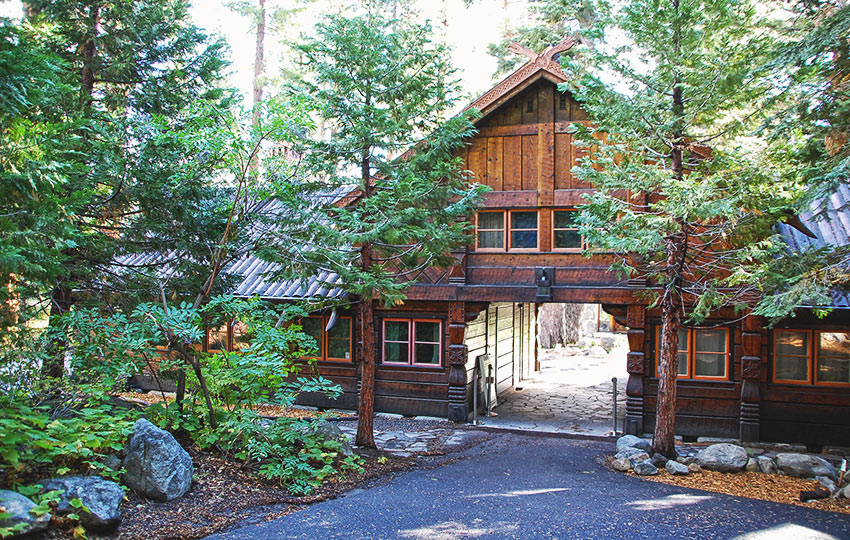 Other than those three main options, parking elsewhere in or around Emerald Bay is at your own risk both physically and financially.
I don't recommend parking above Emerald Bay on the north side (near Jake's Peak access point) or south side (near Inspiration Point or Bayview Campground) and walking down due to the risk factor.
I also don't recommend parking anywhere along SR 89 between Inspiration Point and Eagle Lake Trail parking lot. It's very dangerous to walk along, and is causing way too much erosion to the shoulders of the road.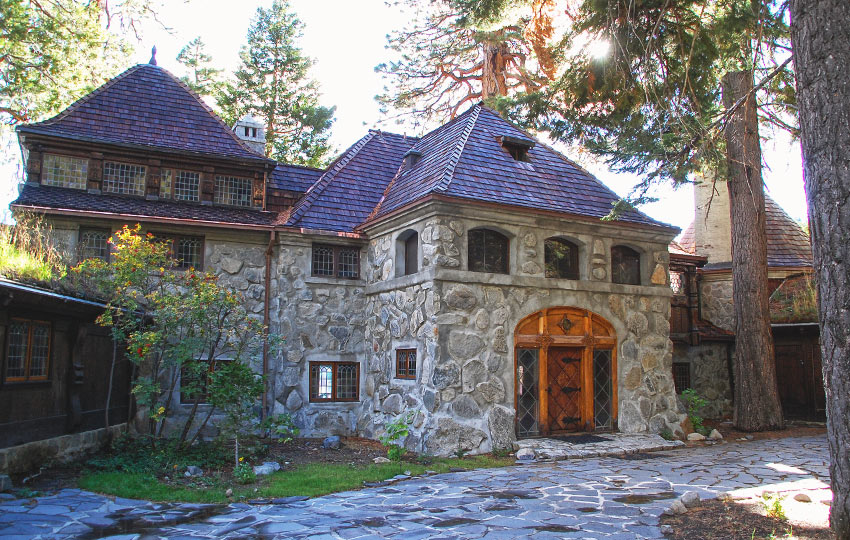 I know you don't want to hear this, but if the parking is full at Emerald Bay when you arrive I recommend spending your time elsewhere. Then, return at a time when it's less busy such as earlier in the morning or later in the evening.
Here's a map to help you find the entrance gate to the Vikingsholm parking lot and trailhead.
Travel along Vikingsholm Castle Hiking Trail:
The hike down to the Vikingsholm is straight forward as you'll just follow the main trail out of the Vikingsholm parking lot down to the castle.
The distance to Vikingsholm is just shy of one mile, but there is almost 500 feet of elevation gain to negotiate, so pace yourself if you're hiking with young children or elderly adults.
Keep in mind that this short hike is an out-and-back trip so you'll have to walk back up and out of Emerald Bay on the return trip.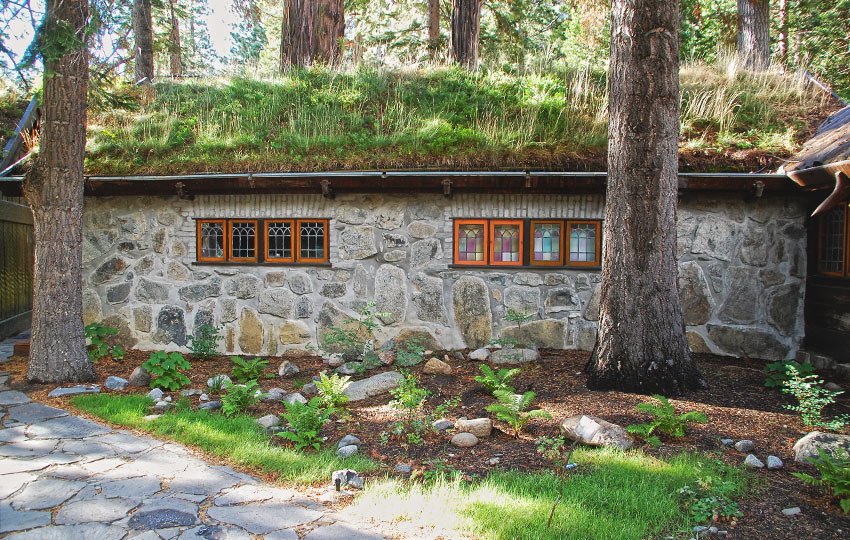 It's worth noting that while you're down at Vikingsholm, you could also hike a little further to the base of Eagle Falls (see map at the beginning of the article). This will add some additional mileage and elevation gain to your trip, but in reality it's a negligible amount.
---
For other shorter hiking options, visit Short and Easy Hikes in South Lake Tahoe.
---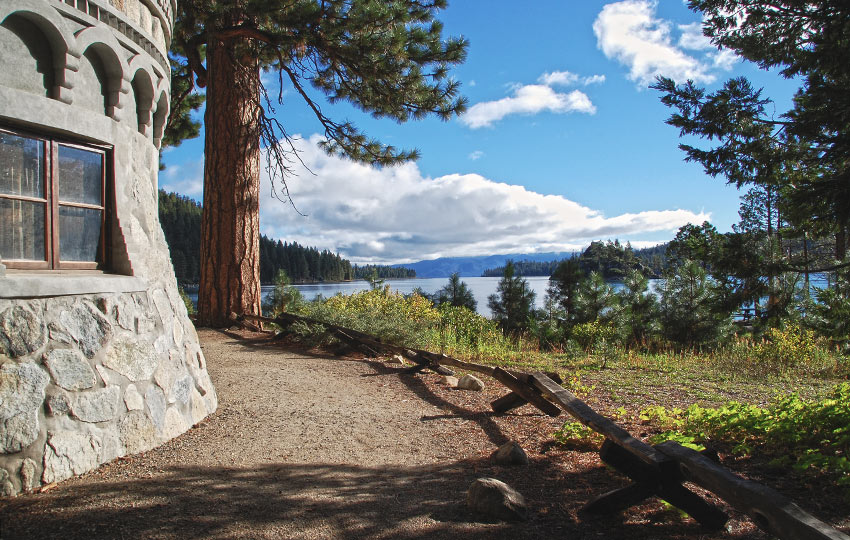 For more information about Vikingsholm Castle and Mrs. Lora Josephine Knight, read the article Vikingsholm: A Brief History.
---
Do you have other insight, feedback, or trail updates about hiking Vikingsholm?
If so, please post it in the comment section below for the benefit of everybody 🙂
---