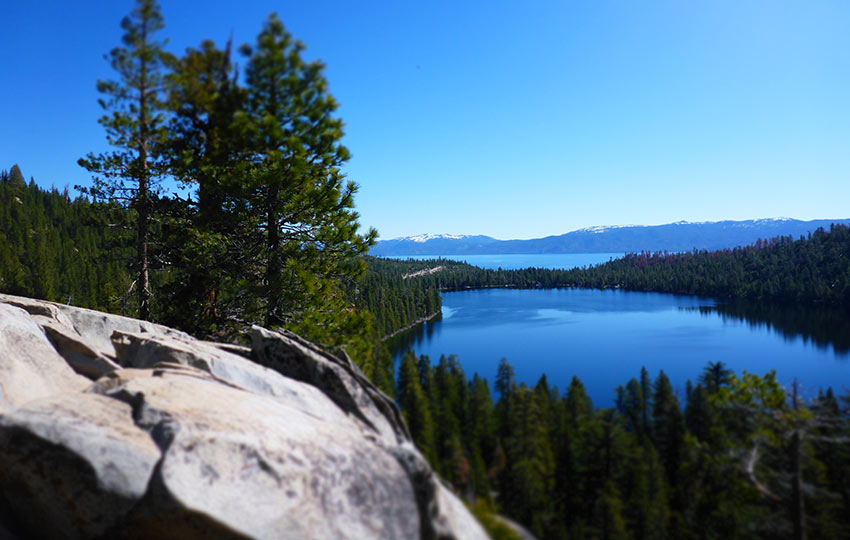 The hike to Cascade Falls is a favorite by both Tahoe locals and visitors to Lake Tahoe. The trail is short and mostly flat, but offers up-close seating to Cascade Falls, as well as a beautifully layered view of Cascade Lake, Lake Tahoe, and the eastern shore of Lake Tahoe.
The ideal time to see Cascade Falls is at sunrise and earlier in the summer.
Due to the ease of accessibility and it's short distance, this hike is great for all people, young and old. However, be mindful of your steps along the way due to there being numerous tripping hazards along the trail.
---
Support Tahoe Trail Guide with a financial contribution via PayPal (single contribution) or Patreon (reoccurring contributions). Your support of Tahoe Trail Guide is very much appreciated!

Become a Patron!
---
Cascade Falls Trail Data (approximations):
Location: South Tahoe – Emerald Bay – Bayview Trailhead
Category of Hike: Short Hike, Day Hike
Total Mileage: 2 miles
Total Elevation Gain: 350 feet
Highest Point: 6,932 feet
Trail Conditions: Hard-packed sand and rocky
---
For other shorter hiking options, visit Short and Easy Hikes in South Lake Tahoe.
---
Considerations for Hiking Cascade Falls Trail:
The trail to Cascade Falls is rocky and wet in sections, so wear proper footwear and be mindful of where you step
Avoid getting too close to the falls as the rocks can be slick from the spray of water
Parking on the side of SR 89 near that Bayview Campground is ok (except when snow removal operations are in progress), but don't block the gate or highway traffic
Adhere to all Leave No Trace principles
There are few trail signs and markers on public lands in the Tahoe region, so unless there are tracks to follow, the correct route may be difficult to identify–when in doubt, turn back
Be prepared for inclement weather and carry plenty of warm clothes, food, and water
Leave an itinerary of your plans with someone who'll call emergency services if you don't return by your prescribed time
Parking Directions for Cascade Falls Hiking Trail:
From SR 89, on the south side of Emerald Bay and directly across from Inspiration Point is the Bayview Campground. Pull into the campground and drive to the back to find the day-use trailhead parking. Parking is free but limited, so arrive early.
If the day-use area is filled or you want to access this trailhead in the off-season (i.e. the gate to the campground is locked), you can park on the side of SR 89. However, don't block the gate or highway traffic, and be sensible about how you park so that other hikers can find a parking spot.
The trailhead for the Cascade Falls hiking trail is at the back of the day-use parking area at Bayview Campground.
Here's a map to assist you in finding the parking area for accessing Cascade Falls hiking trail.
Travel along the Cascade Falls Hiking Trail:
At the back of the day-use trailhead parking lot you will find a message board. Just beyond that message board is a sign directing you to go left for Cascade Falls or right to travel into Desolation Wilderness.
Take a left at the trailhead sign and follow the path to the falls.
If you plan to hike into Desolation Wilderness, you'll need to fill out a day pass (provided at the message board). However, if you are only hiking to Cascade Falls, you don't need a day pass.
The trail is rocky and wet in sections, so pay attention to where you walk. And especially keep a watchful eye on your younger children as there are multiple tripping hazards along this route.
The trail primarily traverses the side of a mountain, so it's pretty obvious as to which to direction to hike.
Once you get within a few hundred meters of the actual falls, the trail opens up and can be a little confusing. There is no one right place in which to see the falls, just head toward the sound of rushing water and you'll be there.
---
For other shorter hiking options, visit Short and Easy Hikes in South Lake Tahoe.
---
Thanks to the eastern facing views when you reach Cascade Falls, the ideal time to hike is early in the morning so that you can catch the sunrise.
Keep in mind that the falls will be spectacular after a good winter and can flow strong well into summer, whereas following a drought year Cascade Falls can be reduced to barely a trickle. Either way, the views are great and the hike is fun.
---
Do you have other insight, feedback, or trail updates about hiking Cascade Falls?
If so, please post it in the comment section below for the benefit of everybody 🙂
---