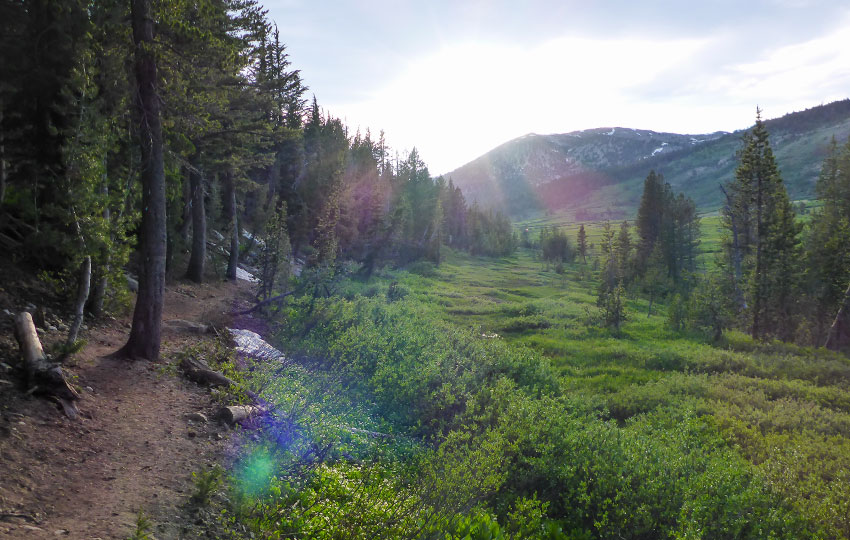 For hikers in North Tahoe seeking a short and easy trail with quick access and free parking, choose to hike at Tahoe Meadows. Additionally, you'll find an exceptional selection of Sierra Nevada wildflowers and birds at Tahoe Meadows. Obviously, nature is unpredictable and flowers bloom and birds migrate based on the weather and season. However, I've hiked Tahoe Meadows multiple times during the same summer. And, I've witnessed new and different plant and wildlife each time.
The hike around actual Tahoe Meadows is short at only 1.25 miles and barely 50 feet of elevation gain.
---
Support Tahoe Trail Guide with a financial contribution via PayPal (single contribution) or Patreon (reoccurring contributions). Your support of Tahoe Trail Guide is very much appreciated!

Become a Patron!
---
Also note that the Tahoe Meadows boardwalk is an interpretive trail featuring informational signs about local flora/fauna. This all makes the hike around Tahoe Meadows perfect for young and old hikers.
However, if you're looking for a longer hike I recommend linking up with the nearby Ophir Creek Trail. You will hike about 4 miles and a couple hundred feet of elevation gain by tracing the red-lined route featured in the map below.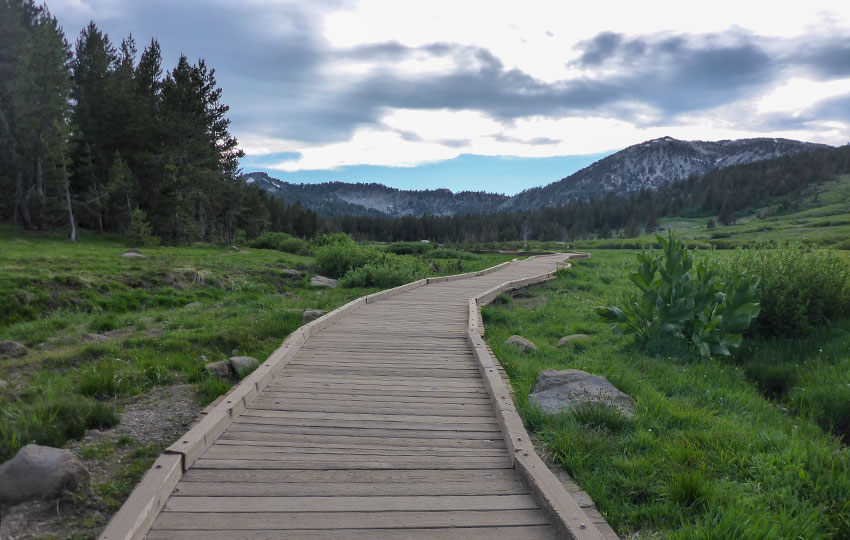 Tahoe Meadows Trail Data (approximations):
Location: North Tahoe – Mount Rose HWY/SR 431 – Tahoe Meadows Trailhead
Category of Hike: Short Hike
Total Mileage: 1-4 miles (loop)
Total Elevation Gain: 250 feet
Highest Point: 8,596 feet (brief aspect of Ophir Creek Trail)
Trail Condition: Wooden boardwalk and hard-packed sand
Considerations for Hiking Tahoe Meadows:
Tahoe Meadows sees frequent use all year long due to its ease of access, but the parking area has a high turnover rate since the trail system is relatively short
Tahoe Meadows is a highly sensitive wetland area and is easily susceptible to damage, so stay on the trail at all times at Tahoe Meadows
There have been more reports in previous years about thefts and break-ins at the trailheads along Mount Rose Highway, so don't leave anything valuable or visible in your vehicle when parking
Adhere to the Leave No Trace Seven Principles
There are few trail signs and markers on public lands in the Tahoe region, so unless there are tracks to follow, the correct route may be difficult to identify–when in doubt, turn back
Be prepared for inclement weather and carry plenty of warm clothes, food, and water
Leave an itinerary of your plans with someone who'll call emergency services if you don't return by your prescribed time
Dogs are allowed, but keep them on leash and pick up after them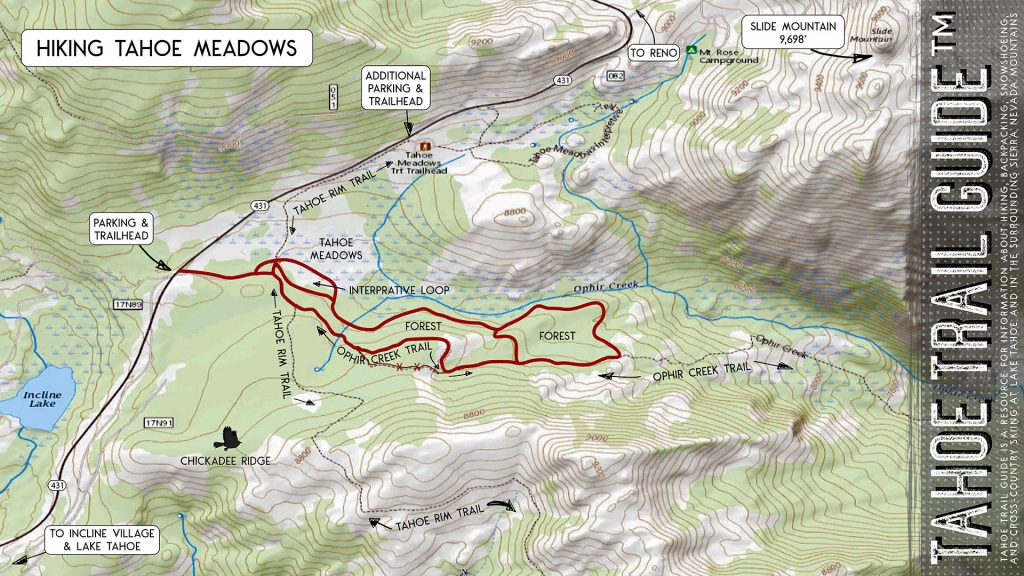 Parking Directions for the Hike at Tahoe Meadows:
Parking for the hike at Tahoe Meadows is convenient and relatively abundant. And, best of all, it's free!
The most direct access for hiking Tahoe Meadows is to park at the Tahoe Meadows South Trailhead. The south aspect of this parking area puts you right at the boardwalk leading to Tahoe Meadows.
The Tahoe Meadows south parking area is approximately 6.5 miles from Lake Tahoe. From Incline Village, drive uphill along Mount Rose Highway (SR 431) beginning at the roundabout intersection of SR 28/SR 431.
For travelers coming from the east (i.e. Reno), take SR 431 toward Lake Tahoe and drive 1.5 miles downhill from the Mount Rose Summit Trailhead.
The trailhead to Tahoe Meadows from this south lot begins at the steps leading to a wooden boardwalk.
An alternate parking option for hiking at Tahoe Meadows is to start from the nearby Tahoe Rim Trail trailhead. This trailhead is approximately .5 miles uphill from Tahoe Meadows. So, parking at the Tahoe Rim Trail trailhead will add just over a mile (round-trip) to your hike.
Parking just off of SR 431 at this trailhead is free, just like at the south lot. However, there might be a fee associated with parking in the actual Tahoe Meadows Tahoe Rim Trail trailhead parking lot. So, bring cash with you just in case.
Let me know in the comment section below whether or not there's a fee to park in the official lot. I'll then update this information. Honestly, I've always just parked directly off of SR 431.
From the alternate parking area, simply hike along the Tahoe Rim Trail downhill to Tahoe Meadows.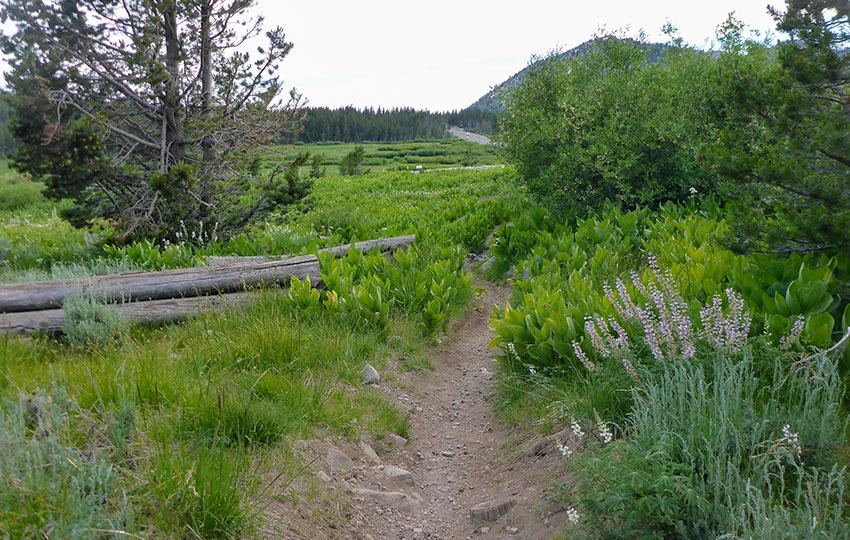 Lastly, I want to offer a word of caution regarding parking anywhere along Mount Rose Highway (SR 431). This includes the Mount Rose Summit Trailhead parking lot, the Tahoe Meadows parking area, and other pullouts along the road. There have been an increase in vehicle break-ins over the past few years at Lake Tahoe trailheads. Mount Rose Highway has been one of the main hotspots for theft due to the ease of access and escape SR 431 provides.
I recommend leaving valuables at home or in your hotel room. Then, clear the interior of your vehicle so that it looks empty. Unfortunately, even a small bag sitting on the back seat of your vehicle can tempt a thief to commit larceny.
Here's a map to help you find the Tahoe Meadows South Trailhead.
>
Travel Along the Tahoe Meadows Trail:
Begin hiking at the Tahoe Meadows South Trailhead.
The Tahoe Meadows hiking trail that travels within the actual meadow is an interpretive trail. This aspect of the trail system is a short and flat 1.25 mile lollipop-style loop hike.
I can't emphasize enough how important it is to stay on the trail through Tahoe Meadows. This area is a wetland and, therefore, easily susceptible to damage. Definitely keep your dogs and children on a tight leash.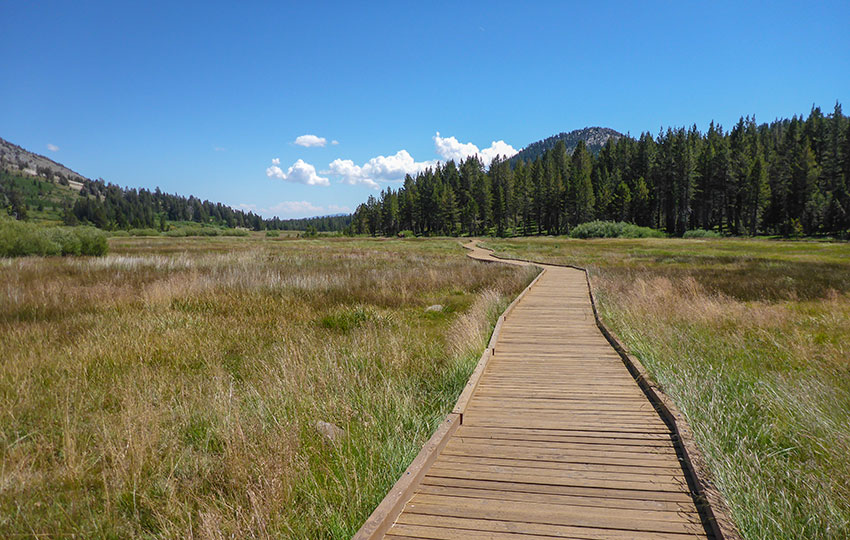 For making the effort to travel to Tahoe Meadows, however, I recommend spending more time exploring the area. To accomplish this, hike a longer loop by linking up with the Ophir Creek Trail. I prefer to hike this route (featured on the map) in a clockwise direction.
Why?
Mostly because I want to ensure that I see all that Tahoe Meadows has to offer first. I take my time through the actual meadow and then quicken my pace once I reach the forest. Essentially, though, there's no real compelling argument to hike around the area in any specific manner or direction.
Soon after the hike through Tahoe Meadows, you'll enter the nearby forest. The loop back via the Ophir Creek Trail is also through forested areas.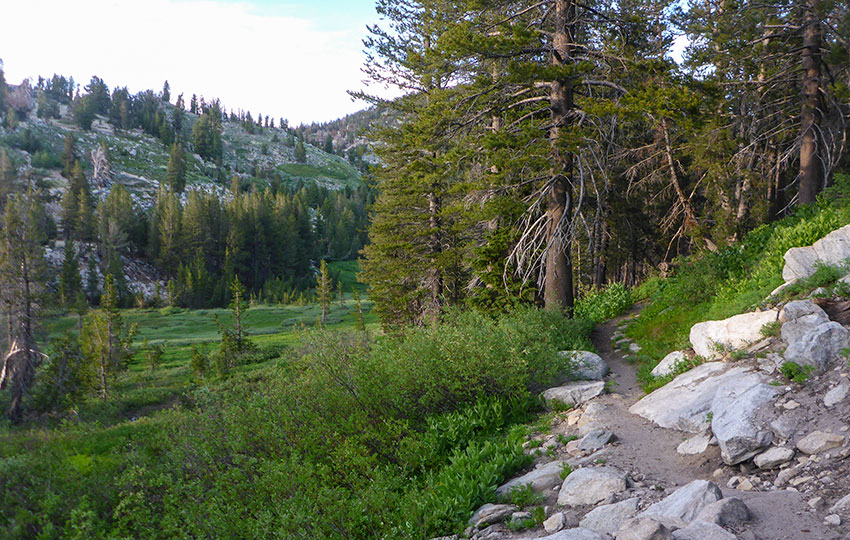 I don't always hike the short connector piece between the two forested areas (indicated on the map). However, that connector trail provides yet another alternative for hiking Tahoe Meadows.
After hiking through Tahoe Meadows you could travel the short loop through the forest adding mileage to your adventure. And then you could take the connector trail and retrace your steps back through the meadow.
Otherwise, just hike the bigger loop by following the Ophir Creek Trail back to the parking area.
No matter the route you take, the terrain around Tahoe Meadows is flat and easy. This makes it a perfect place for very young and old hikers, as well as athletic people who just want a quick hike or trail run.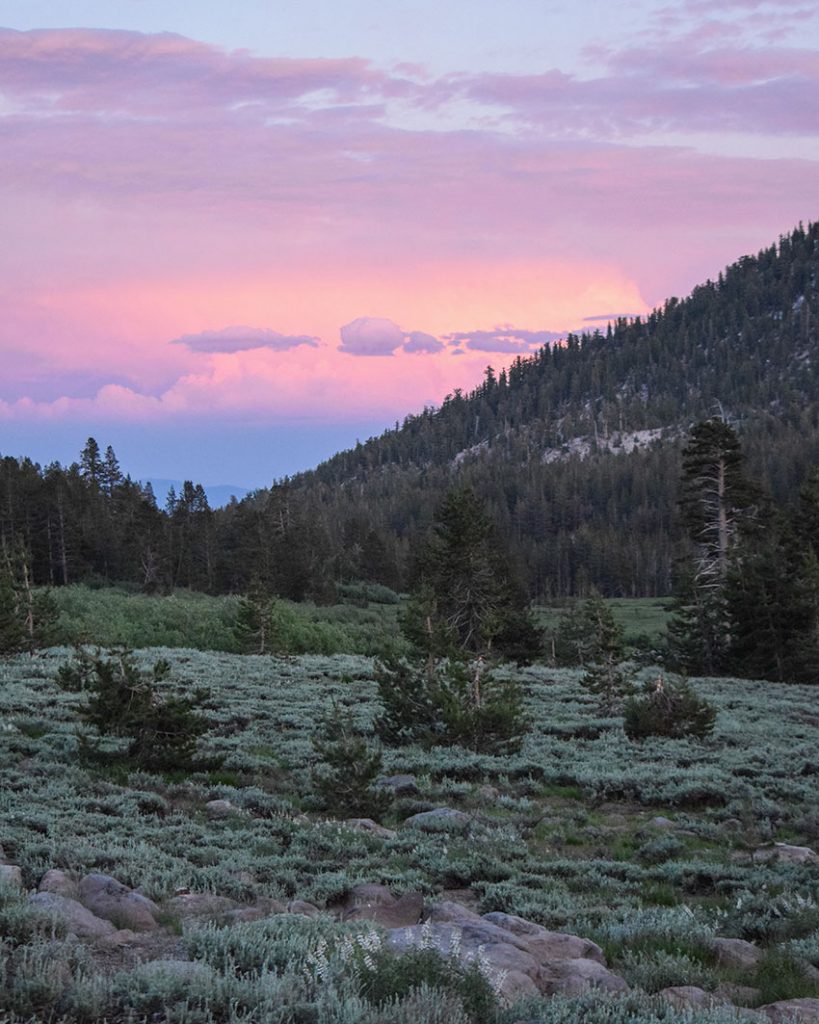 Additional Notes about Hiking Tahoe Meadows:
The famous "Chickadee Ridge" is nearby, south of Tahoe Meadows and just off of the Tahoe Rim Trail (see map). As tempting as it may be to feed those cute little Mountain Chickadees and then post the photos on your social media feed, don't feed wildlife. Ever. Period.
Respecting wildlife is one of the Leave No Trace Seven Principles that I'm particularly adamant about following. By feeding wildlife, even just those little chickadees, you ultimately cause them to alter their diet and behavior. Both of which threaten their lives by providing them unnatural foods and exposing them to predators.
Call me a stick in the mud all you like, but feeding wildlife ultimately kills them. Or, it causes them to become a nuisance which can threaten the health of people who come in contact with them by exposing people to their diseases.
Don't feed wildlife. Ever. Period.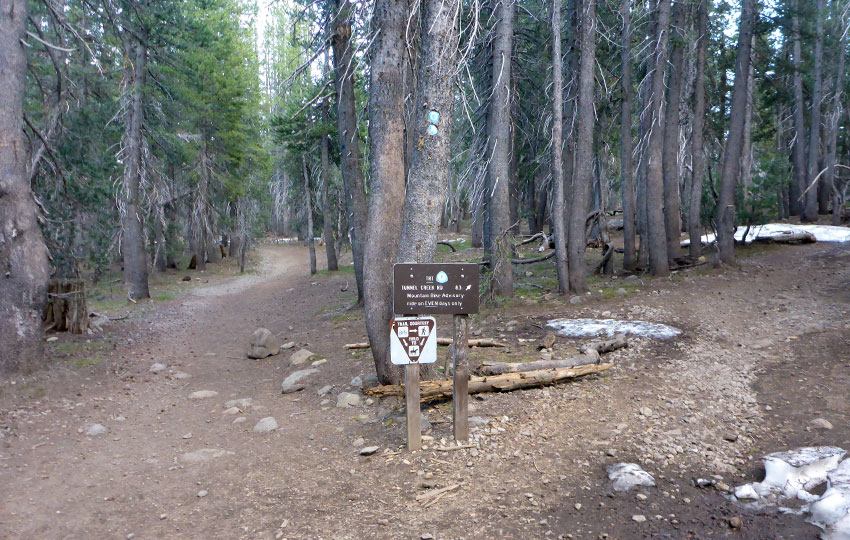 For Lake Tahoe hikers planning to explore Tahoe Meadows later in the day, consider planning your return back to the lake closer to sunset. There's an exceptional lookout on SR 431 about 3.5 miles up from the SR 28/SR 431 roundabout in Incline Village. This is a convenient location in which to watch the sunset.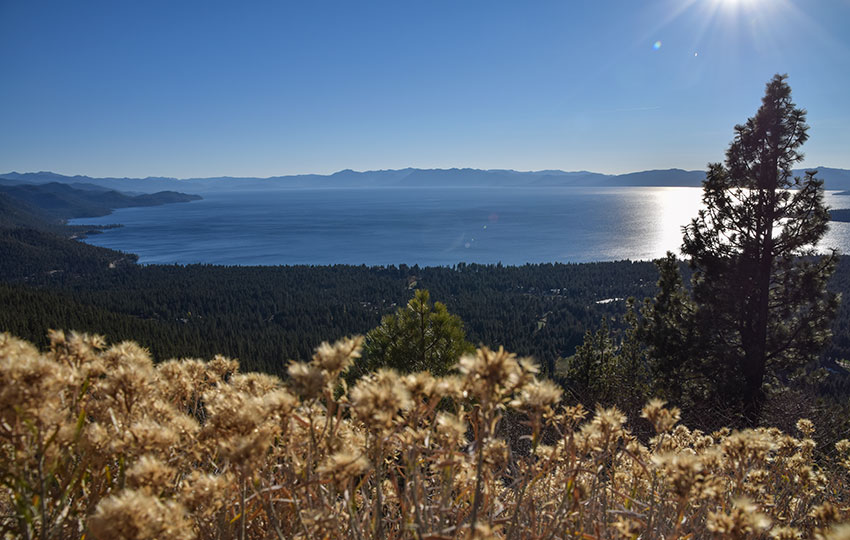 During the winter, Tahoe Meadows provides an exceptional location for cross-country skiing and snowshoeing. The flat terrain is favorable for everyone, especially beginners. And, because Tahoe Meadows is at a high elevation, it gathers snow early and holds it late making it a favorable location for early and late winter adventuring. For example, I found large patches of snow around Tahoe Meadows in September (2019). This was following the epic winter of 2018/19.
Eventually I'll publish an article that specifically addresses winter adventure at Tahoe Meadows.
Wildflowers of Tahoe Meadows:
Please note that I've compiled the following gallery of Tahoe Meadows wildflowers over different years and times. So, don't expect to find all of the same wildflowers on one hike.
Hooded Ladies' Tresses (Spiranthes romanzoffiana). September 3, 2019. © Jared Manninen

Hiker's Gentian (Gentianopsis simplex). September 3, 2019.© Jared Manninen

Royal Penstemon – white morph (Penstemon speciosus). July 23, 2019.© Jared Manninen

White Marsh Marigold – Caltha leptosepala. July 23, 2019.© Jared Manninen

Stinging Nettle – Urtica dioica. July 23, 2019.© Jared Manninen

Sierra Larkspur – Delphinium glaucum. July 23, 2019.© Jared Manninen

Sierra Bog Orchid – Platanthera dilatata var. leucostachys. July 23, 2019.© Jared Manninen

Seep Monkeyflower – Erythranthe guttata. July 23, 2019.© Jared Manninen

Oregon Saxifrage – Micranthes oregana. July 23, 2019. © Jared Manninen

Nettle-leaf Giant Hyssop – Agastache urticifolia. July 23, 2019. © Jared Manninen

Elephant's Head – Pedicularis groenlandica. July 23, 2019. © Jared Manninen

Alpine Shooting Star – Primula tetrandra. July 23, 2019. © Jared Manninen
As I gather relevant photos of wildflowers found at Tahoe Meadows, I'll update this gallery.
In the meantime, feel free to post in the comment section below the names of wildflower species that you believe are missing from the gallery.
---
Do you have other insight, feedback, or trail updates about hiking Tahoe Meadows?
If so, please post it in the comment section below for the benefit of everybody 🙂