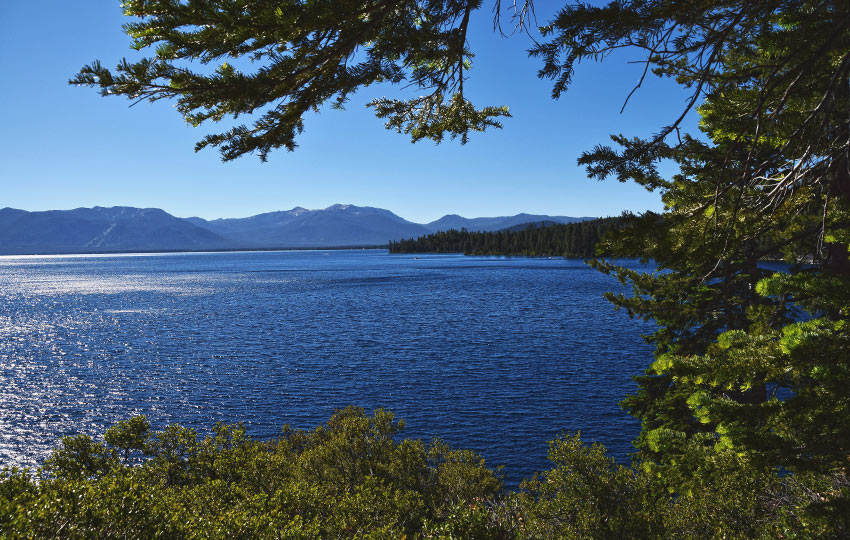 The Rubicon Trail is a picturesque hiking trail located on the southwest corner of Lake Tahoe. It contours the shoreline from Emerald Bay to D.L. Bliss State Park and boasts long, continuous panoramic views of Lake Tahoe.
From aspects of the trail on its south end you can see many prominent locations of South Tahoe, such as Fannette Island, Maggie's Peaks, Mount Tallac, Luther Pass, Freel Peak, Jobs Sister, and Monument Peak.
---
Support Tahoe Trail Guide with a financial contribution via PayPal (single contribution) or Patreon (reoccurring contributions). Your support of Tahoe Trail Guide is very much appreciated!

Become a Patron!
---
If you're paying attention, you might also see…
Osprey or Eagles flying overhead
Common Mergansers diving under water to catch their next meal
Sooty Grouse foraging for food along the trail
But always keep one eye on the actual trail because many of its sections feature tripping hazards (rocks, roots, and granite steps) juxtaposed next to steep drop-offs.
If you hike the Rubicon Trail with your kids, definitely keep them on a tight leash through its steeper sections.
Please note that this article is about the Rubicon hiking trail that travels alongside Lake Tahoe between Emerald Bay and D.L. Bliss State Parks. This article is not about the legendary 22-mile, 4×4 trail of the same name that travels from the Loon Lake Trailhead (west slope) to Lake Tahoe (near Tahoma). For a detailed and succinct article about the 4×4 trail, visit OverlandSite.com.
Rubicon Hiking Trail Data (approximations):
Location: South Tahoe – Emerald Bay
Category of Hike: Day Hike
Total Mileage: 11 miles (out-and-back)
Total Elevation Gain: 1,400 feet
Highest Point: 6,600 feet (Vikingsholm parking lot)
Trail Conditions: Packed dirt, granite steps, steep drop-offs, and some asphalt (the trail travels briefly through Emerald Bay State Park)
The map I prefer for this trail is the Tom Harrison Desolation Wilderness Map because it provides the largest view of the Emerald Bay area compared to other recreational maps
Considerations for Hiking the Rubicon Trail:
Emerald Bay becomes excessively crowded, especially on the weekends during the summer so plan to visit on weekdays and/or arrive before 10 a.m.
Because Emerald Bay is so highly trafficked (i.e. being loved to death), be diligent about packing out your trash, creating as little impact as possible, using the park's toilets, not removing naturally occurring objects (i.e. pine cones, sticks, stones…), and not disturbing the wildlife
Bring at least $10 cash to pay for parking
Adhere to all Leave No Trace principles
There are few trail signs and markers on public lands in the Tahoe region, so unless there are tracks to follow, the correct route may be difficult to identify–when in doubt, turn back
Be prepared for inclement weather and carry plenty of warm clothes, food, and water
Leave an itinerary of your plans with someone who'll call emergency services if you don't return by your prescribed time
Dogs are not allowed on any of the trails or roads in Emerald Bay
Drones are not allowed in Emerald Bay or any other State Parks in the Sierra District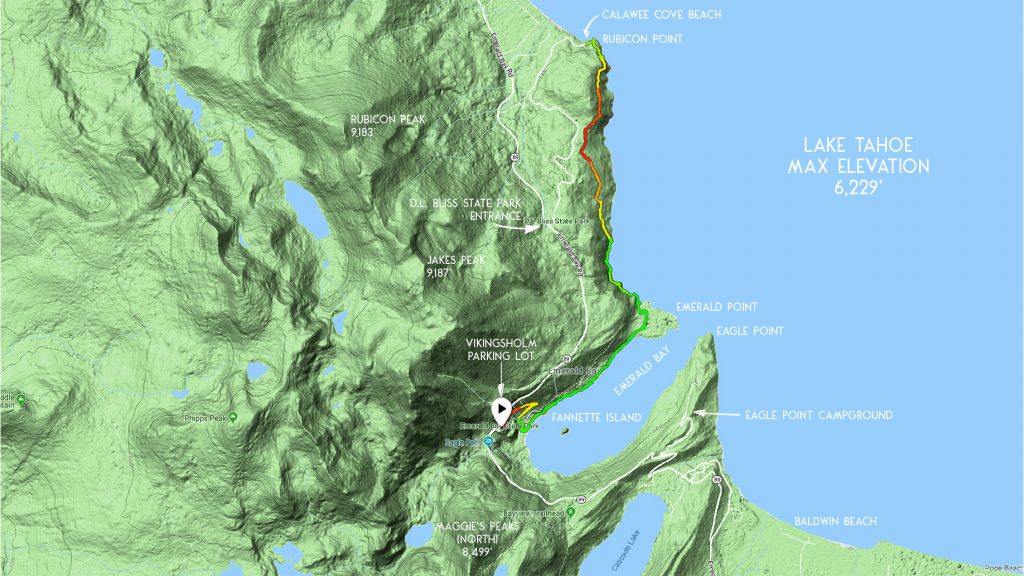 Parking Directions for the Rubicon Hiking Trail:
The variations on hiking the Rubicon Trail, as I briefly mentioned above, dictate where you're going to park. However, no matter the route you hike you're either going to park at Emerald Bay or D.L. Bliss State Park (or both).
The route I advocate in this article begins and ends at the Vikingsholm parking lot at Emerald Bay (out-and-back hike approximately 11 miles long).
That said, the obvious and most convenient option is to park at the Vikingsholm parking lot.
This is the big lot on the lake side of SR 89 that overlooks Emerald Bay. This is a self-pay parking lot that costs $10, but you can pay with cash or credit card.
The second parking option is located on the mountain side of SR 89 in the parking lot used for accessing the Eagle Lake Trail. This is a self-pay lot that costs $5 and only accepts cash or check.
The third option, and my preferred choice, is to park in one of the spots directly off of SR 89 between the Eagle Lake parking lot and Vikingsholm parking lot. There are about a dozen and a half spots that are oriented perpendicular to SR 89, and they're free. Not surprising, they become occupied first so you have to arrive at Emerald Bay early enough to secure a free spot.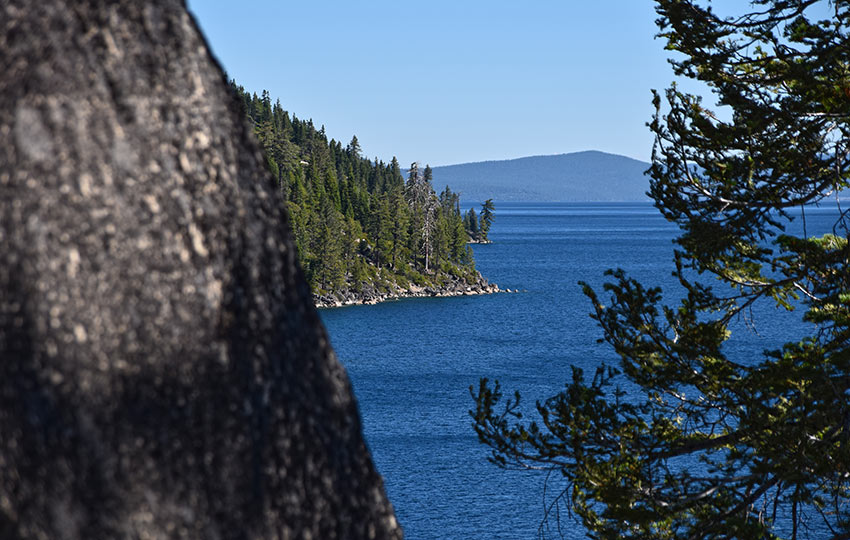 I've already discussed ad nauseum the pitfalls of parking at Emerald Bay (Emerald Point & Eagle Point), so I won't get into it here. Just know that other than those three options mentioned above, parking anywhere else in or around Emerald Bay is at your own risk, both physically and financially.
The key to finding a great parking spot in Emerald Bay is to simply arrive before 10am.
The trailhead for this article is near the self-pay station at the back of the Vikingsholm parking lot.
The other options for hiking and parking are:
Begin and end at D.L. Bliss State Park ($10 for day-use parking) instead of Emerald Bay. There is a parking lot at the northern terminus of the Rubicon Trail in D.L. Bliss State Park. Hiking from here enables you to avoid having to hike out of Emerald Bay.
Park vehicles at both locations (Emerald Bay and D.L. Bliss State Park) and hike the Rubicon Trail in one direction only (about 5 total miles). Then shuttle you and your hiking partners back to the first vehicle. This option could cost you a total of $20 for having to pay at both locations. Or, you could pay nothing by parking in one of the free spots at Emerald Bay and then choosing to park outside of D.L. Bliss State Park along SR 89. The one caveat to this option is that it's about two miles from the entrance to the park from the Rubicon Trail (and vice versa).
Here's a map to help you find the Vikingsholm parking lot. The marker for "Emerald Bay State Park" on this map is essentially the spot.
Travel along the Rubicon Hiking Trail:
Sticking to the route I recommend (out-and-back from the Vikingsholm parking lot) is probably the least expensive and simplest option as far as logistics go.
The second option of beginning and ending at the northern endpoint (D.L. Bliss State Park) is just as easy logistically. However, it costs money and means that if you're driving from South Tahoe you'll be spending more time in your vehicle commuting to the trailhead.
The shuttling option is fine, too, but unless you secure free spots at both locations you have parking costs to consider.
Also, there's always the potential when trying to coordinate with multiple people at multiple locations that your inspiring and soul-soothing hike can wind up turning into a fiasco.
As far as the actual trail conditions are concerned, the Rubicon Trail is maintained as well as any trail in the Lake Tahoe region.
The only real challenge to the trail itself is the fact that it's very close to some steep drop-offs in multiple sections. Coupled with the rocks, roots, and stone steps on the trail, you could be in grave danger if you don't pay attention to where you're walking.
As I mentioned in the intro, be especially mindful of your children through the steep sections.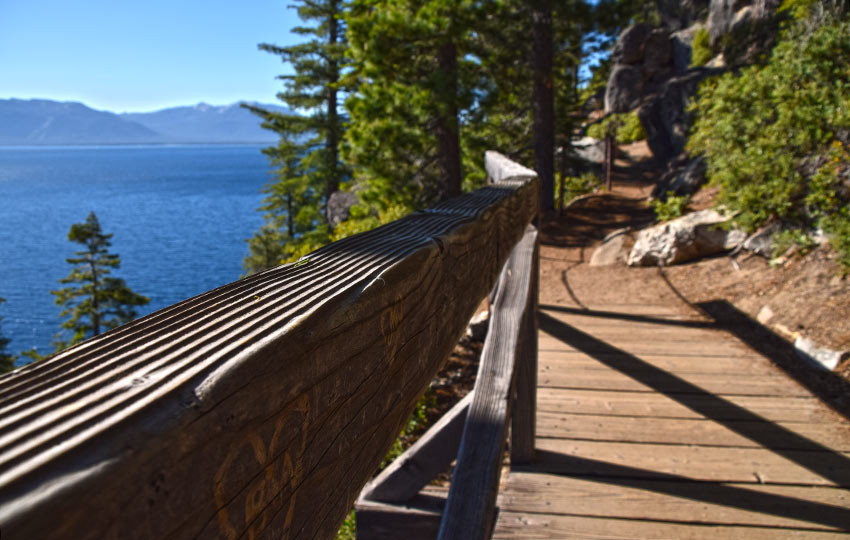 The trail is easy to follow, but there is one fork about a half mile south of Rubicon Point that might give you pause. When you reach this fork (while hiking north), you could either take the left trail and go up to the Old Lighthouse (via the Lighthouse Trail) or take the trail to the right which is the Rubicon Trail. Both trails eventually lead to Calawee Cove Beach, but the trail on the right (that slightly descends from this fork) is the actual Rubicon Trail and goes right past Rubicon Point.
Rubicon Point is not identified with any actual signs, but you'll know it because it's a massive rock formation at the corner of the trail just before you reach the parking lot at the northern terminus.
Definitely go and take a look from Rubicon Point, but be careful because there is some rock scrambling required to reach the top of the formation.
At the parking lot you'll find some restrooms equipped with flush toilets.
Take a moment to reflect and then turn around and head back the way you came.
Additional Notes about Hiking the Rubicon Trail
Technically, the Rubicon Trail's southern terminus is on the south side of Emerald Bay, near Eagle Point.
People do hike the entire trail from Eagle Point Campground to Rubicon Point. However, this adds approximately six miles (out-and-back) to your hike, giving you a grand total of somewhere between 16-18 miles for the day.
The shuttling option would clearly shorten this distance, but again there's parking costs and logistics to consider.
The real reason I don't hike the entire length of the Rubicon Trail in one shot is because Emerald Bay can turn into a people zoo any time after 10 A.M.
By starting and finishing at Eagle Point Campground, you increase your chances of having to deal with hordes of people because you'll now have to hike all around Emerald Bay.
I wouldn't call myself a misanthrope. I just prefer to minimize my contact with people while out hiking, which is also why I often do sunrise hikes.
So, by leaving really early and beginning and ending at the Vikingsholm parking lot, I basically only have to deal with the crowds during the last half mile (as I'm finishing up my hike).
Then on another day, I take the same approach and hike to Eagle Point.
---
Do you have other insight, feedback, or trail updates about hiking Rubicon Trail?
If so, please post it in the comment section below for the benefit of everybody 🙂
---