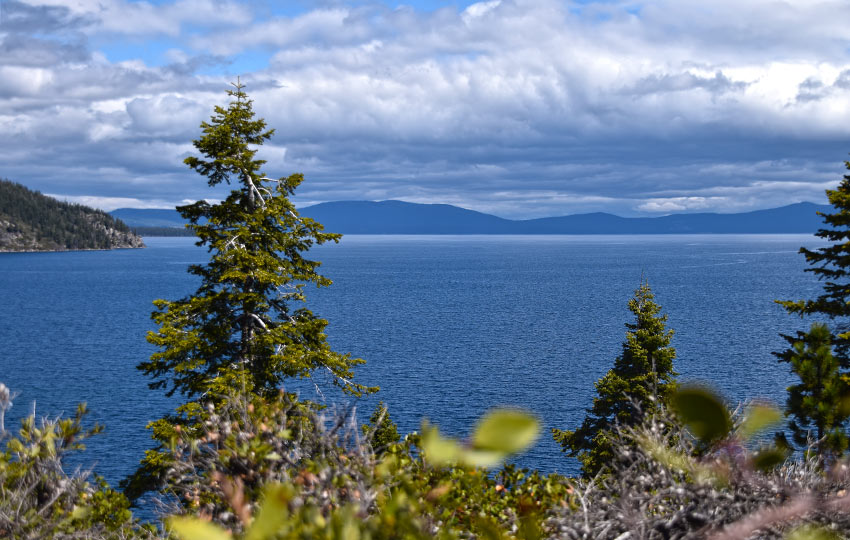 The hike to Eagle Point is an out-and-back route approximately 8 miles long. And the trail features between 1,200-1,400 feet of total elevation gain.
The views are incredible for the entire hike. You'll pass Vikingsholm and then contour the southern side of Emerald Bay. During this traverse along the bay you'll see multiple angles of Fannette Island, Emerald Point, and Lake Tahoe.
In addition, you will most likely spot a number of osprey and/or eagles as they utilize this location for nesting.
---
Support Tahoe Trail Guide with a financial contribution via PayPal (single contribution) or Patreon (reoccurring contributions). Your support of Tahoe Trail Guide is very much appreciated!

Become a Patron!
---
Emerald Bay can be extremely busy. However, foot traffic dramatically decreases once you pass Vikingsholm and cross the bridge that spans the run-out from Eagle Falls.
I recommend that you hike this trail, or anywhere around Emerald Bay, during the week and before 10 a.m. The weekends simply become too crowded and stressful to actually enjoy your experience.
Eagle Point Hiking Trail Data (approximations):
Location: South Tahoe – Emerald Bay
Category of Hike: Day Hike
Total Mileage: 8 miles (out-and-back)
Total Elevation Gain: 1,200-1,400 feet (depending on whether or not you hike up to the base of Eagle Falls)
Highest Point: 6,600 feet (Vikingsholm parking lot)
Trail Conditions: Packed dirt and some asphalt (since the trail travels through the Emerald Bay State Park)
Considerations for Hiking Eagle Point:
Emerald Bay becomes excessively crowded. This is especially true on the weekends during the summer. So consider visiting it during the week and/or arrive before 10 a.m.
Emerald Bay is highly trafficked (i.e. being loved to death), so be pack out all of your trash. Create as little impact as possible. Use the park's toilets. Don't remove naturally occurring objects (i.e. pine cones, sticks, stones…). And, definitely don't disturb the wildlife.
There is a digital kiosk for paying for parking. However, you may also want to bring at least $10 cash just in case.
This hike travels to the overlook above Eagle Point, but not down and around the shoreline of Eagle Point. You'll have to do some off-trail hiking for that if you're up for it.
Adhere to all Leave No Trace principles.
There are few trail signs and markers on public lands in the Tahoe region. So unless there are tracks to follow, the correct route may be difficult to identify. When in doubt, turn back.
Be prepared for inclement weather and carry plenty of warm clothes, food, and water.
Leave an itinerary of your plans with someone who'll call emergency services if you don't return by your prescribed time.
Dogs are not allowed on any of the trails or roads in Emerald Bay.
Drones are not allowed in Emerald Bay or any other State Parks in the Sierra District.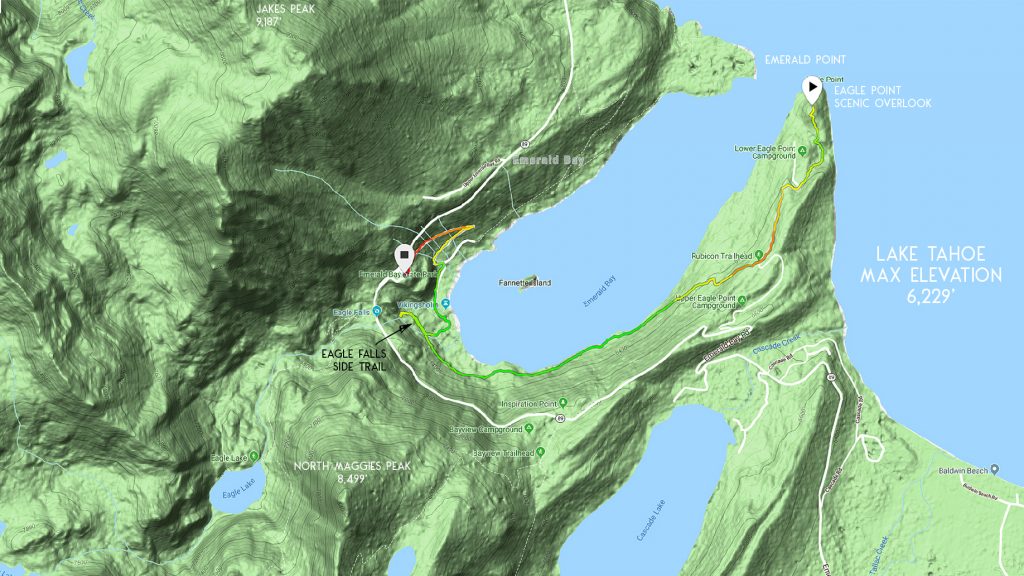 Parking Directions for the Eagle Point Hiking Trail:
As I've mentioned before, we Tahoe locals refer to Emerald Bay as being the perfect place to visit. That is, with about 1,000 of your closest friends! The basis of this joke is that Emerald Bay, on the weekends during the summer, turns into a total zoo.
To paint you a picture of this madness … I hiked with a friend to Eagle Point on May 12, 2018. This was a Saturday two weeks before summer officially kicked off in Tahoe.
We arrived early, at around 8:30 a.m.. And there were only a few other vehicles parked at this lot. We saw less than six other people on our hike out to Eagle Point. And we only saw about a dozen more people on our return trip to Vikingsholm.
Once we reached Vikingsholm, however, it felt like the Giants game just let out and everyone was making their way back to their vehicles.
We returned to our vehicle at 1:30 p.m., which was an hour later than we were hoping to leave.
We walked to our vehicle and found gridlock in all three parking areas. People had parked illegally up and down SR 89. And law enforcement was issuing them tickets. Multiple police officers were also escorting away a person in handcuffs.
This is not how you want to spend your vacation.
So, do yourself a favor and arrive at Emerald Bay early (before 10 a.m.). That way, you'll have the best possible experience.
If you find yourself leaving the house/hotel closer to noon, cut your losses by choosing another activity for the day. For example, go to Baldwin Beach instead.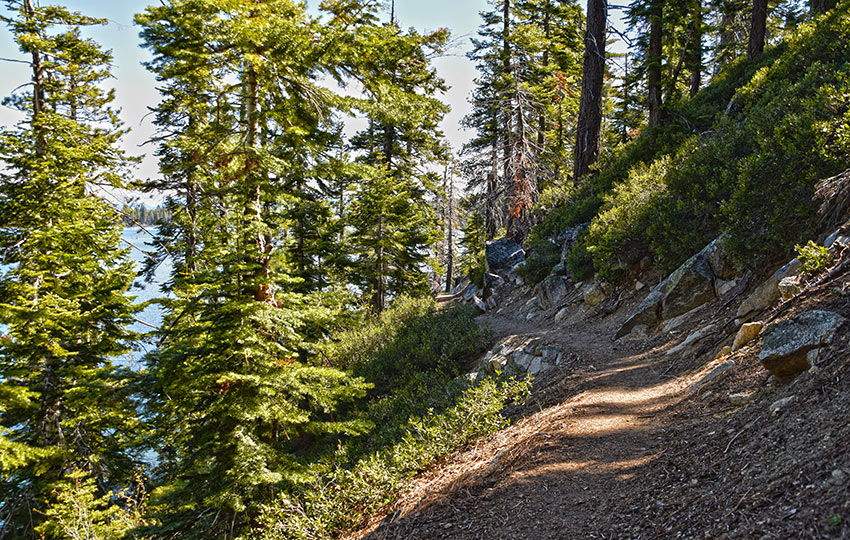 There actually are many legal places to park for visiting Emerald Bay compared to most other trailheads in Tahoe. So long as you're not visiting mid-day on a summer weekend, that is!
The three main options for parking at Emerald Bay to access the trail to Eagle Point are:
Eagle Falls Trailhead parking lot
Vikingsholm parking lot
Limited spots (approximately 18) along SR 89 between both official parking lots
The first option is to park on the mountain side of SR 89 in the Eagle Lake trailhead parking lot. This is a pay lot that takes cash or check, but only costs $5.
The most convenient parking (and second) option is to use the Vikingsholm parking lot. This is the large lot on the lake side of SR 89 that overlooks Emerald Bay. This is a self-pay parking lot that costs $10. However, you can pay with cash or credit card at the digital kiosk. The trail to Eagle Point starts at the back of this lot.
The third option is the parking spots on SR 89 between the Eagle Lake parking lot and Vikingsholm lot. There are about a dozen and a half spots that run perpendicular to SR 89, and they're free. The trick is to get to Emerald Bay early enough to get one of those free spots. Obviously, they become occupied first.
Other than those three options parking anywhere else in or around Emerald Bay is at your own risk. And I say this in both the financial and physical sense.
Don't park up and down SR 89 (especially on the mountain side) in the areas marked "no parking." No matter how bad you want to park at one of those spots, it's a bad a idea. Don't do it even if other people are parked there. Law enforcement will ticket you. Rocks might fall and crush your vehicle. Or, someone paying more attention to Emerald Bay (and not you) might run you over while you walk down the road.
The trailhead is near the self-pay station at the back of the Vikingsholm parking lot.
Here's a map to assist you in finding parking for accessing the trail to Eagle Point. The marker for "Emerald Bay State Park" on this map is essentially the Vikingsholm parking lot.
Travel along the Eagle Point Hiking Trail:
The trail to the scenic overlook at Eagle Point travels along the southern edge of Emerald Bay.
This hike is a bit more challenging than the trail to Emerald Point (northern edge of Emerald Bay). This is because its slightly longer, has more elevation gain, and there are steep drop-offs (as well as tripping hazards such as rocks and roots).
For the above reasons, I don't recommend this hike for families with young children or elderly adults.
The trail is easy to follow and it's well-maintained. However, there are a handful of aspects of it that skirt relatively steep terrain. Trips and falls could result in serious injury or death. So watch your footing at all times.
I realize this cautionary advice goes without saying. But because there are so many Osprey and Eagles in the area, you may find yourself walking while staring up at the tree tops or into the sky more often than you'd think.
This is experience talking, so heed my warning.
Like the other hikes at Emerald Bay (Emerald Point, Rubicon Trail, and down to Vikingsholm and the base of Eagle Falls), you'll begin at the Vikingsholm parking lot near the pay station.
The first mile is downhill and drops approximately 500 feet in elevation.
At Vikingsholm, you'll need to decide whether to hike to the base of Eagle Falls at the beginning or ending of your hike. The distance and elevation is negligible. So it's worth seeing no matter what, especially early in the hiking season when the falls are cranking.
After passing Vikingsholm and the trail leading to Eagle Falls, you'll cross a bridge over the Eagle Falls run-out.
The next mile and a half of the trail will gradually ascend until you reach a small outdoor amphitheater. At this location, you are now in the Eagle Point Campground.
Hike the road downhill and further into the campground. You'll soon reach a group of campsites on the eastern side of the campground.
Just beyond these campsites, at the end of the paved road, is a small sign indicating the scenic overlook. Take that small trail up the hill. Your rewards are incredible views of Emerald Bay, Emerald Point, Desolation Wilderness, and panoramic scenes of Lake Tahoe.
There used to be a picnic table at this scenic overlook. Whether or not it's still there is irrelevant. Just plan to eat your snacks at this location while enjoying the views.
Keep in mind that this overlook becomes busy once the campground opens for the season. So if you have the opportunity to hike this trail in the off-season, do it. Even hiking it before the campground actually opens is wonderful.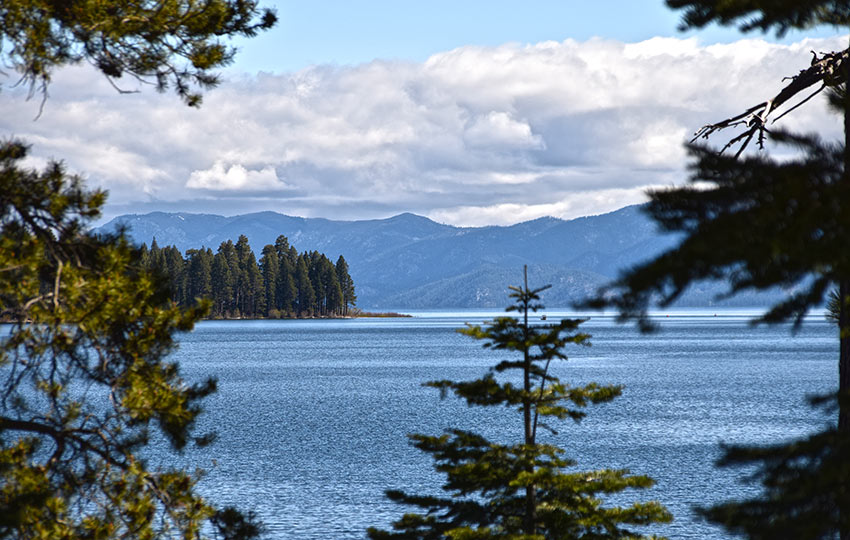 I hope I've made it clear. However, if there's any question, please note that this trail goes to the scenic overlook above Eagle Point not the actual shoreline around Eagle Point.
Again, there's not an established trail that actually skirts the shore of Lake Tahoe around Eagle Point.
Since this is an out-and-back trail, return via the same route you hiked. Pay attention as you near the top of the paved road in Eagle Point Campground. This was where you had previously exited the dirt trail near the outdoor amphitheater. I say this because it's easy to walk right past the trailhead.
Dogs and drones are not allowed in Emerald Bay. They're not permitted on any of the trails or roads leading into Emerald Bay either. For more information and history about Emerald Bay visit the Emerald Bay State Park website.
---
Do you have other insight, feedback, or trail updates about hiking Hiking Eagle Point (scenic overlook)?
If so, please post it in the comment section below for the benefit of everybody 🙂
---