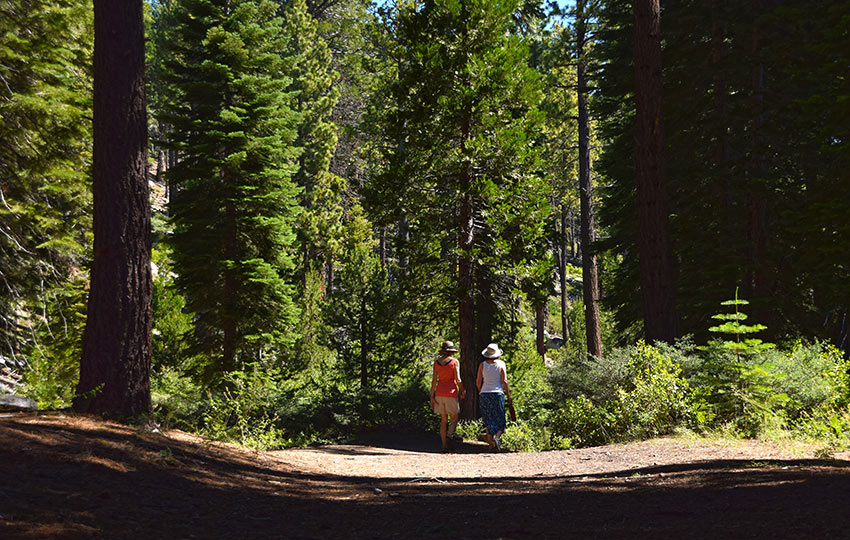 The hike to Meeks Creek Falls and around Meeks Creek is perfect for people seeking an easy trail (i.e. no elevation gain) with plenty of solitude. When hiking the Meeks Creek Trail as a loop, you'll travel along a dirt road, in and out of the forest, and finally through a meadow.
Although there are only a few long views along the Meeks Creek Trail (you can't expect to see too far when hiking a flat trail at lake level, after all), the fact that you'll be traveling by the creek and its adjacent meadow means there'll be plenty of opportunities to see wildlife and Sierra Nevada wildflowers.
Keep in mind that the best time to see the Meeks Creek Falls running and Sierra Nevada Wildflowers in full bloom will be earlier in the summer following a normal winter.
That said, there's really no bad time to hike to Meeks Creek Falls because of its easy access, free parking, and flat terrain.
Meeks Creek Falls Trail Data (approximations):
Location: West Tahoe – Meeks Bay
Category of Hike: Short Hike, Day Hike
Category of XC Ski/Snowshoe Route: Beginner
Total Mileage: 4 miles (out-and-back) or 4.5 miles (loop)
Total Elevation Gain: 50 feet
Highest Point: 6,300 feet
Trail Conditions: Packed dirt and grassy meadow
Considerations for Hiking around Meeks Creek and to Meeks Creek Falls:
Meeks Creek Falls are most active following big snow years and earlier in the spring and summer, so hiking the out-and-back option to Meeks Creek Falls is most appropriate under these conditions
Meeks Creek Falls are least active following low snow years and later in the summer, so hiking the full loop around Meeks Creek is most feasible under these conditions
Adhere to all Leave No Trace principles
There are few trail signs and markers on public lands in the Tahoe region, so unless there are tracks to follow, the correct route may be difficult to identify – when in doubt, turn back
Be prepared for inclement weather and carry plenty of warm clothes, food, and water
Leave an itinerary of your plans with someone who'll call emergency services if you don't return by your prescribed time
Dogs are allowed, but keep them on leash and pick up after them
Parking Directions for Meeks Creek Falls Trail:
Parking is located on the west side of Lake Tahoe (just south of Tahoma and Sugar Pine Point State Park) on SR 89 opposite of Meeks Bay Campground and Meeks Bay Resort and Marina.
There you will find the official trailhead with a message board, Desolation Wilderness day-use passes (if you were to hike up to Lake Genevieve, for example), and parking spots.
There are some private structures near the trailhead, so read all signs and adhere to all parking directions at this trailhead.
If the parking spots nearest the trailhead are occupied, park directly off of SR 89. Obviously, read and follow all signs posted relating to parking along SR 89.
Vehicle turnover is generally high at this trailhead due to the fact that the Meeks Creek Trail is a flat and easy hike, so don't sweat it if the parking looks full.
There's a good chance that a bunch of those vehicles belong to locals who are just taking their dogs for a quick walk down the dirt road.
Please note that the trailhead to the Meeks Creek Trail is also an access point for Desolation Wilderness.
In fact, the Meeks Creek trailhead is the starting point for the lesser known Tahoe-Yosemite-Trail, but for now just know that when hiking to Meeks Creek Falls and around Meeks Creek, you do not need to fill out a Desolation Wilderness day-use pass.
I only mention this because those passes are costly to print and it would be wasteful to fill one out since the Meeks Creek Trail does not actually travel into Desolation Wilderness.
The trailhead to Meeks Creek Falls and Meeks Creek Trail is at the message board and gate.
Here's a map to help you find the trailhead and parking to the Meeks Creek Trail.
Travel along the Meeks Creek Falls Hiking Trail:
Beginning at the message board and gate located just off of SR 89 and opposite from the Meeks Bay Campground and Meeks Bay Resort and Marina, hike along the dirt road. At about 1.5 miles, you'll reach a fork in the trail.
The trail that leads off to the right will take you into Desolation Wilderness. So, stay to the left and continue hiking around Meeks Creek in a counter-clockwise direction.
You'll begin to notice evidence of man-made structures and debris once you get closer to Meeks Creek Falls. For example, at around mile 1.75 there's a small offshoot trail (that leads to the left) that will take you to a concrete foundation of an old building.
The short trail that goes to the foundation will link back up with the main Meeks Creek Trail (if you want to satisfy your curiosity and check out the foundation).
Otherwise, keep hiking the more well-worn path for a few hundred more meters, at which point you'll see the comical looking site of a long-abandoned three-stall outhouse.
This outhouse, along with the other structures you see while hiking the Meeks Creek Trail are remnants of Camp Wasiu, an old Girl Scout camp that was active from 1950-1965.
As odd and humorous as the outhouses look in their state of deterioration and juxtaposed next to beautiful wilderness, consider the impact they had on this specific location.
Clearly, human shit collecting in pit toilets so close to a water source (Meeks Creek) and basically in the middle of sensitive wetlands would not fly by today's land management standards.
But hey, it was the 1950s and the idea that humans could actually contaminate the earth didn't exist back then, right?
Soon after passing the outhouse you'll find a small trail that leads off to the right (west) through some trees and takes you up to the Meeks Creek Falls.
Keep in mind that the amount of water running down the falls is dependent upon the previous winter's snowpack levels.
If it was a low-snow season, those falls will dry up early in the summer.
I recommend that you visit Meeks Creek Falls in the spring and early summer in order to see them gushing. That's not to say you can't hike this trail all summer, it's just that the falls won't be very impressive in late July and August.
That said, crossing Meeks Creek in order to hike the full loop will be less wet and hazardous if the water running from the falls is low.
If you're hiking the out-and-back option to Meeks Creek Falls (approximately 4 total miles), you've reached your turnaround point so hike back to your vehicle the way in which you came.
To continue hiking the loop around Meeks Creek (approximately 4.5 total miles), keep hiking the trail in a counter-clockwise direction.
You'll see a couple more structures and debris along the way, and then you'll reach a meadow. This is where things can get tricky depending on the time of year in which you're hiking and how much snow Lake Tahoe received the previous winter.
Again, if it was a low-snow winter and you're hiking during the second half of summer, you'll probably be fine.
Although the path through the meadow won't be nearly as defined as the one leading from the trailhead to the falls, you should still be able to navigate with ease thanks to all of the other foot traffic.
If, however, you're attempting to hike the full loop early in the summer and/or after a big-snow winter, the trail will not be as obvious and you will most likely be walking through wet and marsh-like conditions.
I don't recommend hiking the loop if this is the situation because you risk doing irreparable damage to the meadow.
Turn around and hike back the way you originally came.
Assuming the conditions are appropriate and hiking the full loop around Meeks Creek is feasible, you'll find yourself traveling in a northeast direction back to SR 89.
At approximately 3.5 miles, you'll see a gate. Do not walk past the gate and down the road (see the red X on the map). This road leads to and through someone's private property before actually reaching SR 89.
Instead, find the footpath that curves slightly to the left and then continue hiking along it to reach the end of the Meeks Creek Trail loop (SR 89 in front of the Meeks Bay Campground entrance).
When I hiked this trail in 2018, there was a large pile of rocks at this particular transition (note that this photo was taken while looking back at the rock pile). How long that rock pile will remain is undetermined, so use the gate as a landmark to start looking for the correct trail that will lead you away from the private property and back through National Forest to your vehicle.
The Meeks Creek area is also a wonderful location in which to cross-country ski and snowshoe during the winter since it's so easily accessible and provides a diversity of terrain in which to explore.
Pay attention to where you are going, however, because Meeks Creek is forested and generally flat so it may be challenging to orient yourself.
And as always in Tahoe, be mindful of where you park in the winter. If snow removal operations are in effect, parking becomes extremely limited and is generally prohibited along roads such as SR 89.
---
Do you have other insight, feedback, or trail updates about hiking Meeks Creek Falls?
If so, please post it in the comment section below for the benefit of everybody 🙂
---