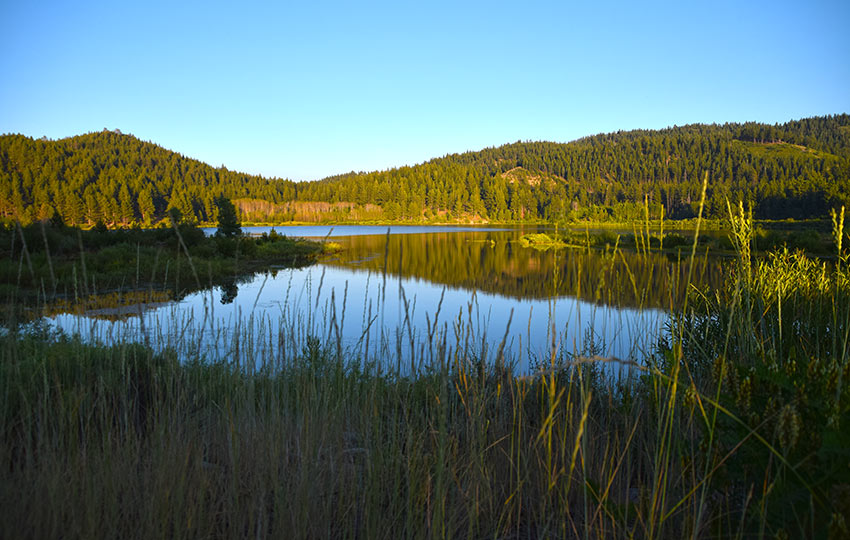 Hiking the loop around Spooner Lake is entertaining and educational. The views are mostly restricted to Spooner Lake and the neighboring forest. However, the lake is host to an abundance of wildlife and wildflowers.
Additionally, there are multiple infographics along the trail to provide for an educational experience. They include information and imagery about the history of the Spooner Lake area and the wildlife that inhabits it.
Hiking around Spooner Lake is ideal for the young and old. There's very little elevation gain, the hike around the lake is barely over two miles, and there are plenty of many benches.
---
Support Tahoe Trail Guide with a financial contribution via PayPal (single contribution) or Patreon (reoccurring contributions). Your support of Tahoe Trail Guide is very much appreciated!

Become a Patron!
---
Spooner Lake is a great location for a short hike before or after work. This mostly applies to people who live and work at Lake Tahoe.
When there's enough snow during the winter, the Spooner Lake area is a stellar location for cross-country skiing and snowshoeing.
One caveat that I should point out about hiking Spooner Lake is that it's directly adjacent to HWY 50. Easy access to Spooner Lake comes with a price. So, there's a good chance you'll hear vehicle noise from the highway if you're visiting on a high traffic day such as a summer Saturday at noon.
Spooner Lake Trail Data (approximations):
Location: East Tahoe – Spooner Summit
Category of Hike: Short Hike
Category of XC Ski/Snowshoe Route: Beginner
Total Mileage: 2.5-3.5 miles (depending on where you park)
Total Elevation Gain: 50-250 feet (depending on where you park)
Highest Point: Spooner Lake sits at 7,000, while Spooner Summit is at 7,146 feet
Trail Conditions: Well-maintained dirt trail
---
For other shorter hiking options, visit Short and Easy Hikes in South Lake Tahoe.
---
Considerations for Hiking around Spooner Lake:
The Spooner Lake are is for day-use only, meaning it's only open from sunrise to sunset
Bring cash or a checkbook to cover the cost of the entrance fee to the Spooner Lake area (as of 2018 it was $10 per vehicle at the main entrance or $2 per person for hiking into the park from the north lot on Spooner Summit)
The entrance fee to the Spooner Lake area is required year-round (i.e. for xc skiers and snowshoers in the winter)
During the winter, don't park on Spooner Summit when it's actually snowing and snow removal operations are in effect (to avoid receiving a parking citation)
Adhere to all Leave No Trace principles
There are few trail signs and markers on public lands in the Tahoe region, so unless there are tracks to follow, the correct route may be difficult to identify–when in doubt, turn back
Be prepared for inclement weather and carry plenty of warm clothes, food, and water
Leave an itinerary of your plans with someone who'll call emergency services if you don't return by your prescribed time
Dogs are allowed, but keep them on leash and pick up after them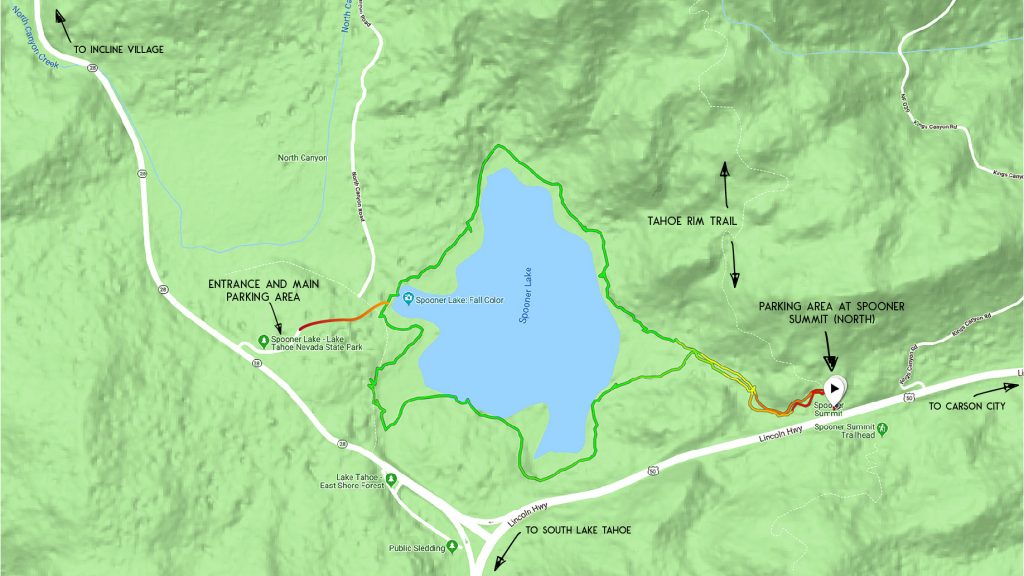 Parking Directions for the Spooner Lake Hiking Trail:
Spooner Lake area is that it's part of the Lake Tahoe Nevada State Park system. This means that there's an entrance fee. Regardless of the means by which you arrive or the season in which you recreate fees are required.
Fees are required year-round (and may vary), but during the summer of 2018 they cost $10 per vehicle when entering via the main entrance. Or, it costs $2 per person when accessing the Spooner Lake area by hiking, cross-country skiing, snowshoeing, biking, riding a horse, or getting dropped off by bus. Even hiking in from Spooner Summit, you'll need to pay $2 per person to enter the Spooner Lake area.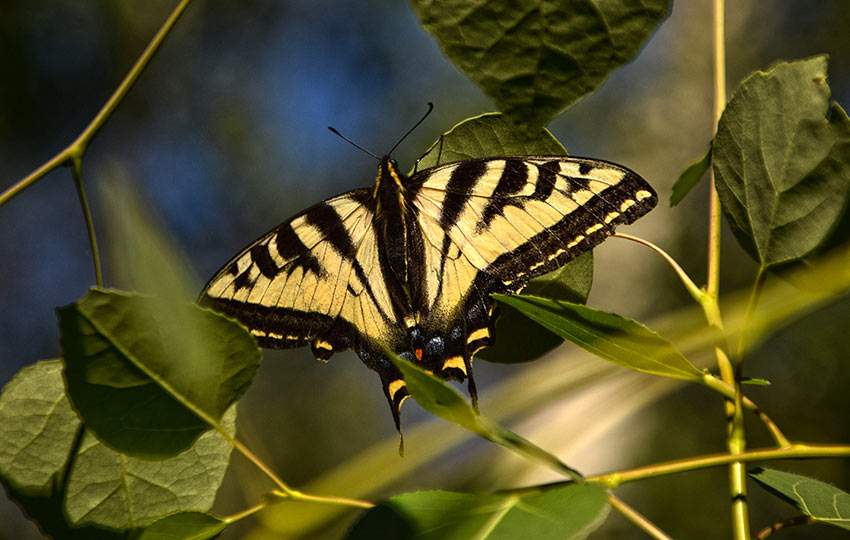 There are two main parking options for accessing Spooner Lake.
The first and most convenient option is to park at the main entrance off of SR 28, just north of the intersection of HWY 50 and SR 28. In addition to parking spots, you can also find public toilets, picnic tables, and barbeques located at the main entrance. The trailhead when parking at the main entrance is basically at the public toilets.
The second parking option is at the north lot on Spooner Summit. This is slightly further east of Spooner Lake on HWY 50. Parking at Spooner Summit is free, but you'll have to hike approximately 1 extra mile (roundtrip) to access Spooner Lake from this location and still pay $2 per person to hike into the Spooner Lake area. For this "back door" to Spooner Lake, there are envelopes and an iron ranger (to deposit your envelope and cash) about 100 meters north on the Tahoe Rim Trail. This walk-in pay station is the trailhead to access the Spooner Lake area from its eastern border.
Here's a map to help you find the main entrance to the Spooner Lake area. For parking at Spooner Summit, continue driving along HWY 50 until you reach the north parking lot for the Tahoe Rim Trail.
Travel along the Spooner Lake Hiking Trail:
From the public toilets at the main entrance, hike down the hill along a short trail that lasts a few hundred meters to arrive at Spooner Lake. At this point, you should be standing in a relatively open area and looking at the lake.
You should also see some trails and dirt roads that appear to go around the lake. Also, there are various signs indicating the Spooner Lake Trail, mountain biking rules, and some fishing information.
For hiking during the summer around the lake, choose the trail (either clockwise or counter clockwise) closest to the lake.
From the parking lot on Spooner Summit, hike north on the Tahoe Rim Trail. You'll only need to travel approximately 100 meters to find the self-pay station and "back door" to the Spooner Lake area.
The trail leading down to Spooner Lake is just shy of a half mile. It will intersect with the Spooner Lake loop trail. This spur trail is also where you'll have to negotiate the most elevation gain at any one time. The gain/drop is only about 150 feet), so it's negligible all things considered.
After reaching the Spooner Lake loop, pick a direction in which to hike around the lake and enjoy your journey. I'm not aware of any compelling arguments for or against hiking clockwise or counterclockwise.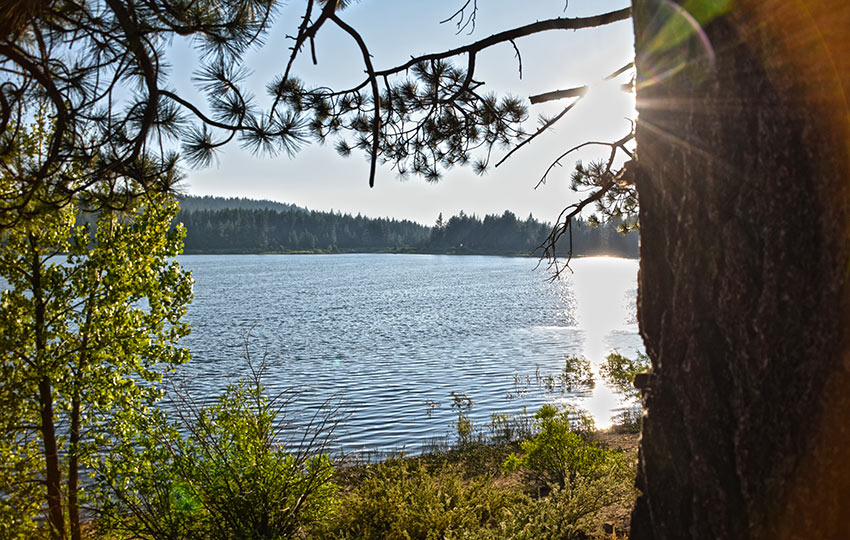 I know of no compelling argument for traveling in one direction versus the other (clockwise or counterclockwise) around Spooner Lake.
The only thing I would consider is where you'll be standing once the sun rises or sets (so long as you're in the park at either of those times).
Viewing the sunrise will be best from the north and west side of the lake. Watching the sunset from the south and east side will afford the best views.
Just keep in mind that this is a day-use park. So, once the sun sets head back to your vehicle immediately and leave the park.
Please note that Spooner Lake is not a swimming lake. Enjoy the views, but only from the shoreline.
---
For other shorter hiking options, visit Short and Easy Hikes in South Lake Tahoe.
---
When traveling around Spooner Lake during the winter, I recommend giving it a wide berth.
Although the lake is not very deep, it's located on the east side of Lake Tahoe. This means that it doesn't receive nearly as much snow as the west shore.
Because the Spooner Lake area is wide open, it receives lots of sunlight throughout the day. So, I wouldn't expect the lake to be frozen enough for safe travel.
For many years there was a thriving cross-country ski operation at Spooner Lake. However, the drought years of 2011-2015 (and a desire to retire) convinced the owners of that operation to close the operations permanently.
Then, in 2017, the volunteer organization Nevada Nordic took up the cause. So, check out the Nevada Nordic website for updates regarding grooming operations around the Spooner Lake area.
---
Do you have other insight, feedback, or trail updates about hiking Spooner Lake?
If so, please post it in the comment section below for the benefit of everybody 🙂
---