My name is Jared "Schoolboy" Manninen and, in 2005, I moved to South Lake Tahoe, CA. It didn't take long for me to fall in love with Lake Tahoe and the surrounding Sierra Nevada Mountains.
But, before moving to Tahoe I was an Appalachian Trail thru-hiker (1999, southbound).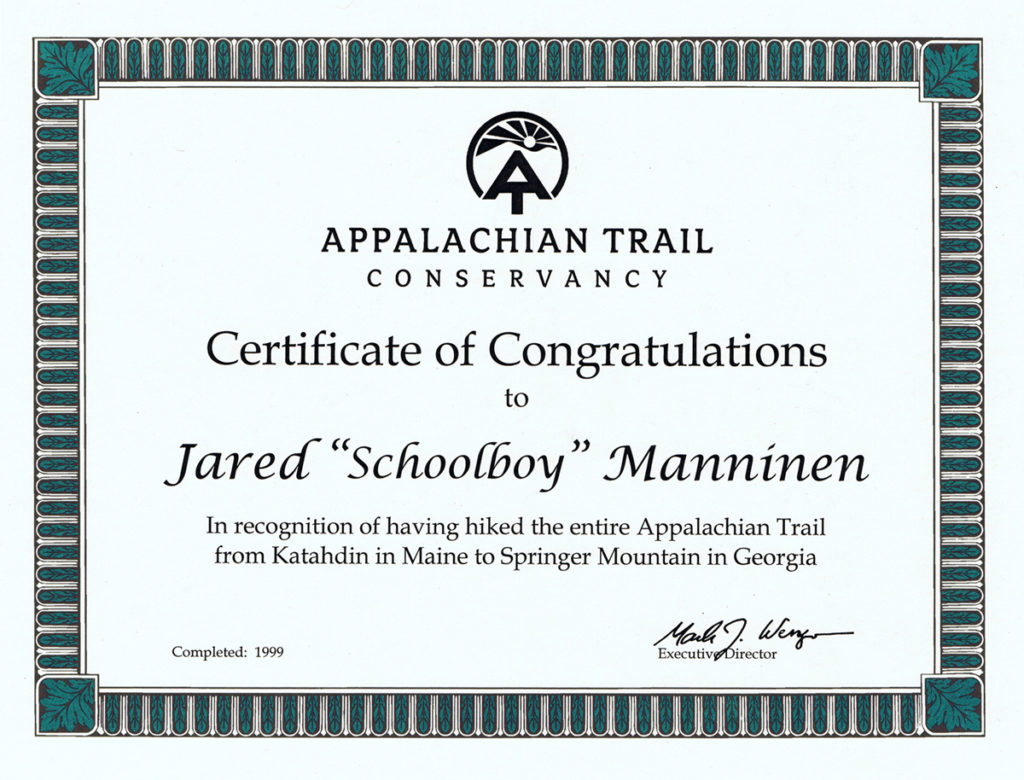 In 2011, I created an illustrated memoir based on the photos and journals I kept while thru-hiking the Appalachian Trail. The book is titled MEGA '99: Adventures of an Appalachian Trail Thru-Hiker.
I'm also a Tahoe Rim Trail thru-hiker (2014). After spending a couple of years trying to determine how best to share my Tahoe Rim Trail experience and to encourage others to go out and have their own adventures, I decided to publish a coloring book. The book is titled Color the Tahoe Rim Trail and features 79 illustrations based on the photographs I took while hiking around the lake.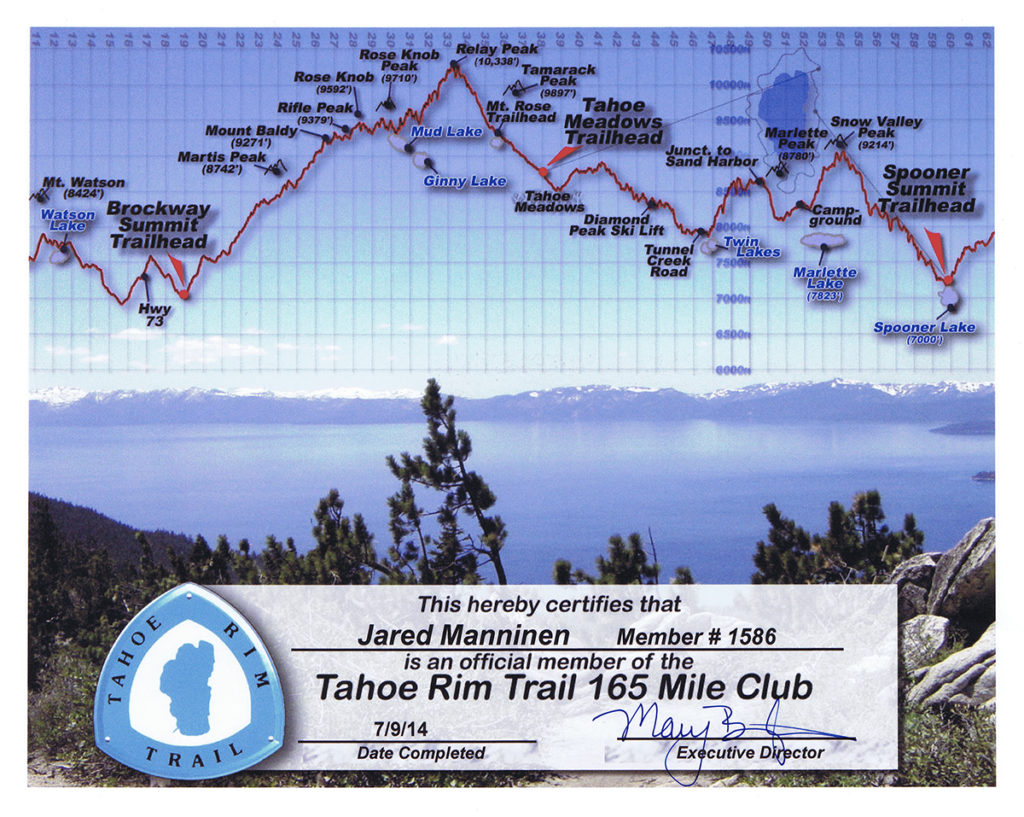 While thru-hiking the Tahoe Rim Trail my love deepened for the Lake Tahoe region. One reason is that I literally walked out my front door, hiked up to the Tahoe Rim Trail/Pacific Crest Trail trailhead on Echo Summit, then walked around the lake and back home. The journey took me 10 days, but the point is that I love being surrounded by pristine wilderness. It's literally my backyard.
I was also amazed by the vast number of micro-climates around Lake Tahoe. Every few miles offered new terrain and flora and fauna to identify.
I've hiked short sections of the Pacific Crest Trail and John Muir Trail in the Southern Sierra. One 60-mile section hike of mine featured a day hike up Mount Whitney (2012). Another memorable (for all the wrong reasons!) trip that comes to mind is my 2015 failed attempt at hiking a modified version of the Tahoe Yosemite Trail. I bailed after 60 miles due to inclement weather and not being prepared to deal with it.
Between 2014-2016, I worked at a South Lake Tahoe backpacking store called Lake of the Sky Outfitters. At the small gear shop we provided integral support to Pacific Crest Trail and Tahoe Rim Trail hikers. Since 2014, I've worked at a popular cross-country ski area on the north side of Lake Tahoe. I currently rotate between the cross-country ski center and an historic, family-run summer resort near my home in South Lake Tahoe.
Between those two seasonal jobs and all of the other hi-jinks I find myself getting into, I've mostly been committing to day hikes, wildflower hunts, and birding. Then, posting the relevant information here on Tahoe Trail Guide.
If you were wondering, my experience working at Lake of the Sky Outfitters was one of the primary motivators behind the creation of Tahoe Trail Guide.
Although working with the Pacific Crest Trail hikers was a blast. They were easy customers with which to help because they already had so much experience by the time they reached the store. Echo Summit, which leads to South Tahoe, is roughly at mile 1,050 on the Pacific Crest Trail. And, their needs were usually quite specific.
I discovered that recreational hikers and backpackers provided me with the most challenges. They had broader needs and lacked experience. Simply put, recreationalists don't have the time on the trail to develop skills and knowledge. No surprise they wanted to visit the store!
Unfortunately, the store closed permanently in December of 2016. So, I needed another outlet to continue the conversation.
In 2019, I became certified as a Wilderness First Responder (and recertified in 2021).
In 2020, I earned a Level 1 Cross Country Ski Instructor Certification through PSIA (Professional Ski Instructors of America).
Then, in 2022, I earned my Level 2 certification in Cross Country through PSIA.
On March 14, 2020, I earned a certificate as a Leave No Trace Trainer.
On June 26, 2020, I earned a California Naturalist certification. If you love the outdoors, I highly recommend taking this course or a similar one in the state in which you live. They require a lot of time and energy, but they're highly rewarding and provide another way to enhance your outdoor experience. This course also provides you with different approaches to sharing your knowledge with others about the great outdoors.
In addition to my outdoor adventures, I've served in the US Marine Corps (1992-1996) and Army National Guard (1997-2000).
I earned a BA in communications in 1999 from Michigan Technological University and an AA in business in 2014 from Lake Tahoe Community College.
I was a professional massage therapist for over five years and a coach counselor to at-risk youth for three years.
In 2013, I earned a second degree black belt in the Japanese martial art of Aikido.
In the late nineties, while earning my bachelor's degree, I discovered a hidden passion for art and I've been an artist and writer ever since.
Like any Lake Tahoe-bound adventurer, I've performed my fair share of online searches for relevant information. Unfortunately, I've never found any sites that really met my needs. Some sites were OK, but most just left me scratching my head. I couldn't help but wonder who the people were that published the information. Hence the impetus for me to create Tahoe Trail Guide.
Since I'm a one-person operation, I occasionally miss details and make mistakes. Contact me with any helpful feedback regarding the content and design of Tahoe Trail Guide.