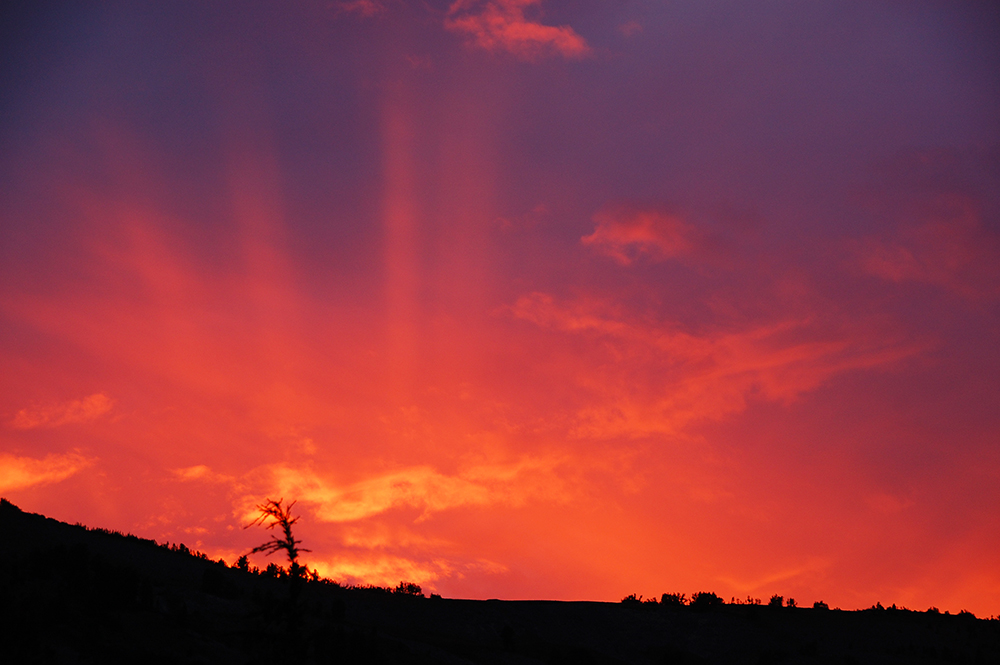 The Tahoe Rim Trail (TRT) is a 165+ mile trail that travels continuously around the mountainous rim of the Lake Tahoe Basin. Hiking the TRT was my first "thru-hike" since completing the Appalachian Trail (AT) back in 1999. I've backpacked plenty since the AT, but not for a continuous end-to-end journey of a specific trail.
People often ask, once they learn I thru-hiked the AT, whether or not I'm going to follow up with the Pacific Crest Trail and Continental Divide Trail for the "Triple Crown."
My usual response is that there's enough pristine wilderness in the Sierra Nevada Mountains for me.
---
Support Tahoe Trail Guide with a financial contribution via PayPal (single contribution) or Patreon (reoccurring contributions). Your support of Tahoe Trail Guide is very much appreciated!

Become a Patron!
---
I've since preferred to hike long short trails (longer than most people care to do, but short enough that you don't have to set aside six months of time to complete).
I consider the Tahoe Rim Trail a "long short trail," so in the summer of 2014 I thru-hiked the TRT. I walked from my house in Meyers (west end of South Lake Tahoe) up to Johnson Pass Road, hopped onto the TRT and then hiked around Lake Tahoe via the TRT.
Once I completed the circle and reached the TRT/PCT junction at Johnson Pass Road, I came back down Old Meyers Grade and walked home. This is why I love living at Lake Tahoe. Wilderness is literally right outside my front door.
Although I hiked the entire trail in 10 days, it's common to complete it in 12-14 days. My work schedule dictated how many days I had to hike and, honestly, sometimes I just like to keep walking.
I was hiking alone for most of this trip and it was during the height of summer (lots of daylight), so I put in longer days. Since the majority of the Tahoe Rim Trail is a traverse, the terrain is favorable for bigger mileage days. That said, the TRT is an excellent beginner thru-hike.
Considerations for Thru-Hiking the Tahoe Rim Trail:
Logistics are relatively easy to handle because South Lake Tahoe is accessible from the east and south shores via Highway 50 at Spooner Summit, State Route 207 (Kingsbury Grade) near Daggett Summit, State Route 89 near Luther Pass, and then again on Highway 50 at Echo Summit.
On the northwest shore you'll literally walk right past Tahoe City, then further around the north side you'll cross State Route 267 which gives you access to Kings Beach, and finally on the northeast corner of the TRT you'll cross State Route 431 (Mount Rose Highway) which affords you access to Incline Village.
Direction in which to Thru-Hike the Tahoe Rim Trail
Many people prefer to begin their TRT thru-hike at Tahoe City and hike in a clockwise direction. The two main reasons for this is:
the transit center near the trailhead in Tahoe City has a large parking lot
people like to save Desolation Wilderness for the last leg of their journey
I chose to start at the Echo Summit basically the beginning of Desolation Wilderness) because I live just down the hill and it was the shortest distance from my house to the trail.
Water Sources on the Tahoe Rim Trail
Finding reliable water sources is probably the most challenging aspect of thru-hiking the Tahoe Rim Trail, particularly during a drought year. The summer I hiked was exceptionally dry, so there were 20-25 mile stretches between water sources along the north and east shores. To overcome this problem I schlepped 4-5 liters of water during those long sections.
Full disclosure… I prefer to "dry camp" (staying overnight at a campsite in which there is no water source), so I tend to carry a lot of water anyway. On this trip, a couple of days that manifested by having to carry water for the day's hike, the evening's meal, the following breakfast, and then the remaining miles to reach the next water source
The reasons I prefer to dry camp is that the sites I choose usually have less people, bugs, and critters. Camping far from water sources minimizes contamination and impact on them. And, if at all possible I'll stay on a peak so that I get views of the sunset and sunrise.
Mileage Breakdown for my 2014 thru-hike of the Tahoe Rim Trail:
Please note that these distances were based on the 2013 edition of Tom Harrison's Lake Tahoe & Tahoe Rim Trail map.
Day 1 (Monday, June 30): 8.2 TRT miles + 4.25 miles to get to the trailhead = 12.25 total miles.
Day 2 (Tuesday, July 1): 19.3 TRT miles
Day 3 (Wednesday, July 2): 15.2 TRT miles
Day 4 (Thursday, July 3): 15.7 TRT miles + 1 bonus mile in Tahoe City = 16.7 total miles
Day 5 (Friday, July 4): 15.9 TRT miles
Day 6 (Saturday, July 5): 20.2 TRT miles
Day 7 (Sunday, July 6): 24.9 TRT miles
Day 8 (Monday, July 7): 24.8 TRT miles
Day 9 (Tuesday, July 8): 19.4 TRT miles
Day 10 (Wednesday, July 9): 9.3 TRT miles + 4.25 miles to hike home from the trailhead = 13.55 total miles
Total TRT Miles: 172.7 miles
Total Overall Miles: 182.2 miles
Average Miles/Day (overall): 18.22 miles/day
Resources for Thru-Hiking the Tahoe Rim Trail
For more detailed information about traveling along the TRT, visit the Tahoe Rim Trail Association.
Required reading for hiking the TRT is Tim Hauserman's comprehensive guidebook titled Tahoe Rim Trail: The Official Guide for Hikers, Mountain Bikers and Equestrians. And, the only map you'll need while hiking the TRT is Tom Harrison's Lake Tahoe & Tahoe Rim Trail.
For a closer look at and greater understanding of my approach to planning longer backcountry adventures, read my series of articles Planning Your Backcountry Trip.
Lastly, to purchase the Tahoe Rim Trail coloring book titled Color the Tahoe Rim Trail (based on this journey) that I published in 2016, visit the Tahoe Trail Guide store page.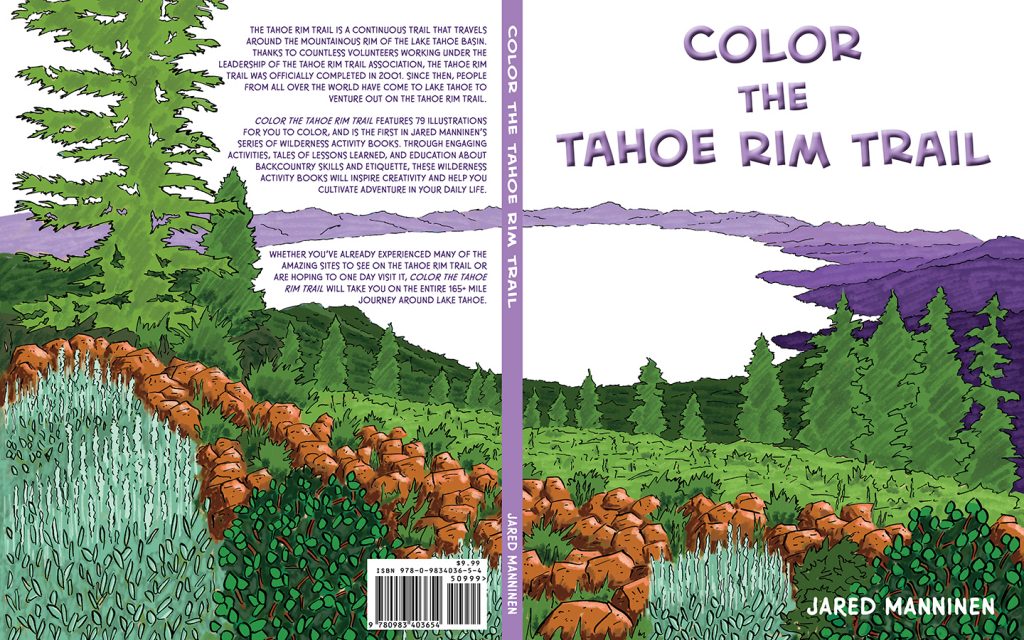 Photo Gallery of my 2014 Thru-Hike of the Tahoe Rim Trail
1 – Leaving My Home in Meyers

2 – View from Johnson Pass Road

3 – The TRT/PCT Intersection at Johnson Pass Road

4 – Hiking Along Lower Echo Lake

5 – The Tahoe Rim Trail in Desolation Wilderness

6 – Spreading Phlox

7 – Storm Clouds South of Lake Aloha

8 – Lake Aloha and Pyramid Peak

9 – Near Susie Lake

10 – Butterflies and Wildflowers

11 – Hiking up to Dick's Pass

12 – Marsh in Desolation Wilderness

13 – Lupine Along the Tahoe Rim Trail

14 – Morning Meadow South of Barker Pass

15 – German Pacific Crest Trail Thru-Hiker "Sprinkles"

16 – Oregonian Pacific Crest Trail Thru-Hiker "Sizzler"

17 – Southern Californian Tahoe Rim Trail Thru-Hiker "ET"

18 – Mariposa Lily

19 – Field of Mule's Ears

20 – Mule's Ears and Lake Tahoe

21 – Grasshopper Chewing on the Brim of My Hat

22 – Tahoe Rim Trail

23 – Eating Breakfast Near Ward Creek

24 – Paige Meadow

25 – Me and My Friend Kyle in Tahoe City

26 – Lake Tahoe at Dusk

27 – Lake Tahoe in the Morning

28 – Tahoe Rim Trail

29 – Family of Snowplant

30 – Lake Tahoe Viewed from the Tahoe Rim Trail

31 – Watson Lake

32 – Spending July 4th Down the Mountain from Martis Peak Lookout

33 – Wildflowers and Mountain Range

34 – Looking into Crystal Bay

35 – Panorama of Crystal Bay

36 – Gray Lake

37 – Starting to Hike up Relay Peak

38 – Near Galena Falls

39 – Tahoe Meadows

40 – Cloud Bank over the Carson Valley

41 – Mountain Bike Tread Patterns and Mountain Pride

42 – Tahoe Rim Trail

43 – Sage Fields Above Marlette Lake

44 – Marlette Lake and Lake Tahoe

45 – Marlette Lake and Lake Tahoe in the Background

46 – Paintbrush Along the Tahoe Rim Trail

47 – Friends Meeting Me at Spooner Summit for a Picnic and Resupply

48 – Hiking to South Camp Peak

49 – Sunset over Lake Tahoe

50 – Getting in some Late Evening Bonus Miles

51 – Near South Camp Peak

52 – Wooden Bench with Views of Lake Tahoe

53 – South Lake Tahoe and the Casinos at Stateline

54 – Chairlift at Heavenly Ski Resort

55 – Late Afternoon Storm Clouds

56 – Hiking in Rain Near Star Lake

57 – Sunset Viewed Near Star Lake

58 – Large-Leaf Lupine in Armstrong Pass

59 – Tahoe Rim Trail near Armstrong Pass

60 – Looking South over Hope Valley

61 – Freel Meadows

62 – Wildflower Bouquet

63 – Granite and Jeffrey Pines

64 – Half-Eaten Fir Cone

65 – Bridge over Grass Lake Creek

66 -Big Meadows

67 – Chance Meeting with Kristina & Bob

68 – Round Lake

69 – Almost to the TRT/PCT Junction in Meiss Country

70 – Derelict Structures in Meiss Country

71 – Cloud Cover

72 – Sunset Viewed from Showers Lake

73 – Serene Morning at Showers Lake

74 – Sliver of Lake Tahoe

75 – Tahoe Rim Trail South of Echo Summit

76 – Meadow and Jeffrey Pine Trees

77 – Tahoe Rim Trail

78 – Granite Boulders and a View of Lake Tahoe

79 – Granite Wall along the Tahoe Rim Trail

80 – View of Lake Tahoe just South of Echo Summit

81 – The TRT/PCT Junction at Johnson Pass Road
Please note that the batteries in my camera died early on Day 9 of my thru-hike, so I went back and re-hiked the 25 miles on August 1, 29, and 30 to take more photos.
For more specifics about my thru-hike of the Tahoe Rim Trail, or if you want feedback concerning hiking the TRT, contact me.