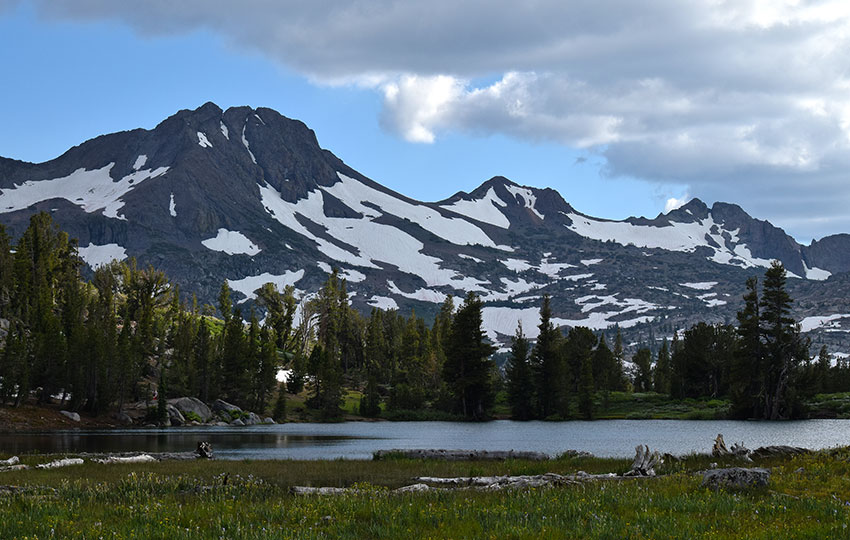 Hiking to Frog Lake is an ideal adventure for all ages and fitness levels because the trail to Frog Lake is relatively short and easy. In addition, once you reach Frog Lake you'll be treated to exceptional views around the Carson Pass area.
From Frog Lake, you can see:
Freel Peak
Hope Valley
Markleeville Peak
Then, as you continue to look around in a clockwise direction, you'll see:
Elephant's Back
Round Top
The Sisters
Caples Lake
Little Round Top
Red Lake Peak
Just as compelling as the landscape views, is the abundance of beautiful Sierra Nevada wildflowers that grow near and around Frog Lake during warmer months.
---
Support Tahoe Trail Guide with a financial contribution via PayPal (single contribution) or Patreon (reoccurring contributions). Your support of Tahoe Trail Guide is very much appreciated!

Become a Patron!
---
You can find two of my personal favorite wildflowers on the east side of Frog Lake. They are the Western Blue Flag (aka Wild Irises) and Prairie Smoke (aka Old Man's Whiskers).
Scroll to the bottom of this article to see a photo gallery of Frog Lake wildflowers, as well as information about finding wildflowers at (and on the trail to) Frog Lake.
Know that Carson Pass always receives and holds snow early and late in the season due to its location and higher elevation.
Whether you're looking for a short invigorating workout with some views, or you're on the hunt for wildflowers at Carson Pass, check the trail conditions before arriving.
To put things into perspective … my last day of cross-country skiing for the 2018/19 season was June 13, 2019, on Elephants Back at Carson Pass. On that day, the trail from the Carson Pass Visitor's Center to Frog Lake (and further on to Winnemucca Lake) was still 90% covered in snow.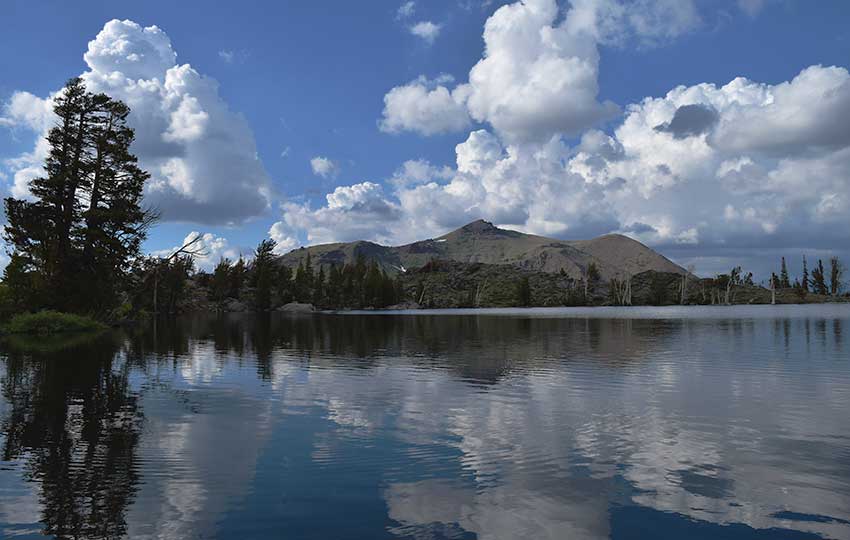 Again, if you're planning to hike to Frog Lake earlier in the summer just do your homework before setting out (to determine whether or not you'll need to bring snowshoes!).
Also note that I've never considered Frog Lake to be a swimming lake.
Instead, continue on to Winnemucca Lake in order to jump in a cold and refreshing alpine lake.
Although I always recommend continuing on to Winnemucca Lake, if your time and energy only affords you the trip to Frog Lake you won't be disappointed.
Lastly, there are a million-and-one different "Frog Lakes" in the U.S. For example, there's a popular Frog Lake trail in Oregon, and there's even a Frog Lake in North Tahoe near Truckee, CA. Frog Lake is often just a generic name used to denote a much smaller lake. Just know that this article only deals with the Frog Lake located between Carson Pass and Winnemucca Lake in Mokelumne Wilderness (CA).
Frog Lake Trail Data (approximations):
Location: South Tahoe – Carson Pass
Category of Hike: Short Hike, Day Hike
Hike Time: 1-2 hours
Total Mileage: 3 miles (out-and-back with a loop around Frog Lake)
Trailhead Elevation: 8,570 feet
Highest Point: 8,870 feet
Total Elevation Gain: 350 feet
Trail Condition: Hard-packed sand and rocky terrain
---
For other shorter hiking options, visit Short and Easy Hikes in South Lake Tahoe.
---
Considerations for Hiking Frog Lake:
Bring $5 cash for parking (2019) between May 31 – October 31
Between November 1 – May 30 every year, the parking lots at Carson Pass officially become Sno-Parks and require a Sno-Park permit (purchase day or season permits in town before traveling to Carson Pass)
Although the hike to Frog Lake is one of the more "easy" hikes in the area, still be aware that the approximate 1-mile journey to the lake is all gradually uphill
Keep in mind that at Carson Pass snow arrives early and stays late, so check the trail conditions prior to arriving
Admire, study, and take photos of the wildflowers, but don't pick them
Adhere to all Leave No Trace principles
There are few trail signs and markers on public lands in the Tahoe region, so unless there are tracks to follow, the correct route may be difficult to identify – when in doubt, turn back
Be prepared for inclement weather and carry plenty of warm clothes, food, and water
Leave an itinerary of your plans with someone who'll call emergency services if you don't return by your prescribed time
Dogs are allowed, but keep them on leash and pick up after them – this is especially important around Frog Lake as the immediate area is sensitive land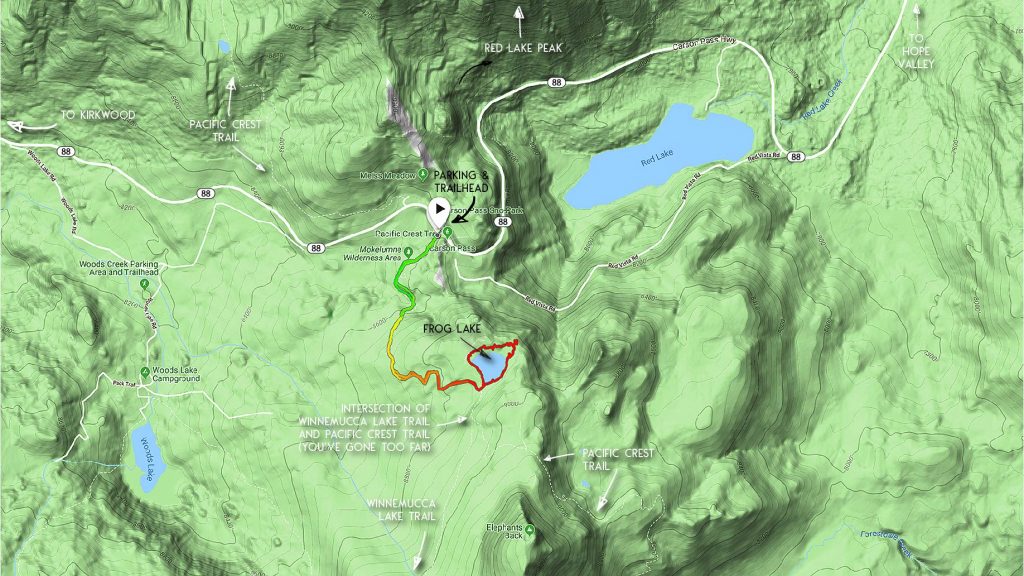 Parking for the Frog Lake Hiking Trail:
For the hike to Frog Lake, park at the Carson Pass Information Station on State Route 88 at the top of Carson Pass. This parking lot is on the south side of Carson Pass.
If the parking lot is full, there's another area in which to park located on the small road (Red Vista Road) a hundred meters east on SR 88.
Lastly, there's a full parking lot on the north side of SR 88 just west of the visitor center. If you use the north lot, however, be extremely careful crossing SR 88 because there are a couple blind corners on the road.
Parking at any one of these three locations requires a $5 day-use permit (self-pay stations are at each location). You can also pay for parking in the visitor center, but they're only open during daytime hours so it's best to just arrive with enough cash to cover the parking fee.
Please note that if you're traveling to Frog Lake between November 1 and May 30, you'll need a Sno-Park permit ($5/day, $25/season). The permits can be purchased in Meyers or online (not at the actual Sno-Park). Without a permit you run the risk of receiving a $100 ticket.
Here's a map to help you find the Carson Pass Information Station and parking lot for the trail to Frog Lake.
Frog Lake Hiking Trail Directions:
Start your hike to Frog Lake at the Carson Pass Information Center.
Hike south (and gradually uphill) along the Pacific Crest Trail for approximately 1 mile.
At this 1-mile point, you'll reach an intersection with a small sign pointing to Frog Lake.
Take this small trail that branches off to the east a few hundred meters to reach Frog Lake.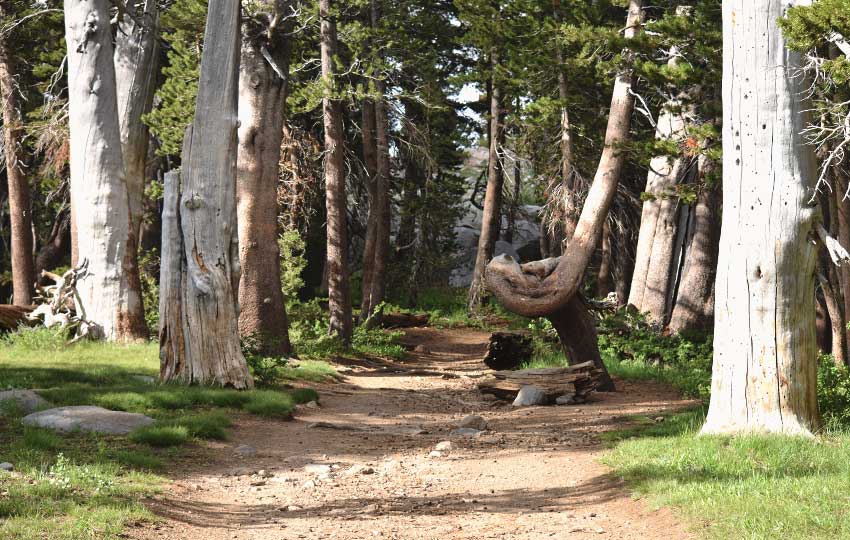 Please note that if you reach the intersection where the Pacific Crest Trail branches off from the trail to Winnemucca Lake, you've gone too far. Turn back around and find the other junction that will lead you to Frog Lake.
There's a small footpath around Frog Lake. This is a fun loop to add to your hike. And, it provides some great views looking across the lake south to Round Top.
Hiking this loop will also give you a total mileage for your hike closer to 3 miles.
If you choose to add this loop to your hike, be mindful of your steps. Don't stray from the path as the terrain is sensitive immediately around the lake.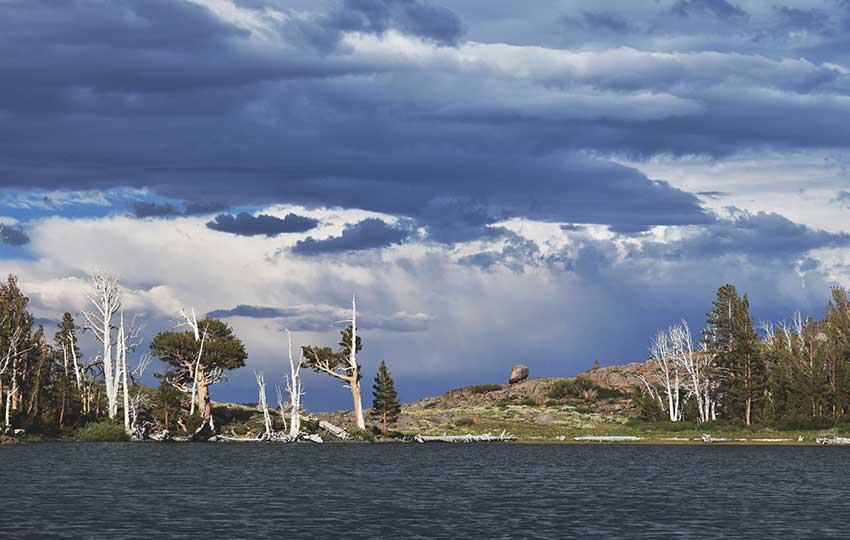 On the east side of Frog Lake is a marshy area where you can find Western Blue Flag and the Prairie Smoke I mentioned earlier. Additionally, you'll find a bunch of other wildflowers.
The area in which those two varieties of wildflowers grow is sensitive so, again, tread lightly.
I recommend sticking to the footpath and using a telephoto lens to capture wildflowers in this specific spot.
Slightly further east of Frog Lake you'll find a rocky overlook from which to see panoramic views (looking east) of Hope Valley.
---
For other shorter hiking options, visit Short and Easy Hikes in South Lake Tahoe.
---
Whether or not you hiked the loop around Frog Lake, in order to return to the Carson Pass Information Station you're going to simply hike back in the same direction whence you came (i.e. north on the Pacific Crest Trail).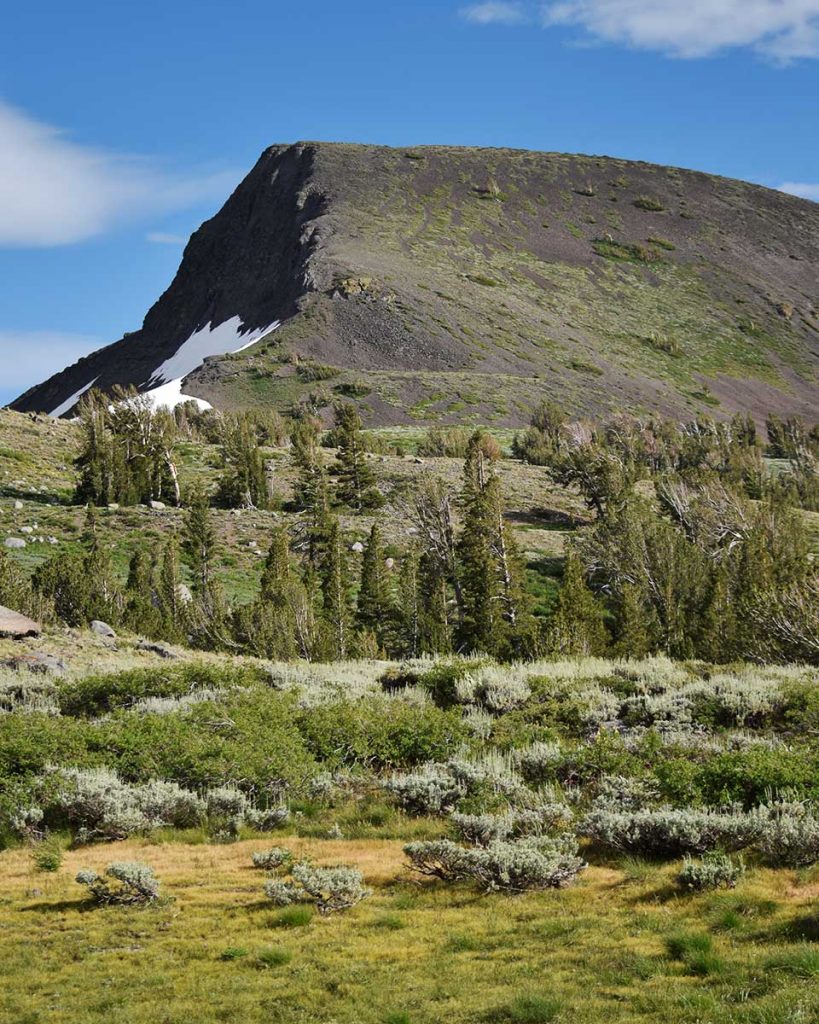 Wildflowers of Frog Lake
Please note that I've compiled the following gallery of Frog Lake wildflowers over various years and times during the summer(s). Therefore, don't expect to find all of the wildflowers presented here on one hike.
Also note that wildflower bloom times are often skewed at Carson Pass compared to other locations around Lake Tahoe.
For example, Western Blue Flag will normally bloom closer to Lake Tahoe in the month of May. In 2019, however, I found many of those Wild Irises still blooming at Frog Lake on July 26th.
Variety of Lupine (7/26/19) © Jared Manninen

Monument Plant – Frasera speciosa (7/26/19) © Jared Manninen

Mountain Pride – Penstemon newberryi (7/26/19) © Jared Manninen

Slendertube Skyrocket – Ipomopsis tenuituba (7/26/19) © Jared Manninen

Spearleaf Stonecrop – Sedum lanceolatum (7/26/19) © Jared Manninen

Western Blue Flag – Iris missouriensis (7/26/19) © Jared Manninen

Mountain Pretty Face – Triteleia ixioides ssp. anilina (8/6/19) © Jared Manninen

Gordon's Mousetails – Ivesia gordonii (8/6/19) © Jared Manninen

Prairie Smoke – Geum triflorum (8/6/19) © Jared Manninen

Sierran Cushion Wild Buckwheat – Eriogonum ovalifolium var. nivale (8/6/19) © Jared Manninen
As I gather relevant photos of wildflowers found near Frog Lake, I will update this gallery.
In the meantime, feel free to post in the comment section below the names of wildflower species that you believe are missing from the gallery.
---
Do you have other insight, feedback, or trail updates about hiking Frog Lake?
If so, please post it in the comment section below for the benefit of everybody 🙂
---