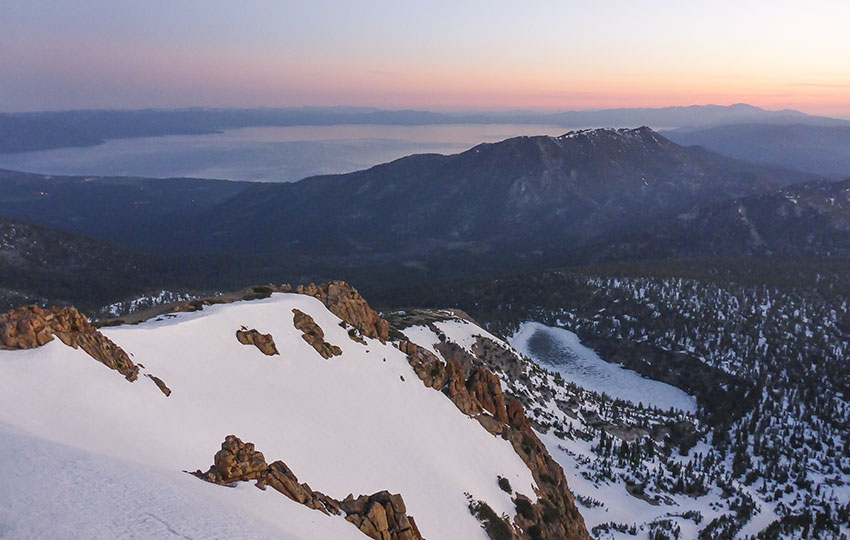 Hiking and Lake Tahoe go together like summer and sunshine. And, for good reason. Lake Tahoe is rimmed by beautiful and easily accessible mountains and forests. Countless miles of open space are located within the Lake Tahoe Basin, as well as the surrounding areas. In fact, in every direction you'll find either a National Forest, Wilderness Area, or State Park (California or Nevada).
Simply put, there's a lot of open space in which to roam at Lake Tahoe.
Further supporting the idea that Lake Tahoe is a mecca for hiking is that hiking topped the list of popular recreational activities to do at Lake Tahoe. This was revealed in a survey conducted by the Tahoe Tribune (2020). Hiking was followed by skiing/snowboarding (2nd), kayaking (3rd), and mountain biking (4th).
---
Support Tahoe Trail Guide with a financial contribution via PayPal (single contribution) or Patreon (reoccurring contributions). Your support of Tahoe Trail Guide is very much appreciated!

Become a Patron!
---
But you probably already know how amazing the hiking is at Tahoe, otherwise you wouldn't be reading this!
So, on with the show…
The hiking trails featured on this list of best day hikes at Lake Tahoe are a collection of iconic and must-do hikes. They also happen to be some of my personal favorites.
This list of Tahoe trails are best hiked by people who are fit and active. Some of the hikes can be all-day affairs. I recommend that if you're hiking any of them for the first time, do so in the heart of summer. This way you'll have plenty of daylight in which to navigate. Also, most of these trails are safer to hike when there's no snow or ice present.
If you were to hike them in the "shoulder season" (spring and fall) rather than summer, I'd recommend hiking them in the fall. Hiking at Lake Tahoe during the spring is always tricky and includes additional considerations. Subsequently, you can read the brief passage below for my thoughts about hiking when snow is present.
Exposure is a concern for many of these hikes due to their significant elevation gain. Often, you'll find that much of the elevation gain on any of these trails occurs in open terrain. For example, in relatively long uphill sections of the trail to Mount Tallac you'll find little relief from the sun and wind.
All of these Lake Tahoe hiking trails feature distances of over five miles and total elevation gains of more than 500 feet. Many of these best day hikes of Lake Tahoe feature some of the most stunning views of Lake Tahoe. However, for those hikes on this list that don't include panoramic scenes of Lake Tahoe, they can offer memorable views of wildflowers, wildlife, and other natural wonders of Lake Tahoe and the Sierra Nevada.
For more information such as parking directions and travel considerations about these best day hikes of Lake Tahoe, click on their respective titles.
---
---
A Note About Snow and Hiking These Trails in the "Off-Season"
You could hike many of these trails during the "off-season" if Lake Tahoe was experiencing a low-snow year or drought winter. However, you'd want to wear heavier duty footwear to deal with snow, runoff, or mud. Also, you'd definitely want to carry with you some type of foot traction device or crampons for negotiating icy sections.
I present a more thorough discussion about hiking at Lake Tahoe when snow is present in the following related articles:
Lastly, if you're trying to hike one of these trails in the off-season and there's a lot of snow present and you don't ski, consider snowshoeing. For more information, read my article about snowshoeing in South Tahoe. And if you're new to snowshoeing, read about the basics of snowshoeing and the five reasons I love to snowshoe.
---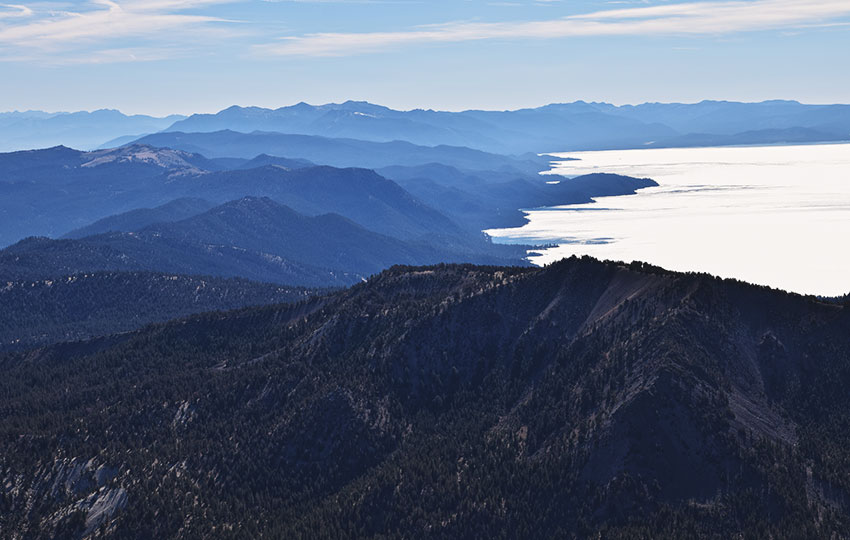 Standing at 10,776 feet, Mount Rose is the third highest peak in the Lake Tahoe Basin. This makes Mount Rose the tallest peak on the north side of Lake Tahoe.
Trailhead parking is easily accessible from NV SR 431, free, and abundant. The views are endless in every direction when you reach the summit.
Total Distance: 11 miles
Total Elevation Gain: 2,500 feet
---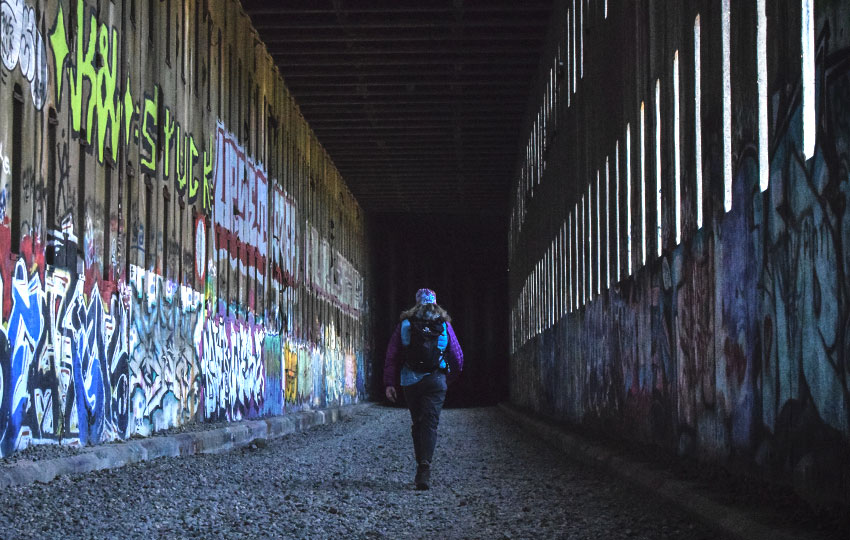 Without question, the railroad tunnels on Donner Pass provide one of the most unique hiking experiences at Lake Tahoe. On the other hand, the Donner Pass train tunnels aren't the most strenuous or physically demanding hiking trails at Lake Tahoe. However, they're fun for the whole family, particularly younger kids who find playing in the dark thrilling. But, even though the tunnel system on Donner Pass is a series of disconnected tunnels, consider bringing a flashlight or headlamp.
Also note that early in the season, there can be a lot of ice inside the tunnels which is, obviously, a slipping and tripping hazard. For more detailed information about navigating this fun hike, read the article.
Total Distance: 5 miles
Total Elevation Gain: 250 feet
---
---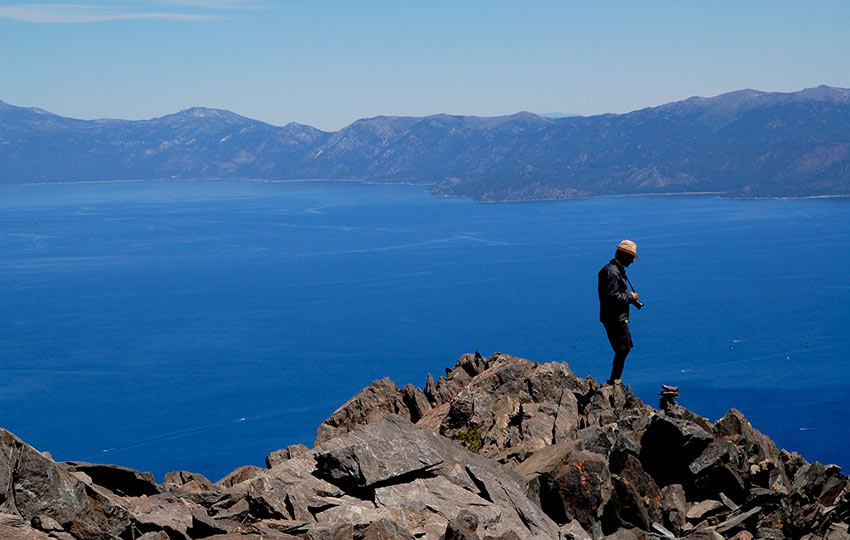 Mount Tallac is not the tallest peak in the Lake Tahoe Basin. However, Mount Tallac is arguably the most famous mountain of Tahoe. When its "cross" is filled with snow, Mount Tallac is unmistakable.
Trailhead parking is easy to access from CA SR 89, free, and abundant. And, of course, the views are endless in every direction when you reach the summit.
Total Distance: 10 miles
Total Elevation Gain: 3,500 feet
---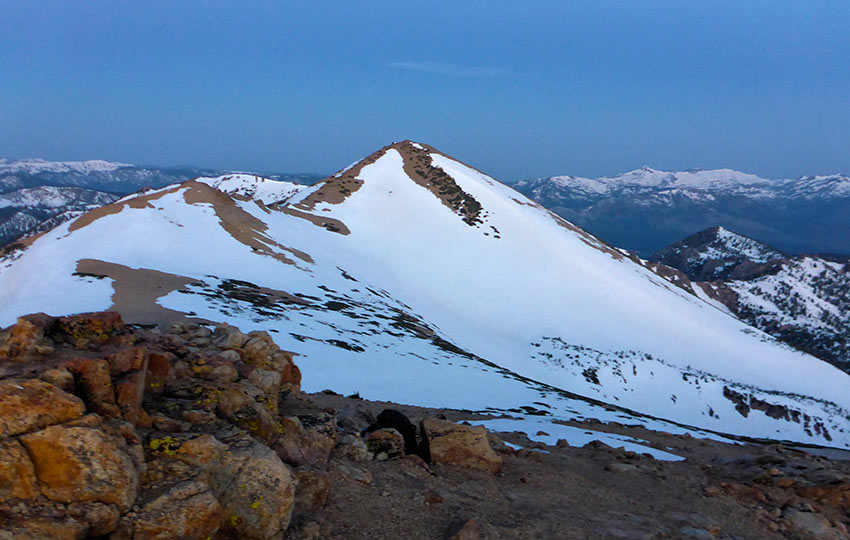 Freel Peak is the tallest peak in the Lake Tahoe Basin, standing at 10,881 feet. For that reason alone you need to hike Freel Peak. And, of course, the summit features stunning 360 degree views.
Please note that finding the actual trailhead for Freel Peak can be a bit tricky. So, read my description about hiking Freel Peak thoroughly before leaving the house. And definitely consult a map.
Total Distance: 10 miles
Total Elevation Gain: 2,700 feet
---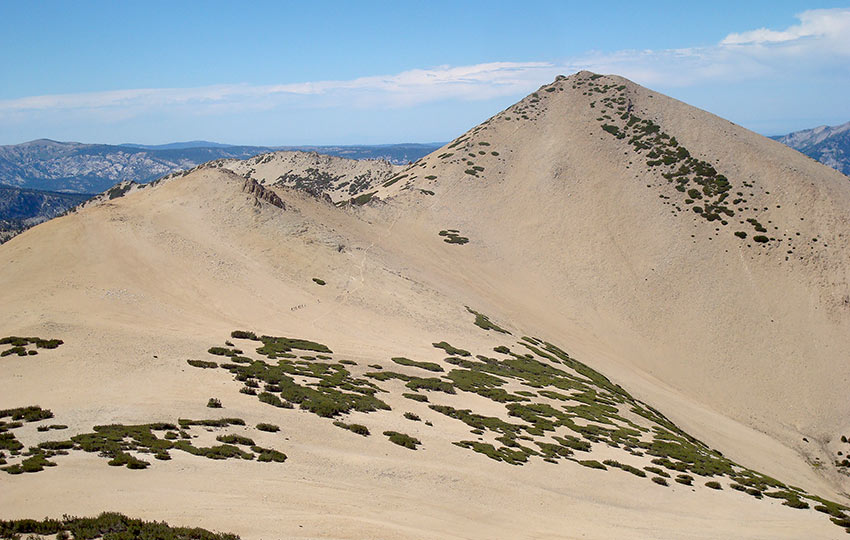 The Tahoe Trifecta, as it's called by some, enables you to hike three peaks over 10,000 feet in a single shot. Freel Peak (10,881 feet) and Jobs Sister (10,823 feet) are the tallest and second tallest mountains at Lake Tahoe. Jobs Peak (10,633), on the other hand, technically sits just outside of the Lake Tahoe Basin boundary.
Please note that the trailhead for hiking Freel Peak, Jobs Sister, and Jobs peak can be tricky to find. So, I definitely recommend reading my detailed description of how to find it. And, be sure to consult a map before arriving.
Total Distance: 12 miles
Total Elevation Gain: 4,100 feet
---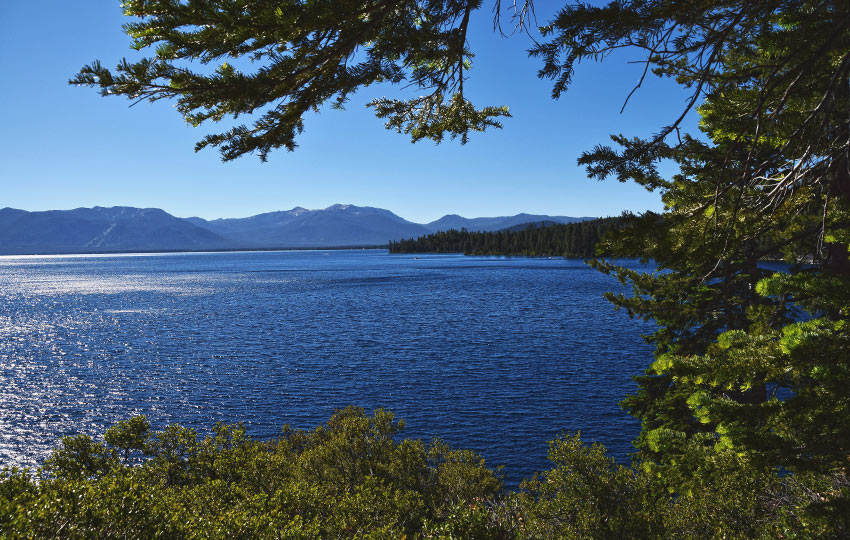 Hiking the Rubicon Trail (not the legendary 4×4 route) from Emerald Bay allows you to hike along the edge of Lake Tahoe for miles. Needless to say, the panoramic views are non-stop.
The trailhead for hiking the Rubicon Trail is easy to find. However, fees are required at Emerald Bay for most of the parking locations. And Emerald Bay is a human zoo on most summer days, so arrive early.
Total Distance: 11 miles
Total Elevation Gain: 1,400 feet
---
---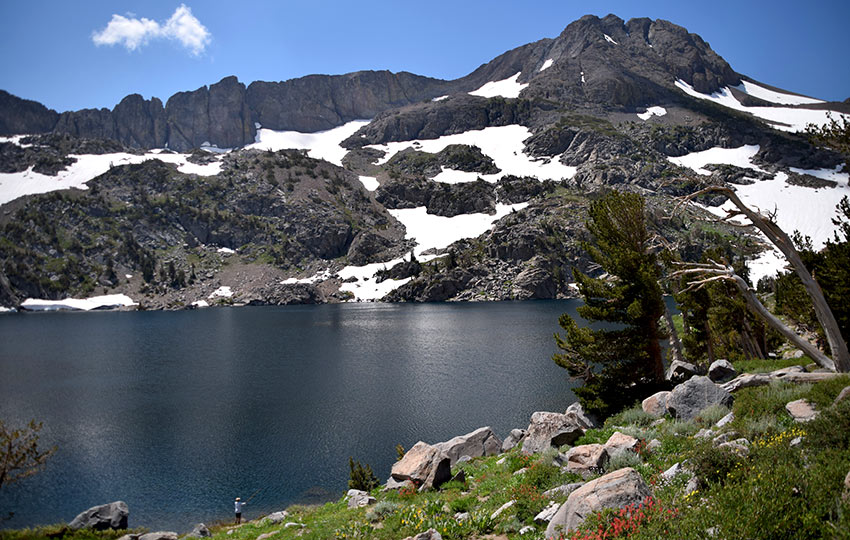 The hike to Winnemucca Lake is the shortest trail featured here. However, any list of great day hikes of Lake Tahoe would be incomplete without including Winnemucca Lake. For example, the terrain is majestic and diverse. And, the wildflowers during the summer are legendary.
Trailhead parking is convenient, but does require a fee. Also note that Carson Pass (8,573 feet) is at a relatively high elevation and holds snow late in the season. Read my article about hiking Winnemucca Lake for more details.
Total Distance: 5 miles
Total Elevation Gain: 600 feet
---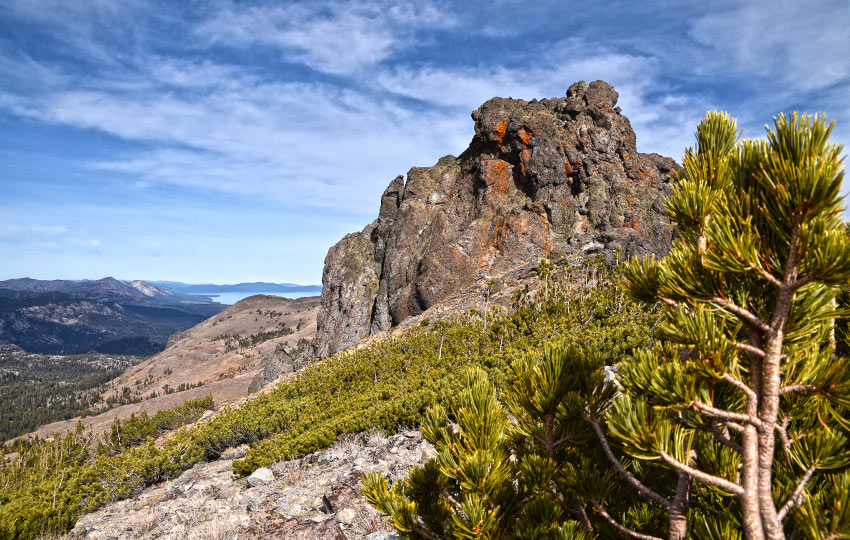 The hike to Red Lake Peak is probably the most obscure trail on this list. However, I've included it because it's an excellent and relatively easy (partial) off-trail route that takes you to a peak with exceptional views. That is to say that it's easy to navigate because you can basically travel by line-of-sight.
Trailhead parking is convenient but, because it's at Carson Pass, it requires a fee. Also note that Carson Pass holds snow late in the season, so read my article about hiking Red Lake Peak for more details.
Total Distance: 6 miles
Total Elevation Gain: 1,900 feet
---
I admit that many of these hikes are located on the south shore of Lake Tahoe. That's one of the shortcomings of my current operation – I'm the creator of Tahoe Trail Guide and currently the only contributor. I also happen to live in South Lake Tahoe, and have seasonal jobs, and blah, blah, blah…
Eventually, I'll add more relevant hikes to this list from other areas of Lake Tahoe. Just know that this list is a perpetual work-in-progress.
But all of that said, South Tahoe actually features a number of world-class hikes.
Does that mean people come from all over the world just to hike these trails? That's probably debatable. But people do come from all over the world to visit Lake Tahoe. And while they're here, they hike the trails on this list.
I consider that world class enough for me.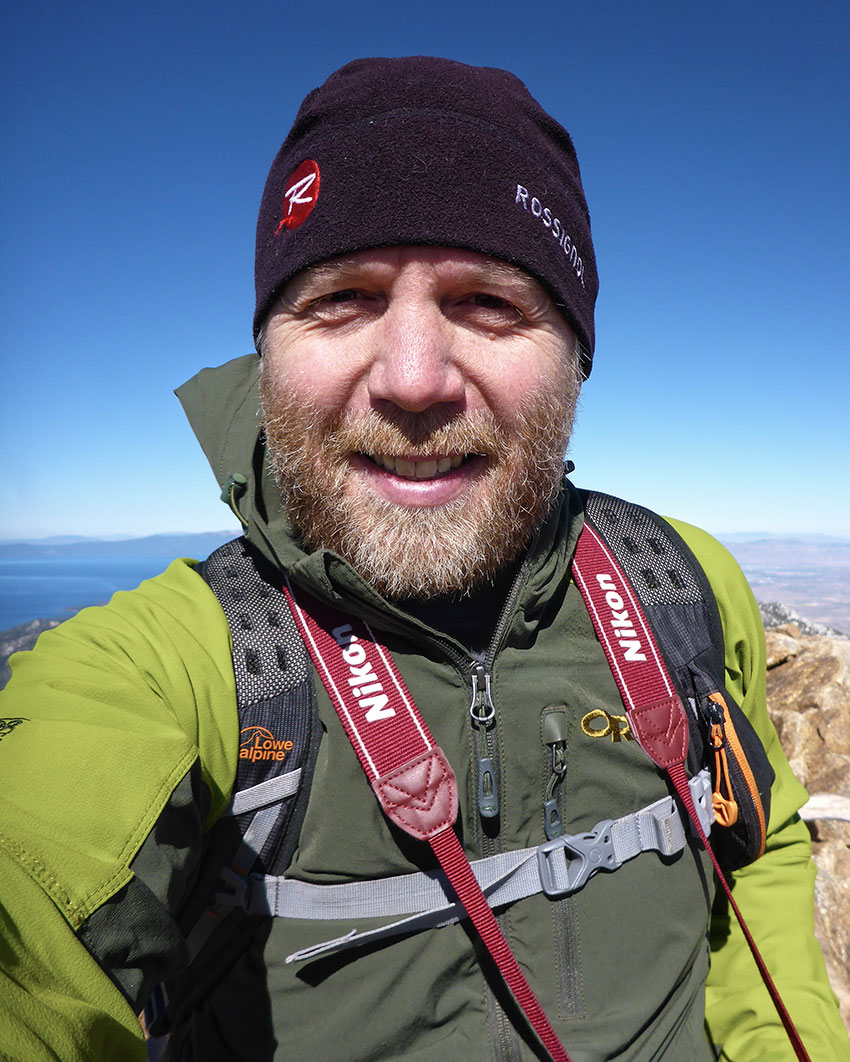 ---
And just a reminder that if none of these hikes meet your needs today,
see Short and Easy Hikes in South Lake Tahoe for more options.
---
What essential Lake Tahoe day hikes have I missed?
Tell me your recommendations in the comment section below. I'll then research and share them on this list of best Lake Tahoe day hikes so that other people may enjoy them 🙂