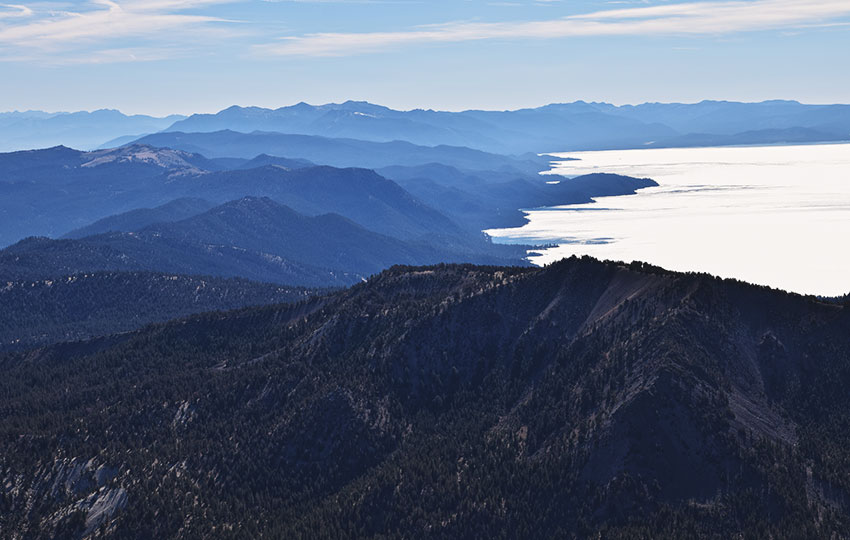 If you're looking for a spectacular day hike in North Lake Tahoe, look no further than the Mount Rose hiking trail. With a summit elevation of 10,776 feet, Mount Rose is the third tallest peak in the Lake Tahoe Basin.
The Mt Rose hiking trail is well-traveled and said to be the most popular hiking trail in all of Nevada. But hiking Mount Rose is well worth your time and effort.
---
Support Tahoe Trail Guide with a financial contribution via PayPal (single contribution) or Patreon (reoccurring contributions). Your support of Tahoe Trail Guide is very much appreciated!

Become a Patron!
---
No matter how packed the parking lot appears when you arrive, over the course of the 5.5 mile (one-way) Mt Rose summit hike there's plenty of space for everyone. This is especially evident on the second half of the trek. This is because the elevation gain increases quite a bit, causing everyone to settle into their own rhythm.
Panoramic views are your rewards once you reach the top. You can look south to Freel Peak and to the north, well beyond Reno. On a crystal clear day you may even catch a glimpse of Mount Shasta far to the northwest.
During the spring and summer, you'll witness amazing displays of wildflowers around the Galena Falls and Galena Creek area. In fact, many people short on time will just hike to the Mt Rose waterfall and call it a day.
The Mt Rose hiking conditions are similar to other hiking experiences at Lake Tahoe. The trail is hard-packed and durable, and it's easy to follow. It's also graded favorably so that there are no sections excessively steep or dangerous.
Once you pass the waterfall section (approximately halfway to the Mt Rose summit), the elevation increases dramatically. To the waterfall, the elevation gain is not even 300 total feet. In contrast, the rest of the hike climbs for approximately 1,700 feet to the Mount Rose summit. After passing the waterfall, you'll be hiking in mostly exposed terrain.
Regardless of season, the conditions on top of Mount Rose can be windy and cold. So, bring clothing to stay warm (i.e. wind proof shell) once you reach the summit.
Please note that the Mount Rose summit hike and other Mount Rose hiking trails aren't associated with Mount Rose – Ski Tahoe (resort). The ski resort is technically located just south on Slide Mountain. See the FAQ section below for more details).
Mount Rose Trail Data (approximations):
Location: North Tahoe – Mount Rose HWY/SR 431 – Mount Rose Summit Trailhead
Category of Hike: Day Hike
Hike Time: 6-7 hours
Total Mileage: 11 miles (out-and-back)
Trailhead Elevation: 8,900 feet
Highest Point: 10,776 feet (Mount Rose summit)
Total Elevation Gain: 2,500 feet
Trail Conditions: Hard-packed sand and rocky terrain (near summit)
Considerations for Hiking Mount Rose:
Arrive at the Mount Rose summit trailhead early in the day to secure a parking spot as the lot fills up quickly, particularly on weekends during the warmer months
There have been more reports in recent years about thefts and break-ins at the Mt Rose summit trailhead due to its easy access via Mount Rose Highway (NV 431), so don't leave anything valuable or visible in your vehicle when parking
The first half of the Mt Rose hiking trail is nicknamed the Mt Rose waterfall hike (as you'll arrive at the base of Galena Falls), and it's a relatively easy trail to hike at 2.5 miles with about 250 feet of elevation gain (one-way).
The second half of the Mt Rose hiking trail is strenuous due to its 1,700 feet of elevation gain and the fact that it's mostly exposed
The final mile to the Mt Rose summit is above treeline and completely exposed and subject to extreme weather changes, so be prepared mentally (to turn back if inclement weather is looming) and physically (by carrying gear and clothing appropriate for inclement weather)
Adhere to all Leave No Trace principles
There are few trail signs and markers on public lands in the Tahoe region, so unless there are tracks to follow, the correct route may be difficult to identify–when in doubt, turn back
Be prepared for inclement weather and carry plenty of food, water, and warm clothes
Leave an itinerary of your plans with someone who'll call emergency services if you don't return by your prescribed time
Dogs are allowed, but keep them on leash and pick up after them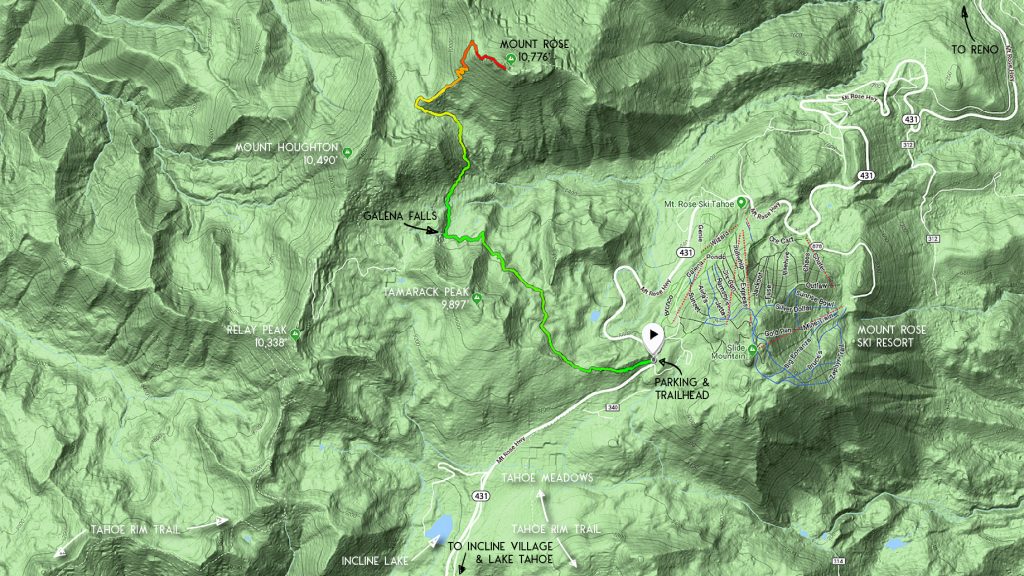 Parking for the Mount Rose Hiking Trail:
Parking for the Mount Rose hiking trail is straightforward. Drive to the top of Mount Rose Highway from either Incline Village or Reno. Then park in the huge lot at the top.
The lot is free to use and there are toilets located near the trailhead.
Don't let the size of this parking lot fool you, however. If you arrive in the middle of the day on a weekend, the parking lot might be full.
The parking lot serves people hiking Mount Rose. But it also serves hikers traveling along many of the nearby Mt Rose hiking trails such as the Mt Rose waterfall hike (Galena Falls) and the hike to Relay Peak. Hikers heading to Tahoe Meadows use this parking lot. Also, people who are entering and exiting the Tahoe Rim Trail park here. Lastly, mountain bikers riding either the Tamarack Trail or Flume Trail park in this lot.
If the parking lot is full and you need to park along the Mount Rose Highway, just be sure to adhere to all posted signs regarding on-street parking.
The Mount Rose summit trailhead is on the Incline Village side of the parking lot, near the toilets.
A note of caution regarding parking at the Mount Rose summit trailhead … in recent years there's been an increase in theft at this trailhead. This is because it's located directly on Mount Rose Highway (i.e. easy access and getaway route).
My suggestion is to leave your valuables at home or in your hotel room. Make the interior of your vehicle look as empty as possible. Even a small handbag or duffel bag in the back seat is tempting enough for a thief to commit larceny.
Here's a map to help you find the Mount Rose hiking trail parking lot and trailhead.
Travel Along the Mount Rose Hiking Trail:
Begin your Mt Rose summit hike at the trailhead located on the Incline Village side of the parking lot, near the toilets.
Walk along the well-worn path for a short distance to the official trailhead. You'll find information about the Tahoe Rim Trail at this trailhead. Also, the signage lists the distances to various Mt Rose hiking trails and other locations in the immediate area.
The Mount Rose hiking trail connects to other trails and destinations. But, you don't have so many choices that you'll get lost.
Again, everything about hiking Mount Rose is pretty straightforward. So, head up the granite steps and begin your journey in earnest to the summit of Mount Rose.
The first major junction is at about 2.5 miles where you'll find Galena Falls.
As I mentioned, this part of the hike is known as the Mt Rose waterfall hike. From this intersection, you could hike uphill and parallel with the falls en route to Relay Peak via the Tahoe Rim Trail. But you're not going to do that right now. Instead, you're going to continue on to the summit of Mount Rose.
Before continuing your hike, definitely stop and cool down at Galena Falls. The break is warranted because you head uphill for the rest of the trek.
Once refreshed, take the trail to the northeast. This trail will be obvious thanks to a trail sign. Also, Mount Rose is clearly visible from this location.
Not far from Galena Creek en route to Mount Rose, you'll find an off-shoot trail leading to Relay Peak Road.
You could technically make a loop out of your return trip from Mount Rose. Instead of returning the same way back to your vehicle, you could head down this road. Then, you'd travel along it back to the Mount Rose Highway (SR 431). However, there's a brief hike along the highway to the parking lot.
That said, I don't recommend this option. I've hiked around the Relay Peak area, and it reminded me of an abandoned Twilight Zone set. I love the Twilight Zone, but that isn't the "nature" experience I want when hiking.
I recommend sticking to the out-and-back trail to Mount Rose.
Once you start heading uphill from Galena Falls, you'll be in and out of sparse forests. Ultimately, though, you'll have to deal with a lot of exposure.
Be prepared for intense sun and wind on this 2.5 mile stretch to the Mt Rose summit.
My most recent hike of Mount Rose was on November 11, 2018. And, it was bitter cold for the last uphill mile due to the time of season and the 35+mph gusting winds. Needless to say, I didn't spend very much time on the 10,776 foot summit of Mount Rose. Mostly I just snapped a few photographs and captured a short video.
Another note about the 2.5 mile uphill stretch to Mount Rose is that there are sections adjacent to steep drop-offs. I say this because I've hiked with friends who are skittish about heights. Traveling so close to an edge is not on their list of favorite activities.
One of my hiking friends and I agreed that we wouldn't recommend the Mount Rose hike to acrophobic friends.
This hike doesn't compare to Mount Whitney or the south side of Forester Pass in the Southern Sierra. But, I imagine that, depending on a person's severity of acrophobia, parts of this hike may trigger their fears.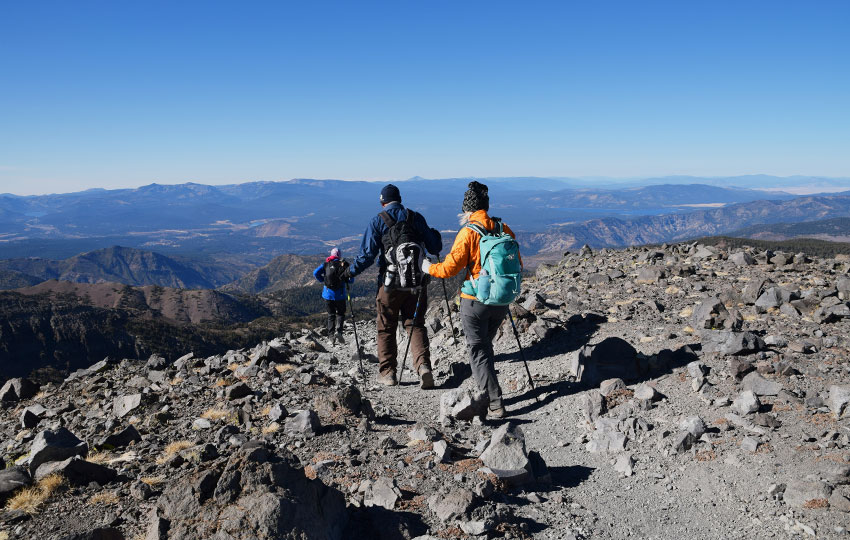 At the summit of Mount Rose there's a small rock wall area to tuck into on windy and cold days. However, this space is finite.
On an ultra-popular hike such as Mount Rose, enjoy the top but quickly move along. Be respectful of others by not parking yourself for an excessive amount of time on the summit. There's nothing more annoying than reaching a peak and wanting to take a quick photo, but having to wade through 100 people in order to do so.
The trail continues east a short distance along the ridge, but those are bonus miles. Although, those miles might be worth hiking if the peak is crowded. And, fewer people hike that distance, so you could hang out there for an extended amount of time.
Frequently Asked Questions about Hiking Mount Rose:
How long is the Mt Rose hike?
The Mt Rose hike is roughly 11 miles round trip, including 2,500 feet of total elevation gain. By maintaining a 2 mph pace and adding an extra 30 minutes for every 1,000 feet of elevation gain, you'll hike for about 6.75 hours. That said, most people complete the Mt Rose hiking trail in 6 hours.
How tall is Mt Rose?
The Mt Rose summit sits at 10,776 feet, making it the third tallest mountain in the Lake Tahoe Basin. Freel Peak (10,881') and Jobs Sister (10,823'), in South Lake Tahoe, are the first and second highest peaks.
What is the elevation at the Mt Rose trailhead?
The elevation at the Mt Rose trailhead is 8,900 feet.
Is Mount Rose a volcano?
Mount Rose is an extinct volcano.
Who owns Mt Rose?
Mount Rose (mountain) and Mount Rose – Ski Tahoe (resort) are two completely different things. They are often confused for one another due to the use of the name "Mount Rose."
The mountain called Mount Rose is on the north side of Mount Rose Highway, and is located on public lands. The peak itself is within the boundaries of the Mt Rose Wilderness area. On the other hand, most of the Mt Rose hiking trail lies within the Humboldt-Toiyabe National Forest.
On the south side of Mount Rose Highway you'll find Mount Rose – Ski Tahoe. The Fritz Buser family owns this commercial ski resort. Mount Rose – Ski Tahoe is actually located on Slide Mountain. The mountain was named for the many landslides that have occurred on its southeast face.
How much snow does the Mt Rose summit receive in an average year?
In simple terms, the Mt Rose summit receives on average 350 inches of snow each winter.
That said, the actual summit of Mount Rose (mountain), which stands at 10,776 feet, may or may not receive 350 inches of snow on average.
Huh?
Mount Rose – Ski Tahoe (resort) on Slide Mountain actually reports the 350 inches of snow per winter. And, Slide Mountain is located just south of Mount Rose (mountain). The highest point of the ski resort is at about 9,700 feet. Since the resort reports an average of 350 inches of snow, Mount Rose (mountain) also receives lots of snow!
Is there a Mount Rose lookout?
There's no fire lookout tower or any other structure on the summit of Mount Rose (10,776 feet).
There is, however, an exceptional overlook on Mount Rose Highway a few miles from Incline Village. This overlook is located at the southern point of the most prominent hairpin turn along Mount Rose Highway. It's between Incline Village and the Mt Rose hiking trail parking lot and trailhead.
Use caution when pulling into the overlook parking lot because it's on a blind corner.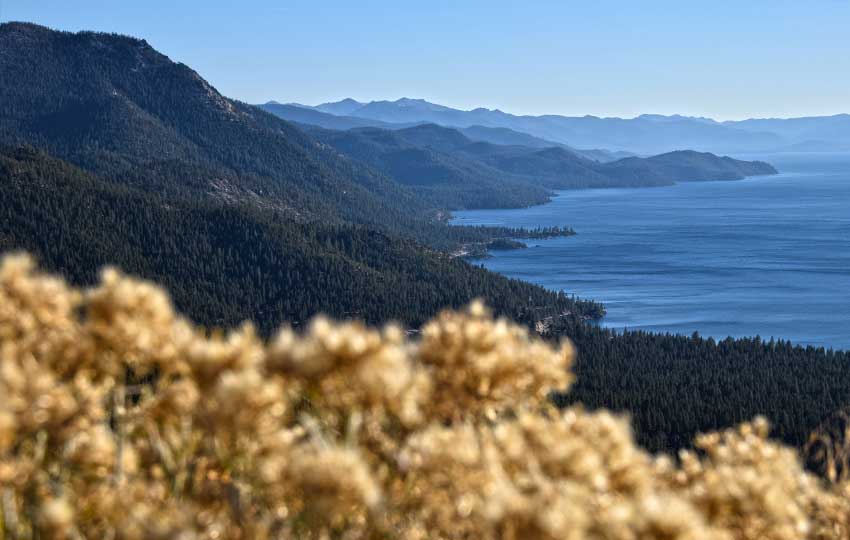 ---
Do you have other insight, feedback, or trail updates about hiking Mount Rose?
If so, please post it in the comment section below for the benefit of everybody 🙂
---