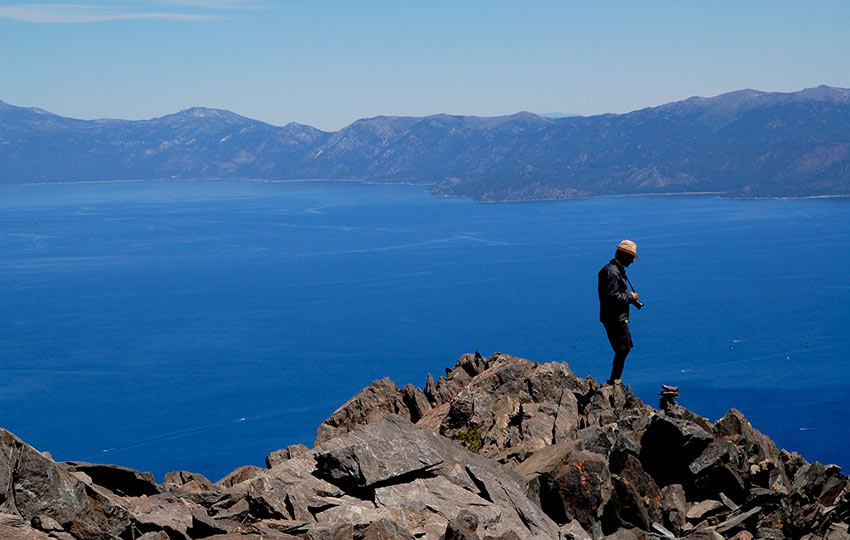 The hike up Mount Tallac is one of the most iconic hikes of the Lake Tahoe Basin. Therfore, in my opinon, Tallac should be on your short list of mountains to hike when you're at Lake Tahoe. That said, the hike is not for the faint of heart. The Mount Tallac trail features roughly 3,500 feet of elevation gain and high exposure. Plan to start your hike earlier in the day to avoid being caught in full exposure during the hot afternoon.
---
Support Tahoe Trail Guide with a financial contribution via PayPal (single contribution) or Patreon (reoccurring contributions). Your support of Tahoe Trail Guide is very much appreciated!

Become a Patron!
---
Quick Overview of Highlights and Concerns
But the transformative experience takes you along the northern ridge that overlooks Fallen Leaf Lake. Then, you'll travel through a secluded forest and past Floating Island Lake and Cathedral Lake. After hiking past Cathedral Lake, you'll be faced with an uphill trek across a two-mile stretch of exposed terrain.
The hike to Mount Tallac is a favorite by many Tahoe locals, as well. Many locals choose Tallac as a destination for full moon hikes. Or, they'll travel the trail in search of Lake Tahoe wildflowers. Sunrises and sunsets are also reason enough to hike up to Tallac as the peak features 360 degree unobstructed views.
Unique wildlife, such as Pika, live near the top. But, you have to listen and look closely in the endless piles of broken granite to find them.
The route to the top of Mount Tallac is highly exposed and generally slow going. This is because large sections of the trail pass through talus and scree. And, all of that busted rock of various sizes creates stretches of unstable footing.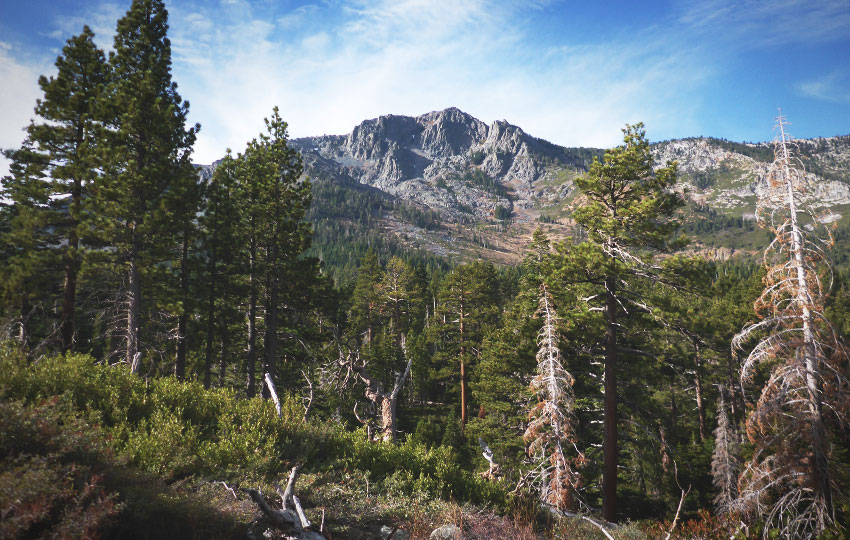 Occasionally summer thunderstorms can roll in during the day, or it can just be really windy and cold up top.
Generally speaking, hiking to the top of Mount Tallac takes about 3 hours. The return trip to your vehicle takes approximately 2.5 hours.
Bring more water, food, and layers of clothing than you expect to use.
There are numerous ways in which to access Mount Tallac. However, this article features the most common route to the top via Mount Tallac Trailhead.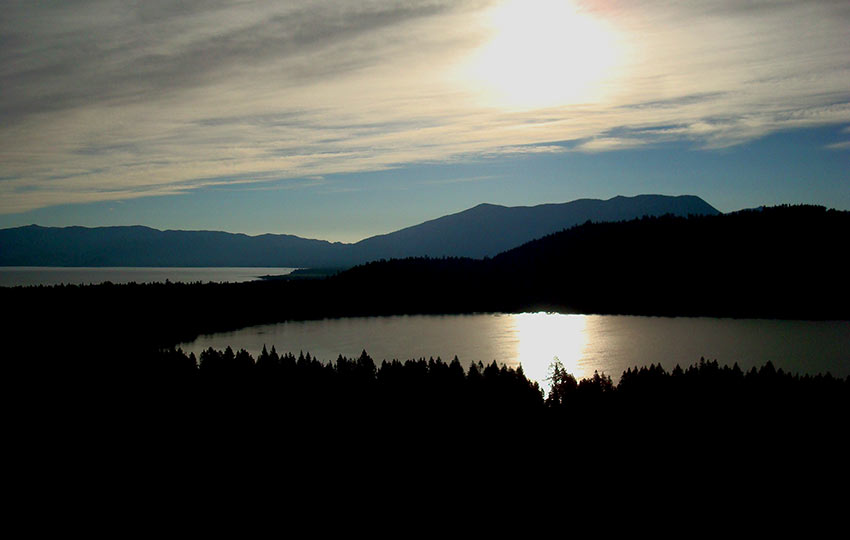 Mount Tallac (via Mt Tallac Trailhead) Trail Data (approximations):
Location: South Tahoe – Fallen Leaf Lake
Category of Hike: Day Hike, Multi-Day Hike
Total Mileage: 10
Total Elevation Gain: 3,500 feet
Highest Point: 9,735 feet
Trail Conditions: Hard-packed soil and sections of talus and scree
Considerations for Hiking Mount Tallac via the Mount Tallac Trailhead:
Parking is highly congested during the summer at the trailhead, so arrive early to ensure you'll find a parking spot.
Carry more water and food than you would expect on this hike. You'll be covering 3,500 feet of elevation gain and much of that time is highly exposed.
Be prepared for snowy conditions in late spring and early summer, and the occasional late summer snow or sleet storm
Adhere to all Leave No Trace principles, particularly the one about packing out your trash
There are few trail signs and markers on public lands in the Tahoe region. So, unless there are tracks to follow, the correct route may be difficult to identify. When in doubt, turn back.
Be prepared for inclement weather and carry plenty of warm clothes
Leave an itinerary of your plans with someone who'll call emergency services if you don't return by your prescribed time
Dogs are allowed, but keep them on leash and pick up after them
Check your dog's paws for wear while hiking Mount Tallac. And, bring booties in case those paws become too raw. Turn back before things get serious.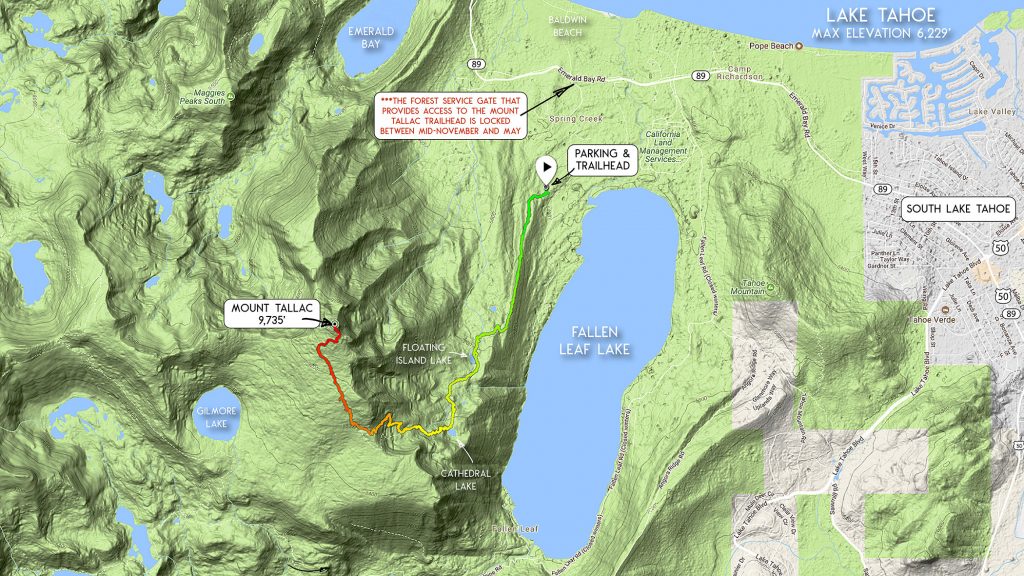 Parking Directions for the Mount Tallac Trailhead:
Drive north on SR 89 approximately four miles from the "Y" (HWY 50/SR 89) in South Lake Tahoe.
After driving the four miles, take a left (west) onto Mount Tallac Road. Mount Tallac Road sits opposite of the entrance to Baldwin Beach.
Drive along Mount Tallac Road for about 0.4 miles and take a left at the "T" intersection.
Continue along Mount Tallac Road for another 0.6 miles to the trailhead.
Arrive early on busier days such as weekends and holidays. This way you'll have the best chance of claiming a parking spot closer to the trailhead. Otherwise, you may find yourself doing some bonus hiking.
Be sure to fill out a day-use pass located at the trailhead kiosk. You'll technically be entering Desolation Wilderness for the day. And, filling out the day-use form allows the Forest Service to track trail usage.
The trailhead to the Mt Tallac hiking trail is located at the end of Mount Tallac Road.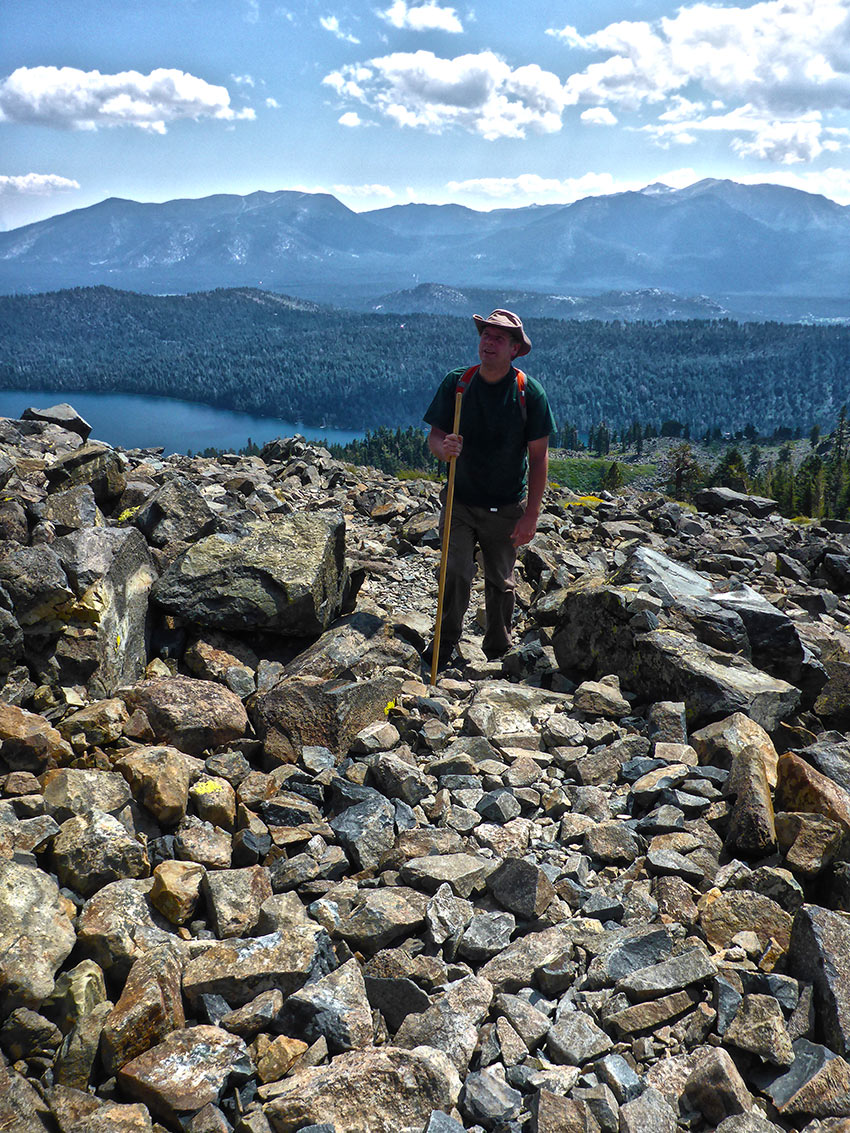 There's a green Forest Service gate at the entrance to Mount Tallac Road. The gate is locked between November and May. For hiking Mt Tallac during that time, contact the Lake Tahoe Basin Management Unit. They can let you know whether or not the gate is actually open.
You can still hike Mount Tallac in the "off-season." Just park at that gate and hike the extra mile to the trailhead. And, be sure you don't actually block the gate.
Here's a map to assist you in finding the parking area for accessing the Mount Tallac Trailhead.
Travel along the Mount Tallac Hiking Trail (via Mt Tallac Trailhead):
Begin your hike up Mount Tallac at the Mt Tallac trailhead at the end of Mt Tallac Road.
There are a couple of sections that are somewhat flat. However, you're ultimately going to be hiking uphill the entire way. Pace yourself.
The trail initially travels through a forest, and then on the northern ridge overlooking Fallen Leaf Lake.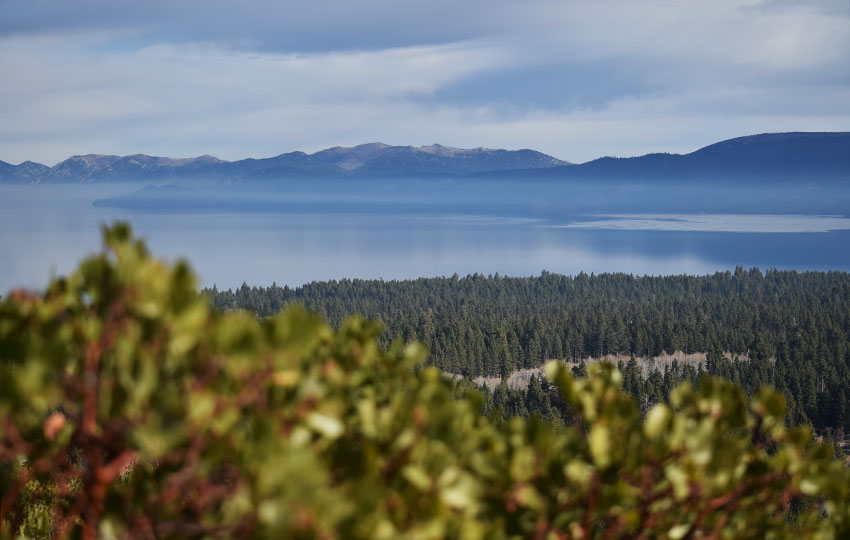 After hiking along the ridge, you'll head back into the forest. You'll hike past Floating Island Lake. This is a great turnaround point for less ambitious hikers and people hiking with younger children.
Continue traveling along the Mt Tallac hiking trail to Cathedral Lake. This lake is a great place to fuel up for the remainder of the hike. You'll find shade and some cooler temperatures at Cathedral Lake.
Once rested, continue your journey uphill. The distance from Cathedral Lake to the top of Mt Tallac is about 2.5 miles (5 miles round trip). Please note that you'll be fully exposed for this 5-mile stretch of trail to Mount Tallac.
Plan accordingly.
The Mount Tallac hiking trail travels up and over a large section of boulders. Immediately following that section of boulders is a field of scree and talus. You'll travel this section to another ridge.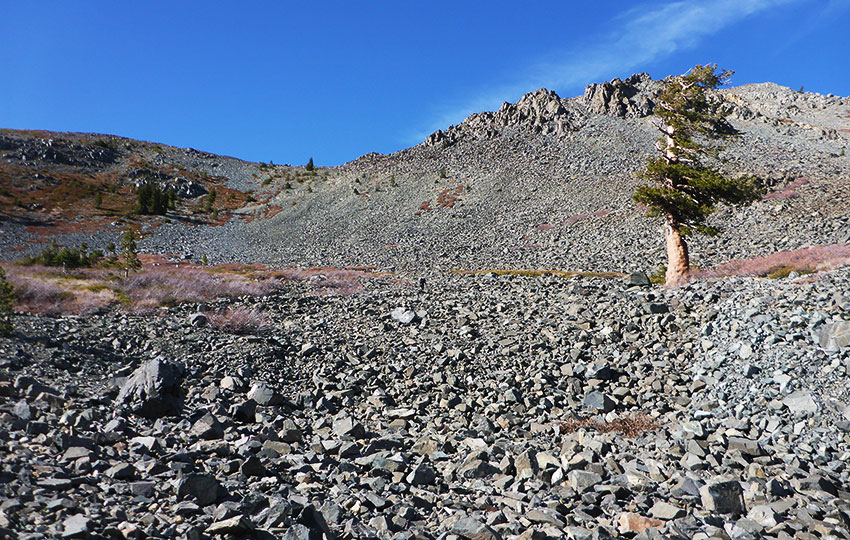 You'll be treated to exceptional views of Desolation Wilderness after gaining the ridge (at roughly 4 miles).
The trail loosely follows this ridge, but it travels west of Mount Tallac. So, in some respects you'll be hiking up from behind the peak during the final stretch of trail.
Toward the top of Mount Tallac, you'll have to negotiate some really rocky sections. Definitely be mindful of your steps during this last bit of hiking.
Probably more important is to be alert and pay attention to your steps when deciding to hike back down. It's easy to "check out" once you reach the top, as if the tough part was over. Interestingly, the descents are often where most accidents happen.
Also note that becoming disoriented or lost on the decent from Mount Tallac occurs more frequently than you might expect. Every year, people need Search & Rescue to extract them from somewhere near the top because they lost track of the trail. This is not the norm, but it does happen.
More likely, however, is that on the way down you may accidentally miss the sign and begin a descent toward Gilmore Lake. The intersection where this can occur is on the backside of the trail to Mount Tallac.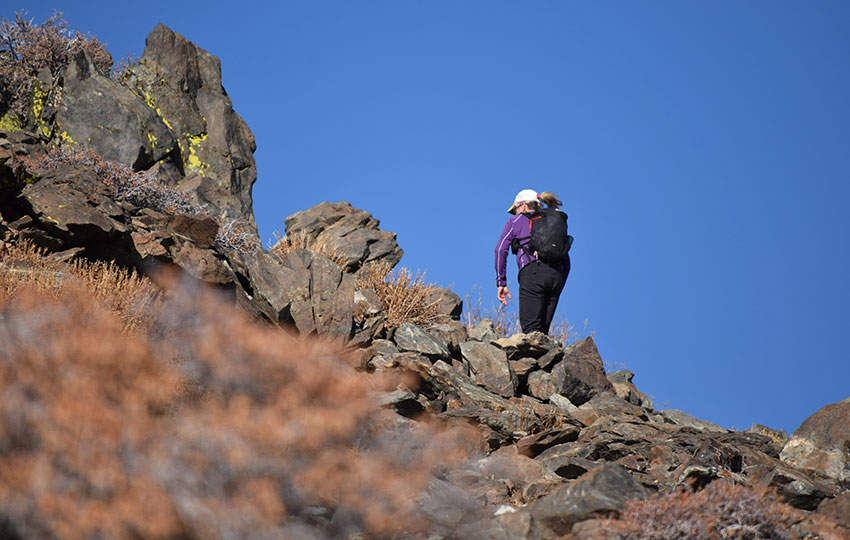 Lastly, resist the temptation to permanently park yourself and your crew at the very top of Mount Tallac. This specific spot is obvious once you get up there.
Everyone wants to tap the peak. However, we don't want to have to walk all over you and your lunch to do so. Slap the peak, take some photos, and then find someplace else to rest before your descent.
Additional Considerations for Hiking Mount Tallac
Hiking Mount Tallac in the Snow
Snow can last long into the summer on and around Mount Tallac. And, that snow makes for unstable footing, blinding brightness, and an additional way for you to become sunburned. For those who have less experience hiking in snow, it reflects off of the snow and into your face.
For venturing up Mount Tallac in late spring or early summer, come prepared. There can still be a lot of snow to negotiate.
You may need micro-spikes, crampons, snowshoes, and/or an ice axe to negotiate questionable aspects of the trail. This, of course, depends on conditions and the time of day in which you'll be hiking.
Also keep in mind that the first snow of the 2017/18 winter in Tahoe was on September 21. Interestingly, this was the official last day of summer!
Speaking of snow … many backcountry skiers and snowboarders venture up Mount Tallac and other aspects of its surrounding ridges for backcountry powder turns. Although, most of those adventurers access Tallac via the Spring Creek Road (a little further north on SR 89). Backcountry skiing and snowboarding Mount Tallac is an entirely different animal compared to hiking the peak during warmer months. And it's not my forte, so you'll have to look elsewhere for relevant information.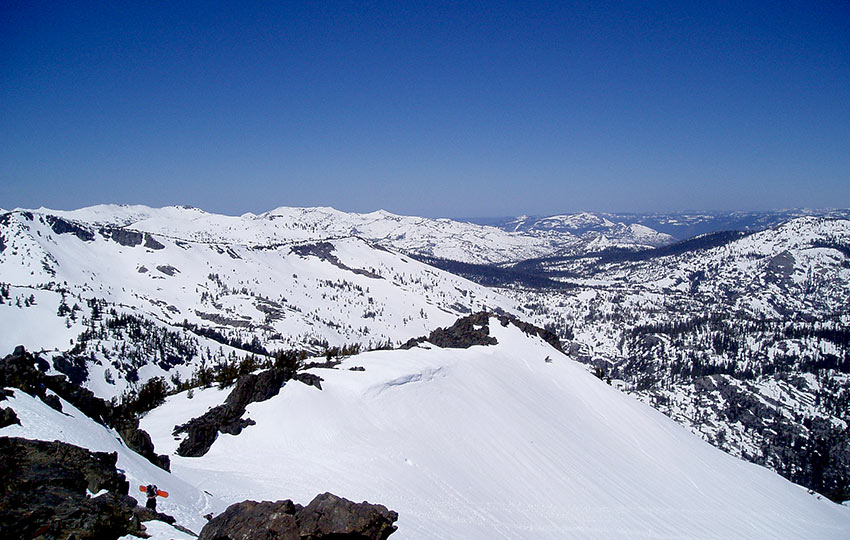 Hiking with Dogs on Mount Tallac
If you plan to bring your dog, routinely check its paws. There's not really any question as to whether or not their paws will wear down. It's more of a question as to how severe they will wear.
The reason their paws are vulnerable is due to all of the granite rocks you'll be hiking over. The flesh on your dog's paws will yield far sooner than that granite ever will.
True story … many years ago a former co-worker of mine called me from the top of Mount Tallac. She was requesting help in carrying her dog down.
The dog's paws were so raw that they began to bleed. And, the dog essentially refused to walk because of it.
Needless to say, I wasn't close by. So, it took my friend and I awhile to reach her. In the meantime, they inched their way down to about a mile from the trailhead. This is where we caught up with them. Then we carried the 80 lbs shepherd out on a makeshift stretcher using hiking poles and a blanket.
Monitor your dog consistently. Bring booties for its paws in case things turn ugly. Or, simply turn around before you reach that point. Floating Island Lake or Cathedral Lake are great spots to elect to finish your hike and turn back.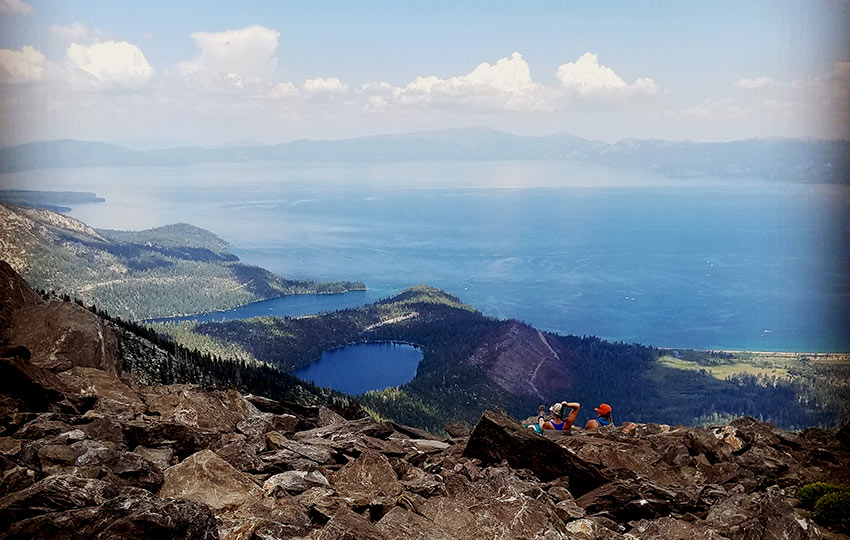 Leave No Trace on Mount Tallac
Even if it's the peak of summer, don't be the tourist wearing flip-flops, board shorts, and a tank top. And, carry more than just that small bottle of water you picked up at the gas station on your way to the trailhead.
Yes, humans have accomplished greater feats with lesser supplies, but why willingly put yourself at risk?
Besides, you're less likely to carry out that empty water bottle the more tired and exhausted you become. This is even more problematic when you don't have a backpack in which to put stuff.
Case in point … I hiked Mount Tallac on August 23, 2017 and collected four of those "disposable" water bottles, a beer can, and a large handful of micro-trash from the trail. This is unacceptable. Please carry a small backpack with extra supplies. And, pack out everything you bring (and find along the way).
The Mount Tallac trail is being "loved to death." Do your part to ensure it remains beautiful and free of trash.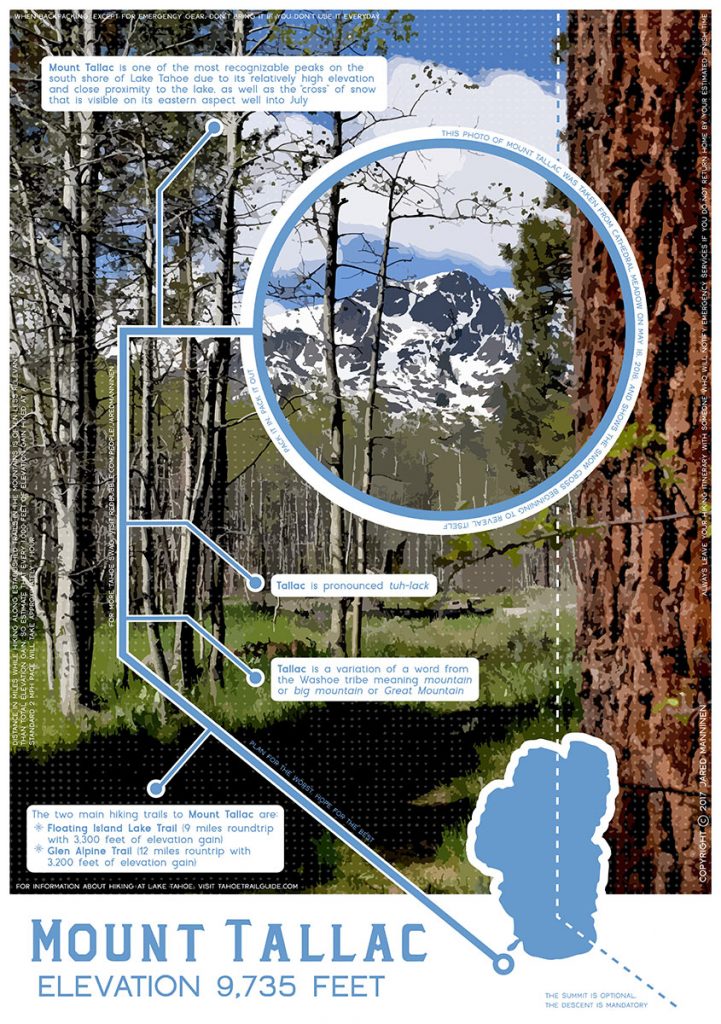 In addition, I've added to the poster some backpacking and hiking wisdom that I've gained over the years.
The image of Mount Tallac that I used in the above design is vector art from one of my photos. You may actually recognize the original photo from one of my previous Tahoe Trails post. Bonus points to those who do!
Order a copy of my Mount Tallac infographic at RedBubble.
---
Do you have other insight, feedback, or trail updates about hiking Mount Tallac via the Mount Tallac Trailhead off of SR 89?
If so, please post it in the comment section below for the benefit of everybody 🙂
---