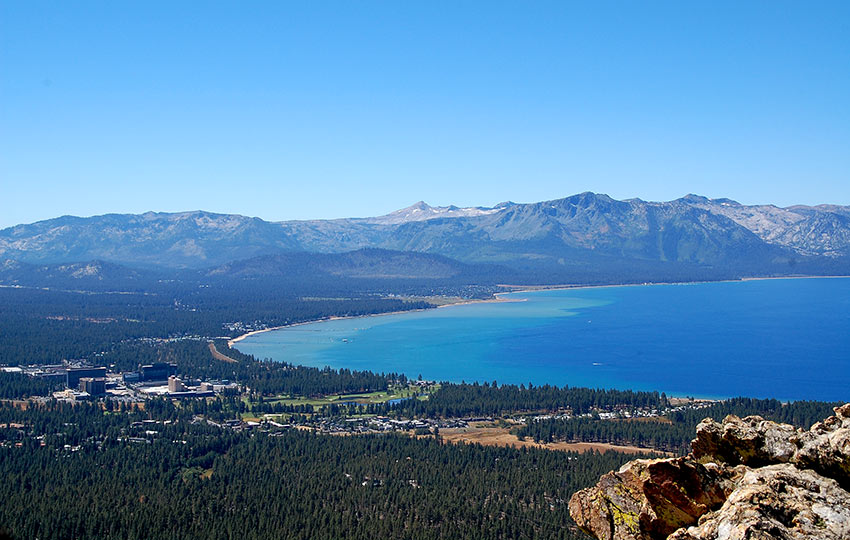 The trail to Castle Rock is short, but highly rewarding. It offers panoramic views of Lake Tahoe. Additionally, you can see the south and west shores of Lake Tahoe. In the far distance off to the west you'll see Desolation Wilderness, while off to the east you'll catch some glimpses into the Carson Valley.
Many people love this trail because it also includes some Class 3 scrambling at Castle Rock's peak. A cherry on top, if you will, for the more adventurous souls. Moreover, due to its prominent western views and short distance hiking to Castle Rock makes for an incredible sunset adventure.
One note to consider about hiking to Castle Rock is that, each year, Peregrine Falcons nest in the area. The Forest Service posts signs in the area indicating whether or not the Peregrine Falcons are nesting. Essentially, hikers stress out the Falcons during this critical time in their lives. So, please avoid summiting Castle Rock when the nest is still active.
---
Support Tahoe Trail Guide with a financial contribution via PayPal (single contribution) or Patreon (reoccurring contributions). Your support of Tahoe Trail Guide is very much appreciated!

Become a Patron!
---
Please note that Castle Rock and Castle Peak are two completely separate locations. Castle Rock, featured here, is near Stateline, NV, on the south shore of Lake Tahoe.
On the other hand, Castle Peak is on the north side of Lake Tahoe, near Truckee, CA. Castle Peak is accessible from the Donner Summit Sno-Park parking area located on Highway 80.
Castle Rock Trail Data (approximations):
Location: East Tahoe – Kingsbury Grade
Category of Hike: Short Hike, Day Hike
Total Mileage: 2.25 miles
Total Elevation Gain: 525 feet
Highest Point: 7,917 feet
Trail Conditions: Hard-packed soil with some rock scrambling
---
For other shorter hiking options, visit Short and Easy Hikes in South Lake Tahoe.
---
Considerations for Hiking Castle Rock:
Don't travel or climb beyond your skill and fitness level.
When planning to travel to Castle Peak for the sunset, remember to bring a headlamp (or other light source) for the hike back to your vehicle.
Avoid summiting Castle Rock when the Peregrine Falcons are nesting.
Adhere to the Leave No Trace Seven Principles.
There are few trail signs and markers on public lands in the Tahoe region, so unless there are tracks to follow, the correct route may be difficult to identify — when in doubt, turn back.
Be prepared for inclement weather and carry plenty of warm clothes, food, and water.
Leave an itinerary of your plans with someone who'll call emergency services if you don't return by your prescribed time.
Dogs are allowed, but keep them on leash and pick up after them.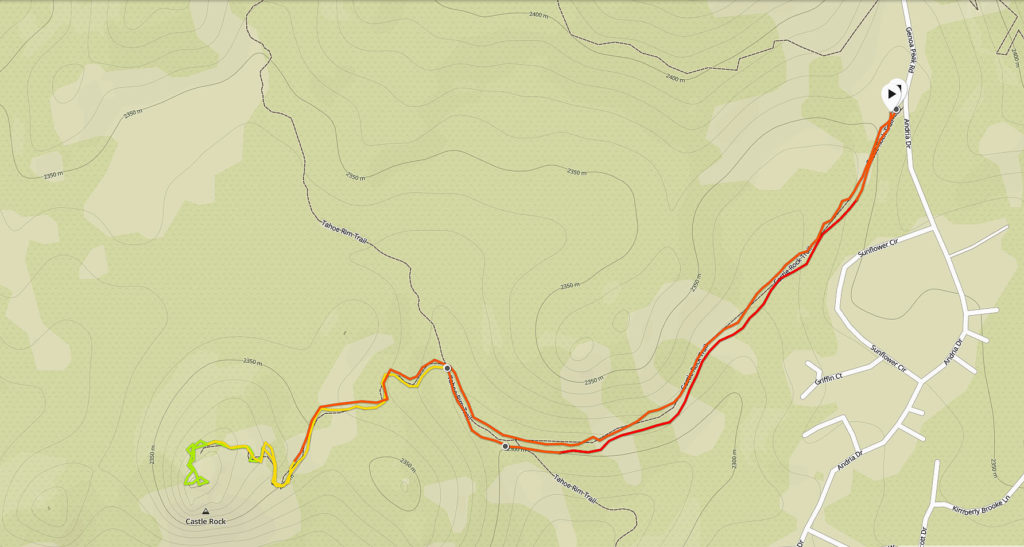 Parking Directions for Castle Rock Hiking Trail:
Like many Tahoe trails, locating the trailhead (and an available space to park!) is often the most challenging aspect of the route. Castle Rock is an example of this situation because unless you knew exactly where to go, you'd probably never know it existed.
That said, here are directions for finding the Castle Rock trailhead…
From South Lake Tahoe, go east of Stateline and drive up Kingsbury Grade (State Route 207).
Before reaching the top of Daggett Summit, go north on North Benjamin Drive, then continue along that road (which turns into Andria Drive) for about a mile and a half.
At the end of Andria Drive you'll find a larger dirt turnout and many more parking spaces. There will also be an official trailhead with a message board and maps and information about the Tahoe Rim Trail.
Park near the trailhead, but walk back down the road approximately one hundred meters until you reach the green Forest Service gate. This trailhead provides the most direct route to Castle Rock. Therefore, it's where I recommend that you'll begin your hiking adventure.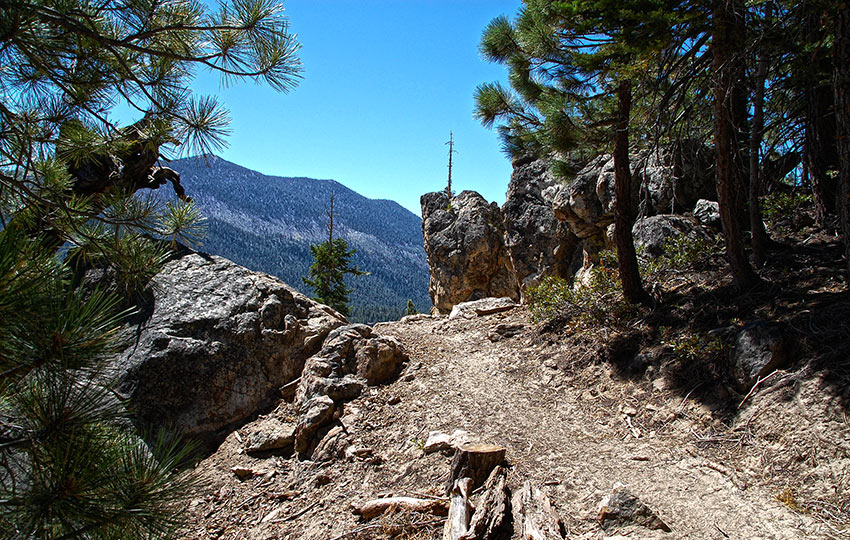 The trailhead for the Castle Rock hiking trail is at the green Forest Service gate end of the Andria Drive.
Here's a map to assist you in finding the parking area for accessing Castle Rock.
Travel along Castle Rock Hiking Trail:
Travel beyond the green Forest Service gate at the end of Andria Drive down the dirt road.
Shortly, you will connect with a single-track trail that veers right and contours the side of a hill. Continue along the trail until you link up with the Tahoe Rim Trail.
Hike north on the Tahoe Rim Trail until you find a side trail that leads off to the left. There should be a signpost at this junction featuring a small orange disc with a white arrow and the words "Castle Rock Trail" printed on it.
I say should be, but don't quote me on that. The winters can be punishing at Lake Tahoe, and trail signs are often damaged or lost altogether.
Regardless, there should be a trail marker of some kind indicating the direction to Castle Rock. This trail will ascend and follow a standard footpath through rocks.
Toward the top, however, you'll have to do some Class 3 scrambling (exposure and the use of handholds to climb up) in order to reach the actual Castle Rock peak.
Keep in mind that you don't need to actually reach the top of Castle Rock if the route appears too dangerous for you to climb. Remember the summit is optional, but the descent is mandatory.
Definitely keep a close watch over your younger children along this hike as there are some sections, especially closer to Castle Rock, that could be tripping and falling hazards.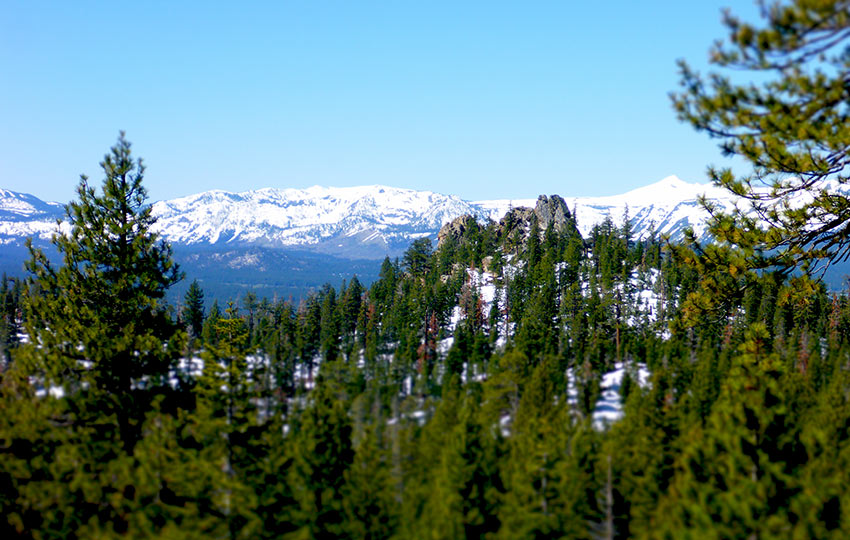 On the route featured in this article, you won't actually see Castle Rock until you are on top of it, but the above image gives you an idea as to what you're heading toward. Castle Rock is right of center and, in the background, is a view of the snowy west shore of Lake Tahoe.
---
For other shorter hiking options, visit Short and Easy Hikes in South Lake Tahoe.
---
Below is a poster I designed based on the view from Castle Rock. I adjusted the image's color palette to give it a vintage, old timey, or even a western-type of look to it. You can order different styles of prints and posters of this image at my Redbubble account (Tahoe Swag collection).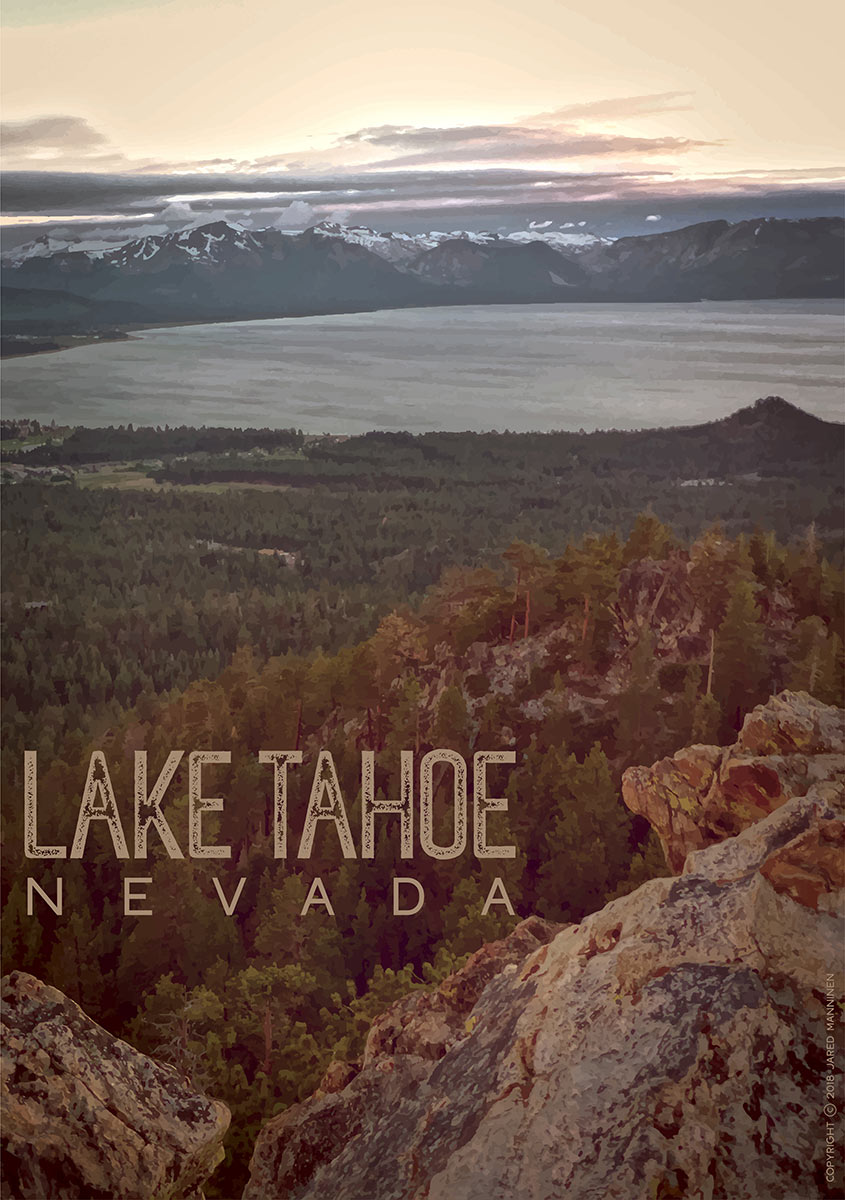 ---
Do you have other insight, feedback, or trail updates about hiking Castle Rock?
If so, please post it in the comment section below for the benefit of everybody 🙂
---