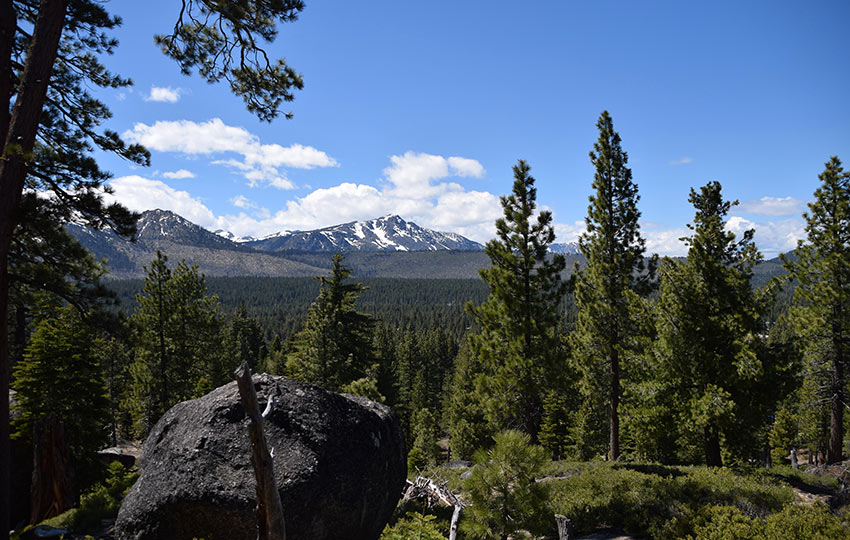 Cowboy Hat Hill is found on few maps. It's a short, but relatively steep climb that offers amazing views of the east face of Desolation Wilderness, Mount Tallac, Angora Peak and Ridge, Twin Peaks, and a glimpse of Lake Tahoe.
At the viewpoint there are granite boulders on which to climb, as well as beautiful Sugar Pine trees to photograph.
Although parking is very limited (as it's all along residential streets), the hike is short enough that people seldom spend too much time here (i.e. you can always find somewhere to park).
---
Support Tahoe Trail Guide with a financial contribution via PayPal (single contribution) or Patreon (reoccurring contributions). Your support of Tahoe Trail Guide is very much appreciated!

Become a Patron!
---
Cowboy Hat Hill Trail Data (approximations):
---
For other shorter hiking options, visit Short and Easy Hikes in South Lake Tahoe.
---
Considerations for Hiking Cowboy Hat Hill:
Parking along public roads is OK, but be courteous to residents by choosing a spot as far from their homes as possible
Dogs are allowed, but keep them on leash and pick up after them
Adhere to all Leave No Trace principles
There are few trail signs and markers on public lands in the Tahoe region, so unless there are tracks to follow, the correct route may be difficult to identify–when in doubt, turn back
Be prepared for icy conditions in early and late winter, and carry plenty of warm clothes, food, and water
Leave an itinerary of your plans with someone who'll call emergency services if you don't return by your prescribed time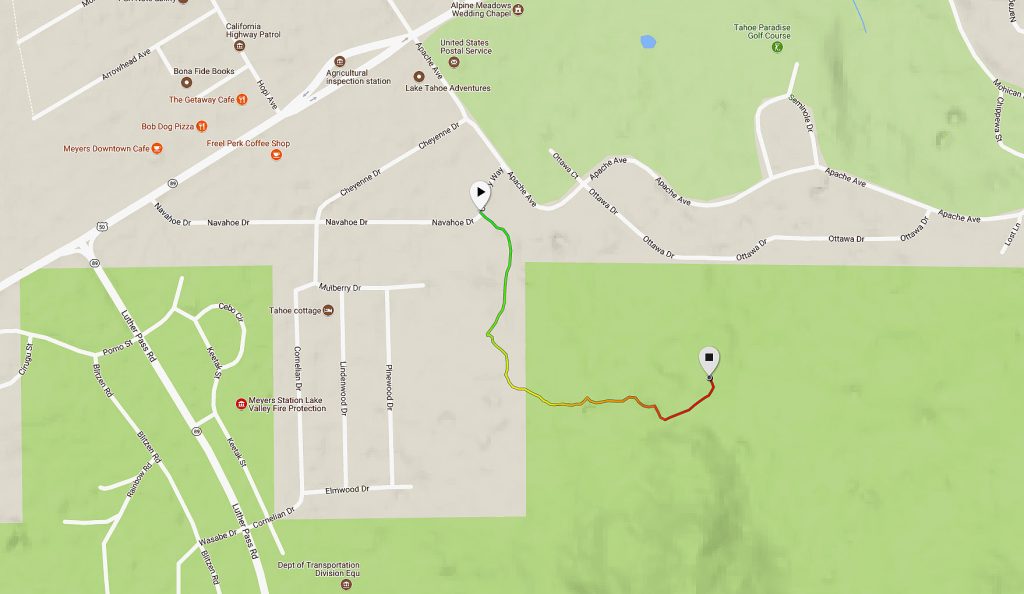 Parking Directions for the Cowboy Hat Hill Hiking Trail:
From HWY 50 in Meyers, travel south on Apache Drive (nearest the Agricultural Station), and then find a place to park along Apache Drive or along Chimney Way/Navahoe Drive. There are not actual parking lots for this trail, and there are no trailhead signs indicating Cowboy Hat Hill, either. So long as you are able to find that triangular patch of land between Apache Drive and Chimney Way (see maps below), you will be able to navigate your way to Cowboy Hat Hill.
There are other connector trails around the base of Cowboy Hat Hill that link to the main trail and are fun to explore, but they originate on other nearby streets.This small network of well-traveled paths in the immediate area can be a bit confusing to navigate, so the most easily found "trailhead" is at the bend in Chimney Way/Navahoe Drive.
Here's a map to assist you in finding a place to park for accessing Cowboy Hat Hill. Please note that there is no actual parking lot, so you'll need to find a space either on Apache Ave, or along Chimney Way/Navahoe Dr. This is a residential area, so be respectful of private property and citizens' privacy.
Travel along the Cowboy Hat Hill Hiking Trail:
From the bend in the road along Chimney Way/Navahoe Drive, you're going to make your way uphill along a small footpath.
At about .10 miles you'll most likely see a large water tank and/or a small paved road. Avoid contact with either of these structures as they are private and belong to the South Lake Tahoe Public Utility District.
While continuing to travel uphill, follow the trail that veers left of the water tank. Just shy of half of a mile you'll arrive at Cowboy Hat Hill.
---
For other shorter hiking options, visit Short and Easy Hikes in South Lake Tahoe.
---
For adventure (i.e. elevation gain, miles, and views) beyond Cowboy Hat Hill, hike further up the trail.
This trail can be littered with ice patches in early and late winter due to it being on the north side of the mountain range. So, I recommend carrying some type of foot traction or mirco-spikes for safe travel.
Please note that the Cowboy Hat Hill trail is appropriate for snowshoeing in the winter, but too short and technical on which to safely cross-country ski.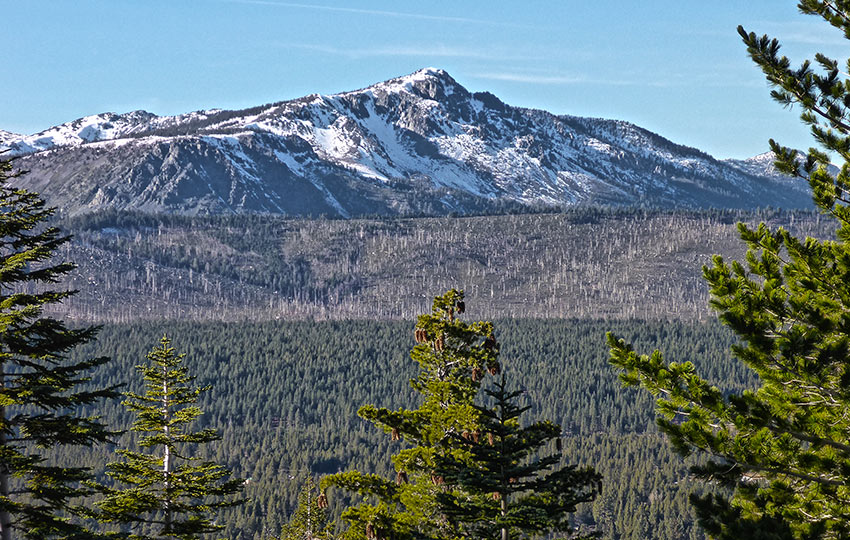 ---
Do you have other insight, feedback, or trail updates about hiking Cowboy Hat Hill?
If so, please post it in the comment section below for the benefit of everybody 🙂
---