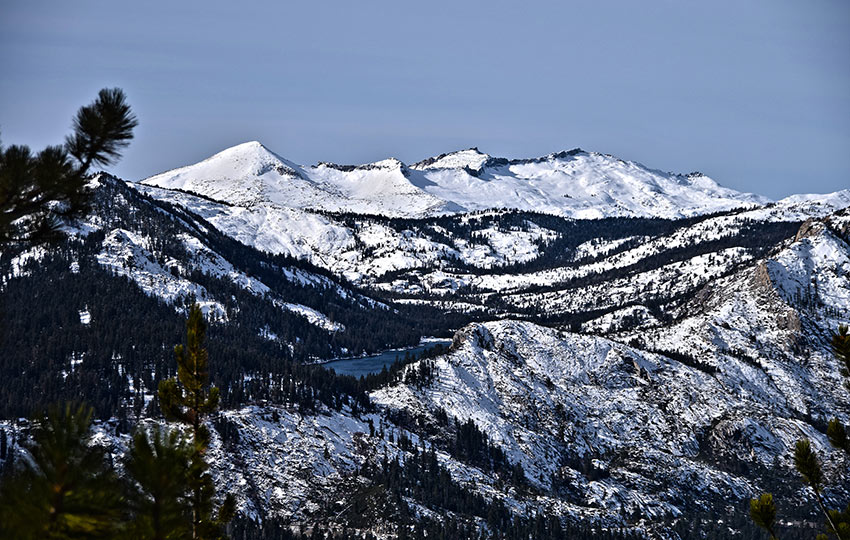 Last Updated on by Jared Manninen - Tahoe Trail Guide
The Warr Trail is short and stout, featuring just over 1,800 feet of elevation gain in just under three miles of hiking (one-way). Although the Warr Trail is shown on three of the more popular Lake Tahoe recreation maps, not many people (Tahoe locals included) actually know it exists. This is interesting because the trailhead is easily accessible, the trail itself provides a heart-pounding workout, and the views at the top are stunning.
Warr Hiking Trail Data (approximations):
Location: South Tahoe – Christmas Valley
Category of Route: Day Hike
Total Mileage: 6
Total Elevation Gain: 1,800 feet
Highest Point: 8,300 feet
Trail: Hard-packed sand with some roots and rocks
Considerations for Hiking Warr Trail:
Be prepared for a significant climb in a relatively short distance
For late fall, early winter, and spring hiking bring some type of foot traction to negotiate icy aspects of the trail
Adhere to all Leave No Trace principles
There are few trail signs and markers on public lands in the Tahoe region, so unless there are tracks to follow, the correct route may be difficult to identify–when in doubt, turn back
Be prepared for inclement weather and carry plenty of warm clothes, food, and water
Leave an itinerary of your plans with someone who'll call emergency services if you don't return by your prescribed time
Dogs are allowed, but keep them on leash and pick up after them
Parking Directions for the Warr Hiking Trail:
The parking "lot" to the Warr Trail is essentially hiding in plain sight. At the junction of HWY 50 and SR 89 in Meyers, travel south on SR 89 into Christmas Valley approximately 0.9 miles (a few hundred meters south of Shakori Drive).
The parking area is located on the east side of the highway and is nothing more than a dirt turnout with some large rocks delineating the back edge, which is adjacent to the open field. If everyone parked perpendicular to SR 89 in this area, there would be enough space to fit at least a dozen vehicles (although you'd probably never see that many there).
Finding the beginning of the Warr Trail is slightly challenging for the first time, but once you've found it you'll never again have difficulty locating the trailhead. When you've parked your vehicle and are ready to go, hike directly toward the mountain (away from the highway).
There are at least two well beaten paths that run parallel to SR 89 (one near the highway and one a little further from it), but these are not the trails you want to choose if you're planning to hike the Warr Trail. Both of these trails will just take you between Shakori Drive and Santa Claus Drive. You'll know that these are not the correct trails because you'll never really start to climb uphill, whereas the Warr Trail immediately begins to contour the mountain face upward and in a southerly direction.
Hike past those two paths in the direction of the mountain face and you will find a relatively wide and obvious trail. As of November 2017, you could see from the parking area a huge tree that had been cut down and laying parallel to the trail. The beginning of the Warr Trail is just beyond that fallen tree.
Here's a map to assist you in finding the parking area for accessing the Warr Trail.
Travel along the Warr Hiking Trail:
The Warr Trail can be found on Tom Harrison's Lake Tahoe & Tahoe Rim Trail Map, National Geographic's Lake Tahoe Basin Map (#803), and the Lake Tahoe Basin Trail Map by Adventure Maps, Inc. However, the three maps cannot agree on the distance of the Warr Trail or where it starts (my GPS watch clocked it at 2.75 miles one-way). All the maps do agree upon where it ends, however, which is at its intersection with the Saxon Creek Trail (aka Mr. Toad's Wild Ride mountain bike trail).
Unless you're planning to hike further to link up with the Tahoe Rim Trail via Tucker Flat, for example, I wouldn't bother going to the Saxon Creek Trail junction. Instead I would recommend hiking further uphill to the unnamed peak closest (just north) to the Warr Trail. This route is shown on my map in the form of the hooked shape trail highlighted in red. This is a much more gratifying ending to the trail because you'll be rewarded with exceptional views looking west (Echo Summit, Echo Lake, the southern half of the Crystal Range in Desolation Wilderness, and Mount Tallac). There is some off-trail hiking involved in this choice, but nothing too dangerous. Just be conscious of your steps and don't try to go up and over the large granite boulders.
If you're planning to hike the Warr Trail in late fall, early winter, or spring, be advised that many parts of this trail can be slick and icy. There are a handful of small streams that cross the trail and can quickly turn to ice under the right circumstances.
Also, the first major aspect of the trail is on a west facing slope, so a lot of the snow melt will also go through a freeze/thaw cycle which can create hazardous walking conditions. If in doubt, bring some micro-spikes or foot traction devices to negotiate the icier parts. When the snow is deep enough, you'll want to bring with you some snowshoes. However, if it is deep enough to require snowshoes I would exercise extreme caution when traveling this trail.
Although it mostly faces west and south (as opposed to more avalanche prone aspects of north/northeast/east), there are a few parts of this trail where there is nowhere to go but down.