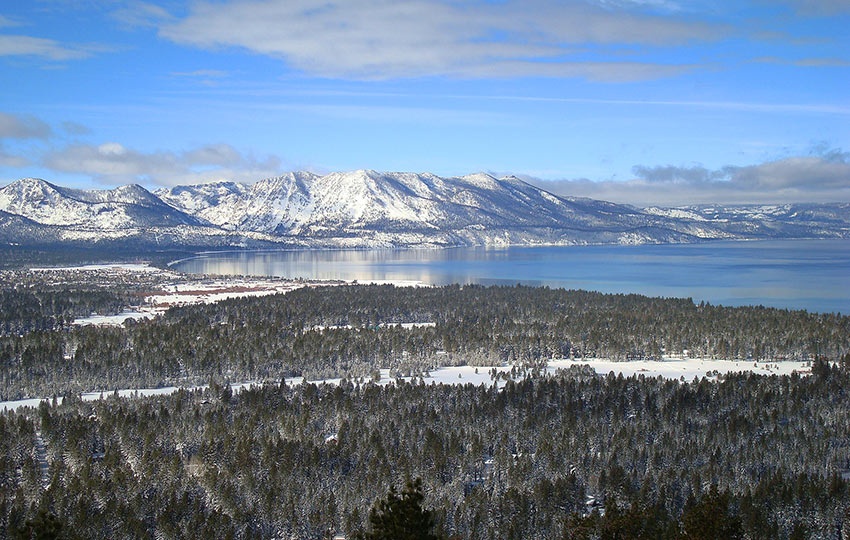 Snowshoeing is an enjoyable way to experience Lake Tahoe's backcountry. There aren't many techniques involved with snowshoeing. Mostly, you just need to walk slightly wider and pick your knees up a little higher (depending on snow levels).
So, snowshoeing is very accessible to many people. This is especially true for people who don't have the time or money for more involved methods of backcountry travel. And, there are loads of places to snowshoe on the south shore of Lake Tahoe. They range from flat and easy terrain to areas featuring more steep and strenuous routes.
---
Support Tahoe Trail Guide with a financial contribution via PayPal (single contribution) or Patreon (reoccurring contributions). Your support of Tahoe Trail Guide is very much appreciated!

Become a Patron!
---
Considerations for Snowshoeing in South Lake Tahoe:
Assess the risks, weigh their consequences, know your limits, and be conscious of your decisions before taking action.
Leave your itinerary with a responsible person who'll take appropriate action if you don't return at your prescribed time.
When in doubt, turn back.
Dress in layers in order to shed or add on articles of clothing.
Wear appropriate footwear for the winter conditions.
Carry the necessary safety gear for your specific adventure and know how to use it.
Stay adequately fueled and hydrated.
Public lands are for everyone.
When parking, don't block traffic or Forest Service gates or impede snow removal vehicles while they're operating.
Keep your dogs on a leash and pick up after them.
Always practice the Leave No Trace Seven Principles.
Click for a more comprehensive look at considerations when traveling in the backcountry during the winter at Lake Tahoe.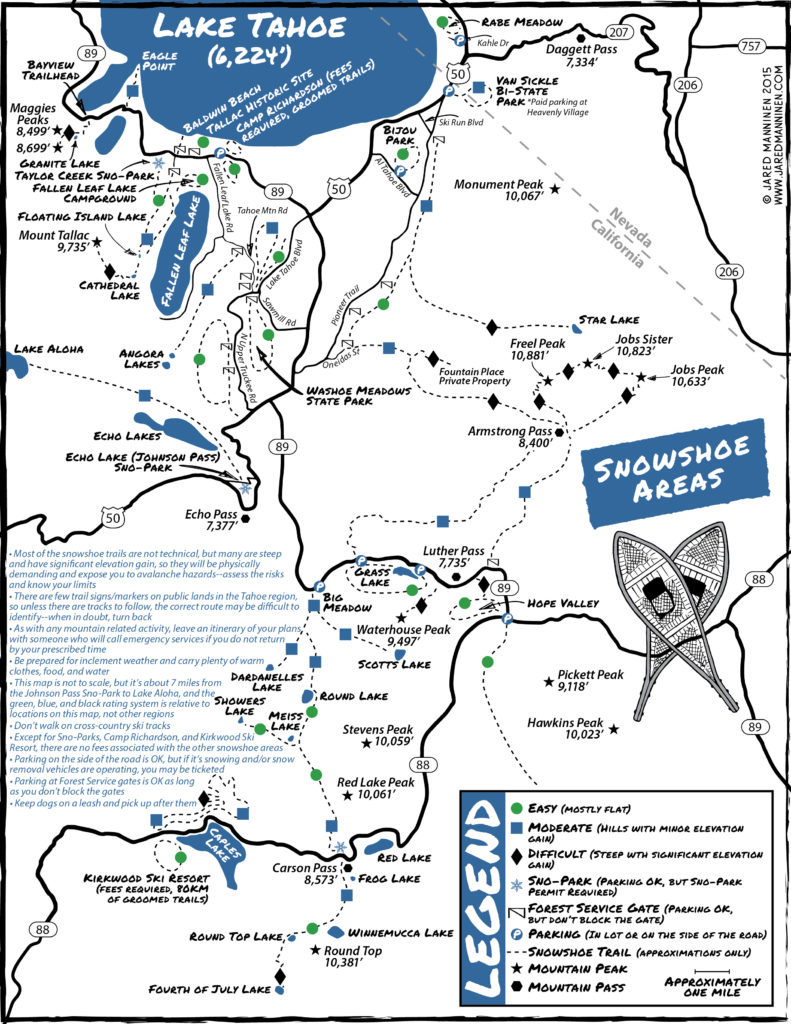 Fallen Leaf Lake Area
I consider the Fallen Leaf Lake area to be fairly broad in scope. In it, I include locations along State Route 89, north of South Tahoe's "Y" intersection (HWY 50/SR 89).
Mellow and flat snowshoeing areas include:
Baldwin Beach
Kiva Beach
Pope Beach
Tallac Historic Site
Camp Richardson (no pets, trail pass required)
Fallen Leaf Lake Campground
Taylor Creek Sno-Park (permit required)
Taylor Creek Visitor Area.
For accessing Floating Island and Cathedral Lakes, as well as Mount Tallac, park at Mount Tallac RD. Be sure you don't block the Forest Service gate.
Note that if you plan to summit Mount Tallac, you'll have to negotiate over 3,000' of elevation gain. And, you'll have to deal with high exposure. Just know that this is a highly ambitious endeavor even for experienced mountaineers.
Many of the locations in this general region are, literally, at lake level. This means they're at a lower elevation so it might take a couple of snowstorms to warrant actually wearing snowshoes.
While parked further north in Emerald Bay, you can snowshoe down to Vikingsholm and walk around the bay. Or, you could travel into Desolation Wilderness via the Eagle Falls Trailhead. But this last option is all uphill and quite technical.
For stunning views looking down into Emerald Bay, snowshoe up to South Maggie's Peak. This trail is accessible from the Bayview Trailhead at the back of the Bayview campground.
Snowshoeing up to Maggie's Peaks (short panoramic video below) can be challenging. The reason for this is that you'll have to contend with roughly 2,000' of elevation gain. And, some sections are very steep.
Snowshoeing up to Maggie's South Peak on April 29, 2016. Cascade Lake, Lake Tahoe, and Fallen Leaf Lake are seen from the top. © Jared Manninen
Meyers
West of the "Y" you'll encounter many easy and moderate routes such as:
Lake Tahoe Golf Course (HWY 50/SR89)
Tahoe Mountain
Angora Ridge
Angora burn area
The Lake Tahoe Golf Course is adjacent to Washoe Meadows State Park and located east side of the Upper Truckee River (access via HWY 50). Please note that Tahoe Snowmobiles operates a snowmobiling operation (basically a loop at the golf course) during the winter (snow permitting). So, it can be a bit noisy if they are busy. However, they need a lot more snow on which to operate than snowshoes so snowshoeing at the golf course early and late in the season is recommended.
There are Forest Services gates along Lake Tahoe BLVD, Tahoe Mountain RD, and North Upper Truckee RD. You can park at the gates but, again, don't block the gates.
Please note that many of the areas in and around Meyers are at a relatively low elevation. So, it may take some time for snow to accumulate enough to snowshoe.
Also note that many of the Forest Service gates (i.e. parking spots) are located within neighborhoods. Be courteous to locals as they have to accommodate a non-stop stream of tourists year-round.
Echo Summit
Travel west of Echo Summit on HWY 50 to access the southern end of Desolation Wilderness. On the west side of Echo Summit, turn onto Johnson Pass RD. Park at the Echo Lakes Sno-Park (permit required) and then snowshoe to Echo Lakes and Lake Aloha.
There's a one-mile hike to Lower Echo Lake by the road or the Pacific Crest Trail/Tahoe Rim Trail. However, the PCT/TRT junction at Johnson Pass RD is about a quarter mile west of the Sno-Park.
Honestly, I just recommend sticking to the road to Echo Lakes. It's way more straightforward, and you don't have to risk walking through Echo Summit cabin owners' backyards.
Also consider traveling south from the Echo Summit Sno-Park. You'll have to hike west along Johnson Pass RD, and then south along FS Road 1104. This is not a long route, but a relatively isolated one.
South Lake Tahoe
Bijou Park is flat and centrally located in South Lake Tahoe, just off of Al Tahoe BLVD. Keep in mind, though, that Bijou Park is at lake level. Again, this means that it takes time for enough snow to accumulate to necessitate the use of snowshoes.
Another option for more terrain in South Lake Tahoe is to snowshoe from Pioneer Trail. Park at one of the Forest Service gates (don't block them), and hike toward the mountains. There are no official trails in this area, but the location is great for a DIY winter adventure. Besides, hiking off-trail is essentially the name of the game in winter!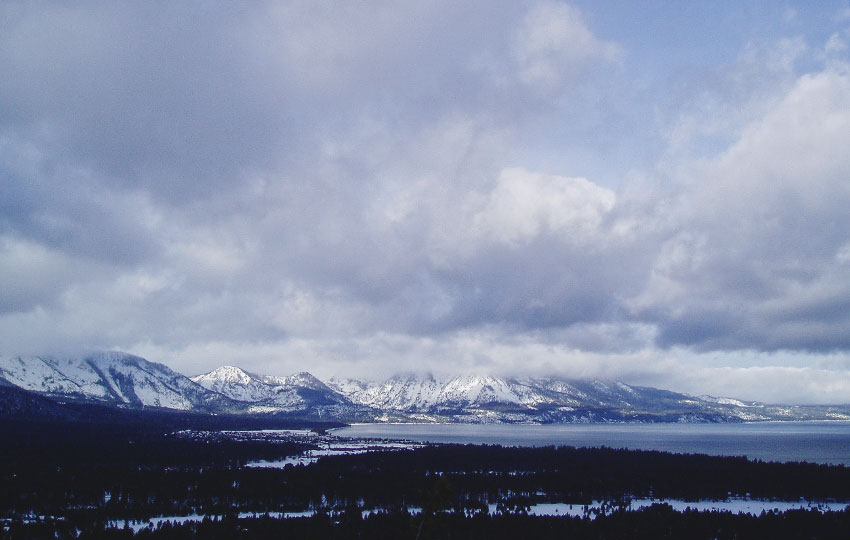 Luther Pass/Hope Valley/Carson Pass
These large, sweeping areas in South Tahoe are your best bet for an amazing winter adventure. General locations include:
Most of these areas are ideal for early and late season snowshoeing. This is because many of the locations are situated at higher elevations (and receive snow early and hold it long).
You'll also most likely find snow in these places during low-snow winters at Lake Tahoe. Grass Lake and Hope Valley is flat, whereas Big Meadow and Carson Pass Sno-Park (permit required) offer uphill challenges.
For difficult climbs, travel up to:
All of these peaks are very strenuous and require backcountry experience. They also require adequate time to safely navigate to and from.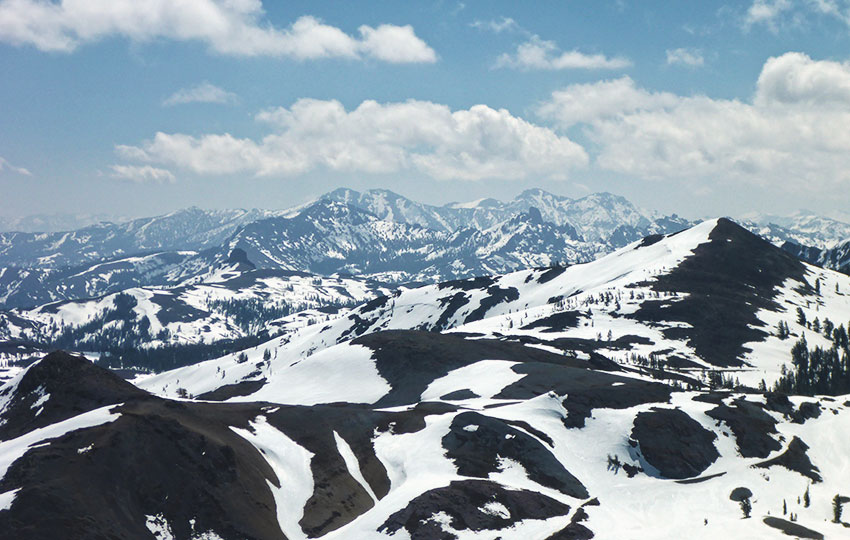 Kirkwood Ski Resort, further west on State Route 88, has a cross-country ski and snowshoe area. They do require a trail pass, and dogs are only allowed on designated trails.
Kirkwood does feature a rental and retail shop for those who don't own gear. The trail system, at optimal winter conditions is 80km of groomed trails and features easy to advanced routes. Just be sure to stay off to the side while snowshoeing on groomed trails. Basically, don't walk on the classic tracks or right down the middle of the skate lane.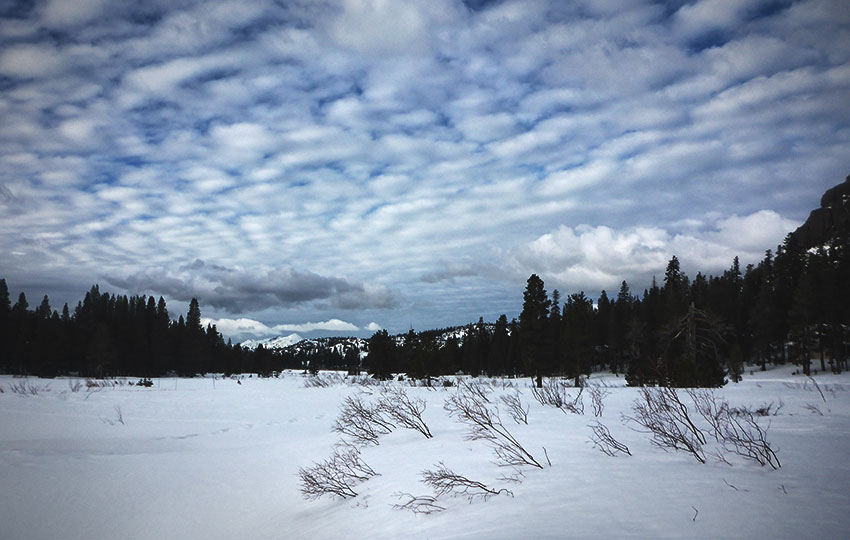 Stateline
The Van Sickle Bi-State Park is behind Heavenly Village. And, it's set on the face of the mountain, so climb as high as your fitness level will accommodate. To avoid being ticketed, use the paid parking garage on Bellamy Court.
Rabe Meadow, further east and located on Kahle Drive, is mostly flat and easy to access. But know that Rabe Meadow is at lake level and on the east side of town. This means that it takes far more time to accumulate enough snow in which to need snowshoes.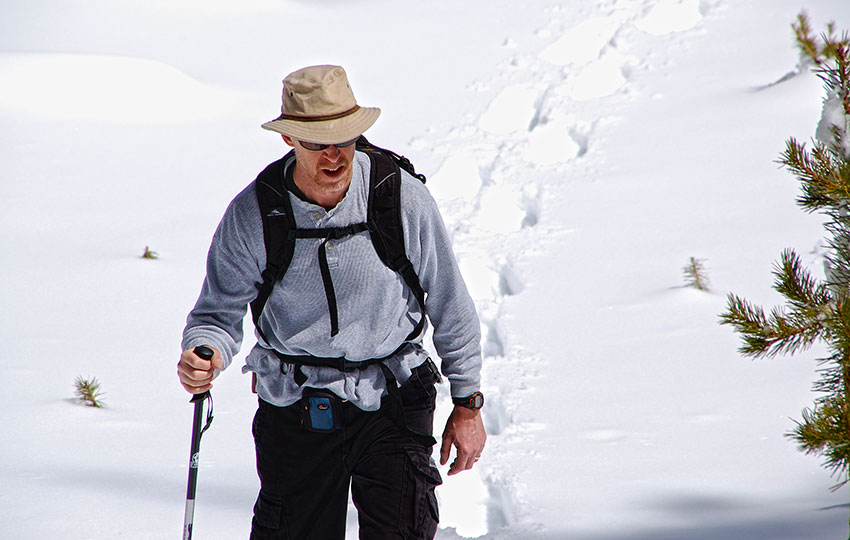 ---
Snowshoeing Basics Mini-Series
Please note that I wrote and produced this collection of Snowshoeing Basics articles and short videos about snowshoeing with the beginner and intermediate adventurer in mind. This is the demographic for whom I most often served while working in the outdoor recreation industry at Lake Tahoe. So, I treat these informational blogs as extensions of the conversations I've had with those customers.
That said, expert adventurers and mountaineers could probably take away something of value from these articles. Just know that I don't intend to specifically address performance or race-oriented philosophy, technique, or gear selection in this series.
Snowshoeing Basics Articles