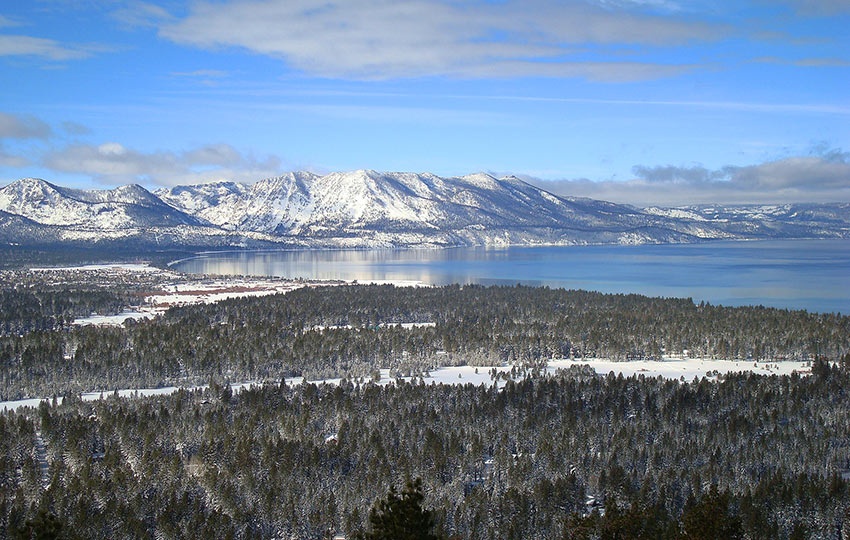 Snowshoeing is an enjoyable and accessible way to experience Lake Tahoe's backcountry. The only "technique" involved in snowshoeing is to walk slightly wider and to pick up your knees a little higher (depending on snow levels, of course). There are many places to snowshoe on the south shore of Lake Tahoe, ranging from terrain that is easy and flat to areas featuring more steep and strenuous routes. Here are some places worth checking out:
Fallen Leaf Lake area and Highway 89 north of South Lake Tahoe's "Y" intersection (Highway 50 / State Route 89)
Mellow and flat snowshoeing areas include Baldwin, Kiva, and Pope Beaches, as well the Tallac Historic Site, Camp Richardson (no pets, trail pass required), Fallen Leaf Lake Campground, Taylor Creek Sno-Park (permit required), and the Taylor Creek Visitor Area. To access Floating Island and Cathedral Lakes, as well as Mount Tallac, park your vehicle at Mount Tallac Road. If you plan to summit Mount Tallac, you'll have to negotiate well over 3,000' of elevation gain and high exposure.
While parked further north in Emerald Bay, you can snowshoe down to Vikingsholm and walk around the bay. Or, you could travel into Desolation Wilderness via the Eagle Falls Trailhead. For a stunning view looking down into Emerald Bay, snowshoe up to South Maggie's Peak. This trail is accessible from the Bayview Trailhead at the back of the Bayview campground. Snowshoeing up to Maggie's Peaks can be challenging considering there is roughly 2,000' of elevation gain with which to contend, so be prepared.
Meyers
West of the "Y" you'll encounter many easy and moderate routes along Lake Tahoe Boulevard, Tahoe Mountain Road, and North Upper Truckee Road. There are multiple Forest Services gates along those roads in which you can park. Snowshoe around Washoe Meadows State Park, Tahoe Mountain, and Angora Ridge, Angora Lakes, and the Angora burn area.
To access the southern end of Desolation Wilderness, travel west of Echo Summit on Highway 50 and turn right onto Johnson Pass Road. You can park at the Echo Lakes/Johnson Pass Sno-Park (permit required) and then snowshoe to Echo Lakes and Lake Aloha. There is about a one mile hike to Lower Echo Lake either by the road or the Pacific Crest Trail/Tahoe Rim Trail. However, the PCT/TRT junction at Johnson Pass Road is about a quarter mile west of the Sno-Park.
South Lake Tahoe
Bijou Park is flat and centrally located in South Lake Tahoe, just off of Al Tahoe Boulevard. Keep in mind, however, since Bijou Park's elevation is at about lake level, it can take a while for snow to accumulate enough in the park to necessitate the use of snowshoes. To travel further and climb higher into the mountains in South Lake Tahoe, park at one of the Forest Service gates along Pioneer Trail or at the end of Oneidas Street.
Highway 89 (south of Meyers) & Highway 88
This area is ideal for early and late season snowshoeing thanks to many of its locations being situated at higher elevations. Grass Lake and Hope Valley is flat, whereas Big Meadow and Carson Pass Sno-Park (permit required) offers some uphill challenges. For even more difficult climbs, travel up to Waterhouse, Freel Peak, or Red Lake Peak. These peaks are very strenuous and require backcountry experience, as well as ample time to safely navigate to and from.
Kirkwood Ski Resort (no pets, trail pass required), further west on SR 88, offers a large selection of routes along their trail system (80km in optimal winter conditions).
Stateline
The Van Sickle Bi-State Park is behind Heavenly Village and set on the face of the mountain, so climb as high as your fitness level will accommodate. To avoid being ticketed, use the paid parking garage on Bellamy Court. Rabe Meadow, further east and located on Kahle Drive, is mostly flat and easy to access. Also know that since Rabe Meadow is near lake level and on the east side of town, it takes more time to accumulate enough snow in which to need snowshoes.
Considerations for Your Backcountry Experience in the Lake Tahoe Region:
Be conscious of your decisions and weigh their consequences before taking action.
Leave your itinerary with a responsible person who will take appropriate action if something goes wrong.
When in doubt, turn back.
Assess the risks and know your limits.
Dress in layers in order to shed or add on articles of clothing.
Wear appropriate footwear for the winter conditions.
Carry the necessary safety gear for your specific adventure and know how to use it.
Stay adequately fueled and hydrated.
Public lands are for everyone.
When parking, don't block traffic or Forest Service gates or impede snow removal vehicles while they're operating.
Keep your dogs on a leash and pick up after them.
Click for a more comprehensive look at considerations when traveling in the backcountry during the winter at Lake Tahoe.