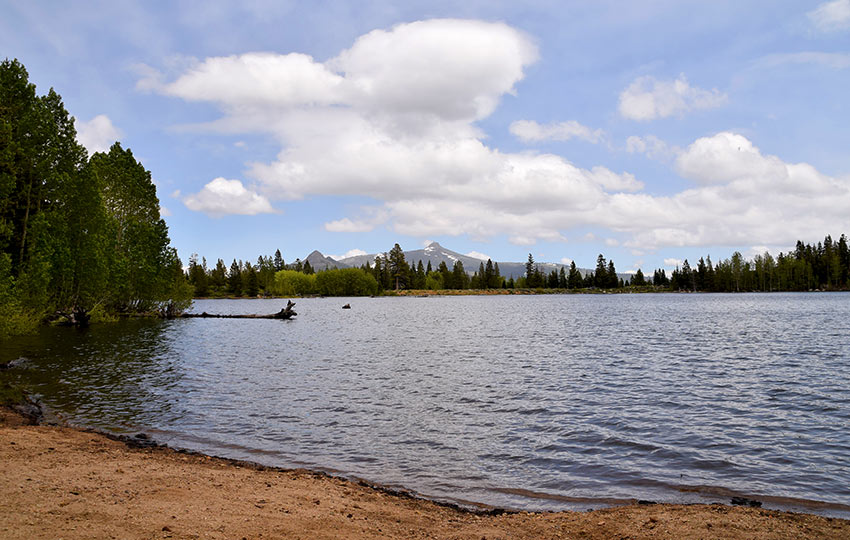 Scotts Lake is a fun Tahoe day hike that features a walk through groves of Aspen and Juniper trees, a great selection of wildflowers (when in season), some elevation gain to get your heart pumping, and free and convenient trailhead parking.
Bring a swimsuit and towel to take advantage of the fact you're hiking to a lake. Since the distance to Scotts Lake is only around six miles and elevation gain about 1,000 feet, the trail is challenging but not overwhelming for your pre-teen children.
---
Support Tahoe Trail Guide with a financial contribution via PayPal (single contribution) or Patreon (reoccurring contributions). Your support of Tahoe Trail Guide is very much appreciated!

Become a Patron!
---
Scotts Lake Trail Data (approximations):
Considerations for Hiking Scotts Lake Trail:
Exercise extreme caution when crossing SR 89 to and from the Big Meadow Campground
Stay on the trail to preserve the delicate wildflowers that grow along the edges of the trail
Adhere to all Leave No Trace principles
There are few trail signs and markers on public lands in the Tahoe region, so unless there are tracks to follow, the correct route may be difficult to identify–when in doubt, turn back
Be prepared for inclement weather and carry plenty of warm clothes, food, and water
Leave an itinerary of your plans with someone who'll call emergency services if you don't return by your prescribed time
Dogs are allowed, but keep them on leash and pick up after them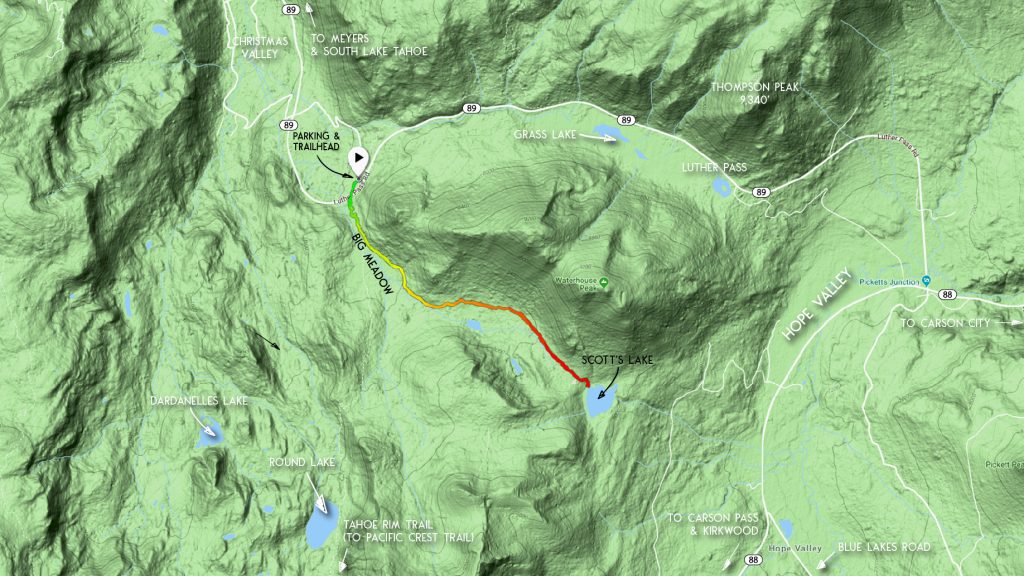 Parking Directions for Scotts Lake Hiking Trail:
Travel west on HWY 50 from South Lake Tahoe and south on SR 89 out of Meyers.
As you begin to make your way up to Luther Pass on SR 89, you'll come around a significant bend in the road that veers left. There is an entrance to the Big Meadow campground on the left.
The entrance to the campground is easy to miss as it's slightly recessed and located just after the bend in the road. You'll know you've driven too far if you reach the flat stretch of highway atop Luther Pass. Turn around and try again.
When you reach the entrance to Big Meadow campground, enter and then make a quick left turn and park your vehicle in the free parking area. There are restrooms located at this campground.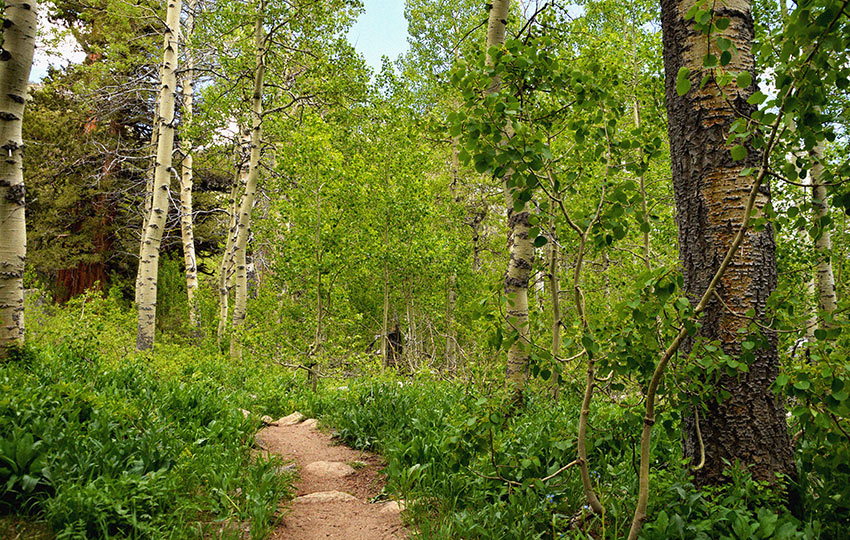 The trailhead for Scotts Lake is located at the far side of the loop in the Big Meadow parking lot.
Here's a map to assist you in finding the parking area for accessing the trail to Scotts Lake.
Travel along Scotts Lake Hiking Trail:
The trail to Scotts Lake from the Big Meadow campground begins with having to negotiate SR 89. Be extremely careful when crossing this road as motorists driving up the hill are just coming around that bend.
Once you're safely across SR 89, stay on the trail (which happens to be the Tahoe Rim Trail) until you reach a junction at approximately .60 miles.
At this junction you could veer left or right.
Take the left. The route will gradually travel uphill as it contours the base of a steep ridgeline.
If you went to the right at the junction (at .60 miles), you would continue hiking along the Tahoe Rim Trail through Big Meadow. Then you'd find yourself on your way to Round Lake.
Along the trail to Scotts Lake during the summer months you'll find an assortment of wildflowers, along with Aspen and Juniper trees.
Stick to the trail through here as many of the wildflowers are very delicate.
At Scotts Lake, if you were to shoot an azimuth due north from approximately the center of the lake, you'd find Waterhouse Peak. This peak is a favorite peak of backcountry skiers and snowboarders.
I consider the hike to Scotts Lake to be a day hike due to the overall distance and elevation gain. However, if you were traveling with young children you could easily turn back at any point.
And even if you didn't make it all the way to Scotts Lake, there's plenty for the whole family to experience on an abridged version of this hike.
Please note that there's an another route to Scotts Lake via a dirt road that originates in Hope Valley. Also know that the first couple of miles of the trail to Scotts Lake also constitutes the beginning of the longer loop route to Stevens Peak (clockwise direction).
---
Do you have other insight, feedback, or trail updates about hiking Scotts Lake?
If so, please post it in the comment section below for the benefit of everybody 🙂
---