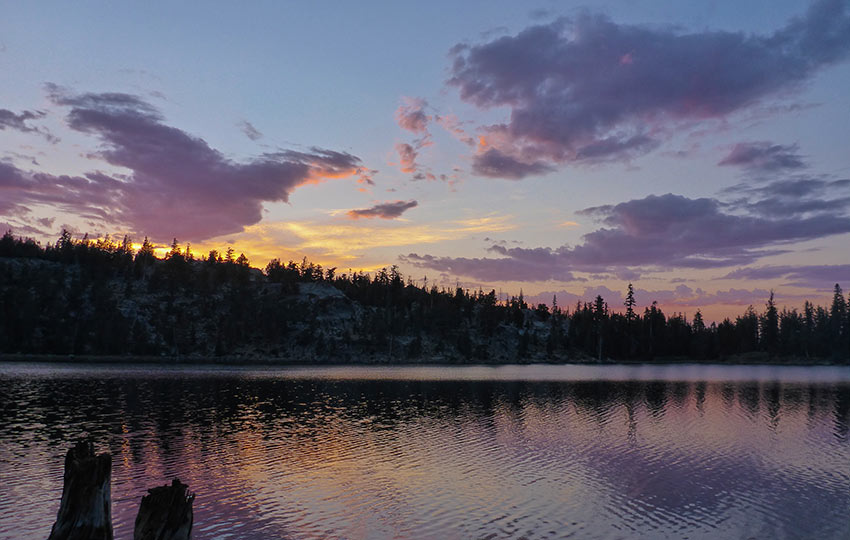 The hike to Round Lake is not a secret Tahoe hike by any means. However, it's definitely a Tahoe local's favorite (especially for quick overnight backpacking trips). Why? Because it's so close to town. And, yet, it's out of the way just enough that you feel as though you were hiking a remote backcountry trail.
This relatively easy day-hike features stunning scenery thanks to the diverse terrain through which the trail travels.
Big Meadow itself is home to many species of wildflowers and birds. And, the conglomerate rock in the surrounding area of Round Lake is an interesting diversion from the granite-centric landscape of Lake Tahoe.
Please note, however, that a significant portion of the trail to Round Lake is multi-use. So, mountain bikers and equestrian riders share a portion of this trail with hikers and backpackers.
---
Support Tahoe Trail Guide with a financial contribution via PayPal (single contribution) or Patreon (reoccurring contributions). Your support of Tahoe Trail Guide is very much appreciated!

Become a Patron!
---
Round Lake Hiking Trail Data (approximations):
Considerations for Hiking to Round Lake:
Proceed with caution while driving around the bend to the Big Meadow Campground as the trail crosses SR 89 near this point
Parking can be limited on weekends during the summer as this trailhead is used by many people including day hikers, Tahoe Rim Trail thru-hikers, mountain bikers, and equestrian riders
During the spring and early summer Big Meadow presents wet conditions
The Big Meadow Campground and parking area is closed during the winter months, so you'll have to go to nearby Grass Lake in order to cross-country ski and snowshoe
Adhere to all Leave No Trace principles
There are few trail signs and markers on public lands in the Tahoe region, so unless there are tracks to follow, the correct route may be difficult to identify–when in doubt, turn back
Be prepared for inclement weather and carry plenty of warm clothes, food, and water
Leave an itinerary of your plans with someone who'll call emergency services if you don't return by your prescribed time
Dogs are allowed, but keep them on leash and pick up after them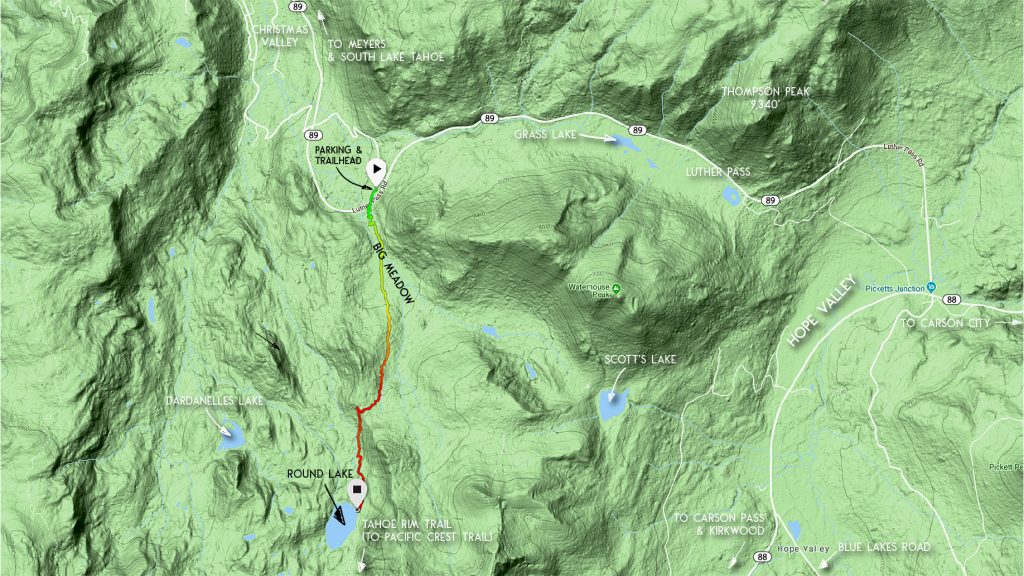 Parking Directions for Round Lake Hiking Trail:
Park at the Big Meadow Campground (and parking area) on SR 89 just west of Luther Pass. Drive south of Meyers, CA, along SR 89 for approximately 5 miles. This short strip along SR 89 will take you through Christmas Valley.
Once you reach the pronounced bend in the road, keep your eyes open. You'll find the entrance to the Big Meadow Campground and parking area in less than a half mile more.
The entrance to Big Meadow Campground is on the north side of SR 89. Pay attention because this entrance is easy to miss.
Also, proceed with caution around this bend because the trail to Round Lake actually crosses SR 89. This means there's a good chance you'll encounter hikers and mountain bikers trying to cross the road at this location.
Parking is free and plentiful, and near the entrance you'll find pit toilets.
The Big Meadow parking area, however, serves the needs of many. For example, the Big Meadow Trailhead is an access point for:
multiple other hiking trails
the Tahoe Rim Trail
mountain bikers and equestrian riders
So, it's not just other day hikers that you'll be contending with in order to find a parking spot.
To avoid the crowds, hike this trail during the week and/or early in the morning or late in the afternoon.
If you show up to the parking area and discover that there are no more available spots, drive further into the campground (which is self-serve and free).
You may have to walk a little further by doing this, but I believe you can park along the road. Just be sure to observe all posted signs and notices regarding parking in the actual campground area.
Please note that during the winter months the Big Meadow Campground and parking area is closed.
The trailhead to Round Lake is at the far side of the Big Meadow parking area.
Here's a map to help you find the entrance to the Big Meadow Campground and parking area.
Travel along the Hiking Trail to Round Lake:
Park at the Big Meadow parking area and walk to the far side of the lot for the trailhead. At this trailhead you'll find additional information and a map.
You'll have to negotiate a short road crossing (SR 89) soon after the trailhead. However, the trail to Round Lake is about as straightforward as any hike at Lake Tahoe.
Essentially, just stick to the Tahoe Rim Trail (of which the trail to Round Lake is a part of). And you'll reach Round Lake with ease.
I would be remiss, however, if I didn't mention two junctions that you'll encounter along the trail to Round Lake. Each of the two signposts are clearly marked, but just in case you have questions I'll clarify:
The first junction is located.75 miles from the trailhead. You'll find a signpost just before you enter actual Big Meadow (not the campground and parking area). At this point you'll have two hiking options, but only one that leads to Round Lake. Hiking the trail to the left will lead you to Scott's Lake. So, take the trail to the right in order to hike to Round Lake.
The second junction you'll encounter is at approximately mile 2.5 (at the bottom of a 250 foot descent). At this signpost, veer to the left in order to continue hiking to Round Lake. Taking a right (north) at that junction will lead you down the Christmas Valley Trail to the south end of South Upper Truckee Road. Note that on some maps this trail is called the Lake Valley Trail. Along that trail you'll find the turnoff to Dardanelles Lake.
I don't list the hike to Round Lake as a short hike due to its length and elevation gain. However, it is a great hike for kids if they're more seasoned hikers.
Or, you could always just turn back before technically reaching Round Lake. I say this because my stepdad's assessment of the trail was that "it's pretty flat for being mostly uphill."
My folks are from Minnesota. So, they discovered that the 1,000+ feet of elevation gain (even spread out over the first 2 miles) was not completely exhausting. But it can be deceptively tiring nonetheless.
The last thing to note about hiking to Round Lake is that the trail, as I've mentioned, is multi-use. You're going to encounter, at some point, mountain bikers. They often will bike down the Christmas Valley Trail. You'll also occasionally come across an equestrian rider.
Be mindful of your surroundings in order to avoid collisions, or simply being startled.
---
Do you have other insight, feedback, or trail updates about hiking Round Lake?
If so, please post it in the comment section below for the benefit of everybody 🙂
---