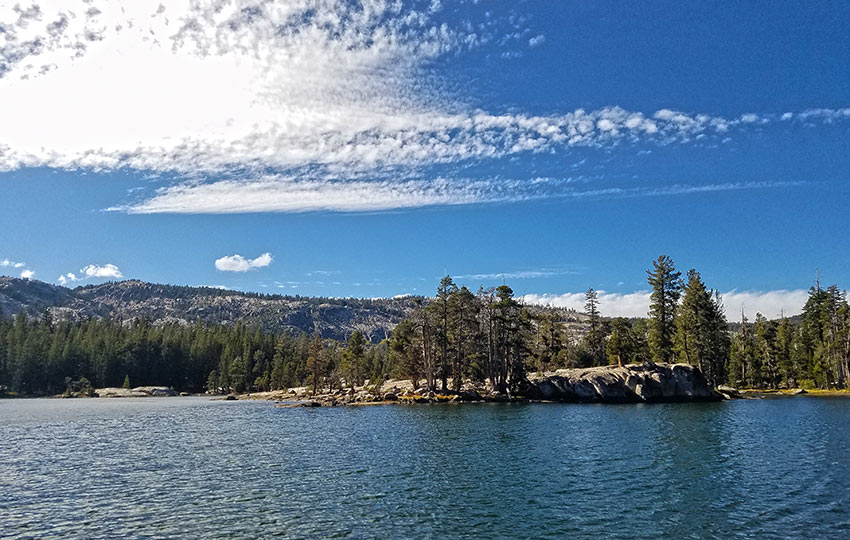 The hike to Dardanelles Lake along the Christmas Valley Trail is a lesser known hike in South Lake Tahoe mostly because of its off-the-beaten-path trailhead. Unless you read about it in a guidebook or randomly stumbled upon the trailhead, you'd probably never know it existed. For that reason, you don't need to travel far from town in order to find a relatively remote trail in which to hike!
There are limited panoramic views along the Christmas Valley Trail as the majority of the hike travels through the forest, but Dardanelles Lake is surrounded by a picturesque backdrop thanks to the geological diversity of Meiss Country.
Since this trail features so much forest (i.e. protection from the elements), it's an appealing route for windy and otherwise inclement days.
Dardanelles Lake is a fantastic summer swimming locale featuring sandy sections of beach as well as granite slabs on which to relax.
In this region you can find an abundance of wildflowers and Sierra Nevada birds during the warmer months, and in the fall you'll be treated to amazing colors thanks to the aspens and willows that grow in various sections of the trail.
Dardanelles Lake is also a favorite location of Tahoe locals for short overnight backpacking trips as it's out of the way, but not far from home.
Dardanelles Lake and Christmas Valley Trail Data (approximations):
Location: South Tahoe – Christmas Valley – South Upper Truckee Road
Category of Hike: Day Hike
Total Mileage: 10.5 miles (out-and-back)
Total Elevation Gain: 1,700 feet
Highest Point: 7,810 feet
Trail Conditions: Alternating between hard packed and sandy soil
Considerations for Hiking to Dardanelles Lake via Christmas Valley Hiking Trail:
The distance presented on most maps of the Christmas Valley Trail (aka Lake Valley Trail) indicate that it's 2.8 miles long, but this is incorrect as the true distance is 4 miles (one-way)
In my experience they've always been respectful, but the Christmas Valley Trail is a favorite among mountain bikers so be mindful about your surroundings so as to avoid startling or colliding with one another
Adhere to all Leave No Trace principles
There are few trail signs and markers on public lands in the Tahoe region, so unless there are tracks to follow, the correct route may be difficult to identify—when in doubt, turn back
Be prepared for inclement weather and carry plenty of warm clothes, food, and water
Leave an itinerary of your plans with someone who'll call emergency services if you don't return by your prescribed time
Dogs are allowed, but keep them on leash and pick up after them
Parking Directions for Hiking to Dardanelles Lake:
Since this trailhead sees relatively little use, parking is usually abundant. Also, there aren't any fees associated with parking at the Christmas Valley Trail trailhead.
There are two ways in which to find the trailhead to the Christmas Valley Trail.
Parking Option #1: Out of Meyers, CA, drive 4 miles south of HWY 50 along SR 89 to South Upper Truckee Road (a small side road on the west side of SR 89).
Take a right (west) on this single-lane road and travel downhill just shy of a mile to the trailhead.
The parking area at the trailhead consists of some dirt turnouts, and there's a Forest Service sign indicating that you're entering Meiss Country as well as some other information regarding recreating in the area.
Please note that the single-lane road you'll be turning on to from SR 89 features some switchbacks so be mindful of other vehicles and mountain bikers.
And even though there's an actual sign indicating South Upper Truckee Road, it's easy to miss. I've driven this road numerous times over the years, and I still occasionally have to double back in order to find it because it's one of those junctions that you'll miss if you blink.
If you reach the Big Meadow Trailhead you've gone too far, so backtrack until you find that small road leading downhill.
Parking Option #2: Drive along South Upper Truckee Road directly from HWY 50, which is just west of the bridge over the Upper Truckee River in Meyers, CA.
Or, turn off of SR 89 onto Portal Drive, in Christmas Valley, and then continuing south along South Upper Truckee Road until you reach the trailhead.
You'll recognize the trailhead by the informational signs and the dirt turnouts. You'll know you've gone too far if the road narrows to a single lane and you find yourself heading uphill.
Driving along South Upper Truckee Road is not the fastest way in which to reach the trailhead, but it's a pleasant drive and if you start at HWY 50 you'll travel past the historic Celio Ranch.
The parking area and trailhead for hiking the Christmas Valley Trail to Dardanelles Lake is located at the south end of South Upper Truckee Road.
Here's a map to help you find the trailhead for hiking to Dardanelles Lake via the Christmas Valley Trail.
Disregard the "Bridge Road" aspect of this marker as I couldn't embed this map any other way than to add two locations for which to travel between. This trailhead is so remote that Google Maps doesn't yet recognize it!
Travel to Dardanelles Lake via Christmas Valley Hiking Trail:
The Christmas Valley Trail trailhead is located at the southern end of South Upper Truckee Road.
From the trailhead, hike 4 miles gradually uphill (a little over 1,400 feet of elevation gain on this section) to the turnoff for Dardanelles Lake.
There's a signpost at this t-intersection indicating that Dardanelles Lake is to the west. From this junction, travel 1.25 miles west to Dardanelles Lake.
Since this is an out-and-back hike, you'll return to your vehicle by hiking back along the same trail.
For bonus miles and to access other aspects of Dardanelles Lake, follow the footpath around the lake.
You can't completely circle the lake as the cliffs on its southern side prevent this, but there's plenty of additional terrain to explore if you choose to hike beyond the initial access point on the lake's eastern side.
Please note that many trail maps and articles about the Christmas Valley Trail (aka Lake Valley Trail on some maps) list the distance between the trailhead and the turnoff to Dardanelles Lake as being 2.8 miles. This is not true.
I've hiked this trail many times and have always recorded a one-way distance of exactly 4 miles (according to a Suunto GPS watch).
I've also seen the Christmas Valley Trail documented on a handful of websites as being just over 4 miles long (one-way). To further add to this confusion is the laminated sign posted at the trailhead by the Forest Service for the past few years stating that the hike to Round Lake from the trailhead was 3.8 miles.
Although Round Lake is 1 mile beyond the junction to Dardanelles Lake, the total distance they listed was not true as it was based on the inaccurate Christmas Valley Trail distance of 2.8 miles.
Clearly the difference between 2.8 and 4 miles (2.4 miles round trip) won't break anyone, but it does equate to an extra hour worth of hiking which may or may not fit into your plans for the day.
An alternate and slightly shorter route to Dardanelles Lake would be to begin your hike at the Big Meadow Trailhead. It's only about 2.5 miles from that trailhead to the junction (that leads to Dardanelles Lake) at the upper portion of the Christmas Valley Trail. Use the map for the hike to Round Lake to figure out this slightly shorter route.
The reasons I prefer to hike along the Christmas Valley Trail, however, are because I already use the Big Meadow Trailhead for so many other hikes, parking is never full, and there far less people that hike the Christmas Valley Trail.
---
Do you have other insight, feedback, or trail updates about hiking Dardanelles Lake?
If so, please post it in the comment section below for the benefit of everybody 🙂
---