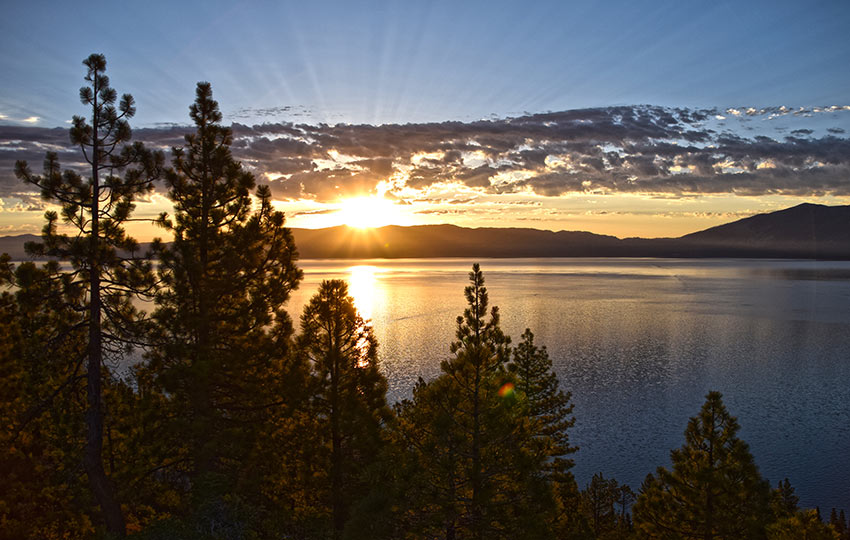 The hike to the Eagle Point Campground Vista Point (featuring a wooden sitting bench) is more like an after-dinner walk you'd take with your toddler than an actual hike. That's not to say this short trip isn't worth your while.
In fact, I would say the ends justify the means in this case. For very low effort (1.25 mile round-trip road walk through Eagle Point Campground) you're rewarded with stunning views of Lake Tahoe, as well as Freel Peak, Jobs Sister, Mount Tallac, Maggie's Peaks, Emerald Bay, and glimpses into Desolation Wilderness.
---
Support Tahoe Trail Guide with a financial contribution via PayPal (single contribution) or Patreon (reoccurring contributions). Your support of Tahoe Trail Guide is very much appreciated!

Become a Patron!
---
Just know that this short trek is more about the views revealed at the end of the hike than the actual hiking, so look elsewhere if you seek an aerobic Tahoe hike featuring lots of miles and elevation gain. This hike has neither.
My recommendation for the trip to the Eagle Point Campground Vista Point is to get up early and go watch the sunrise from its wooden bench.
Eagle Point Campground and Overlook Trail Data (approximations):
Location: South Tahoe – Emerald Bay
Category of Hike: Short Hike
Total Mileage: 1.25 miles (out-and-back)
Total Elevation Gain: 50 feet
Highest Point: 6,600 feet
Trail Conditions: Asphalt road and a couple hundred meters of hard-packed sand (you could roll a wheelchair to this location)
---
For other shorter hiking options, visit Short and Easy Hikes in South Lake Tahoe.
---
Considerations for Hiking the Eagle Point Campground and Overlook Trail:
This is a campground, after all, so respect the campers' privacy and property
If you're walking through the Eagle Point Campground during the off-season and/or the gate is locked, use of the on-site facilities is prohibited (i.e. restrooms will not be available)
The parking area that I highlight in this article is limited, so if it's full when you arrive go hike somewhere else rather than trying to squeeze your vehicle into too small of a space (i.e. you're going to impede traffic and potentially cause an accident or receive a parking violation)
Adhere to all Leave No Trace principles
There are few trail signs and markers on public lands in the Tahoe region, so unless there are tracks to follow, the correct route may be difficult to identify–when in doubt, turn back
Be prepared for inclement weather and carry plenty of warm clothes, food, and water
Leave an itinerary of your plans with someone who'll call emergency services if you don't return by your prescribed time
Dogs are not allowed on any of the trails or roads in Emerald Bay
Drones are not allowed in Emerald Bay or any other State Parks in the Sierra District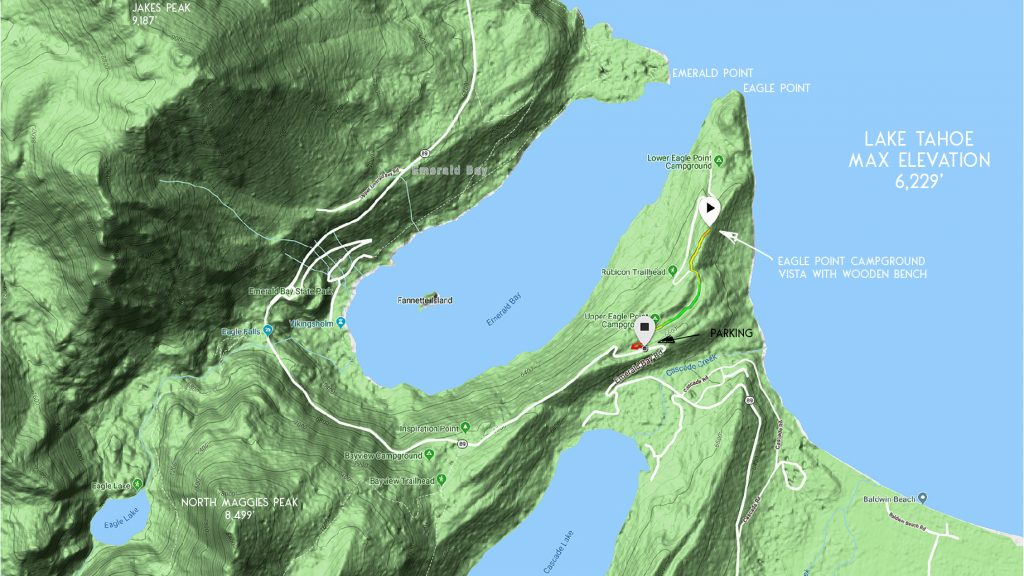 Parking for the Eagle Point Campground and Overlook Trail:
The parking for this hike is very limited as it's restricted by its geographical location. Essentially, you'll park off of the side of the road (SR 89) near the entrance gate to the Eagle Point Campground.
No matter the season, never block the entrance gate to Eagle Point Campground (or any other green gate around Lake Tahoe, for that matter).
And be mindful of where you park along this moderately narrow strip of road. You don't want to cause an accident or receive a parking violation.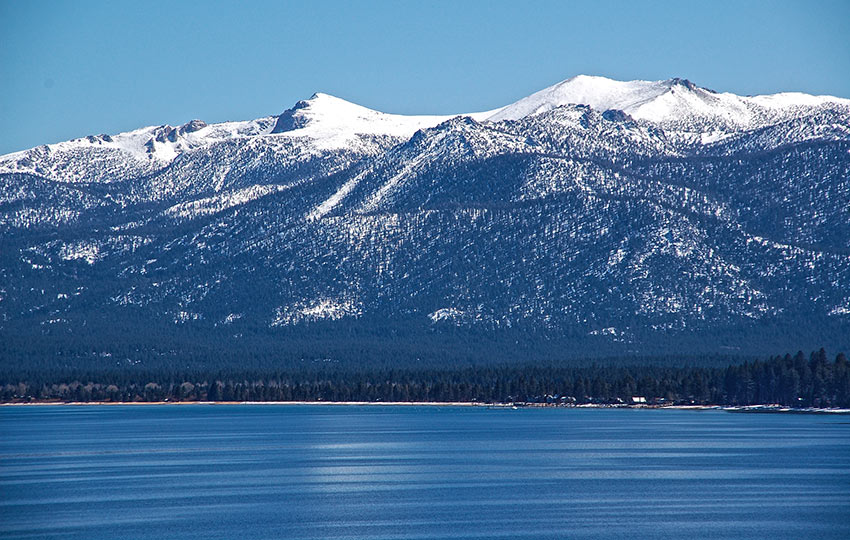 The entrance gate and this section of road is located after the second hairpin turn (counting the turn near the private road to Cascade Lake) you'll make traveling north along SR 89 in the direction of Emerald Bay.
It's easy to miss this spot as the entrance gate is slightly recessed from the road, so be prepared to pull over after making that slow and tight second turn.
The trailhead is the entrance gate to the campground.
Here's a map to help you find the entrance gate to the Eagle Point Campground.
Travel through Eagle Point Campground and along the Overlook Trail:
From the entrance gate to Eagle Point Campground, walk along the main road for a distance of just over half of a mile.
At this point, the road will start to curve to the left and begin to descend.
There's a dirt path (approximately three feet wide) that shoots off to the right with a sign stating "Overlook Trail." This is the trail you want to take and will lead you to the wooden bench at the overlook point.
If you missed the sign and find yourself still walking on the road and heading down a long straight stretch, turn around. You've probably passed the trail and you just need to go back and look closer for the dirt path.
When you find the path and make your way to the wooden bench, have a seat and take in the views.
Return to your vehicle along the same route you took to reach the vista point.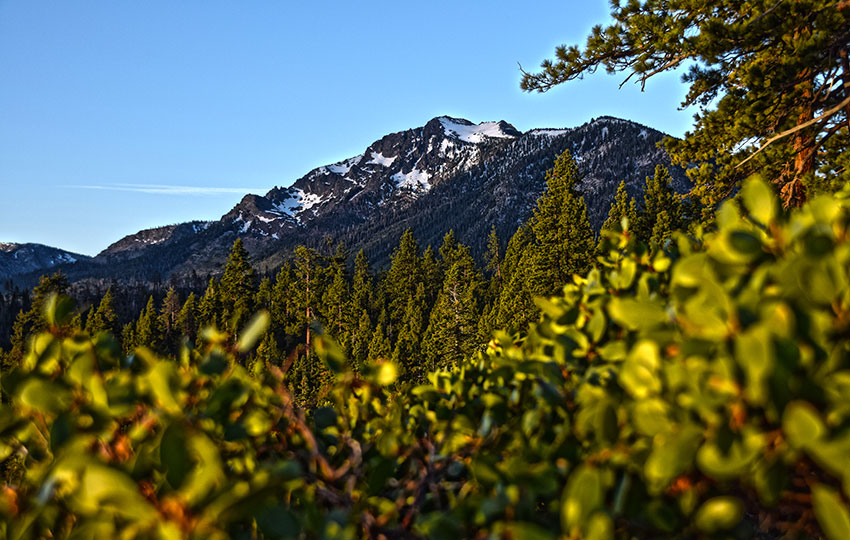 Last thoughts … For a number of years during the 2010s, the Eagle Point Campground was closed for various reasons. Although camping and use of the facilities within the park was prohibited, public access (i.e. walking around the park) was never denied.
I stumbled into the park during its closure years while searching for a trail to Eagle Point at lake level (which there is not).
---
For other shorter hiking options, visit Short and Easy Hikes in South Lake Tahoe.
---
Starting at Vikingsholm I hiked the south rim of Emerald Bay, but instead of traveling closer to the water the trail climbed uphill until it spit me out on the Eagle Point Campground service road.
At this point I realized where I was and began to connect the dots.
I had driven past the campground a million times before, but never gave it much thought because it seemed as if the gate was always locked. And, really, how exciting is a derelict campground?
The deal is, though, this campground features some incredible panoramic views of Lake Tahoe that are super easy to walk to.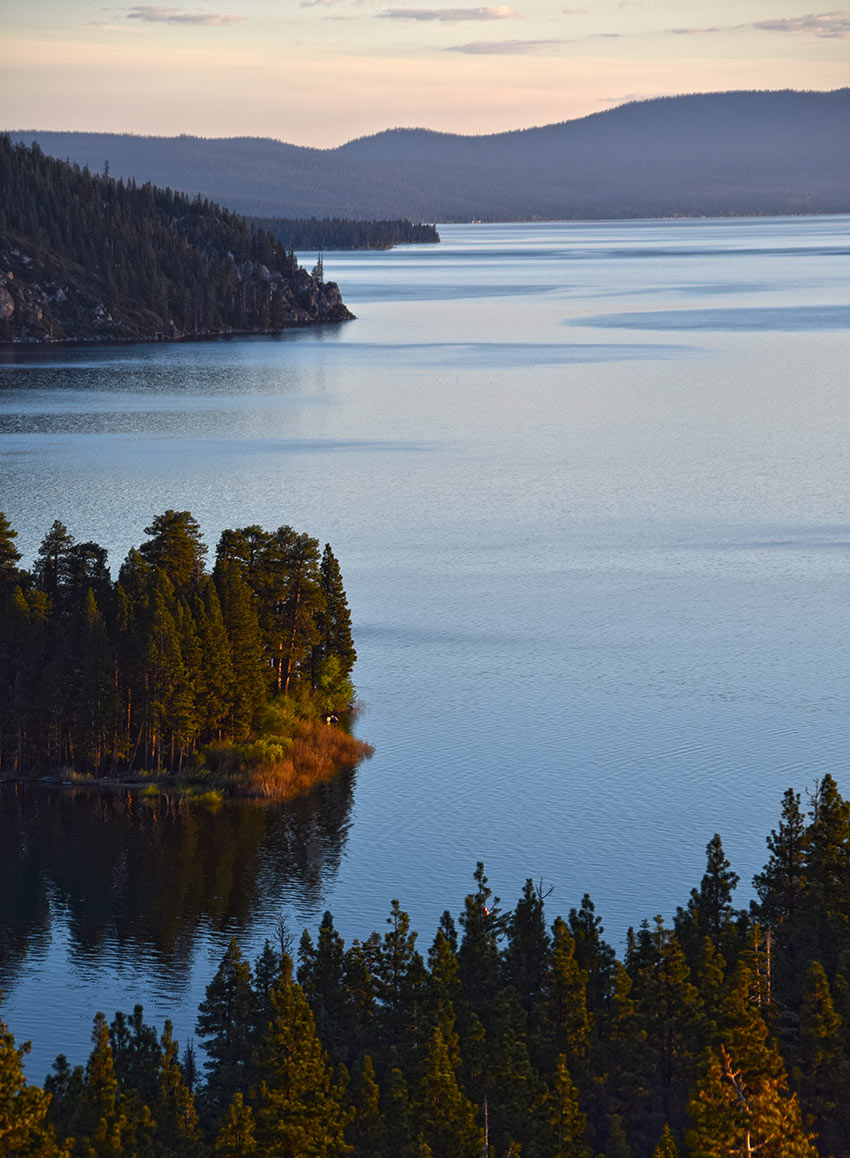 ---
Do you have other insight, feedback, or trail updates about hiking Eagle Point Campground and Overlook Trail?
If so, please post it in the comment section below for the benefit of everybody 🙂
---