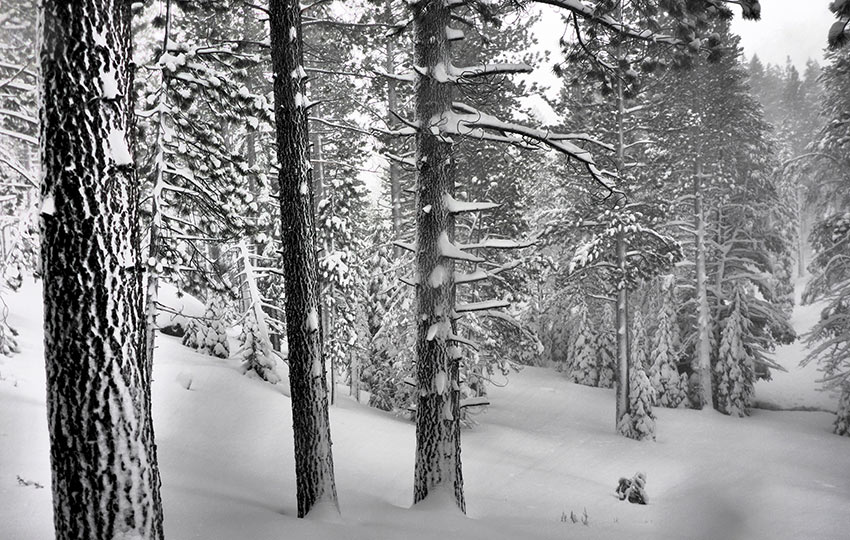 Although I have tons of experience backpacking at various times of the year, I have done very little actual winter camping. So, in March of 2016, I completed my first cross-country ski backpacking trip. The route I skied was 13 miles and I stayed atop Thompson Peak (named for Snowshoe Thompson), which is near Luther Pass at Lake Tahoe. I had such a blast that I made a commitment to do at least three similar overnight excursions the following winter. Unfortunately the snowpack in the Lake Tahoe region during the beginning of the 2016/2017 winter was highly unstable due to a mix of big snowfalls followed by warm temps and torrential rain. This cycle happened twice between Thanksgiving and just after New Year's Day, conspiring to create dangerous conditions for travelling in the backcountry.
Like many people who become highly proficient at a thing I, too, tend to shy away from performing my favorite activity or sport under less than ideal conditions. Once you alpine ski or snowboard epic powder, it's hard to get excited about hitting the groomers. But if you want to be safe and enjoy yourself in the backcountry, you cannot allow yourself to fall into this mental pitfall. Life is seldom an "ideal condition," and everything is amplified (for better or worse) in the backcountry. If you are not mentally and physically prepared to deal with the conditions before you, catastrophe can strike.
So for the time being, I've shelved my plans for doing some overnight cross-country ski trips. However, that doesn't mean I'm not preparing for the adventures. In fact, I've been using the diverse winter conditions to embrace beneficial training experiences.
Unlike our minds which can absorb, process, and assimilate information in many ways, the body really can't know until it experiences. You can think about how cold it is by looking out the window and watching the snow pile up, but imagining will never fully prepare your body for actually being exposed to that cold weather.
Thanks to having a part-time winter job in the rental shop of a cross-country ski area on the north side of Lake Tahoe, I have access to groomed terrain and expert skiers (co-workers and friends). Leading up to the beginning of the season I had been part of a trail maintenance crew at the cross-country ski area, so although I was not actually skiing, I could test out clothing and gear in adverse weather and under physically demanding conditions.
Now that we are open (and when I am permitted), I ski before work and then again during my lunch break. This gives me the chance to experience different snow conditions and temperatures during the same day. I've also built strength and balance while honing my diagonal striding technique.
Most of my co-workers are instructors, ski technicians, and racers in the cross-country skiing industry. Many of them are also experienced backcountry skiers and mountaineers (to one degree or another). I ask them questions about technique, ski maintenance and preparation, and backcountry travel.
I watch videos and read books about cross-country skiing and mountaineering. One book that I recommend (and will eventually review on Tahoe Trail Guide) is called Two Planks and a Passion, and is basically an encyclopedia of mankind's history of skiing. The book is a bit on the dry side, but provides context for our use of skis over the millennia as tools for survival rather than just a fun pastime we do on the weekends.
When not at work, I ski near my home as often as time and conditions permit. All of the ski trips I take at home have been off-track as there are very few groomed cross-country ski areas on the south shore of Lake Tahoe (where I live). This is fine by me, particularly since my home is near wild lands. I can literally ski from my front door. In spite of the brevity of these trips, even a few miles of off-track skiing provides the body with a ton of valuable information. And this is what I typically use these shorter sessions for—recording information into my body.
How much does my striding technique deteriorate when I'm off-track? When I'm tired?
How long does it take me to travel a mile or two in six inches of fresh snow? How about 12 inches?
How many of layers of clothing do I need when it's snowing, 26 degrees, and I'm skiing on flat terrain? What about the same situation and distance but with an elevation gain of 1,500 or more feet?
Ultimately you just cannot know the answers to these questions and scenarios until you experience them first hand. But better to do so under more controlled circumstances (like not too far from your house or car) rather than while you are miles deep in the backcountry and caught in a blizzard.
Alas, the week of January 9, 2017, provided multiple feet of fantastic snow that should (crossing my fingers) set the Lake Tahoe region up for a long winter season. As I wait for the snowpack to stabilize, and in between multiple sessions of shoveling and snowplowing, I've been taking short trips from home into Washoe Meadows State Park to build into my body the information and experience I need to make the most effective decisions and calculations for safe backcountry travel.