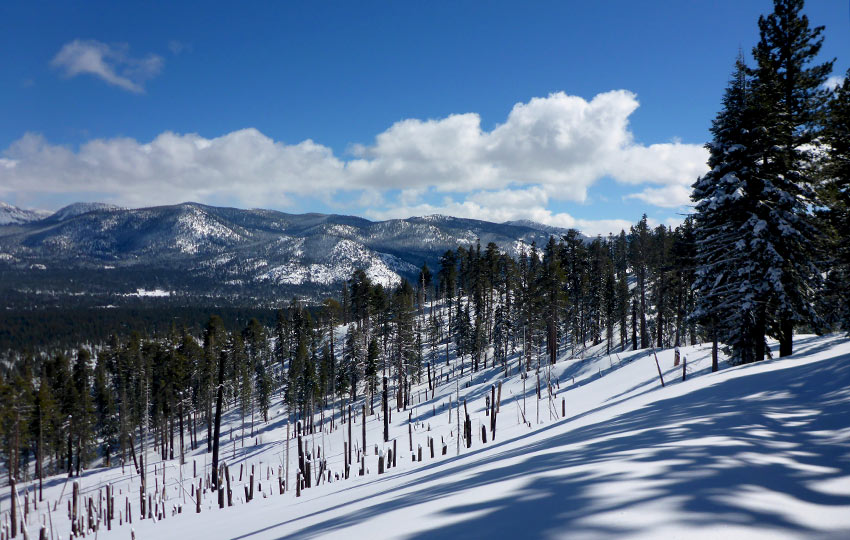 At around $250-$500, buying a new set of recreational cross-country skis and its accompanying equipment (boots, bindings, and poles) is not a major financial investment. However, this initial purchase has the potential of being just the beginning of a disease known as gear lust.
Of course, how far down this rabbit hole you travel depends upon your level of ambition and commitment to learning the fine art of cross-country skiing.
What Exactly is Gear Lust?
If you would've told me years ago that I was going to own multiple pairs of cross-country skis and nearly as many sets of boots (not to mention a full wax kit, a wax profile, and a ton of cross-country ski appropriate clothing) I would've laughed.
Not because I wouldn't have believed you, but because I know myself and what happens to me when I get passionate about something.
I do actually own seven pairs of cross-country skis and seven pairs of cross-country ski boots. Believe it or not, this isn't extreme compared to many other Nordic nerds.
I actually found another a set of skis on the side of the road during the 2016/2017 winter. The skis had been orphaned for some time, so I posted a note with my contact information to the tree on which they had been leaning against. I even contacted a couple of the local ski shops in town, but ultimately I received no response.
I brushed and waxed the bases of the skis and ultimately gave them to a friend of mine who is bigger than me. The found pair of skis were designed for a person at least 25 lbs. heavier than me.
I initially felt guilty for taking them, but it was clear that the owners were not coming back for them. Besides, we've all lost gear in the backcountry. The best we can hope for is that it finds continued life in the hands of a new owner.
As I've previously stated, there's a tool for every job and a job for every tool. To an outsider my collection of cross-country skis looks excessive. However, every set serves a specific purpose. For example, I own two sets of classic "waxless" cross-country skis. One set is deemed my "rock" skis and the other is for use when there is sufficient snow coverage on groomed trails.
If you're not familiar, rock skis are just a set of old skis that you use when the snow is spotty and you risk, literally, skiing over rocks and other debris that will wreck the bases of your skis. You don't want to use a new pair of skis on questionable terrain.
I also have a set of rock skis for my backcountry excursions, as well as three good pairs of backcountry cross-country skis for use when there's plenty of quality snow. My three pairs of backcountry cross-country skis are 62mm, 88mm, and 112mm wide, and they allow me to ski effectively at various depths of fresh powder.
The last set of skis I own are a pair of hand-me-down skate skis that were designed for use in spring snow conditions.
I must also confess that the two pairs of rock skis I own were given to me by my employers. One set was an old rental pair, while the other was an unclaimed (for a couple years) set from the lost-and-found.
I always advocate for buying quality gear. When it comes to outdoor-related gear, you usually get what you pay for. So, I will be the first to admit that working in the outdoor recreation industry has only fueled my gear lust.
Seven sets of skis, and as I further my education and exploration in cross-country skiing, I see that there are still so many more I want to buy. This doesn't mean that you, too, will wind up buying multiple pairs of skis.
As you develop your cross-country skiing skills and technique, however, you'll come to realize that you can't fix everything with a hammer.
How Committed Are You to Cross-Country Skiing?
How often will you ski? Are you athletically inclined? Will you be taking lessons? Will you ever race? Are you an ambitious and passionate person who tends to commit to anything and everything you do?
If you only plan to ski a couple of times each season, you can get by with one pair of all-around cross-country skis.
You do not need multiple sets of skis. Even if they take a beating from skiing across less-than-ideal terrain, you'll be fine with owning one pair. Go with something inexpensive. This should come as no surprise.
It's not worth investing a lot of money into gear that's going to spend the majority of its time stored in your closet or garage.
I can't stress enough that if you do decide to buy just one pair of skis and only plan to ski occasionally with them, do not purchase the latest and greatest setup on the market.
Better skis do not mean you will have better technique. In fact, a set of high-quality skis will most often illustrate just how unskilled you are. It would be the equivalent of a novice driver operating a high-performance sports car. The skillset to properly handle the machine requires a lot of practice and experience.
Although it doesn't happen too often, it's always shocking to see the aftermath when a customer who has seldom cross-country skied falls simply trying to negotiate a small hill.
The broken ski(s) often looks like it completely exploded. You don't want this to happen to your one pair of expensive skis, so wait to buy higher quality skis for when you become more proficient at skiing.
On the other hand, at the beginning of the 2017/2018 winter season an expert skier came into the rental shop where I worked to rent a pair of skis because he had just snapped one of his skis while trying to negotiate debris-filled terrain. I felt bad for him because myself and another employee had recommended 30 minutes prior to the incident that he and his wife take the resort's free shuttle (to get customers higher up the mountain and into better snow without having to deal with the melted out trails on the lower mountain).
Although he claims the skis were old, it's never fun to break your gear whether it's new or old.
You would do well to purchase an entry-level to mid-level recreational cross-country ski package. Search for ski packages at local ski shops and online.
Provide the necessary and accurate information to ensure you receive the appropriate sized set of skis for your weight. You'll only be setting yourself up for failure if you don't disclose your actual weight (not what you hope to weigh after a season of consistently skiing) because cross-country skis are sized by body weight.
If you weigh too much for a ski, it will drag and slow you down. This may sound like a good thing to a beginner but it often just ends up being frustrating because you can't get any glide with them, which is a huge part of the enjoyment of cross-country skiing.
Purchasing skis that were designed for a person who weighs more than you makes it nearly impossible to get anywhere because your body weight (and how you focus it on the ski) is what causes the ski to compress and allow the kick zone/scale pattern to make contact with the snow. Without being able to do this, you'll just slip and slide and never be able to push off.
Now, if you've already rented skis a bunch of times, have taken a lesson or two, and have decided that you would like to learn more about cross-country skiing, I recommend purchasing a setup that's either at the top end of a recreational ski or at the low end of a racing ski.
This will ensure that you have adequate gear in which to grow into. To help you determine the types of cross-country skis that are available, the popular manufacturers (Fischer, Salomon, Rossignol, Atomic, and Madshus) categorize their skis based on intended use.
This is no different than an auto manufacturer or a maker of kitchen appliances. It's in the company's best interest to offer a range of products to attract as many customers as possible.
If you find yourself in this situation, you'll be happier with something more expensive because you'll have good performance throughout your experience and you won't find it so jarring to transition into something performance-oriented.
Low-end skis simply don't perform as well as a high-end counterparts, and you'll notice this as you become a better skier.
Also, if you are planning to dig deeper into the art, consider acquiring at least two sets of skis early on. Pick up two of the same styles of skis (like classic waxless skis for groomed trails), with one set of rock skis and another set for better snow conditions.
Or, if you have access to groomed cross-country ski trails and some open terrain, pick up a set for the groomers and then another for use in the backcountry. Let this process be organic. Get that first setup to accommodate the majority of what you plan to ski, then start to build from there.
If you're already racing, participate in club training sessions, and own multiple sets of cross-country skis that accommodate every snow condition and environment, well… you probably know way more than me about cross-country skiing. I recommend looking elsewhere to help you in your search for another pair of skis. Sorry, but this blog is was written with the beginner cross-country skier in mind.
Why Not Take Some Cross-Country Ski Lessons?
Cross-country skiing, whether you're classic skiing or skate skiing, is deceptively complex. Regardless of what your commitment to cross-country skiing is, you should take a lesson even if it's a group lesson. The three core principles of all cross-country skiing, as taught by the Professional Ski Instructors of America (PSIA), are:
Push-Off
Weight Transfer
Glide
These three fundamental aspects of cross-country skiing don't come naturally or intuitively until you practice them often and understand the design and function of cross-country skis.
Therefore, if you want to have more fun and a better (and safer) experience while cross-country skiing take a lesson, or twenty. You'll be glad you did. But also be aware that the more you learn, the more you're going to want to spend on gear!
There seems to be a belief that cross-county skiing is fading into the past and that alpine skiing will ultimately render the art obsolete. However, from my experience working in the industry at Lake Tahoe, this is not an accurate perspective.
Many people appear to be transitioning out of alpine skiing and into cross-country skiing because it's more aerobic (enabling them to stay in shape during the winter), less punishing on the body (allowing them to enjoy a longer, and relatively pain-free season), less expensive, and there are no lift lines to wait in.
Although injuries do happen in cross-country skiing, I see far fewer (particularly the catastrophic ones) than with gravity-based winter sports. Also, all around Lake Tahoe there is a thriving cross-country skiing community.
Check out some of the larger clubs and resorts for more information:
---
Cross-Country Skiing Explained Mini-Series
Please note that I wrote Cross-Country Skiing Explained with the beginner or intermediate cross-country skier in mind. This is the demographic for whom I most often served while working in the outdoor recreation industry at Lake Tahoe. I basically treat these articles as extensions of the conversations I've had with those customers.
That said, expert skiers probably could take away something of value from this article. Just know that I don't intend to address racing-oriented philosophy, technique, or gear selection.
Considerations for buying cross-country ski gear (new and beginner xc skiers)
Classic Cross-Country Ski Components
Waxing Your "Waxless" Cross-Country Skis (for beginner and intermediate xc skiers)