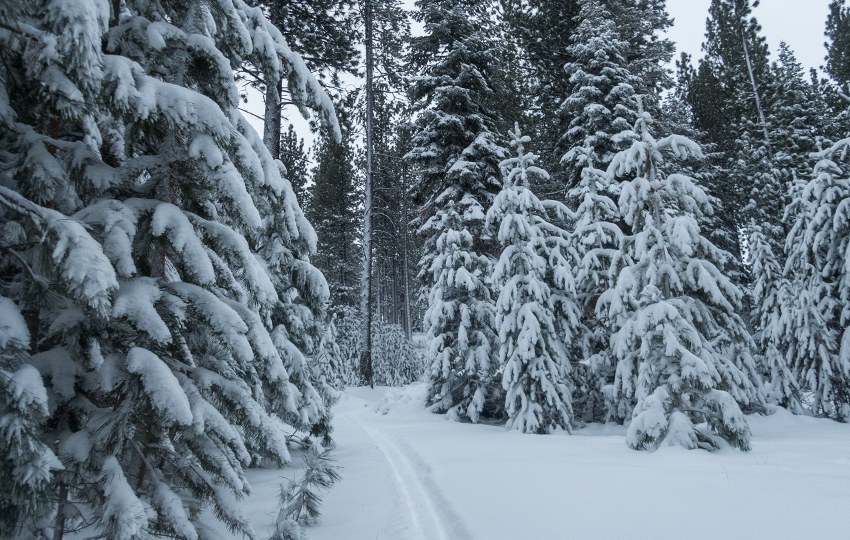 Whenever the first snowfall of the season hits, my excitement for the upcoming cross-country ski season usually goes through the roof. In fact, once the snow accumulates to a depth of at least 2-3 inches, I'll often grab a set of xc skis and take a short tour around the neighborhood. Make no mistake, though, that these early winter tours are usually really short! This is both by design and necessity.
There are a number of factors to consider when cross-country skiing early in the winter. So, keep scrolling the page to read about important considerations you should take into account when early season xc skiing.
---
Support Tahoe Trail Guide with a financial contribution via PayPal (single contribution) or Patreon (reoccurring contributions). Your support of Tahoe Trail Guide is very much appreciated!

Become a Patron!
---
There are many considerations on this list that also apply to spring skiing. This is because the two transitional seasons share a lot in common. So treat this article as a companion piece to 10 Tips for Spring Cross-Country Skiing in the Backcountry.
That said, there are differences between the two seasons to warrant a separate conversation about early winter xc skiing. Also, our mindset and physical preparedness are vastly different between spring and fall bringing about different considerations.
Lastly, I wrote this article primarily with backcountry and off-trail cross-country skiing in mind. This is because travel over unconsolidated snow (i.e. not groomed) on bare ground is where many of our challenges lie. Please note that traveling over little snow that's been groomed is still more predictable and safe compared to off-trail skiing.
Regardless, some of these considerations still apply to both worlds (groomed and ungroomed terrain).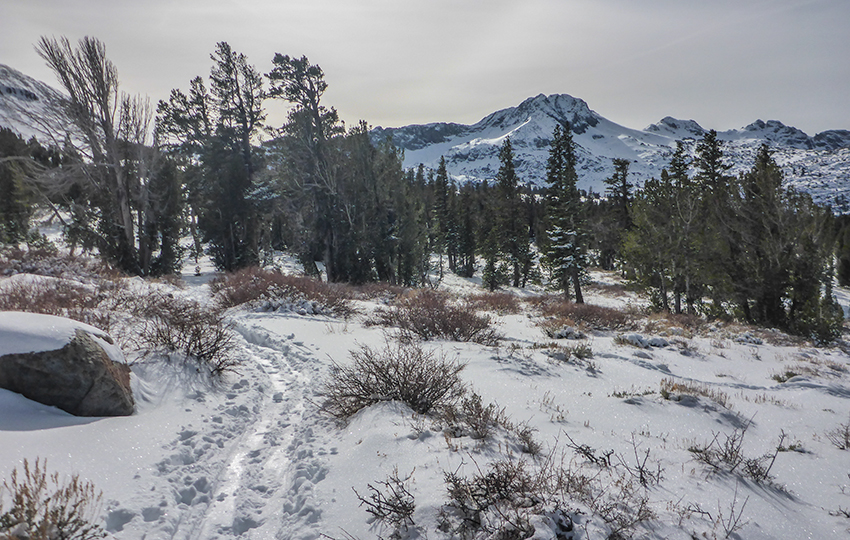 Manage Your Expectations
At the beginning of the season, you'll often find less than ideal xc skiing conditions. There won't be a lot snow but there will be a lot of natural obstacles of which you'll have to contend.
The snow conditions probably won't be the only barrier to an epic ski session. I'm willing to bet that your stamina (muscles and cardio) won't be up to the task either. That is, unless you're a professional athlete who trains diligently in the off-season.
Just because that early season snowstorm produced two feet of fresh snow doesn't mean you have to ski it all now. Besides, if you push it too hard early on there's a good chance that you'll end up injuring or wrecking yourself. And nobody wants that.
The bottom line is that you need to regulate yourself at the beginning of the season. You're just not going to be able to ski for long distances at a swift pace early on.
And this is ok because the season is just getting started, after all.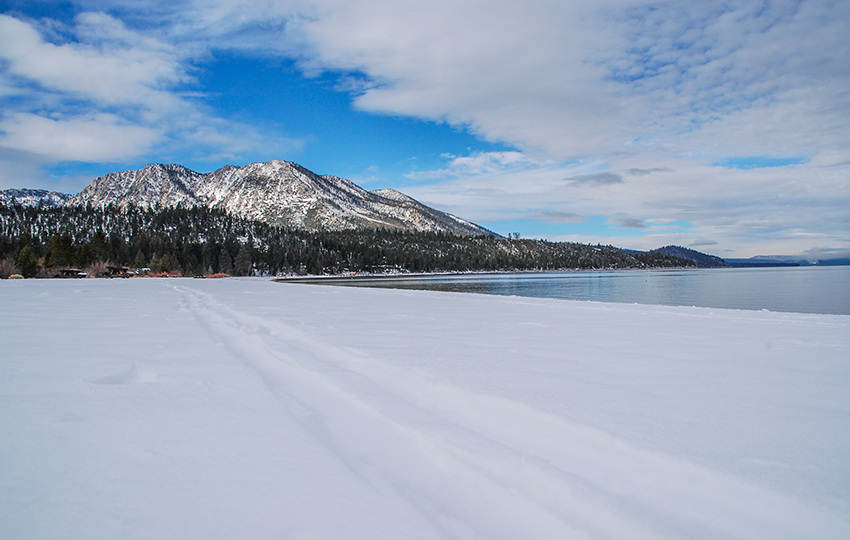 Focus on Body Positioning, Basic Technique, and Becoming Reacquainted with Your Skis
Rather than attempting long-distance ski tours early in the season, work on your body positioning and basic technique. Again, unless you're a professional xc skier you probably haven't been in a diagonal stride or skate ski position since the previous winter. So, use these early season sessions to integrate those movements back into your routine.
The muscle memory is there. You just have to wake it up.
You also have to give your body time to remember how to slide on snow again. I know this may sound a little silly, but effectively sliding on snow is definitely a technical skill. On any given stretch of snow (flats or hills), you have to make countless subtle stabilizing movements to remain upright. And since you've most likely been navigating terra firma for the past six months, readjusting to consistently sliding on snow is a real thing.
Because the coverage is often less than ideal early in the season, I'll find a favorable location and lay my own classic tracks. Basically, I'll just ski back and forth in those tracks as I practice proper body position and technique.
Then, when I want a change of scenery, I'll ski to another location and repeat the process. This approach may not be very glamorous but it is extremely helpful for preparing yourself for the upcoming season.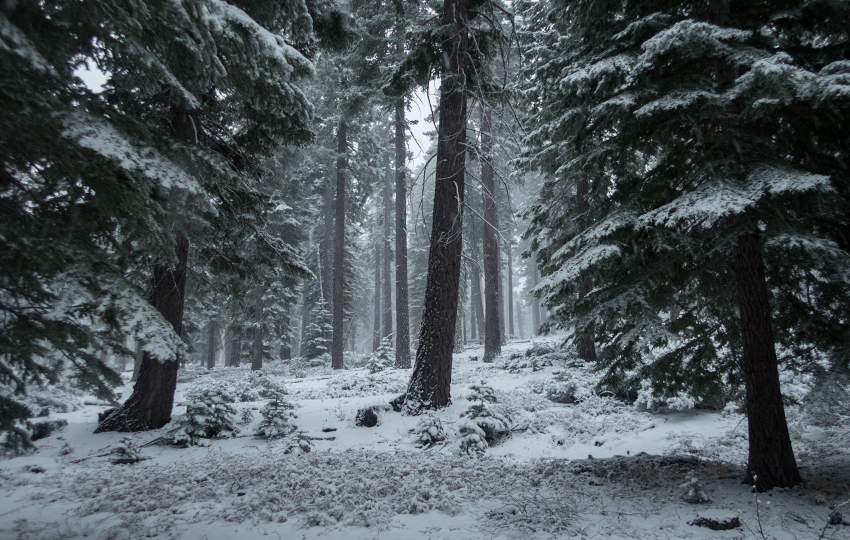 Beware of Natural Debris and Use Rock Skis
Rock skis are skis that you don't mind ruining to one degree or another. Maybe they're really old and they've been replaced by something more modern.
Regardless of where your rock skis come from, I highly recommend owning a pair. The reason is that you want to be able to ski guilt free in the early season. And you can't do that if you're running expensive skis.
So avoid using your best and/or most expensive set of cross-country skis when skiing early in the winter. This is because, at the beginning of the season, there isn't a base layer of snow on the ground. Whatever snow that falls is essentially landing on bare ground.
Even a significant snowstorm that yields a foot or more of snow will barely cover the natural debris that litters the forest floor.
Often, just mere inches below the snow's surface there are rocks, roots, and fallen trees waiting to trip you up. And catching your ski on a small bush barely covered by snow can cause just as much damage to you as it does your skis. So all of that natural debris poses serious tripping hazards.
Again, dial your expectations back regarding the distance you plan to ski, as well as the terrain. You're going to be constantly running over stuff when you're logging those early season ski sessions. So, be vigilant so as to avoid falling and stumbling.
Spring skiing presents a similar situation where natural debris becomes hazardous as the snow melts. However, this is slightly different compared to skiing in the fall because spring snow is mostly consolidated. That means that the snow on the ground has been compacted and has gone through multiple freeze/thaw cycles.
Again, snowstorms in the fall are mostly landing on bare ground. Therefore, there's not a lot separating your skis from hazardous rocks, logs, and bushes.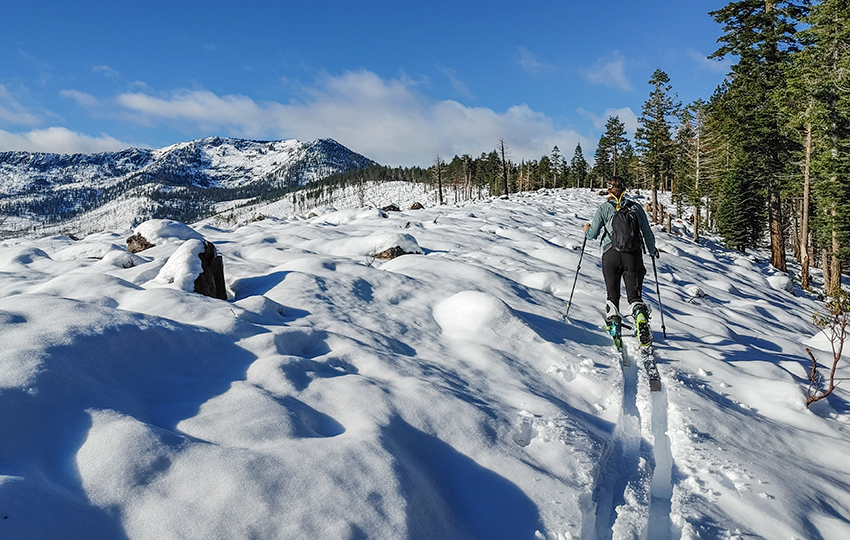 Get Outside and Explore
I actually treat many of my early season cross-country ski sessions as adventures in exploration. Sure, most of the locations that I choose to ski early in the season are close to home and familiar to me. However, they're made new thanks to the fresh snow. So, I like to use these sessions to assess the snow coverage at many of my preferred skiing locations.
I also take the opportunity during these early season xc ski sessions to look for wildlife. For example, early snowstorms cause migratory birds to start making their way to their winter habitats. Some are passing through on their long-distance journey across entire states while others just travel from higher to lower elevations. Either way, I try to spot those migrating birds when I'm out xc skiing.
Also, early snowstorms can cause the year-round, local wildlife to increase their activity. Or, perhaps that's just my perception because everything is easier to spot thanks to the snow. Regardless, there's nothing quite as exhilarating as seeing a coyote in its winter coat run across the snow while you're out skiing.
Again, the old is made new thanks to that fresh layer of snow.
For the above reasons I nearly always carry with me a Panasonic LUMIX DC-ZS70K. Believe it or not, that point and shoot camera has a zoom of about 700mm. So I can usually get some decent shots of the wildlife that I find.
Honestly, though, the photos are not of print-quality. However, I actively use the naturalist-oriented website, iNaturalist.org, to log my wildlife observations. And for identifying and documenting purposes, that LUMIX camera works just fine for me.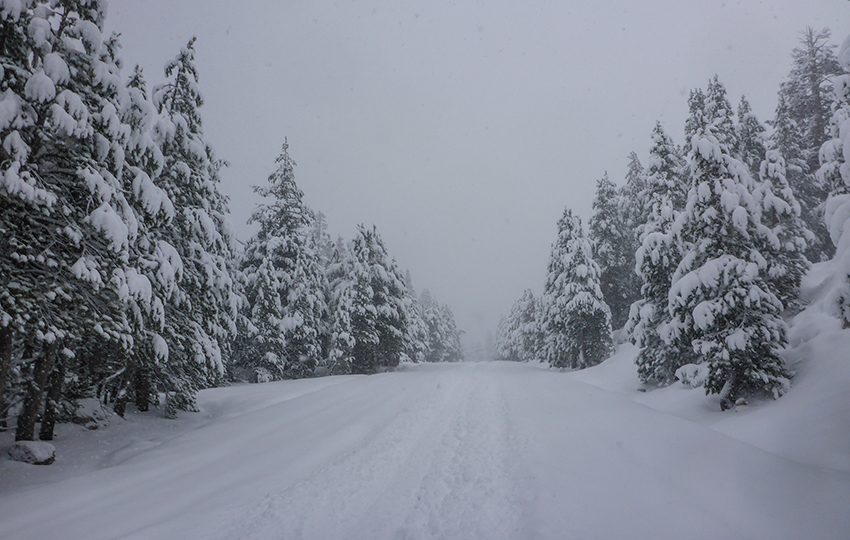 Parting Thoughts
Some of these considerations about cross-country skiing in the fall and early winter apply to many activities. For example, who hasn't blown themselves up participating in their first or second session (after a long hiatus) of their favorite sport?
I know that I need to remind myself at the beginning of each season to tone it done until my body adjusts. So, I don't know that I'm presenting anything too profound in this article. But this is a common theme amongst many people so it's always beneficial to hear this message which, is to say, pace yourself.
---
What are some of the things that you do at the beginning of the winter to prepare for the upcoming xc ski season? Post your thoughts in the comment section below 🙂
Cross-Country Skiing Explained Articles and Videos
Please note that I wrote and produced the Cross-Country Skiing Explained series of articles and videos with the beginner and intermediate cross-country skier in mind. This is the demographic for whom I most often serve(d) while working in the outdoor recreation industry at Lake Tahoe. I basically treat these articles and videos as extensions of the conversations that I have (had) with those customers.
That said, expert skiers probably could take away something of value from these resources. Just know that I don't address race-oriented philosophy, technique, or gear selection.
Considerations for buying cross-country ski gear (new and beginner xc skiers)
Classic Cross-Country Ski Components
Waxing Your "Waxless" Cross-Country Skis (for beginner and intermediate xc skiers)
Cross-Country Skiing Techniques, Demonstrations, and Related Concepts