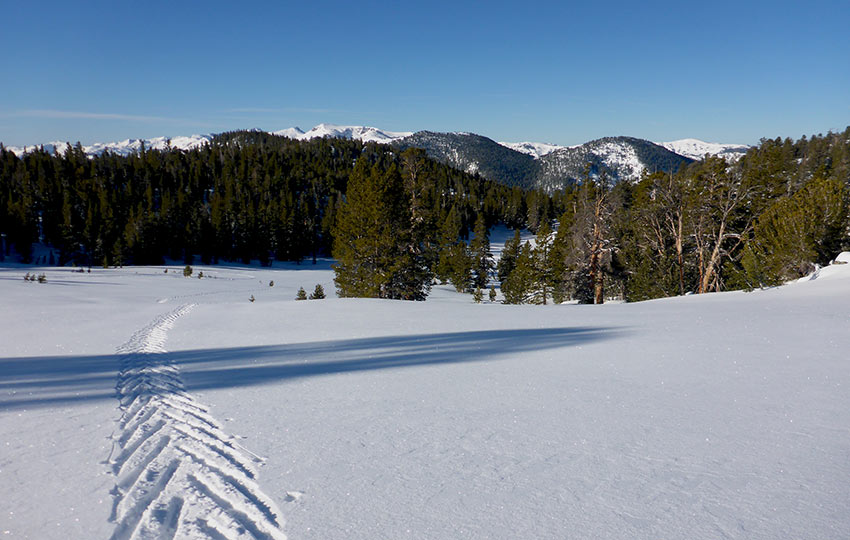 Traveling through Lake Tahoe's backcountry is always rewarding because the experience never fails to offer stunning views and plenty of character building opportunities. However, adventuring in the Lake Tahoe region during the winter presents additional obstacles (literally and figuratively) that you must overcome in order to return home safely.
The following considerations may seem excessive to people simply looking for snow play at Luther Pass, Hope Valley, or one of the Sno-Parks in the Lake Tahoe region. But, it's a list worth reading since many of the concepts could easily apply to winter driving.
Considerations for traveling in the backcountry during the winter at Lake Tahoe:
Plan for the Worst Case Scenario
Regardless of the conditions (summer or winter), always plan for worst case scenarios when traveling in the backcountry. This does not mean target-fixating on catastrophe, but rather to understand that things can and will eventually go wrong.
Always be prepared to go off script and to deal with problems as they arise. By embracing this approach, the shock of something bad actually occurring is lessened and you're able to be decisive by acting quicker and more effectively.
Always be conscious of your decisions (sometimes on a step-by-step basis!) by weighing their consequences before taking further action.
As the saying goes… life is what happens while you're busy making plans.
Prepare and Leave Behind Your Adventure Itinerary
Always leave your itinerary, regardless of length of trip, with someone who will notify emergency services if you don't return home. To rephrase that… leave your itinerary with a responsible and calm-under-pressure person who will take appropriate action if something goes wrong.
Understand that this person may not actually be your spouse, loved one, or roommate. Ideally, this person would possess some backcountry experience, but at the least they should know your strengths and weaknesses and have an understanding of the area in which you are traveling.
Again, you plan for the worst case scenario, but you have to realize that there are so many benign reasons that could prevent you from contacting your support person in time.
You want someone who is willing to make the tough call. However, you don't want somebody who's going to immediately go into panic mode and hit the Oh Shit! button if you don't return or contact them within 30 seconds after your prescribed return time.
Thoroughly Research Your Planned Route Before You Step Foot in the Backcountry
One of the most challenging aspects of traveling through Lake Tahoe's backcountry during the winter is the lack of trail markers and signs. Locating the correct route may be difficult or even impossible unless you have thoroughly prepared for the journey by studying the appropriate maps and asking the relevant questions.
Sometimes you can get away with simply following the tracks of those who have gone before, but this is based on the assumption that those people knew where they were going. Although many people approach backcountry travel this way, this is not a safe bet.
Always do your own homework and take with you a map and compass and the knowledge to use them. Your cell phone's GPS system is not enough. Your phone will fail you when you need it most.
When in doubt, turn back.
Always be Prepared for Hazardous Conditions
The majority of trails featured on the Tahoe Trail Guide website are not technical, meaning you don't need to possess specialized mountaineering or climbing skills and equipment.
However, all bets are off with winter travel. A Tahoe trail that features beautifully carved steps through a field of granite boulders and is easy to navigate in warmer months can become a posthole nightmare when covered in snow and ice.
A seasonal stream that crosses a trail in the summer and can normally be hopped over can turn into a 20 foot ice waterfall in the winter.
Many Tahoe trails are physically demanding due to steep inclines and significant elevation gain, and during the winter they put you at risk for prolonged exposure and avalanche hazards.
Assess the risks and know your limits.
Dress Properly for Winter Conditions as well as Your Mode of Travel
Winter travel in just about any form can be highly aerobic. Even maintaining a slow, yet consistent pace on snowshoes or cross-country skis while wearing one clothing layer too many and being exposed to a slightly warmer air temperature can cause you to sweat profusely. The body was designed to regulate its temperature through the function of sweating, but you never want to find yourself and your clothes sopping wet while traveling through snow country. This is a recipe for disaster once the sun sets and the temperature drops.
Unless you plan to just go outside and sit in a snowbank, you generally don't want to wear big and bulky jackets, pants, hats, or gloves.
Dress in layers so that you can shed or add on articles of clothing as needed.
Wear Appropriate Footwear for Your Unique Winter Adventure
The use of proper footwear is a must while traveling in Lake Tahoe's backcountry during the winter.
With cross-country skiing, most likely you're footwear will be determined based on your ski binding setup. That said, the quality of cross-country ski boots have increased by leaps and bounds over the years.
Gone are the days of plain leather shoes. Many new styles of boots, particularly those designed for cross-country skiing off-track and in the backcountry, offer high-quality outer materials and insulation to keep your feet dry and warm. Some manufacturers even incorporate a gaiter system into the design of their boots. So, if your cross-country ski boots are decades old and/or deteriorating, it's time for an upgrade.
Footwear for snowshoeing can be a bit more problematic. Many people, for obvious reasons, invest their time and money in finding the best snowshoe. Unfortunately, they often neglect to procure appropriate footwear that they will be wearing with the snowshoes. Although you'll mostly stay atop the snow when using snowshoes, you'll still sink a bit in deeper, softer snow causing your feet to be exposed to that snow. Those low-top, light hiking shoes made of breathable mesh for use on 80 degree summer days are not going to cut it in a winter environment. Anything less than a heavier duty hiking boot is not advised. A stiffer boot that extends above the ankle will reduce muscle fatigue and provides a good platform for use with snowshoes.
Also, your boots should include some type of waterproofing component, whether that be a laminate such as GORE-TEX® or an external coating such as ReviveX® or SNO-SEAL®. Depending on the size of the binding incorporated onto the snowshoe, you could wear a pair of snowboard boots. Full-length gaiters also help you to be safer while traveling through the snow as they keep snow from collecting around the cuffs of your pants and creeping down into your boots.
Carry Appropriate Safety Gear for Your Winter Adventure
There's additional gear you should consider taking with you, even on shorter trips, into the backcountry during winter.
Trekking poles equipped with larger "snow" baskets provide stability when snowshoeing and cross-country skiing in deep snow and up steep terrain. The poles can also provide the structure for an improvised shelter, stretcher, or splint. For most recreational needs, trekking poles will suffice.
If you plan to travel on angled terrain, particularly if there's a chance that it will be frozen and slick, an ice axe is required. This tool will enable you to self-arrest far superior than any trekking pole.
The same goes for foot traction. Kahtoola makes a convenient and effective set of MICROspikes® that will accommodate most recreational needs, but for more serious terrain bring a full set of crampons.
When traveling through avalanche territory, each member of your group should have with them an avalanche beacon, probe, and shovel. If you're traveling alone, which is generally not advised, and get caught in an avalanche those items will not really help. Avalanche beacons send out localized signals designed to be received by a person with another beacon in the immediate area. You should still activate your beacon if you're by yourself, but if no one else is around there will essentially be no one to rescue you. The reason you still activate it is that there's always the off-chance that someone in the region happened to witness the event and have the necessary tools and skills to locate you.
For the solo adventurers, seriously consider equipping yourself with a Personal Locator Beacon such as one made by ResQLinkTM. These beacons are designed to notify official search and rescue organizations by sending out powerful signals to satellites with your GPS data. Keep in mind, though, that a lot of time can pass before the cavalry actually arrives to save the day.
Long story short, you need to carry the necessary safety gear for your specific adventure and know how to use it.
Stay Hydrated and Fueled for your Winter Adventure
Always carry with you plenty of food and water regardless of what your "plans" are. As much as we all love Mother Nature, she cares not for what you have in mind for the day. You may find yourself outside a lot longer than you had originally intended, and you do not want to risk running out of energy when you still have three miles of deep snow to trudge through before reaching your vehicle.
Again, winter adventuring is very aerobic and burns up calories and depletes your body of water faster than you might think.
Stay adequately fueled and hydrated when playing in Lake Tahoe's backcountry during the winter.
Park in Legal Parking Areas
So long as there aren't any signs posted that restrict parking, you can basically park anywhere along the roads in Tahoe.
However, don't block traffic, park in front of a Forest Service gate, or impede snow removal vehicles while they're operating.
And on normal to big snow winters, the roads are often lined by snowbanks over four feet tall and usually there's a very narrow shoulder (i.e. nowhere to park). There are a handful of specific locations where snow removal operations intentionally clear parking spaces (such as at Grass Lake on Luther Pass), but this isn't something you can always count on.
On days where parking may be an issue, I usually will just elect to cross-country ski or snowshoe from one of the many Sno-Parks in the Lake Tahoe Region. You can't purchase the permits on-site, so be sure you pick up either a day pass or seasonal pass in advance of driving to the Sno-Park.
Access is a major topic of discussion, particularly with regard to winter backcountry travel at Lake Tahoe. In fact, the grassroots organization Tahoe Backcountry Alliance was formed specifically to address and advocate for winter backcountry rights and access.
Share the Backcountry
Hiking, backpacking, cross-country skiing, and snowshoeing are some of the most enjoyable ways to venture into Lake Tahoe's backcountry. However, most of these areas are used by a variety of outdoor enthusiasts, so be courteous to your fellow outdoor adventurers.
No matter how secret or special your favorite spot is, if it's located on public lands, everyone is entitled to access it.
Public lands are for everyone.
Be a Responsible Dog Owner
Tahoe is definitely a dog-friendly region and dogs are allowed on public lands.
However, keep your dogs on a leash and pick up after them.
The big issue with dogs on Tahoe trails nowadays is the prevalence of bags of dog shit lining those trails. No one is coming after you to clean up, so pack your dog's poo out like you would any other trash.