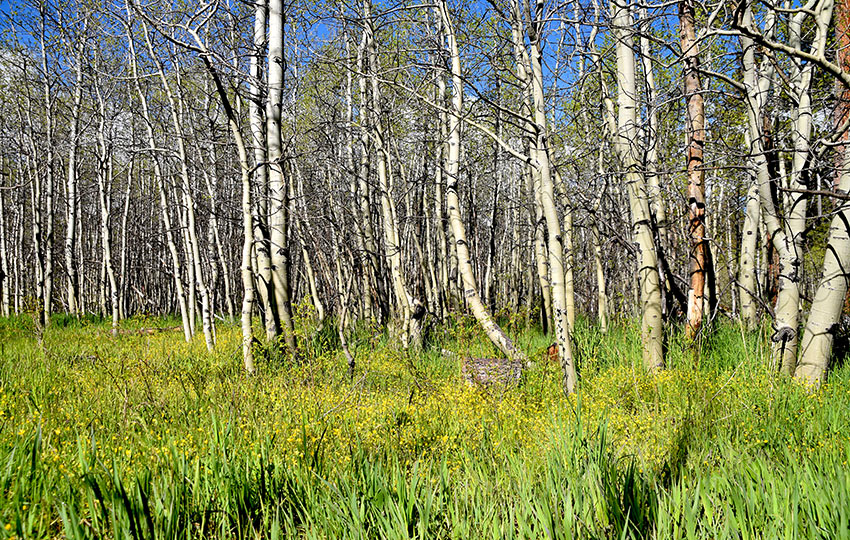 Cathedral Meadow is accessible year-round. Hike there during the warmer months and snowshoe and cross-country ski in the snowy ones. Due to its location near Taylor Creek and Fallen Leaf Lake, the area is generally moist and home to many varieties of wildflowers throughout the spring and summer.
In the fall, the Aspen grove adjacent to Cathedral Road illuminates the area with its lemon yellow leaves and the spawning Kokanee Salmon set Taylor Creek ablaze with their bold red scales.
Inspiring views of Mount Tallac can be seen from the Aspen grove, as well as the opposite side of the bridge that crosses the Fallen Leaf Lake outflow.
Since the area is flat, Cathedral Meadow is a great location to take the young and old for a short but fun adventure.
Please note that there can be relatively high bear activity in the Cathedral Meadow area, especially during the Kokanee Salmon Spawning season. If you happen to actually spot a bear in the area (which I never have) keep your distance. And, don't try to take a selfie with the bear!
Bear warning aside, one of the most unique aspects about hiking through Cathedral Meadow is the abundance of Aspen Trees marked by bear claw scratches. For this reason alone, I highly recommend taking a walk through the meadow in order to spot as many scratch marks as possible. I imagine kids would love doing this because, well, I do!
Scroll down for a gallery of bear claw scratches I found on August 28, 2019.
P.S. It's cool that bears and other wildlife mar up trees because this is their habitat, and the markings provide insight into their behavior.
However, it's not cool for humans to carve up live trees.
So unless you're a Basque shepherd living in the area during the mid-1800s and you're trying to communicate with fellow shepherds, don't carve into the trees!
Cathedral Meadow Trail Data (approximations):
Location: South Tahoe – Fallen Leaf Lake
Category of Hike: Short Hike
Category of XC Ski/Snowshoe Route: Beginner
Total Mileage: 2.5 miles
Total Elevation Gain: 100 feet
Highest Point: 6,375 feet
Trail Conditions: Hard-packed soil and rocks, meadow (portions submerged in wet months)
---
For other shorter hiking options, visit Short and Easy Hikes in South Lake Tahoe.
---
Considerations for Hiking Cathedral Meadow:
Sno-Park permits are required between November 1st and May 30th
Dogs are allowed, but keep them on leash and pick up after them
Adhere to all Leave No Trace principles
There are few trail signs and markers on public lands in the Tahoe region, so unless there are tracks to follow, the correct route may be difficult to identify — when in doubt, turn back
Be prepared for inclement weather and carry plenty of warm clothes, food, and water
Leave an itinerary of your plans with someone who'll call emergency services if you don't return by your prescribed time
Parking Directions for the Cathedral Meadow Hiking Trail:
Park at the Taylor Creek Sno-Park located a half mile north of the Taylor Creek Bridge on SR 89. As you enter the Sno-Park, choose the lot on the left and park near its southern side.
Please note, however, that during the winter months at Lake Tahoe (November 1 through May 30), you're required to have a Sno-Park permit to park in this lot. Purchase either a day pass or season pass in town (prior to coming to the Sno-Park) because they aren't sold on-site.
If you neglected to buy a Sno-Park permit prior to your arrival, I believe you can park outside of the lot on SR 89 and walk to the trailhead.
You'll find the trailhead on the south side of the left parking lot in the Sno-Park. There aren't any signs indicating a trailhead, but there is a well-traveled path leading up the hill and out of the parking lot.
An alternate parking area is located further up (from the Sno-Park) along Cathedral Road. Parking along the wooden fence near the Aspen grove at Cathedral Meadow will decrease your hiking distance by about half.
Here's a map to assist you in finding the parking area for accessing Cathedral Meadow.
Travel along the Cathedral Meadow Hiking Trail:
Immediately following the short hump out of the parking lot, follow the trail to the right and you'll be on your way.
The hiking trail is sandwiched between Cathedral Road and Taylor Creek and travels about 1.25 miles to the bridge that crosses the Fallen Leaf Lake outflow.
There are forks in the trail, but they link together to combine for approximately 2.5 miles of trails.
It's well worth your time to hike to the outflow of Fallen Leaf Lake and cross the small bridge. You'll be rewarded with beautiful views of Mount Tallac while looking west toward Desolation Wilderness.
Keep in mind when hiking through the Aspen grove at Cathedral Meadow in the spring or early summer after a big snow season, the trail will most likely be submerged under water. This can last well into June if the prior winter was normal or above average.
Even in wet conditions, however, the main trail that runs parallel to Taylor Creek should be dry enough to hike.
In addition to being a stellar location to find wildflowers in the spring, Cathedral Meadow is also a beautiful location in which to see the changing colors of Aspen leaves during the fall.
---
For other shorter hiking options, visit Short and Easy Hikes in South Lake Tahoe.
---
During those bigger snow years, Cathedral Meadow is an easily accessible location in which to cross-country ski and snowshoe. Just keep in mind, though, that since it's located at lake level (i.e. the lowest point in the Lake Tahoe Basin), it takes awhile for snow to accumulate enough to necessitate skis or snowshoes.
That said, it's also a nice place to hike during low-snow winters!
---
Do you have other insight, feedback, or trail updates about hiking Cathedral Meadow?
If so, please post it in the comment section below for the benefit of everybody 🙂
---