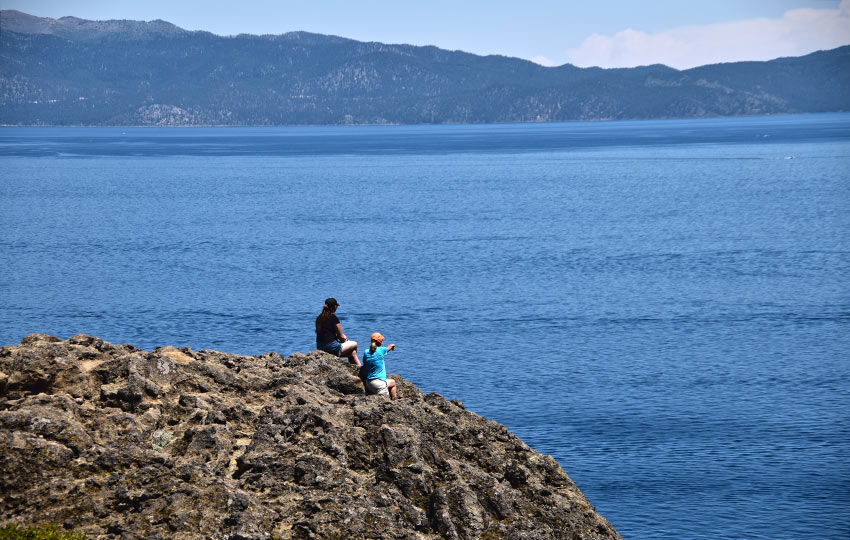 In spite of the very low effort and short distance required to hike to Eagle Rock, it's well worth your time. I've driven past Eagle Rock a thousand times before and have always wondered whether or not I should stop to check it out.
The answer is an enthusiastic "yes."
Hiking to Eagle Rock is not necessarily something I would plan my entire day around, however. The total hike is not even a mile long and the elevation gain is only 250 feet. But the parking is free and easy to find and the panoramic views of Lake Tahoe, once you reach the top, are awesome.
---
Support Tahoe Trail Guide with a financial contribution via PayPal (single contribution) or Patreon (reoccurring contributions). Your support of Tahoe Trail Guide is very much appreciated!

Become a Patron!
---
In addition to those views of Lake Tahoe, you're treated to beautiful landscape scenes to the west.
The most prominent peak looking due west is Twin Peaks, although Stanford Rock is also up there.
And, although I did not see any Eagles while standing atop Eagle Rock, I witnessed on multiple occasions groups of Peregrine Falcons performing flybys.
Eagle Rock Trail Data (approximations):
Location: West Tahoe – Homewood
Category of Hike: Short Hike
Total Mileage: 1 mile (out-and-back)
Total Elevation Gain: 250 feet
Highest Point: 6,500 feet
Trail Conditions: Hard-packed sand and volcanic conglomerate rock (at the top)
Considerations for the Eagle Rock Hiking Trail:
Hike only on the main trail in order to reach the top of Eagle Rock. Avoid bushwhacking directly up to it from the trailhead (or any other point on the trail) because, by doing so, you wreck the side of the hill and can cause a rock or other dangerous debris to roll down onto the actual trail.
Be mindful of your steps when you reach the top of Eagle Rock as the volcanic rock of which it's formed features many tripping hazards.
Adhere to all Leave No Trace principles
There are few trail signs and markers on public lands in the Tahoe region, so unless there are tracks to follow, the correct route may be difficult to identify–when in doubt, turn back
Be prepared for inclement weather and carry plenty of warm clothes, food, and water
Leave an itinerary of your plans with someone who'll call emergency services if you don't return by your prescribed time
Dogs are allowed, but keep them on leash and pick up after them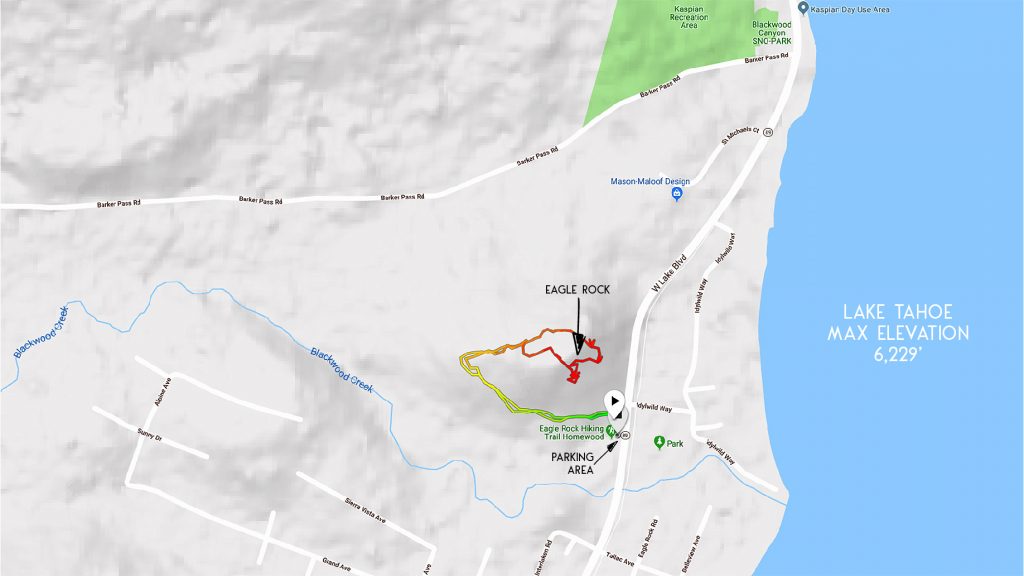 Parking Directions for the Eagle Rock Hiking Trail:
Parking for Eagle Rock is easy to find and easy to miss. Easy to find because it's right off of SR 89 in Tahoe Pines (south of Tahoe City and north of Homewood). Easy to miss because it's such a small area (accommodates about 12 vehicles) that you'll drive right past it without realizing (if you're in the middle of changing stations on your radio, for example).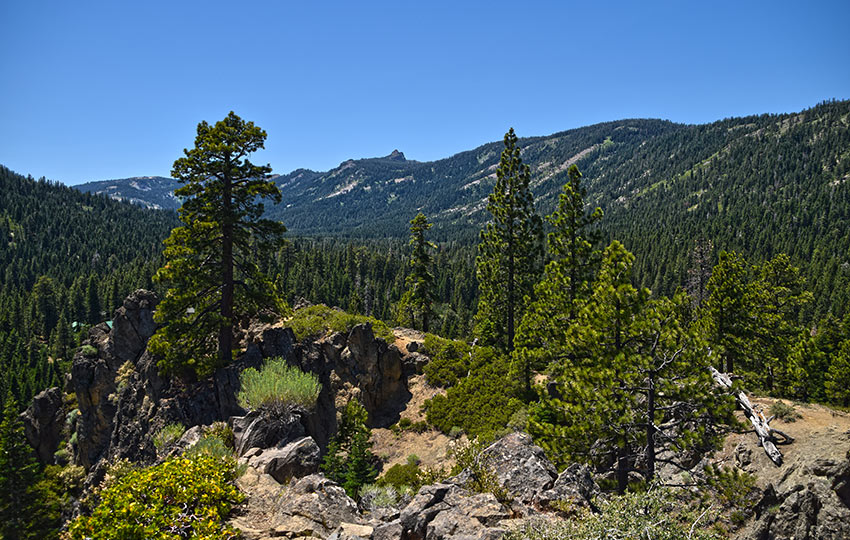 Park responsibly (perpendicular to SR 89 and close to the next vehicle) in this finite area to afford other people the opportunity to visit Eagle Rock. If the parking area is full when you arrive, don't worry because it's constantly turning over.
Thanks to the fact that the trail is so short and many people frequent Eagle Rock, few people actually stick around for more than a few minutes once they reach the top. If you choose to park elsewhere along SR 89, be sure to adhere to all posted signs regarding parking.
The trailhead to Eagle Rock is at the parking area just off of SR 89 in Tahoe Pines.
Here's a map to help you find the trailhead and parking area for Eagle Rock.
Travel along the Eagle Rock Hiking Trail:
Hiking to Eagle Rock is about as straightforward as it gets. Simply follow the well-trodden trail the approximately .4 miles and you'll reach the top.
There is a fork at about a quarter of a mile up the trail, but it's easy to problem solve because the trail to the left goes downhill (toward Blackwood Canyon and Barker Pass Road) while the trail on the right goes uphill. Needless to say, take the trail on the right and continue hiking uphill.
One note of caution about hiking to Eagle Rock is that the rock itself is a type of volcanic conglomerate. This kind of rock features rounded boulders, smaller rocks, and gravel that has become "cemented" in a matrix, reminiscent of chocolate chip cookie dough.
What this means in terms of hiking is that volcanic conglomerate rock features a ton of tripping hazards.
Be mindful of your steps once you reach the top and keep a close eye on your children, especially if they start walking closer to the edge.
Also, volcanic conglomerate rock can be very unstable (i.e. it breaks apart relatively easily), so don't attempt to climb around the rock lest one of your handholds snaps off and you fall off the side of the rock.
---
Do you have other insight, feedback, or trail updates about hiking Eagle Rock?
If so, please post it in the comment section below for the benefit of everybody 🙂
---