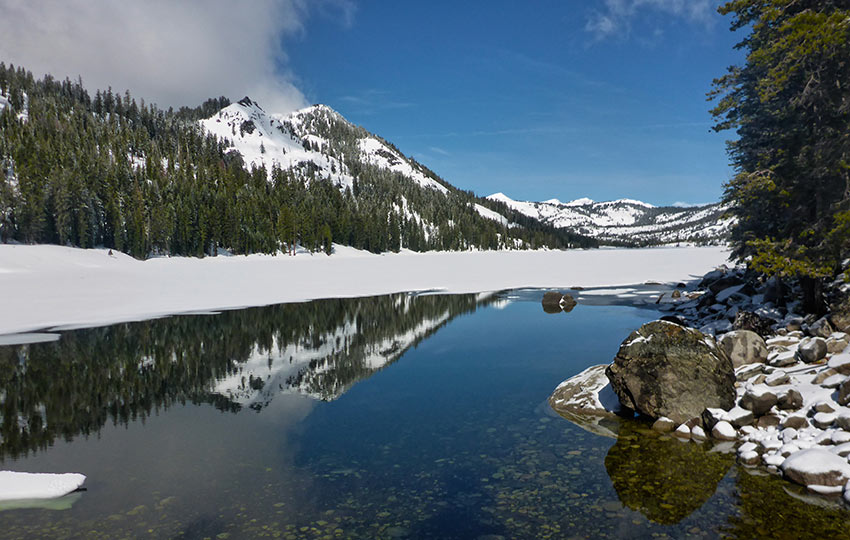 Cross-country skiing and snowshoeing to Echo Lakes (and further into Desolation Wilderness via this route) is a favorite winter tour for Tahoe locals and visitors to the Lake Tahoe Basin. There is dedicated parking (unlike many Tahoe backcountry locations) at Echo Lake Sno-Park, the route is easy to navigate, and there is little elevation to negotiate.
On top of everything, the views looking into Desolation Wilderness (and the glimpses of Lake Tahoe) are incredible! You can even see Freel Peak (highest peak in the Lake Tahoe Basin) once you begin to travel along the south side of Lower Echo Lake.
Just remember to take a look back from where you came and you'll see it framed in the distance.
---
Support Tahoe Trail Guide with a financial contribution via PayPal (single contribution) or Patreon (reoccurring contributions). Your support of Tahoe Trail Guide is very much appreciated!

Become a Patron!
---
The only real drawback, and more than just an inconvenience but an actual life-threatening risk, is whether or not the ice and snow on Echo Lakes is stable enough to cross-country ski or snowshoe on.
Check the snowpack levels around Lake Tahoe, as well as the weather history preceding your trip to Echo Lakes.
If it's a low-snow year in Tahoe and the temperatures have been consistently above freezing, I would not expect or plan to cross-country ski or snowshoe on the actual lakes.
All is not lost, though, because you can still do the 2.5 miles round-trip trek from Echo Lake Sno-Park to Lower Echo Lake (keep reading).
If, on the other hand, the temperatures have been cold enough and the snow level is deep enough around Lake Tahoe you'll probably find plenty of tracks leading to (and beyond) Echo Lakes.
As with any backcountry excursion, hope for the best but plan for the worst.
Echo Lakes Trail Data (approximations):
Location: South Tahoe – Desolation Wilderness
Category of XC Ski/Snowshoe Route: Beginner, Intermediate
Total Mileage: 3-8 miles (depending upon route selection)
Total Elevation Gain: 300 feet
Highest Point: 7,500 feet
Trail Conditions: Variable conditions ranging from deep, untracked powder to wind-scoured and icy snow
Considerations for Cross-Country Skiing & Snowshoeing at Echo Lakes in Desolation Wilderness:
Make sure you've purchased a Sno-Park permit in town because you can't buy one at the actual Sno-Park
Unless there has been adequate snow and significantly cold temperatures, avoid traveling across either of the lakes
Travel along the southern side of Echo Lakes as the snow and ice are generally more stable than the northern edge
Do not go in, on, or near any of the private structures at Echo Lakes
Adhere to all Leave No Trace principles
There are few trail signs and markers on public lands in the Tahoe region, so unless there are tracks to follow, the correct route may be difficult to identify–when in doubt, turn back
Be prepared for inclement weather and carry plenty of warm clothes, food, and water
Leave an itinerary of your plans with someone who'll call emergency services if you don't return by your prescribed time
Dogs are allowed, but keep them on leash and pick up after them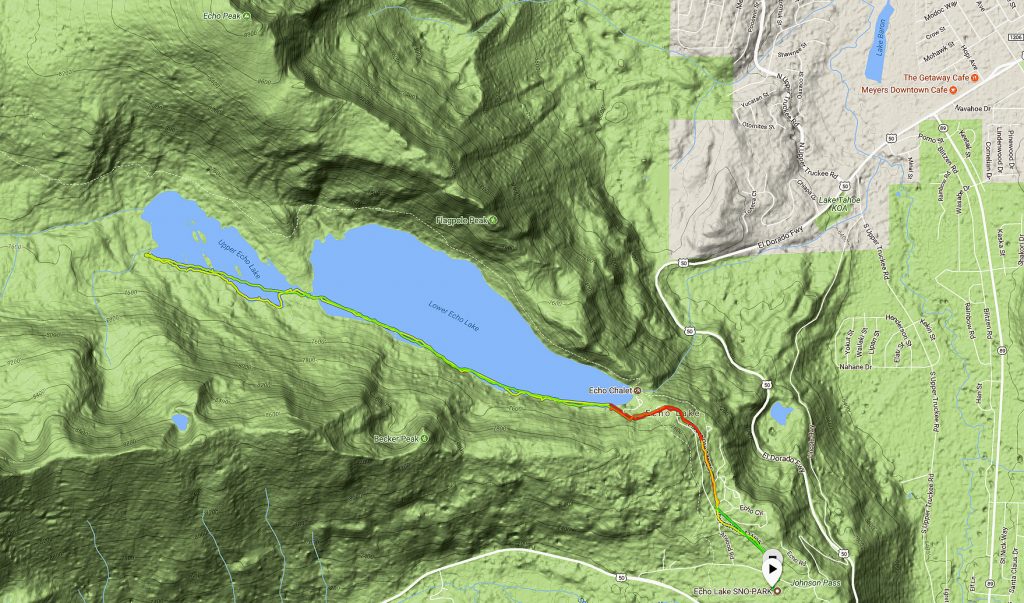 Parking for Cross-Country Skiing & Snowshoeing at Echo Lakes in Desolation Wilderness:
Park at the Echo Lake Sno-Park (Sno-Park permit required), which is located on Johnson Pass RD on Echo Summit.
In the winter, Johnson Pass RD is only accessible from the west side of Echo Summit off of HWY 50.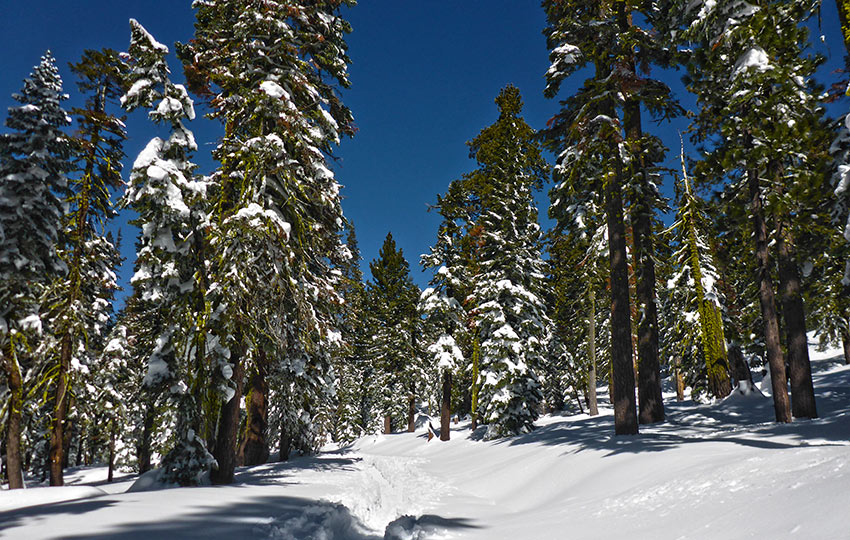 During bigger snow years or right after a significant snowstorm, Johnson Pass RD can be reduced to a single lane and be rutted out and bumpy from the excessive snow. If this is the case, you should have a vehicle equipped with all-wheel drive or 4-wheel drive and plenty of clearance.
During the winter, the trailhead to Echo Lakes is directly across from the entrance of the Echo Lake Sno-Park. Just cross Johnson Pass RD and travel the road that leads to Echo Lakes.
Here's a map to help you to find the Echo Lake Sno-Park for parking to access Echo Lakes in Desolation Wilderness. Remember to pick up a Sno-Park permit in town because they are required and you can't buy one at the Sno-Park.
Travel along the Echo Lakes Trail in Desolation Wilderness on Cross-Country Skis & Snowshoes:
In the warmer months you could hike along the Pacific Crest Trail/Tahoe Rim Trail to Echo Lakes, but during the winter just plan on taking the Echo Lakes RD.
This road does not get plowed, so you're tour will start as soon as you leave the Echo Lake Sno-Park. And, most likely, there will already be some obvious tracks leading in the direction of Echo Lakes.
The distance from the Echo Lake Sno-Park to Lower Echo Lake is approximately 1.25 miles.
Some people simply cross-country ski or snowshoe to the Echo Chalet (located near the outflow of Lower Echo Lake), enjoy a snack, and then travel back to their vehicle.
If that's all you have time for, so be it. The trip is relatively short, but the view of Lower Echo Lake and the glimpses of Lake Tahoe through the trees is definitely worth it.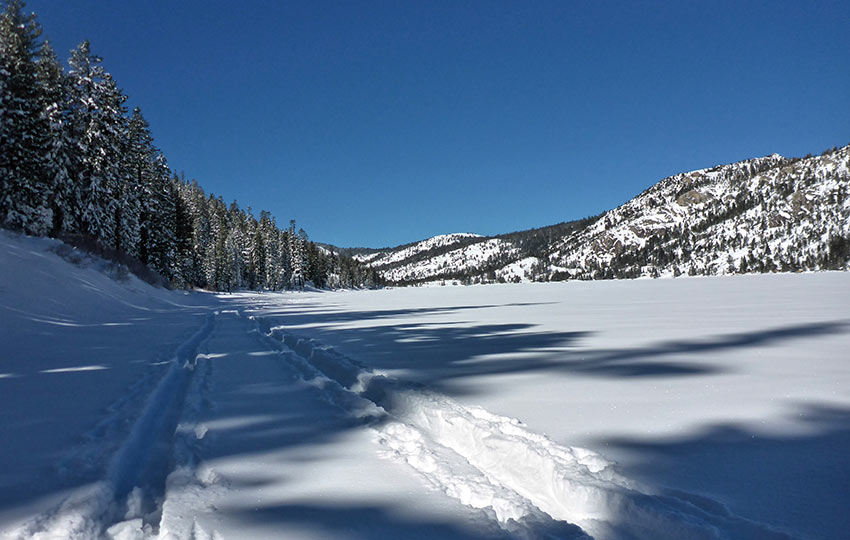 If you're looking for a longer day, continue to cross-country ski or snowshoe the length of Lower Echo Lake and back.
Or, for an even longer adventure, continue all the way to the far side of Upper Echo Lake before making your return. The one-way distance to the end of Upper Echo Lake is approximately 3.5 miles from the Echo Lake Sno-Park.
In spite of the fact that the Pacific Crest Trail/Tahoe Rim Trail skirts the northern edge of both Echo Lakes, do not travel the north side trail in the winter as it's prone to avalanches.
Also, the northern edge of both lakes gets baked by the sun during the warmest hours of the day making for unstable ice and snow.
Instead, travel along the southern edge of both lakes. Significant portions of the route along the south side of the lakes remain in the shade during the warmest parts of the day, which helps to preserve the ice and snow.
Call me paranoid, but I generally avoid traveling directly down the center of a "frozen" lake. I grew up in Minnesota and I know what a cold winter feels like and, in comparison, Tahoe just doesn't get that cold.
In fact, during the winter of 2017/18, the average daytime temperature at Lake Tahoe in January was 40+ degrees.
When we actually had snow during that month, I was cross-country skiing in a t-shirt. Also, during the beginning of February 2018, half of Lower Echo Lake was still open water. The entire lake wasn't fully covered until we received a massive snowfall (5+ feet in the higher elevations) during the first week of March 2018.
Ultimately, between the generally warmer winter temperatures and the intensity of the sun due to the higher elevation of the Tahoe region, the snow and ice can undergo rapid transformations (i.e. melt really fast!) in a short amount of time.
My recommendation is to hug the southern edge of Echo Lakes and resist the urge to go into the middle of either of them.
If in doubt, turn back or get off of the lake. There is no photo or feeling worth risking your life for.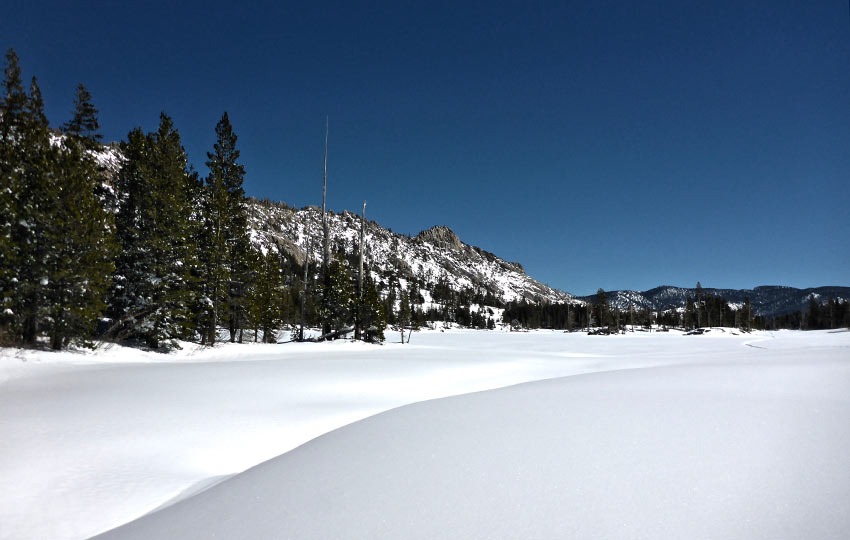 As fun as it would be to cross-country ski or snowshoe loops around both lakes, I would plan to travel an out-and-back route along the southern side of the lakes (as indicated on the map/route below).
I hope I was clear in the above description of that northern edge but, again, that side of the lake consistently gets baked and should be avoided. That is, unless Tahoe has been experiencing a severely cold and snowy winter. However, travel along the north side is at your own risk and peril.
Please note that there are many privately owned cabins and structures located on Echo Summit and at both Echo Lakes. These structures (or previous versions of them) were in existence well before Desolation Wilderness was actually designated a "wilderness" area (and have been grandfathered into the system).
You wouldn't want strangers poking around your house while you were away on vacation so show the same respect for these private structures and leave them alone, whether they be on Echo Summit or at Echo Lakes.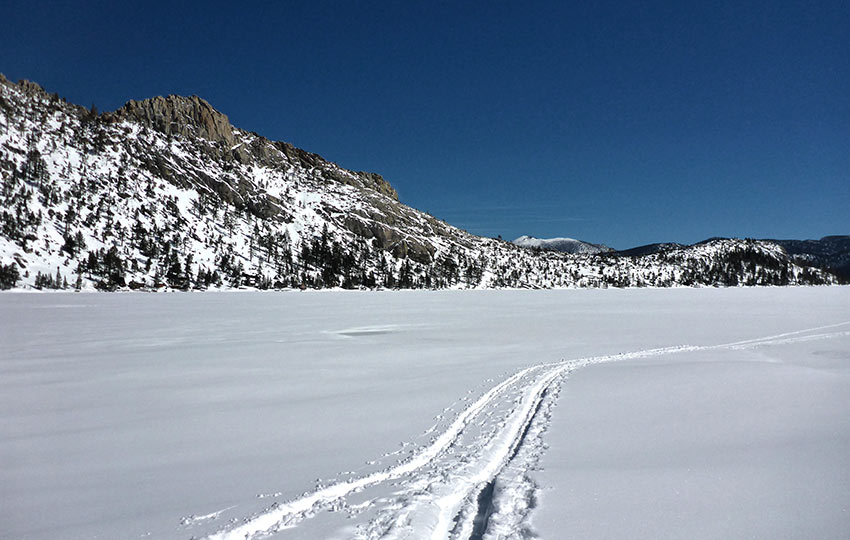 A short panoramic video I captured of Lower Echo Lake on March 5, 2018.
Alternate Option for XC Skiing at Echo Lakes
Instead of making your way across the lakes, you could also travel across the outflow bridge (at Lower Echo Lake) and get some panoramic views of South Lake Tahoe. Essentially, travel across the bridge and then continue to head east over the hump until you reach an obvious vantage point (looking east). Be careful not to get too close to the edge of this crest (as it's a long way down!). However, the views are quite nice looking toward South Lake Tahoe. And, the open facing hillside before reaching the crest makes for a good practice hill to work on downhill turning.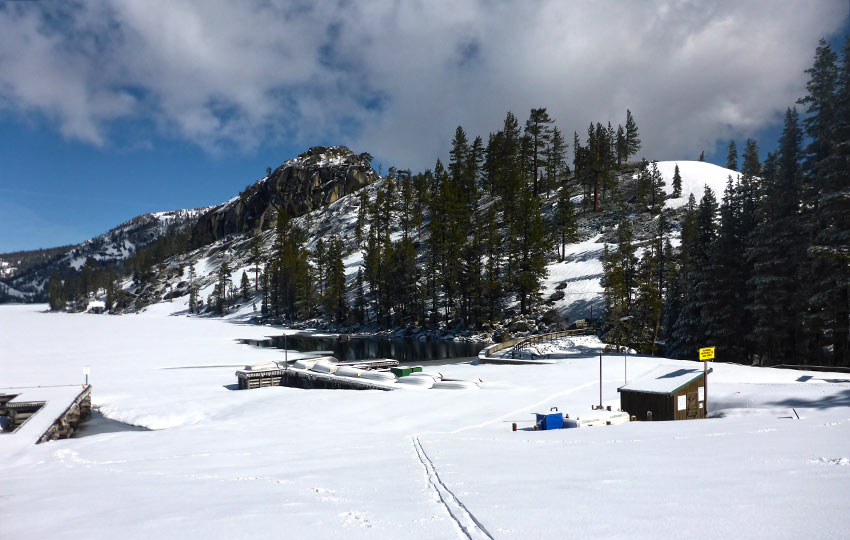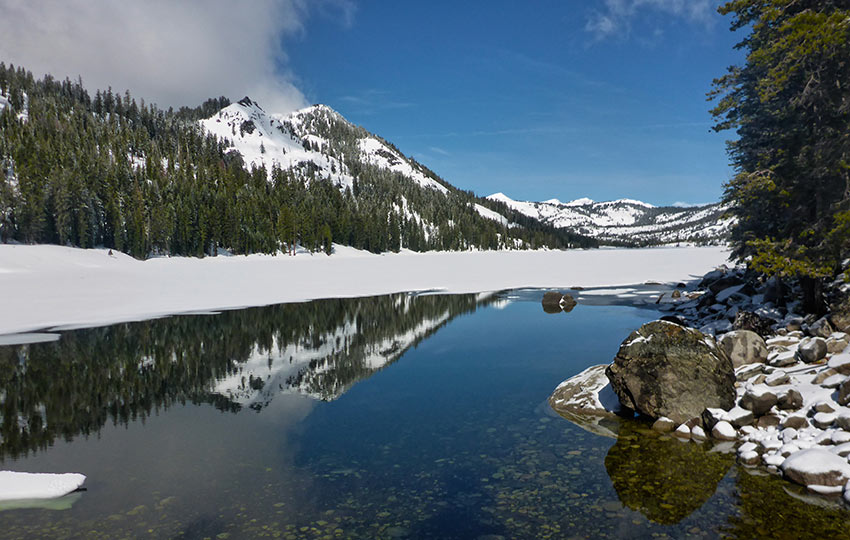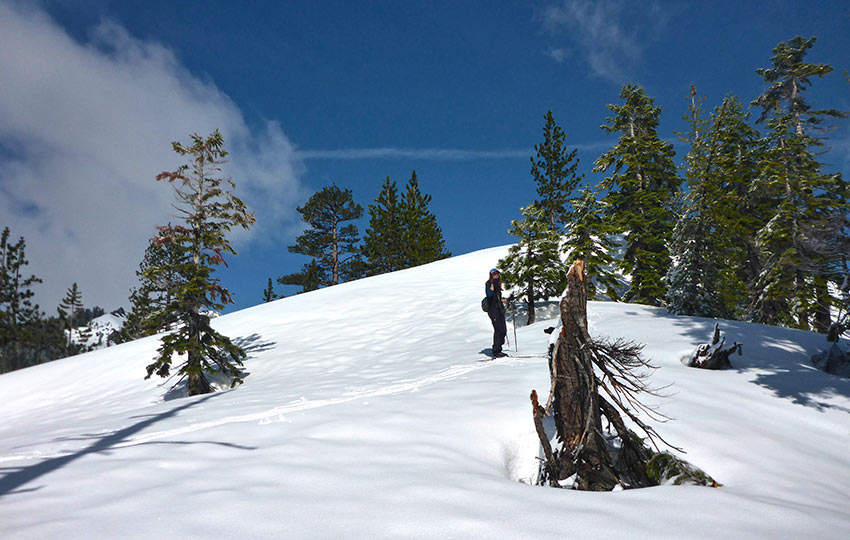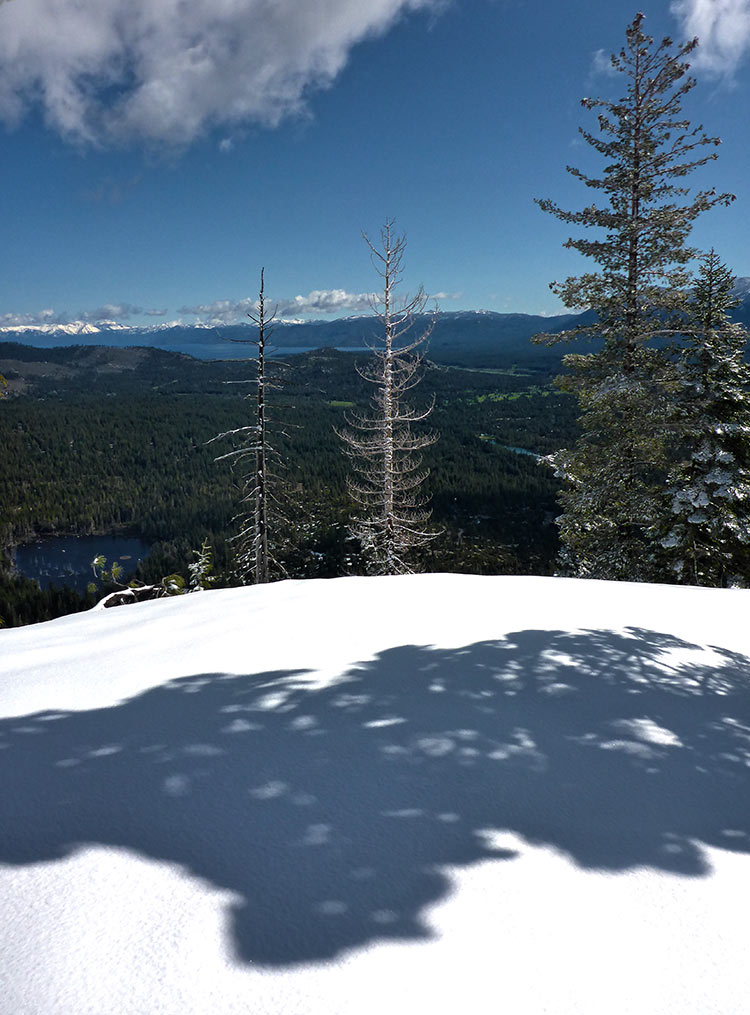 ---
Do you have other insight, feedback, or trail updates about cross-country skiing and snowshoeing at Echo Lakes?
If so, please post it in the comment section below for the benefit of everybody 🙂
---