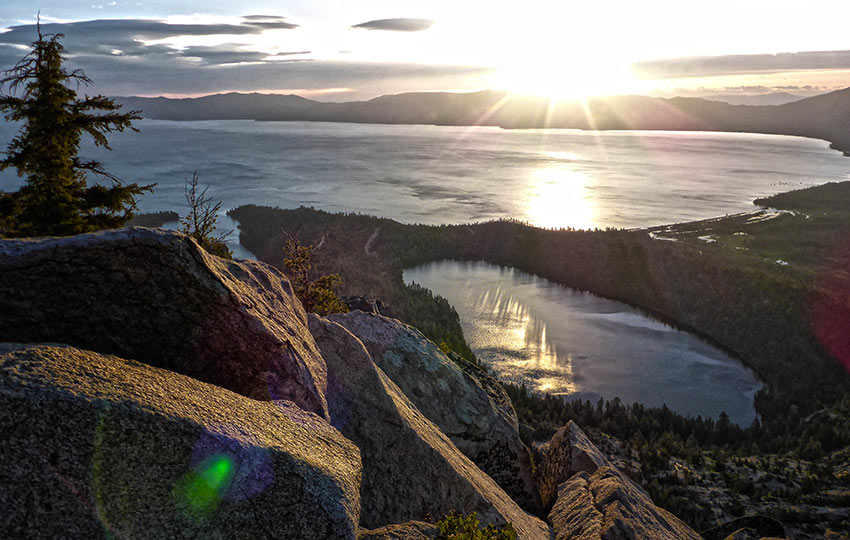 The day hike to the south peak of Maggie's Peaks is an incredibly worthwhile challenge. One that rewards you with countless panoramic views of the Lake Tahoe Basin. In addition to long views along Lake Tahoe's east and south shores, you'll also see … Emerald Bay, Cascade Lake, Fallen Leaf Lake, Freel Peak, Mount Tallac, and aspects of Desolation Wilderness.
This hike is ideal for athletic people looking for a heart-pumping workout with lots of great views. And, a hike that doesn't require the same time commitment as hiking Mount Tallac, Freel Peak, or Mount Rose.
---
Support Tahoe Trail Guide with a financial contribution via PayPal (single contribution) or Patreon (reoccurring contributions). Your support of Tahoe Trail Guide is very much appreciated!

Become a Patron!
---
Maggies Peaks Trail Data (approximations):
Location: South Tahoe – Emerald Bay – Bayview Trailhead
Category of Hike: Day Hike
Category of XC Ski/Snowshoe Route: Advanced
Total Mileage: 4.5 miles (out-and-back)
Total Elevation Gain: 1,850 feet
Highest Point: 8,699 feet
Trail Conditions: Packed dirt and a portion of off-trail hiking
Considerations for Hiking Maggies Peak (south):
Arrive early in the day to find a parking spot at the Bayview Campground day-use lot.
Be prepared to climb a lot of elevation in a relatively short distance. And, subsequently, be prepared to descend all of that elevation on the return hike. Your knees are going to feel it on the way down.
Be prepared for snow and ice hazards when hiking Maggie's Peaks before June and during the early morning. For such occasions, I recommend carrying micro-spikes and/or an ice axe.
If snowshoeing, be especially avalanche aware once you reach Granite Lake, and avoid walking on all cornices.
Adhere to the Leave No Trace Seven Principles.
There are few trail signs and markers on public lands in the Tahoe region. So, unless there are tracks to follow, the correct route may be difficult to identify. When in doubt, turn back.
Be prepared for inclement weather and carry plenty of warm clothes, food, and water.
Leave an itinerary of your plans with someone who'll call emergency services if you don't return by your prescribed time.
Dogs are allowed, but keep them on leash and pick up after them.
Drones are not allowed in Desolation Wilderness.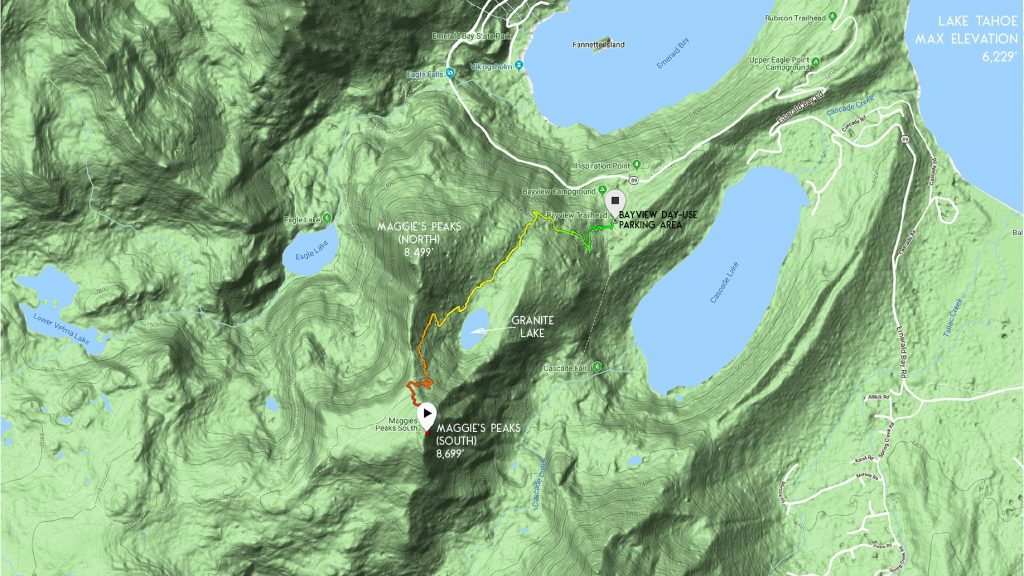 Parking Directions for the Maggies Peaks Hiking Trail:
The Bayview Campground is directly across the road from Inspiration Point on SR 89. This area overlooks Emerald Bay on its south side.
Drive through the campground to the very back. There you'll find the designated day-use parking area for the Maggie's Peaks trailhead.
This trailhead also leads to Cascade Falls (in the opposite direction).
The parking is free in the day-use area of Bayview Campground, but limited.
Since the Bayview Campground is at Emerald Bay, arrive early for parking. And, make this your priority during summer weekends and holidays.
Park on the side of SR 89 when the day-use parking area in Bayview Campground is full. Or, park outside the gate (don't block it) along SR 89 to access the Bayview trailhead in the off-season. The Forest Service locks the gate to the campground (and day-use lot) during winter months.
Never block the gate or park in a way that impedes traffic on SR 89. And, be sensible about how you park so that other hikers can find a parking spot.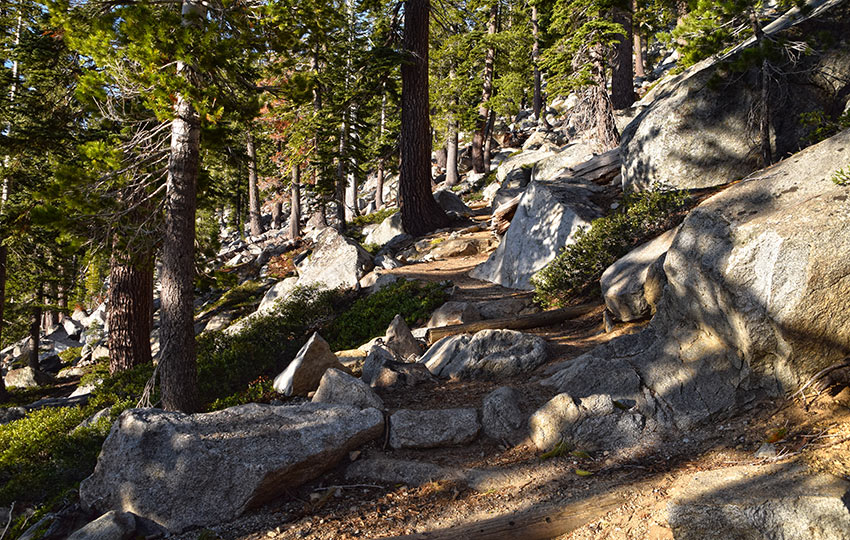 When arriving at the Bayview Campground during busy days, pay attention to your surroundings. And, take care when maneuvering your vehicle around the area. The driveway for the campground is essentially flanked by two blind corners. Combined with the hoards of people around Inspiration Point, it can definitely be hazardous driving.
All the parking spots fill up quickly. And, this finite zone becomes highly congested.Therefore, it's dangerous for pedestrians and moving vehicles alike.
The trailhead to Maggie's Peaks is at the back of the Bayview Campground.
Here's a map to help you find the Bayview Campground and Trailhead.
Travel along the Maggies Peaks Hiking Trail:
Maggie's Peaks is located within the boundary of Desolation Wilderness.
At the actual trailhead to Maggie's Peaks, you'll find a message board with day passes for access into Desolation Wilderness.
Fill out the day pass before stepping onto the trail.
Directly behind the message board is the trailhead to Maggie's Peaks. The sign indicates that hiking to the left will take you to Cascade Falls. So, take a right at the sign (Desolation) in order to hike to Maggie's Peaks.
The elevation gain to Maggie's Peaks is significant in relation to the trail's shorter distance.
You'll essentially be traveling uphill the entire hike. The payoff (beyond the great workout!) is the incredible views for much of the hike. The best views, in my opinion, are from the south peak.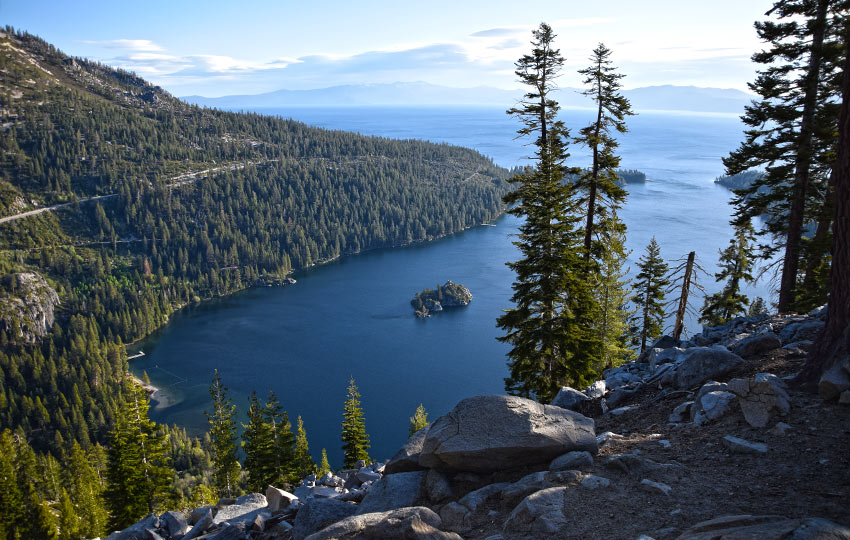 You'll witness stunning views looking into and beyond Emerald Bay even before reaching Granite Lake. This location is just over a half of a mile up the trail. But you have to hike approximately 500 feet of elevation gain.
It's definitely worth just hiking here to catch a sunrise. Then, you can return to your vehicle and carry on with your day if you're short on time.
At about one mile you'll reach Granite Lake. This is a great place to take a breather. But, know that you still have a lot of elevation gain to negotiate.
You'll know you've reached the saddle between the north and south peak of Maggie's Peaks when you come upon the views looking west into Desolation Wilderness.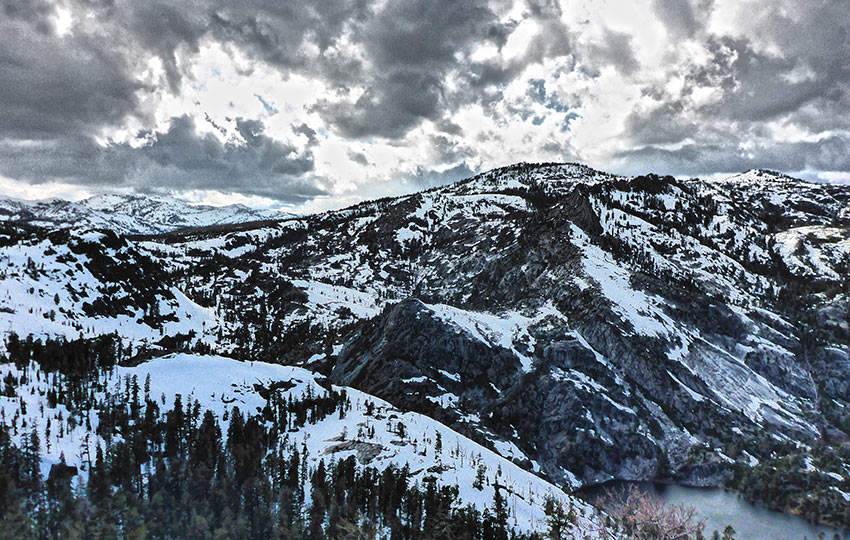 At this point there's no established trails that lead to Maggie's south peak. So, it's up to you if you want to hike more directly uphill or if you want to take a more gradual route.
For the direct line you'll want to just start heading south from that saddle. Then, continue hiking uphill until you reach the top.
Otherwise, you can hike the established trail that leads further into Desolation Wilderness. Then, you'll eventually start to head south and uphill (again) until you reach the highest point.
This is not as challenging as you may think because you'll be hiking through open forest for the most part. And, you'll obviously know you've summitted the south peak when you can't hike any higher. There are massive granite boulders all around the summit.
Hiking Maggie's Peak in the Snow
The upper sections of the trail (before you reach the saddle between the two peaks) can retain snow into June and July.
During a hot afternoon this probably won't present more of a hazard than getting your shoes sopping wet.
If you try to summit for an early sunrise, however, you'll most likely find yourself negotiating large patches of ice that are at steep angles.
Take appropriate measures to avoid catastrophic falls. That may include carrying with you micro-spikes/crampons and an ice ax or simply hiking off-trail where there is no ice.
I don't advocate cutting switchbacks, but your life is your life. Be safe out there.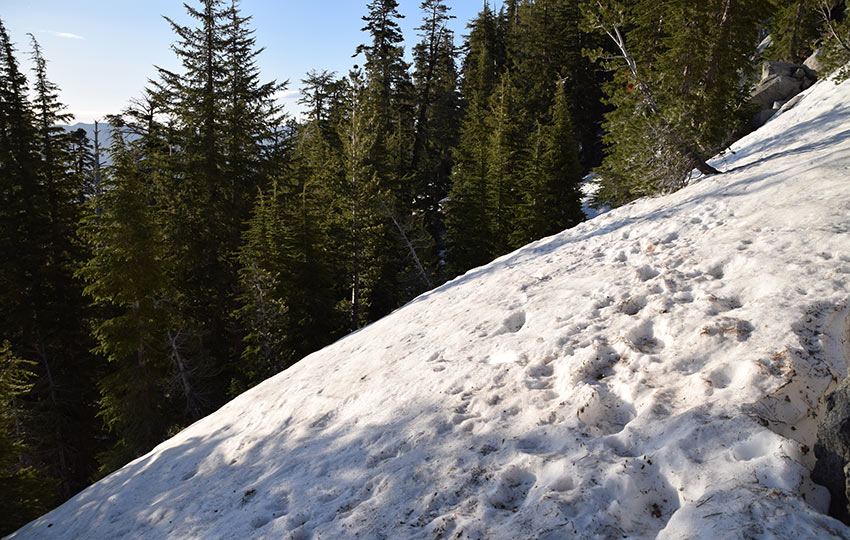 Speaking of snow … the route to the south peak of Maggie's Peaks is a fantastic snowshoe trek, particularly during the spring when the snowpack has stabilized.
The route is essentially the same as the hiking trail. However, you don't have to strictly stick to the switchbacks once you reach Granite Lake.
Obviously, don't walk too close to any of the edges once you reach the top. Under your weight, the cornices (overhanging ledges of snow) will crack and fall off and take you with them.
Here's a short panoramic video from the top of the south peak of Maggie's Peaks to whet your appetite (from April 29, 2016).
---
Do you have other insight, feedback, or trail updates about hiking Maggies Peak (south)?
If so, please post it in the comment section below for the benefit of everybody 🙂
---