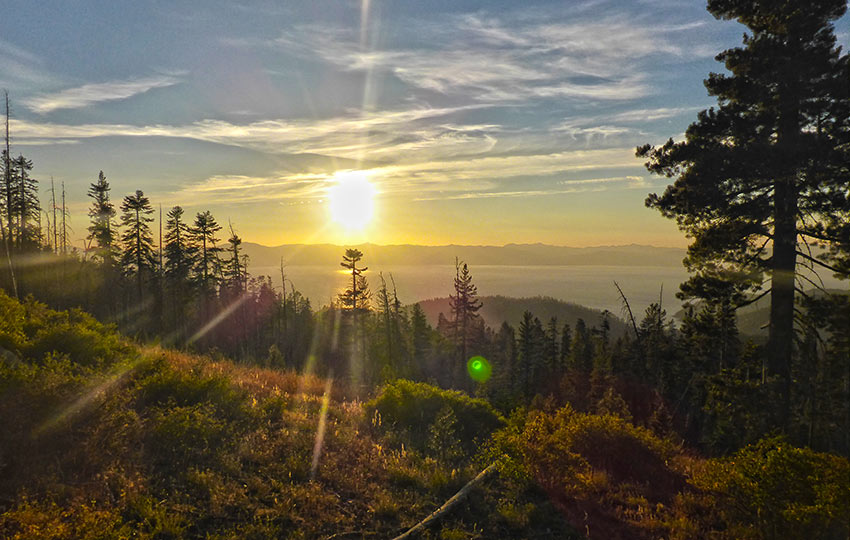 The hike to South Camp Peak probably isn't in the top five trails to hike at Lake Tahoe, and it may not even be in the top ten. However, I would argue that it's about as exceptional a hike as any at Lake Tahoe.
Parking is abundant (and free), the trail is easy to navigate, there's enough elevation gain to get your heart pumping, and the 10-mile (out-and-back) distance is perfect for a quality day hike.
The best part, though, is that you're afforded panoramic views of Lake Tahoe for a good portion of the hike.
---
Support Tahoe Trail Guide with a financial contribution via PayPal (single contribution) or Patreon (reoccurring contributions). Your support of Tahoe Trail Guide is very much appreciated!

Become a Patron!
---
South Camp Peak Trail Data (approximations):
Location: East Tahoe – Spooner Summit
Category of Hike: Day Hike
Category of XC Ski/Snowshoe Route: Intermediate, Advanced
Total Mileage: 10 miles (out-and-back)
Total Elevation Gain: 1,800 feet
Highest Point: 8,776 feet
Trail Conditions: Alternating between sandy and hard-packed soil
Considerations for Hiking South Camp Peak Trail:
The trail to South Camp Peak is very exposed so protect yourself from the sun and wind, especially when hiking midday
The trail to South Camp Peak is only five miles and features less than 2,000 feet of total elevation gain, but it is all uphill
If you plan to camp overnight near South Camp Peak, pack in enough water to last you through the night and be sure that you are tented between 100-300 feet from any trails
Adhere to all Leave No Trace principles
There are few trail signs and markers on public lands in the Tahoe region, so unless there are tracks to follow, the correct route may be difficult to identify–when in doubt, turn back
Be prepared for inclement weather and carry plenty of warm clothes, food, and water
Leave an itinerary of your plans with someone who'll call emergency services if you don't return by your prescribed time
Dogs are allowed, but keep them on leash and pick up after them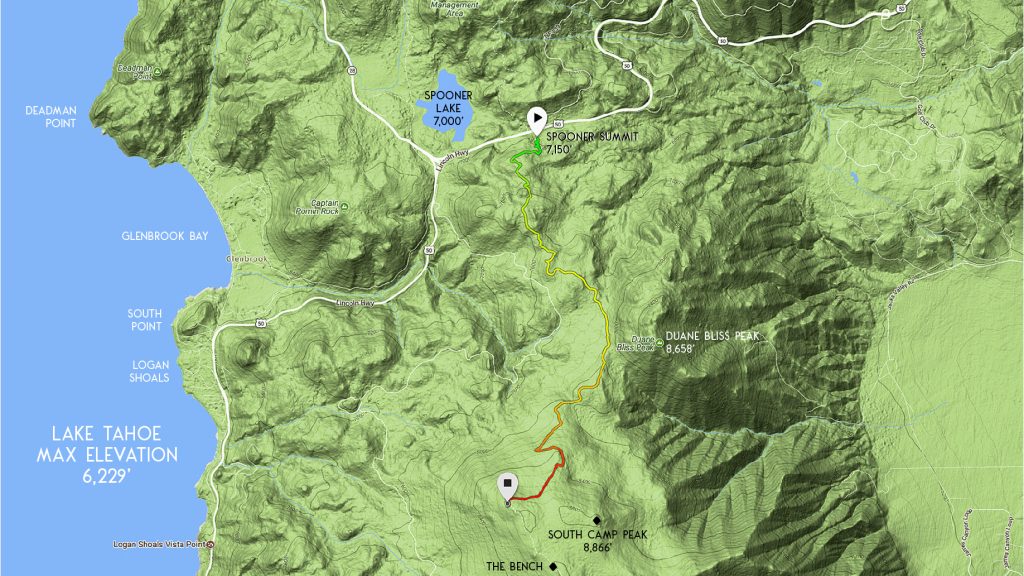 Parking Directions for South Camp Peak Hiking Trail and the Bench:
Thanks to there being parking lots on either side of HWY 50, there's an abundance of parking options at Spooner Summit.
I recommend parking on the south side of HWY 50, however, since this will be the starting point of your trek to South Camp Peak.
In addition to multiple parking spots in the south lot, there are some picnic areas and vault toilets, as well as informative placards and displays about the local history.
The trailhead that leads to South Camp Peak is at the back of the south lot, near an information kiosk.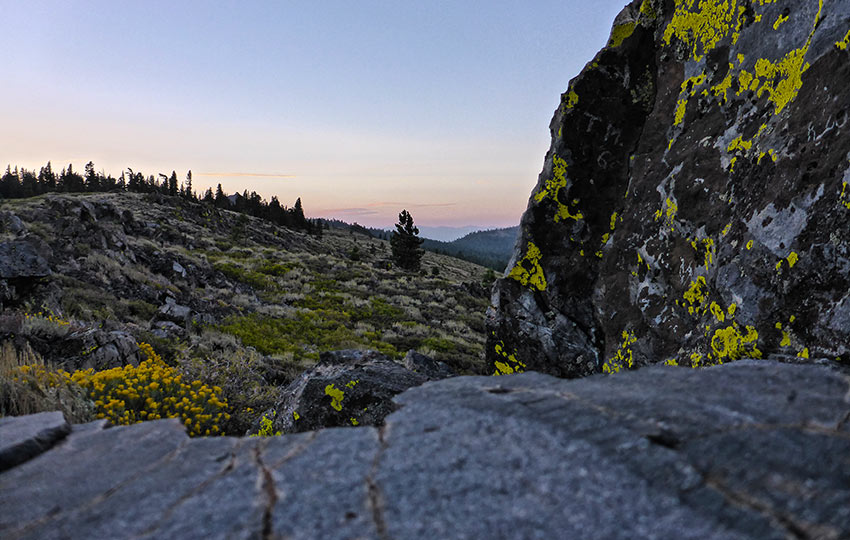 Here's a map to help you find the Spooner Summit parking lot.
Travel along the South Camp Hiking Trail:
Although this day hike features only about 1,800 feet of total elevation gain, until you reach the open area on the west side of South Camp Peak you're basically going to be hiking uphill the entire five miles (one-way).
So, be prepared to travel uphill as soon as you leave the parking lot.
The trail is stable and obvious, and even though it meanders in and out of forested areas you're never too far from panoramic views of Lake Tahoe.
My favorite time of the day to hike this trail is at dusk so I can catch the sunset, as the predominant views are to the west.
There's no bad time, however, to travel this section of the Tahoe Rim Trail.
Just know that if you plan to watch the sunset from this location you're going to have to hike the five miles back to the parking lot in the dark. Or, plan to camp overnight.
Please note that even though the trail travels in and out of the trees, because there are so many unobstructed views you're going to be susceptible to exposure. Come prepared to protect yourself from the sun and wind if you end up hiking this trail during the middle of the day.
Because South Camp Peak is on the east shore of Lake Tahoe, it remains free of snow longer than other parts of Tahoe. You can hike this route later in the fall and earlier in the spring.
Since this hike is only 10 miles long, most people just make a day hike of the route.
But this section is technically the Tahoe Rim Trail, so backpacking is fair game.
I've hiked the five miles to South Camp Peak in the evening to catch the sunset, dry camped overnight (packed in all my water), and then hiked out the following morning after being treated to the sunrise.
If you do intend to camp overnight at South Camp Peak, be aware that you must tent between 100-300 feet from all trails in this section of the Tahoe Rim Trail and use a previously impacted tent site.
There are no water sources near South Camp Peak.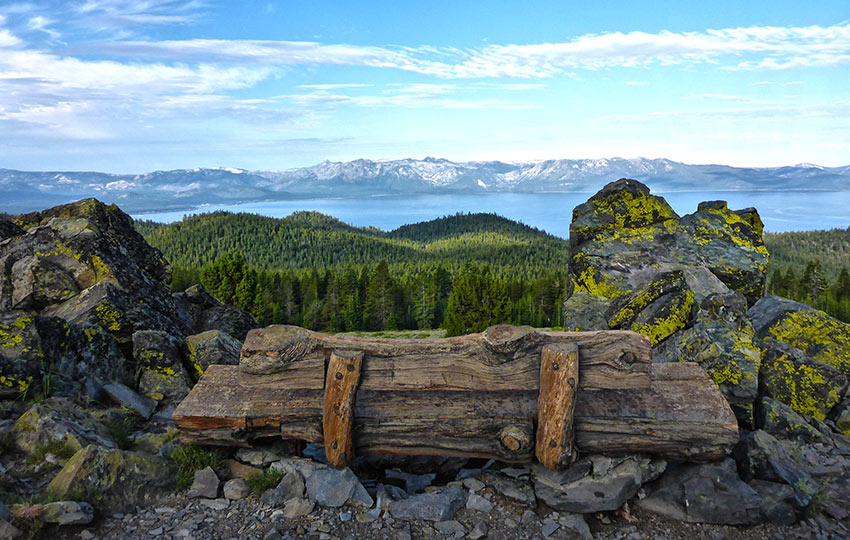 Lastly, on the kiosk near the trailhead I've always seen notices posted about bear and mountain lion activity in the area between Spooner Summit and Kingsbury Grade (where this trail eventually leads to).
Heed these warnings by being visible, making noise every once in a while to announce your presence, and keeping all of your scented items secured properly (especially if you plan to camp overnight along this stretch of the Tahoe Rim Trail).
---
Do you have other insight, feedback, or trail updates about hiking South Camp Peak (and the Bench)?
If so, please post it in the comment section below for the benefit of everybody 🙂
---