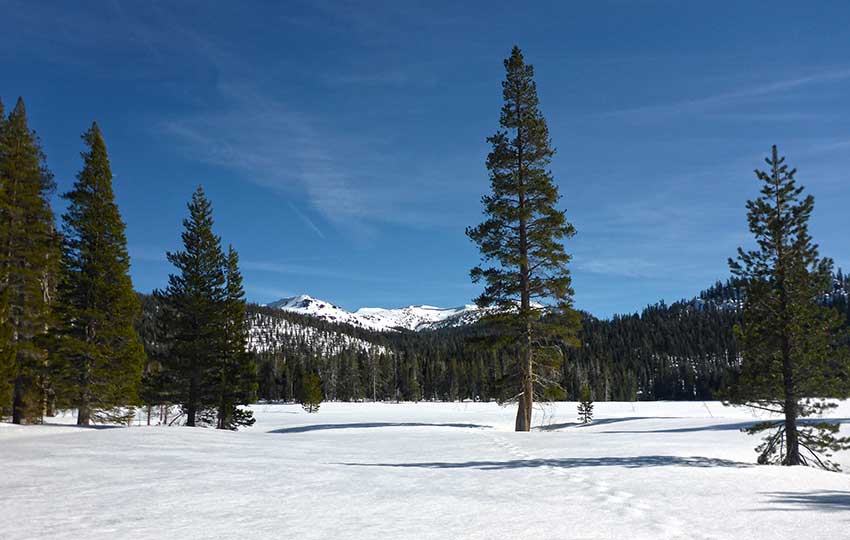 Cross-country skiing at Big Meadow is totally rewarding when the conditions are right. The loop around Big Meadow is approximately 1.5 miles (depending on how far into the woods you want to ski), the terrain is flat, and the area is far less traveled than nearby Grass Lake. And, although Big Meadow essentially sits in a bowl, the views are stunning.
I love to cross-country ski at Big Meadow because of its cozy atmosphere and, when I have the place to myself, I'll often just lay my own tracks and ski multiple laps in order to get in a great winter workout.
---
Support Tahoe Trail Guide with a financial contribution via PayPal (single contribution) or Patreon (reoccurring contributions). Your support of Tahoe Trail Guide is very much appreciated!

Become a Patron!
---
The other aspect to note about Big Meadow is that it's a major access and exit point for longer cross-country ski and snowshoe tours. In fact, I would argue that this latter point is more important than it simply being a fun place for a short winter adventure.
With all of that said, however, cross-country skiing to Big Meadow from the road (SR 89) is a slightly different story. The distance from SR 89 (where you'll park) and the actual meadow is barely a half mile, but the route is uphill and a bit technical in areas.
That means that the return trip is, not surprising, downhill and equally as technical (maybe more so since many people aren't nearly as comfortable going downhill on cross-country skis as they are climbing uphill).
Also, parking can be problematic or non-existent since the only parking option is to pull over on the side of the road. Then, you'll have to climb up onto the snowbank or berm (which can be excessively high during big snow years) from the road to access the actual cross-country ski and snowshoe route.
These are the main factors that contribute to my preference of cross-country skiing and snowshoeing to and around Big Meadow in March and April. During the spring, the snow is simply more stable and it usually has begun to melt and recede enough that there's plenty of safe parking on SR 89 and various points along the road to easily negotiate the snowbank.
Keep in mind that it's not a total loss if the conditions don't look favorable for accessing Big Meadow. You can always just drive a little further along SR 89 in the direction of Luther Pass to cross-country ski or snowshoe at Grass Lake.
It's nearly always a guarantee that you'll find parking and access for Grass Lake. But this article is about Big Meadow, so continue reading for more details about how to access this beautiful and semi-remote location.
Trail Data for Cross-Country Skiing and Snowshoeing at Big Meadow (approximations):
Considerations for Cross-Country Skiing and Snowshoeing at Big Meadow:
Only park along the north side of SR 89 if there's an enough space to safely and legally park (i.e. you're not obstructing traffic, interfering with snow removal operations, or parked in an area with a "No Parking" sign posted)
Use extreme caution when crossing SR 89 in order to access the route to Big Meadow because nearby there's a bend in the road and this is a 50mph driving zone
Use extreme caution when climbing the snowbank in order to access the route to Big Meadow as there's a very narrow shoulder along SR 89 at the trailhead (i.e. don't fall or drop your gear because you or it will land in the road)
There is no safe or legal parking on the south side of SR 89
Be prepared for the roughly 400 foot climb to Big Meadow and then a descent (on your way out) via the same route
Adhere to all Leave No Trace principles
There are few trail signs and markers on public lands in the Tahoe region, so unless there are tracks to follow, the correct route may be difficult to identify — when in doubt, turn back
Be prepared for inclement weather and carry plenty of warm clothes, food, and water
Leave an itinerary of your plans with someone who'll call emergency services if you don't return by your prescribed time
Dogs are allowed, but keep them on leash and pick up after them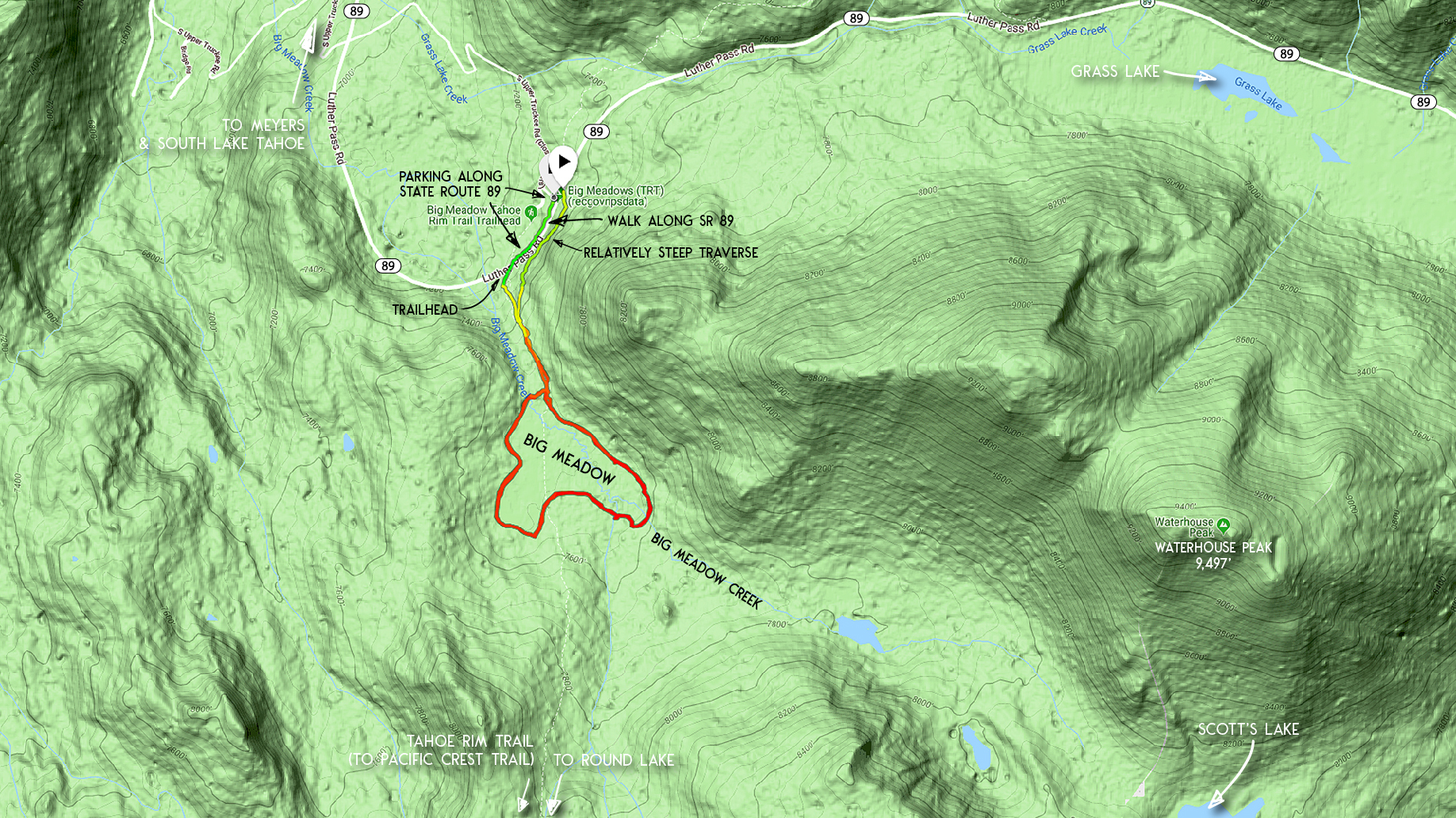 Parking Directions for the Big Meadow Trailhead:
Parking and getting up onto the snow might be the biggest challenge you'll face on your winter adventure to Big Meadow.
Parking is very limited along SR 89. And during big snow years, parking is even more challenging. So, depending on the snow conditions you'll either need to park on the north side of SR 89 near the entrance gate to the Big Meadow Campground (don't block the green gate) or further down the hill in the direction of the road crossing for the Tahoe Rim Trail.
The only "No Parking" signs posted along this section of SR 89 are specifically at the Tahoe Rim Trail road crossing, and they're obvious. Also keep in mind that the shoulder on the north side of SR 89 along this quarter mile stretch of road (TRT road crossing to the Big Meadow Campground entrance) is wider in some sections than others.
You can't safely or legally park along the road without sticking out into traffic on the narrow sections. This will be far more obvious when the snow isn't so excessive or during spring conditions as the north side of SR 89 melts relatively fast, exposing the shoulder.
There is nowhere to park safely and legally on the south side of SR 89 on this section of road.
Again, if you can't find anywhere to park between the Tahoe Rim Trail road crossing and Big Meadow Campground entrance, continue on to Grass Lake and save Big Meadow for another day.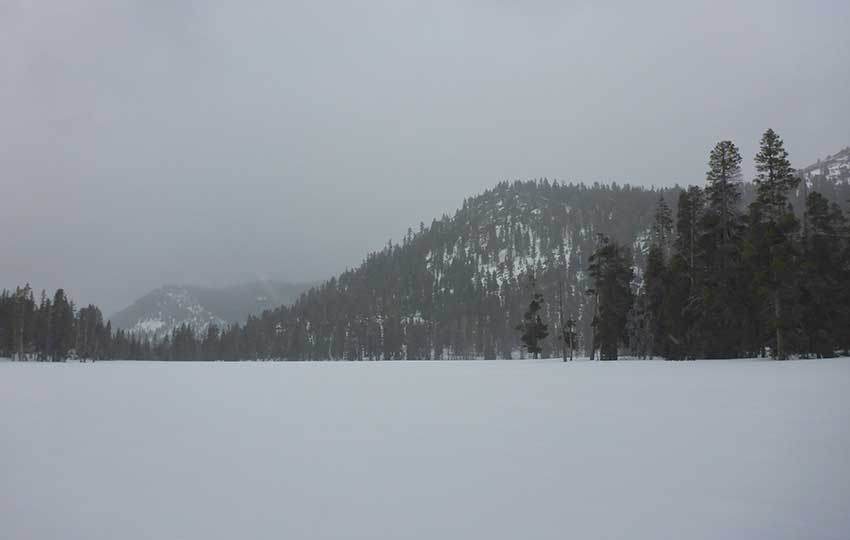 Assuming you can find a parking spot for accessing the route to Big Meadow, you'll either have to walk down the road to the trailhead or find another access point near the Big Meadow Campground entrance.
Often people will kick or cut steps into the snowbank at the TRT trailhead, making it easier to negotiate.
As far as making your way onto the snow near the campground entrance, once you get up and over the snowbank you'll then have to traverse around the mountain to the trailhead. This section is relatively steep, but it is just a short traverse.
I realize this sounds like a whole lot of business just to access a relatively small area (1.5 mile flat loop) for cross-country skiing.
Again, however, Big Meadow is an access and exit point to more terrain. So, it's worth your while to become familiar with the specifics of parking and traveling through this area in order to complete much longer cross-country ski and snowshoe tours.
The trailhead for the route to Big Meadow is the same trailhead as the Tahoe Rim Trail on SR 89.
Here's a map to help you find the Big Meadow Campground area of SR 89. Technically the trailhead begins on the south side of SR 89 at the Tahoe Rim Trail road crossing.
Travel Directions for Cross-Country Skiing and Snowshoeing at Big Meadow:
The trailhead for accessing Big Meadow begins on SR 89 at the Tahoe Rim Trail trailhead (south).
Beginning at SR 89, generally follow the Tahoe Rim Trail south and up the draw. You'll reach Big Meadow in just under .5 miles.
Obviously this isn't a long distance, and it's mostly open terrain, but I recommend taking some mental notes while climbing the approximately 400 feet of elevation gain to Big Meadow. This way you'll be more prepared for making the descent on the return trip.
There are, after all, a handful of terrain features that will require you to make a few tight turns coming downhill.
Once you arrive at Big Meadow, you'll enjoy a long view looking south toward Stevens Peak. At this point, you can pick either a clockwise or counterclockwise direction in which to travel around the meadow.Or, you could ski zig-zag patterns across the meadow. Whatever floats your boat.
Just know that there are some water features that run through Big Meadow, so be on the lookout for obvious depressions in the snow (and avoid them!). The main water feature that enters the meadow is Big Meadow Creek, and it runs into the meadow from south (in the direction of Scott's Lake).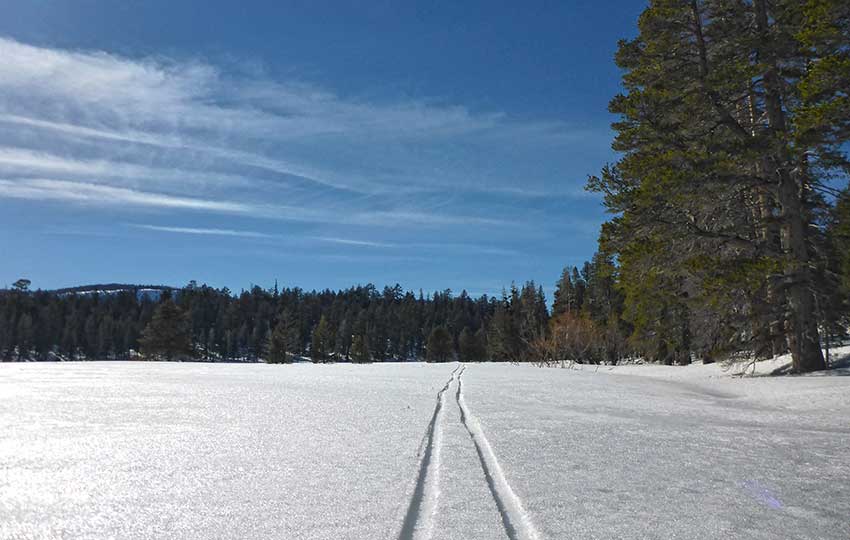 Cross-Country Ski Routes beyond Big Meadow:
Big Meadow provides an excellent access and exit point in which to cross-county ski or snowshoe to further locations around the area. For example, you could travel a point-to-point route (requiring vehicle shuttling) beginning at Carson Pass, traveling through Meiss Meadow, and then exiting the wilderness at Big Meadow (or vice versa).
Another point-to-point route would be to travel from Echo Summit (also requiring vehicle shuttling) south to Meiss Meadow, and then exiting the wilderness at Big Meadow (or vice versa).
You could also cross-country ski or snowshoe longer out-and-back routes beginning (and ending) at Big Meadow. Two examples include travel to and from Round Lake and Scott's Lake.
Please note, however, that I only recommend traveling toward Meiss Country (i.e. in the direction of Round Lake and beyond) if you're an advanced and experienced cross-country skier and are either familiar with the terrain or know how to read a map.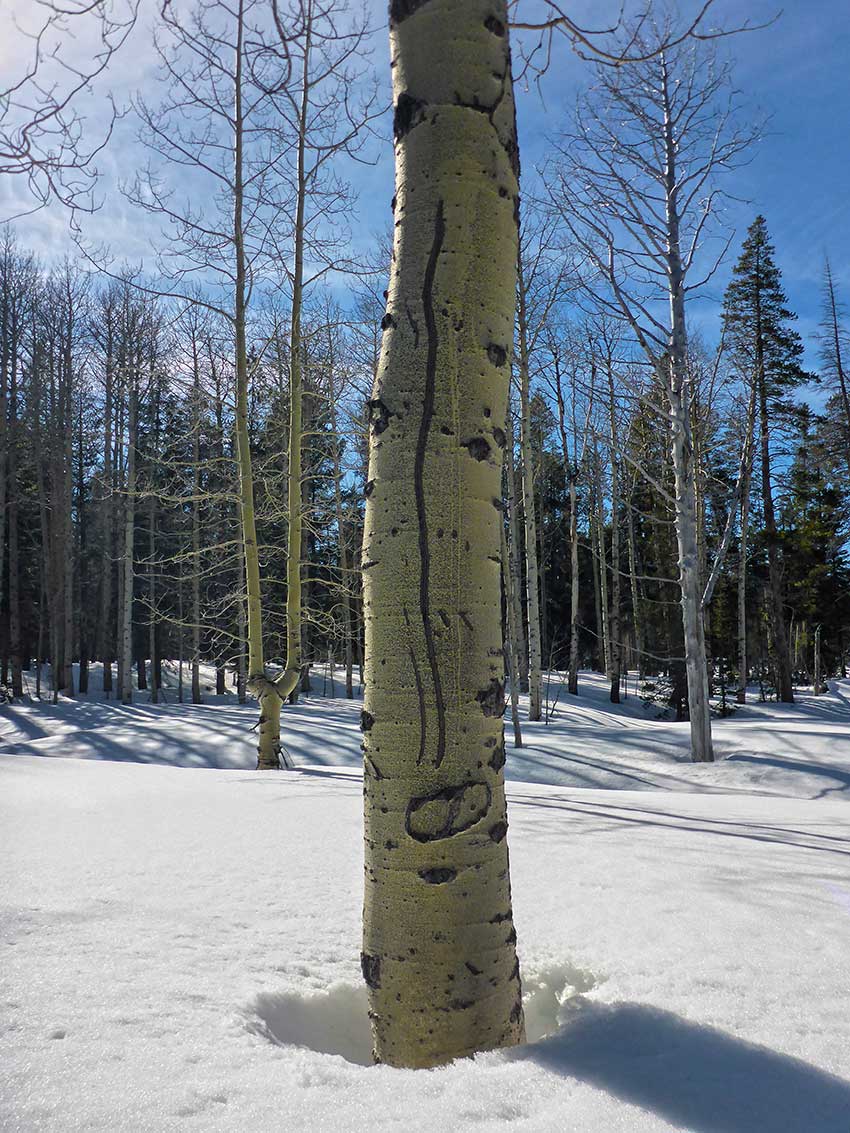 ---
Do you have other insight, feedback, or trail updates about cross-country skiing and snowshoeing at Big Meadow?
If so, please post it in the comment section below for the benefit of everybody 🙂
---