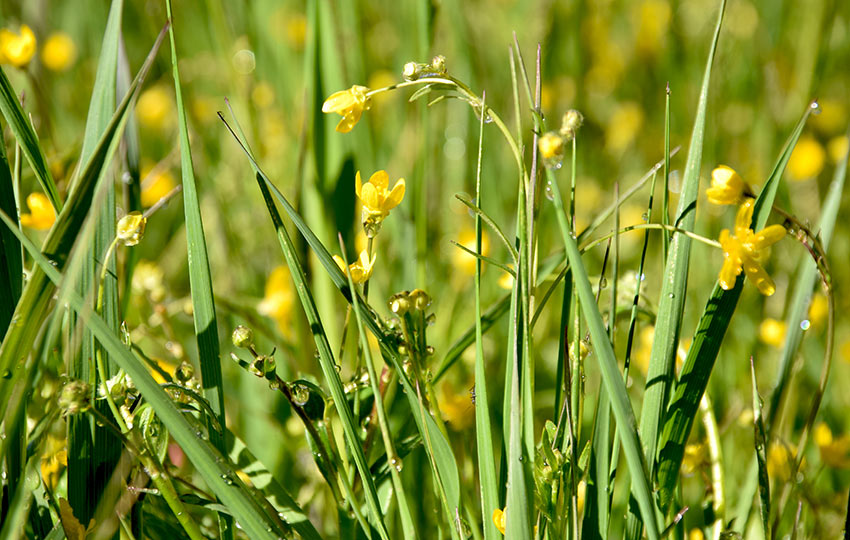 Last Updated on by Jared Manninen - Tahoe Trail Guide
I am not a botanist or a naturalist or possess any type of natural sciences degree. In fact, I hold an associate's degree in business and a bachelor's degree in communications (with a minor in fine arts). That last fact, however, is what drives my appreciation for finding and photographing Sierra Nevada wildflowers. That, and my love of a good treasure hunt!
Sierra Nevada wildflowers have become one of my favorite subject matters in which to photograph at Lake Tahoe thanks to their delightful bursts of color and delicate shapes and structures.
Sierra Nevada wildflowers also provide some much needed variety to the often perceived monotony of Lake Tahoe's landscape. This is not to say that the views at Lake Tahoe are ever boring but let's face it, Jeffery Pines, Douglas Squirrels, and Steller's Jays are only so interesting to look at once you've seen them a million times before.
When you decide to seek out Sierra Nevada wildflowers, you enter a whole new world of visual stimulation and joy for the outdoors. Peppered throughout this article are thumbnails of the reference books I use to identify Sierra Nevada Wildflowers.
Click on the images to go to their respective Amazon.com detail pages. They are well worth the investment if you have any interest in learning more about these wildflowers.
So often we barrel ahead at full steam with only the end point in mind rather than being present along the journey. I have succumbed to this fate as much as the next person, looking to put that check in the box or cross that activity off the bucket list.
As an artist, however, I've trained my eyes to pick out details that would otherwise go unnoticed. So, I've taken this skill with me while hiking, backpacking, trail running, cross-country skiing, and snowshoeing at Lake Tahoe.
I carry with me, no matter the distance, a digital camera in which to capture images of those small treasures and fleeting moments that would ultimately be lost in time.
The four books I typically use to identify Sierra Nevada wildflowers are:
I agree that attempting to document every moment of your life is an unfortunate side effect to having digital technology available wherever you go.
However, I use the camera as a tool in which to extend my outdoor experience beyond the trail. For example, when I'm out hiking and discover a Sierra Nevada wildflower, I pause and study it for a moment, take a picture of it, and then continue on my journey.
When I return home, I upload the photos to my computer and search through my Sierra Nevada wildflower reference books (as pictured in the thumbnails in this article) to determine what it was that I saw.
There is nothing exceptionally profound about this exercise, but having worked in a popular backpacking store in South Lake Tahoe and cross-country ski center in Truckee, I've met plenty of vacationers who often don't own the relevant reference material or make the time in which to perform their own research. It's not that they are incapable of figuring it out on their own, it's just that their priorities lie elsewhere. They clearly want to learn because they'll often take a picture of the flower (or bird or critter) and then ask me the question as to what it is they're look at.
I love to provide the information, as well as showing them where to find it in the future (i.e. the appropriate reference book), because it helps me to learn more about the flora and fauna of Lake Tahoe.
And it's really fun to watch the excitement on the person's face once we've made a positive identification of the object in question. By the way, I share the same feeling of excitement when I'm able to successfully identify a new (to me) Sierra Nevada wildflower.
The Sierra Nevada wildflowers featured in this article were photographed on May 16, 2016. The winter preceding the 2016 spring at Lake Tahoe was significant in that it was the first "normal" winter we had in four years.
There was still a lot of snow in the upper elevations at the time, so in order to find these Sierra Nevada wildflowers I hiked at Cathedral Meadow and Washoe Meadows State Park, which are both at lower elevations in the Lake Tahoe Basin.
Although I did not encounter any snow, there was significant water flowing through both meadows to the point where the trail, in various places, was submerged by nearly a foot of water. Be prepared for wet conditions when hiking at Lake Tahoe in the spring after a normal or above average winter.