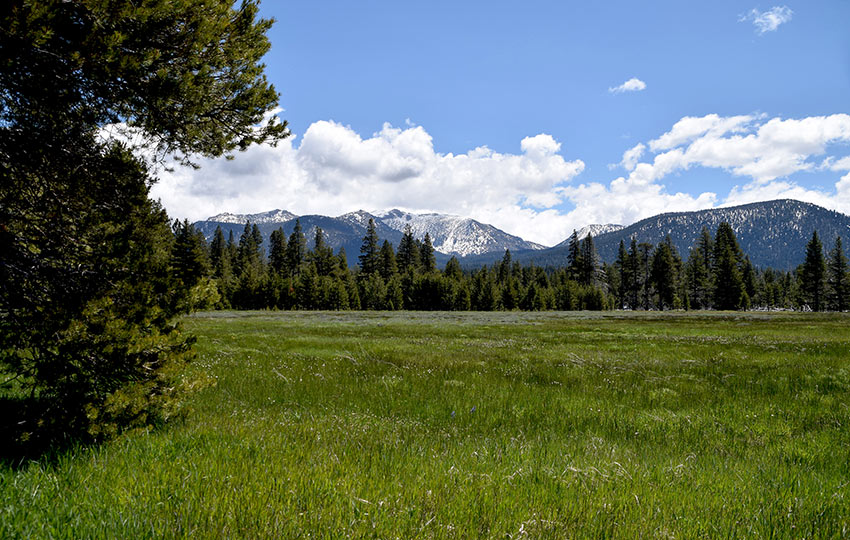 Washoe Meadows State Park is open year-round. Hike through the park during the warmer months and snowshoe and cross-country ski in the snowy ones. Angora Creek and the Upper Truckee River run through Washoe Meadows State Park. Therefore, much of the park's terrain is moist and home to many varieties of wildflowers throughout the spring and summer. Since there is so much water in and around Washoe Meadows State Park, it's a great location for birding.
The park offers sweeping views of Freel Peak, Mount Tallac, Angora Peak, and nearby Twin Peaks.
Hiking through the park is about as flat as it gets at Lake Tahoe. So, this location is perfect for young children and elderly adults.
---
Support Tahoe Trail Guide with a financial contribution via PayPal (single contribution) or Patreon (reoccurring contributions). Your support of Tahoe Trail Guide is very much appreciated!
Become a Patron!
---
Keep in mind that, since it's a meadow, large sections of the park can be submerged underwater. This can occur in early spring and summer, and is based on the previous winter's snowfall.
Interestingly, scenes for Top Gun 2: Maverick, starring Tom Cruise, were filmed in December 2018. See the map for this location, which happens to be near this route's turnaround point.
Washoe Meadows State Park Trail Data (approximations):
Location: South Tahoe – Meyers
Category of Hike: Short Hike, Day Hike
Total Mileage: 3 miles
Total Elevation Gain: 100 feet
Highest Point: 6,388 feet
Trail Conditions: Hard-packed sand, meadow (portions submerged underwater during wet months)
---
For other shorter hiking options, visit Short and Easy Hikes in South Lake Tahoe.
---
Considerations for Hiking Washoe Meadows State Park:
Parking at the gate is OK, but don't block the gate
Sections of the trail of Washoe Meadows State Park can be submerged underwater during wet months, especially during the spring
Dogs are not allowed in the park
Adhere to all Leave No Trace principles
There are few trail signs and markers on public lands in the Tahoe region, so unless there are tracks to follow, the correct route may be difficult to identify–when in doubt, turn back
Be prepared for inclement weather and carry plenty of warm clothes, food, and water
Leave an itinerary of your plans with someone who'll call emergency services if you don't return by your prescribed time
Parking Directions for the Washoe Meadows State Park Hiking Trail:
Park at the Forest Service gate located on the north side of the park. This gate is just off of Lake Tahoe Blvd 2.5 miles west of the "Y" intersection (HWY 50/SR 89) in South Lake Tahoe.
The gate is just beyond Tahoe Mountain Road and near the Lake Valley Fire District Station. Slow down once you reach Tahoe Mountain Road because the gate is easy to miss. It's in the trees and set back from the road about 100 meters.
The trailhead to the Washoe Meadows State Park is between Tahoe Mountain Road and the Lake Valley Fire District Station. It's tucked back in the trees on the south side of Lake Tahoe Boulevard.
Here's a map to assist you in finding the parking area for accessing Washoe Meadows State Park. Remember, the hike featured on this post begins on the northern end of the park.
Travel along the Washoe Meadow State Park Hiking Trail:
Begin your hike through Washoe Meadows State Park at the trailhead on Lake Tahoe Boulevard, between Tahoe Mountain Road and the Lake Valley Fire District Station.
This hiking trail is relatively straightforward compared to other similarly less traveled trails at Lake Tahoe.
It's easy to follow and generally comprised of a hard-packed sandy walkway occasionally lined with granite rocks. Just stick to the main thoroughfare and you'll easily make your way to the turnaround point while hiking alternatively in and out of meadows and forested areas.
Along the way you'll be able to read a handful of interpretive signs, cross a couple of foot bridges, and hopefully spot a wide variety of Sierra Nevada wildflowers and birds.
I can't emphasize enough, however, that this park is best saved for hiking during the heart of summer and fall.
There are some beautiful wooden bridges that will help to keep your feet dry. However, this park is a meadow and many of the lower portions of the trail can be completely submerged underwater during April, May, and even June. This all depends on how much snow Tahoe received the prior winter.
On this route, I have you arbitrarily turn around at the derelict wooden structure located 1.5 miles from the trailhead (set back in the trees). However, you could continue south exploring other sections of the park.
One example of an extended route through this park is to follow the same trail I feature on the Cross-Country Skiing at Washoe Meadows State Park blog.
The reason I recommend starting your adventure into Washoe Meadows State Park from the north is that the parking area on the north is about as "official" as you're going to get. Every other access point around the park is located on a small side street in a residential neighborhood.
Essentially, you'll be hard-pressed to find any real signs or indicators that you're about to enter an actual California State Park. This just makes getting lost a lot easier. So, again, I say just embark on your journey from the north side to keep things simple.
When Lake Tahoe experiences a big snow winter, Washoe Meadows State Park is an excellent place to cross-country ski or snowshoe. It's an ideal location for beginner cross-country skiers since the terrain is mostly flat.
Keep in mind that the snowpack definitely needs to be significant enough, because the park is located at lake level. This means that it's at the lowest point in the Lake Tahoe Basin and is slow to accumulate snow.
Read the aforementioned article for more specific information regarding cross-country skiing and snowshoeing through the park.
A footnote about Washoe Meadows State Park is that filming for Top Gun: Maverick occurred in the park December 7-11, 2018.
Tom Cruise was onsite and filming scenes for the long-anticipated sequel to the 1986 blockbuster, Top Gun. See the map above for the specific location in which the movie was being filmed.
Follow this link to an article I wrote about the experience, as well as over 20 photos I took of Tom Cruise.
---
For other shorter hiking options, visit Short and Easy Hikes in South Lake Tahoe.
---
For those of you who are interested, here is a poster available for purchase that I designed featuring an image taken in Washoe Meadows State Park on January 25, 2017. Click on the image of the poster to go see all of the types of prints available at my RedBubble. Thanks for your support!
---
Do you have other insight, feedback, or trail updates about hiking Washoe Meadows State Park?
If so, please post it in the comment section below for the benefit of everybody 🙂
---