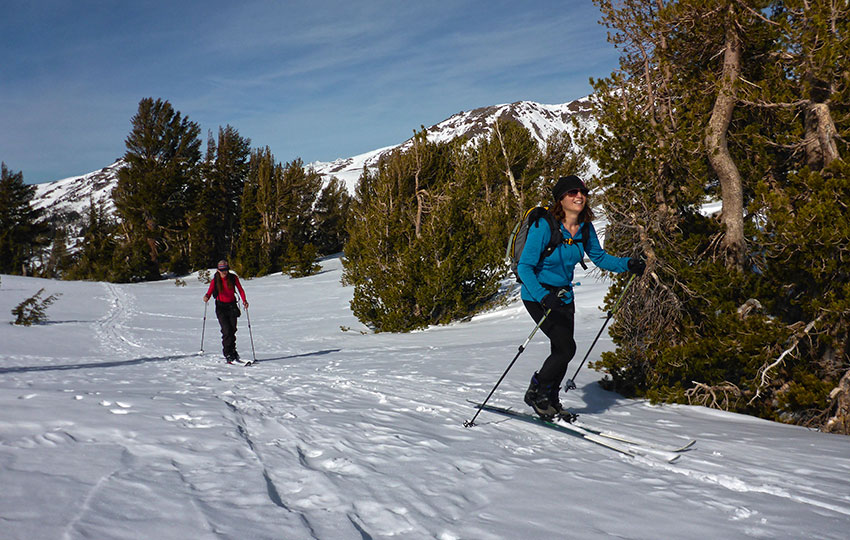 My grin morphed into a grimace the moment I saw the tips of my skis torpedo beneath a three-inch layer of wind-scoured crust and disappear. A split second later, the inevitable happened. My lower body came to a halt while my upper body continued to move. I pitched forward, landing face first in the snow.
My faceplant occurred about 1.5 miles into a 14-mile overnight cross country ski tour along the Pacific Crest Trail.
---
Support Tahoe Trail Guide with a financial contribution via PayPal (single contribution) or Patreon (reoccurring contributions). Your support of Tahoe Trail Guide is very much appreciated!

Become a Patron!
---
My plan was to ski seven miles north from Carson Pass, and then travel up and around the western ridge to Little Round Top. The following day I would ski south along the ridge, linking back up with the PCT and returning to Carson Pass.
I took a mental inventory of my body as I lay face down in the snow. Fortunately, the only thing that felt broken was my momentum. But at that moment I fully felt the weight of my backpack, which was pinning me down.
---
An audio Transcription of Backcountry Skiing on the Pacific Crest Trail (by yours truly!)
---
I tried to push myself up but my arms sank uselessly into the snow past their elbows. I thrashed about, churning the snow as if I were swimming in place. I took a moment to compose myself.
Then, gripping a ski pole mid-shaft and placing it on top of the snow, I gained enough purchase to push myself onto one side. After I kicked free my skis, I rolled up and onto them, becoming a small island floating on top of the snow.
After I got back on my skis I continued downhill, albeit, in a much more conservative manner and with colder hands.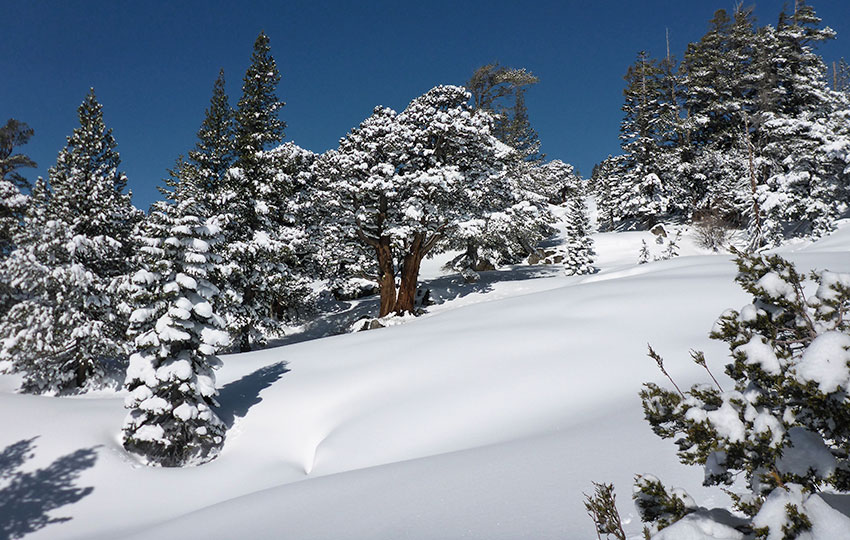 I didn't truly embrace snow sports until a few years ago. Surprising for a 44-year-old Upper Midwesterner of Finnish stock who's lived at Lake Tahoe since 2005.
I've always preferred winter over the other seasons. But my love of winter stems from the inherent struggle of traveling and operating in snow. I prefer to venture off the beaten path and far away from the crowds. So as much as I've enjoyed riding chairlifts and shredding the groomers, this approach to adventure isn't really in line with who I am.
I find stories such as To Build a Fire and Ordeal by Hunger to be relaxing bedtime reading. So you probably wouldn't be too far off the mark in believing that I've watched The Shining one too many times.
Once the terrain leveled off near the south end of Meiss Meadow, I was pleasantly surprised to find a packed trail contouring the base of the western ridge. I skied along this trail for about a mile before deciding to branch off.
As excited as I was to finally be making the trek across Meiss Meadow, I was concerned about the time and energy it was going to take to break my own trail. The beaten path along the ridge looked more appealing because I didn't seem to be on pace to reach Little Round Top before sunset.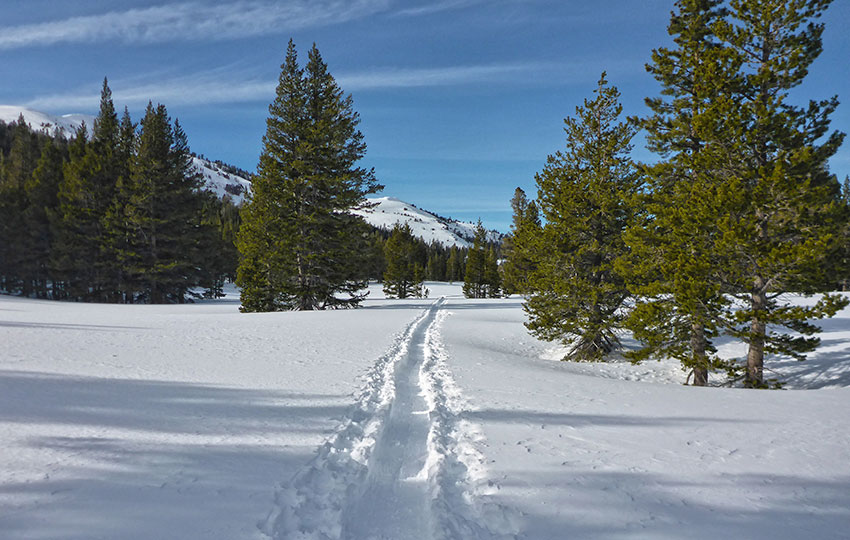 However, cross country skiing across Meiss Meadow had been a dream of mine for a couple years. So I took some deep breaths and just got to it. A mile and a half later I reached the other side, exhausted but exhilarated.
Unfortunately, waiting for me on the other side was another time suck.
As I traveled uphill and through the trees toward Showers Lake, snow began to cling to my skis — quite aggressively.
Although it was the end of January, the sun had baked the snow all day, transforming it from a dry and powdery substance into something akin to sticky mashed potatoes. Massive clumps of snow enrobed my skis. All I could do was carry on, shambling through the forest like a zombie.
An hour later the sun passed beyond the ridge, casting a shadow across my route and turning the slush to ice.
At that point I acknowledged that reaching Little Round Top on time was no longer a reality, so I decided to cut my losses.
It's always difficult missing my mark, especially when sunsets and sunrises are on the line. However, when traveling in the backcountry, especially alone and during the winter, risks seldom outweigh rewards.
I proceeded cautiously toward an alternate campsite.
At 5:30 p.m., I stopped about a mile below the summit. Without ceremony, I set up shop, ate dinner, and then crawled into bed. I awoke alert and refreshed. Hoping the sunrise wouldn't be too long in arriving, I checked the time. My watch read 10:30 p.m. At least I was warm.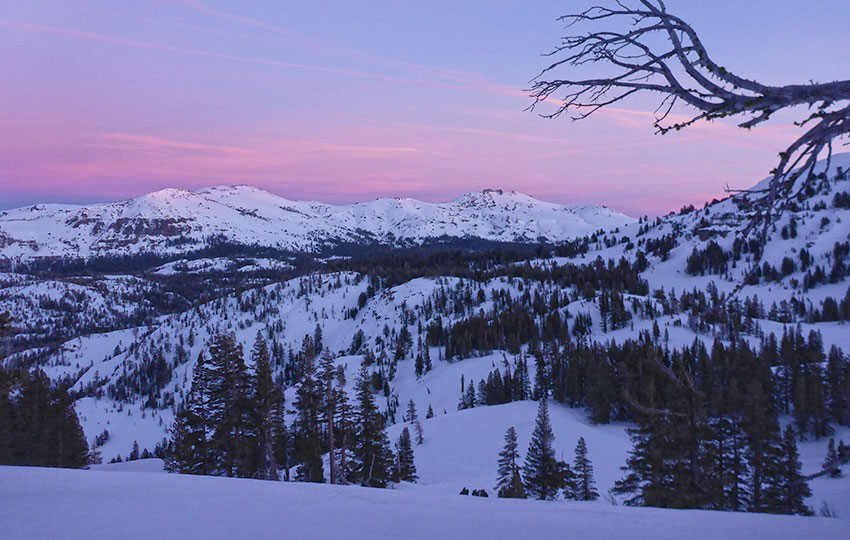 Despite lying awake for most of the night, I was unable to break camp earlier than 7:15 a.m. So, I wound up chasing the sunrise all the way to Little Round Top.
Once I gained the ridge, I faced high winds and alternating sections of drift snow, patches of ice and exposed rock. But overall, the weather was favorable, the views were remarkable and the route was obvious.
The only challenge in returning to Carson Pass was having to toggle between skis and ski boots (with foot traction devices) on the ridge to negotiate the variable snow conditions. I took my time and arrived safely at my vehicle by 1 p.m.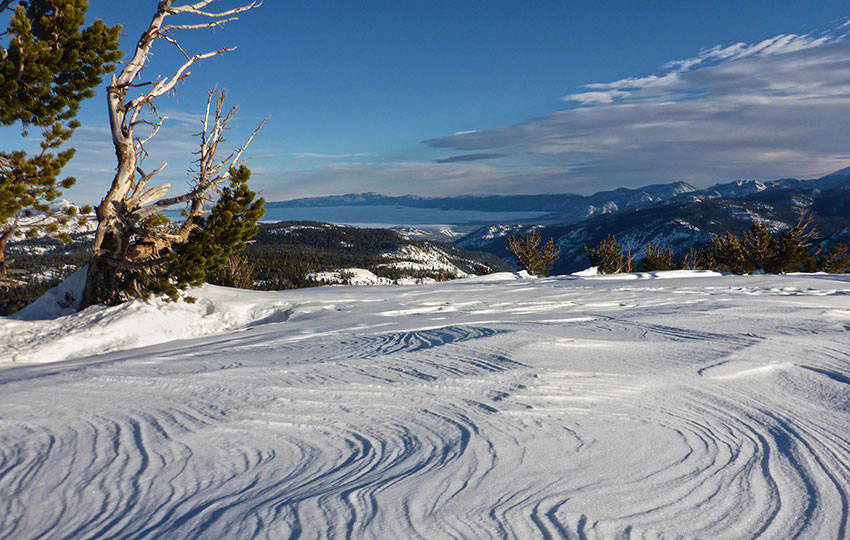 I've always been an overachiever, or glutton for punishment depending on your viewpoint. However, this approach to life has enabled me to accomplish goals many people might not consider.
I've thru-hiked the Appalachian Trail, run marathons and bicycled across some states. Along the way, I've self-published illustrated books and earned some educational degrees and certificates.
Clearly, none of these accomplishments, individually or collectively, are out of the realm of possibility for anyone to achieve. I mention them simply to illustrate my preference for engaging in solitary endeavors based on endurance and perseverance.
Not surprisingly, at the heart of cross country skiing (and winter travel in general) is this consistent and repetitive approach to making incremental gains in pursuit of a much larger goal.
Why it took me so long to embrace cross country skiing, snowshoeing, and ski touring as the winter counterparts to hiking and backpacking I cannot answer. I suspect the reason has to do with my lack of awareness of the art.
For so many years I've primarily seen alpine skiing at groomed resorts being promoted as the quintessential American winter pastime. In one respect I can understand why someone would opt only to ski at resorts. They have dedicated parking, and it's hard to argue with those logistics.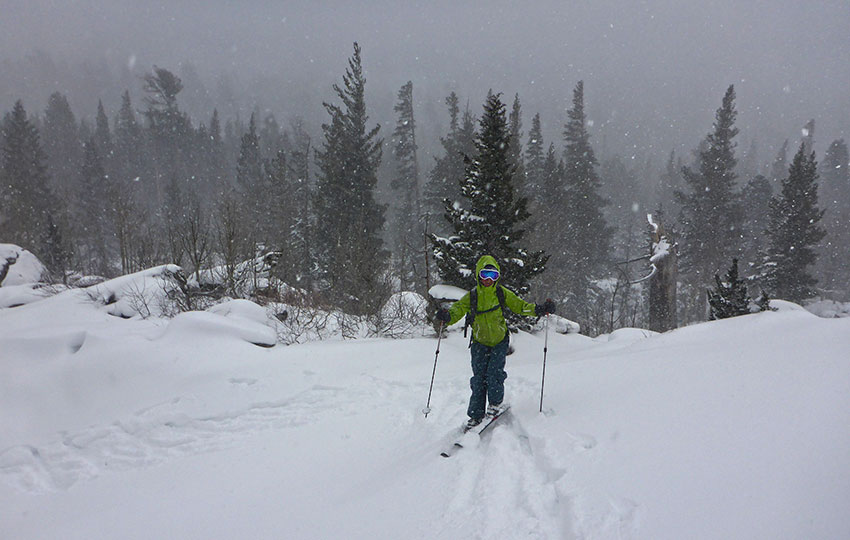 Access (i.e. parking) to remote terrain during snowy months in mountainous areas can be the most problematic element to having a winter adventure. This is unfortunate for those of us seeking a solitary backcountry experience.
Fortunately, cross country skiing, snowshoeing and winter camping are alive and well in the heart of the Sierra and elsewhere along the PCT.
Probably the biggest contributor to this is that the three main trailheads to the Pacific Crest Trail in the region (i.e. Carson Pass, Echo Summit, and Donner Summit) become dedicated Sno-Parks in the winter. These parking areas provide easy and affordable ($25 annual pass) access to remote terrain and the beauty of the PCT.
So, many of my winter adventures simply involve skiing a few miles from a trailhead, finding a hill in which to make some downhill turns, and then calling it a day.
The fact is you don't have to travel far to have a remote backcountry experience on the PCT during the winter because most people are too busy being stuck in the lift lines at ski resorts.
Disclaimer
No matter your background or skills, winter travel is challenging and hazardous. Snow is unpredictable. Everything takes longer and requires more effort.
How are your map-reading and orientation skills?
If you're just getting started, I recommend first researching gear, practicing your technique and understanding/studying snow conditions and avalanche dangers. Perhaps take a class or two. Don't just grab your grandpa's old cross country skis from the shed or pick up a used set of gear at a local ski swap and then go out to tackle the most challenging terrain you can find.
The techniques behind effectively running cross country skis and traveling safely in avalanche territory are deceptively complex. The more proficient you become the more prepared you'll be when it matters most.
---
This essay was originally published in Pacific Crest Trail Communicator Magazine by the Pacific Crest Trail Association (Spring 2019)
The paragraphs of this version have been broken up into smaller paragraphs (for SEO purposes), but the content is identical as the original publication.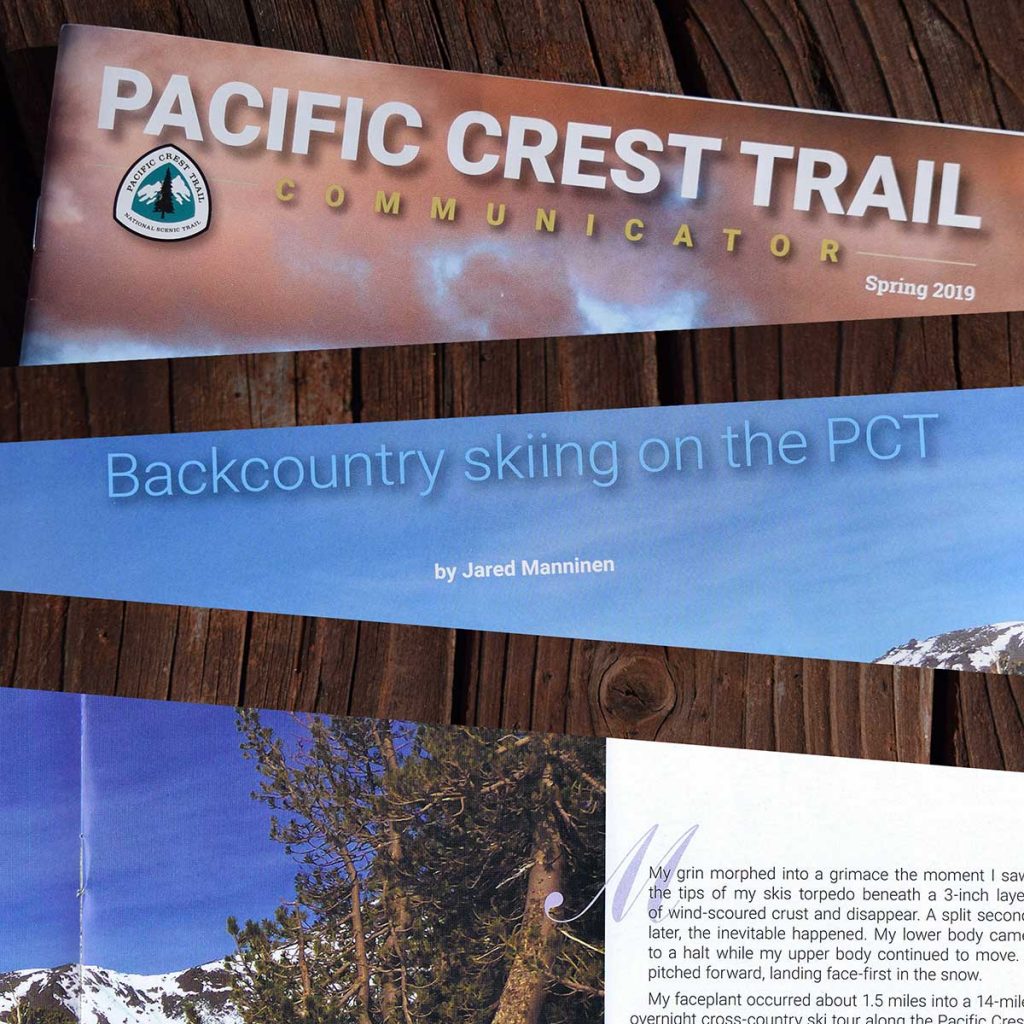 Related Articles to Backcountry Skiing on the PCT