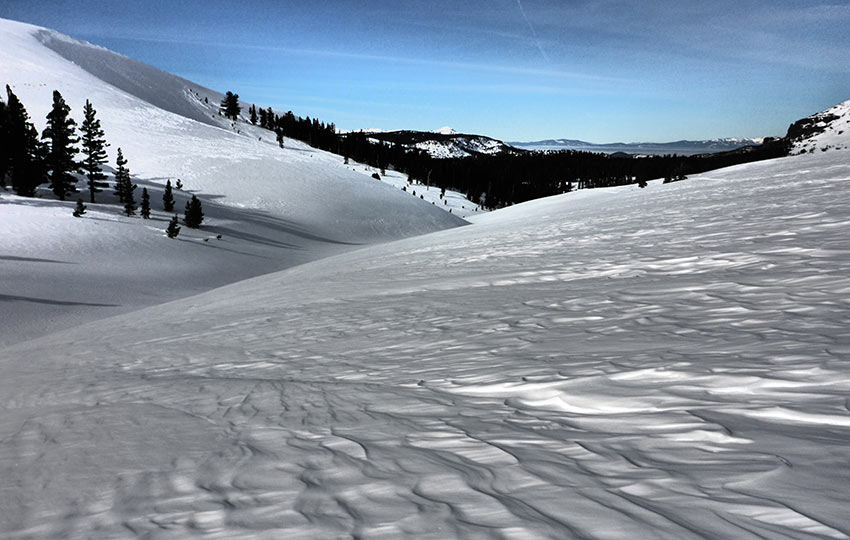 Last Updated on by Jared Manninen - Tahoe Trail Guide
Winter at Lake Tahoe is great for choose-your-own type adventures in the backcountry. There are additional considerations to take into account during winter travel. However, your options are plentiful if the snowpack is stable, you know your gear and its capabilities, and you are willing to embrace your inner pioneer spirit.
For this article I outline my overnight cross-country ski tour beginning at Carson Pass (north lot), traveling northwest along the Pacific Crest Trail/Tahoe Rim Trail through Meiss Country, spending the night north of Showers Lake, then climbing up to Little Round Top, and finally making my way southeast back to Carson Pass via the ridgeline.
Little Round Top Trail Data (approximations):
Location: South Tahoe – Carson Pass
Total Mileage: 14 miles
Total Elevation Gain: 3,000 feet
Highest Point: 9,590 feet (Little Round Top)
Trail Conditions: Variable conditions ranging from deep, untracked powder to wind-scoured and icy snow
Considerations for Cross-Country Skiing to Little Round Top:
A Sno-Park permit is required to park in both Carson Pass parking lots
There's no easy way out of the backcountry once you pass the threshold of the southern ridgeline of this route (where the trail turns orange near the bottom of the Day 1 map)
Know your limits on this one since there is such variable terrain and so many opportunities for error, especially if you get caught in a snowstorm
Adhere to all Leave No Trace principles
There are few trail signs and markers on public lands in the Tahoe region, so unless there are tracks to follow, the correct route may be difficult to identify–when in doubt, turn back
Be prepared for inclement weather and carry plenty of warm clothes, food, and water
Leave an itinerary of your plans with someone who'll call emergency services if you don't return by your prescribed time
Dogs are allowed, but keep them on leash and pick up after them
Parking for Cross-Country Skiing to Little Round Top:
Park at the Sno-Park at the top of Carson Pass (north lot) on State Route 88. You can also park at the south lot, but be particularly careful crossing SR 88 as there are some blind corners and the highway host a lot of traffic. You will need a Sno-Park permit ($5/day, $25/season). The permits can be purchased in Meyers or South Lake Tahoe (not at the actual Sno-Park) and they will save you the $100 ticket if you park without a permit.
Here's a map to assist you in finding the parking area for Carson Pass.
For a couple of winters I've wanted to cross-country ski through the high meadow in Meiss country north of Carson Pass along the Pacific Crest Trail/Tahoe Rim Trail. This swath of land is only a few miles long, but it sits directly between Red Lake Peak and Stevens Peak on the eastern side and Little Round Top and its continuous ridgeline along the western border. I also wanted to xc ski up to Little Round Top mountain because the tail end of a now defunct cross-country ski race called the Echo to Kirkwood race used to travel near this mountain.
For the majority of January (2017), however, the snowpack in the Sierra Nevada Mountains was highly unstable due to the massive amounts of fresh powder we received during a long continuous stretch of time. Essentially, the snow kept falling and never had a chance to properly set or stabilize. Fortunately, by the end of the month the Sierra Avalanche Center classified the avalanche danger "low" on all aspects of the mountains. The forecast was also favorable, calling for freezing temperatures at night but clear skies.
On January 30th, 2017, I grabbed my gear, drove to the parking lot on the north side of Carson Pass (Sno-Park permit required), and hit the trail for an overnight cross-country skiing adventure.
I followed, albeit loosely, the Pacific Crest Trail for approximately seven miles, setting up camp a couple miles north of Showers Lake. I knew by taking this route it would be a gamble to make it to the summit of Little Round Top on that first day, but it was the most logical and safest option.
Whenever I travel in the backcountry, particularly during the winter, I start by considering worst case scenarios. These scenarios compel me to identify routes in which I can evacuate the backcountry as quickly and safely as possible. Like in the movie Ronin where Robert Dinero's character says, "I never walk into a place I don't know how to walk out of," I want to know what my options are for exiting the backcountry when shit goes sideways. And to hammer the point home I conjure another priceless Dinero line, this one from the movie Heat, in which he says, "Don't let yourself get attached to anything you are not willing to walk out on in 30 seconds flat if you feel the heat around the corner."
Basically, if you are not willing to make the hard call to turn back, abandon your adventure, or drastically modify your plans because of unforeseen circumstances, poor route planning, impending bad weather, mishaps, accidents, or emergencies, you have no business being in the backcountry. Always remember that the summit is optional, but the descent is mandatory.
Since I knew this stretch of the Pacific Crest Trail/Tahoe Rim Trail fairly well, I identified multiple exit routes in case of emergency. Although none of the options would've been easy to execute due to the snow and distance that I would have had to negotiate, I at least had options. My evacuation routes were to:
ski directly back to the car
head to the Big Meadows parking lot on the north side of Luther Pass via the Tahoe Rim Trail
make my way past Round Lake and down the Lake Valley Trail to South Upper Truckee Road
or, just continue all the way to Echo Summit
In addition to having options for leaving the backcountry, by traveling first through the meadow, there were a number of safer camping options of which I could choose if I couldn't make the miles by sunset. In contrast, had I skied directly to Little Round Top via its continuous ridgeline, I would've been entirely exposed throughout the day and night. Not knowing what to expect, I chose to attack the ridge at sunrise and allow myself plenty of daylight in which to negotiate the new (to me) terrain safely.
Lastly, by following the Pacific Crest Trail north I would be breaking trail through the meadow (where I assumed the snow would be deeper and slower going) with the sun at my back allowing me to protect my face and eyes from prolonged exposure to it and its glare off of the snow. Although I traveled south and directly into the sun while traversing the ridge the following day, it was early enough that the sun was not as intense and it reflected at a lower angle limiting the exposure to my face.
I used an Outdoor Research Alpine Bivy and a Sierra Designs Mobile Mummy sleeping bag, and laid on top of a Therm-a-Rest Z Lite closed cell foam mattress pad. I don't know the actual overnight temperature, but it felt like the high single digits or low teens (Fahrenheit). It really didn't matter, though, because I was warm all night.
On my way up to the ridge the following morning, I used Fischer EZ-Skins with my S-Bound 112 backcountry cross-country skis. These skins are not nearly as aggressive as the full length skins you would use on alpine touring or Telemark skis. However, they definitely made the ascent up the ridge more manageable and prevented me from skidding across the wind scoured and sun baked snow once I began to traverse the upper terrain.
I also carried with me a set of Kahtoola Microspikes just in case. And believe me, I wore them instead of my skis on some sections of the ridge. There was a lot of ice on top and, when I travel alone, I mitigate risk factors whenever possible.
The only real issue I had on the trip was the fact I arrived at the trailhead an hour too late. This was poor execution on my part because I had actually planned to leave my house at noon, but did not start driving until 1pm. Thanks to losing that one little hour, I arrived at my alternate campsite just after sunset. I was not confident about pushing on further from that point because I would have been venturing into uncharted territory at higher elevations at night.
Ultimately, the trip was a blast! Cross-country skiing through that high meadow was as rewarding (and exhausting!) as I had hoped. Throughout the 24 hour adventure I was treated to an incredible sunset and sunrise, pristine views of Desolation Wilderness, Lake Tahoe bathed in fog, and snow-covered mountain ranges as far as the eye could see.
Also, I bore witness to a red-tailed hawk having way too much fun riding the thermals. For ten minutes I watched as it created a graceful sine wave trajectory by dive bombing in a full tuck, arcing upward while flapping its wings a couple of times, then returning to a full tuck as it ascended to the heavens.