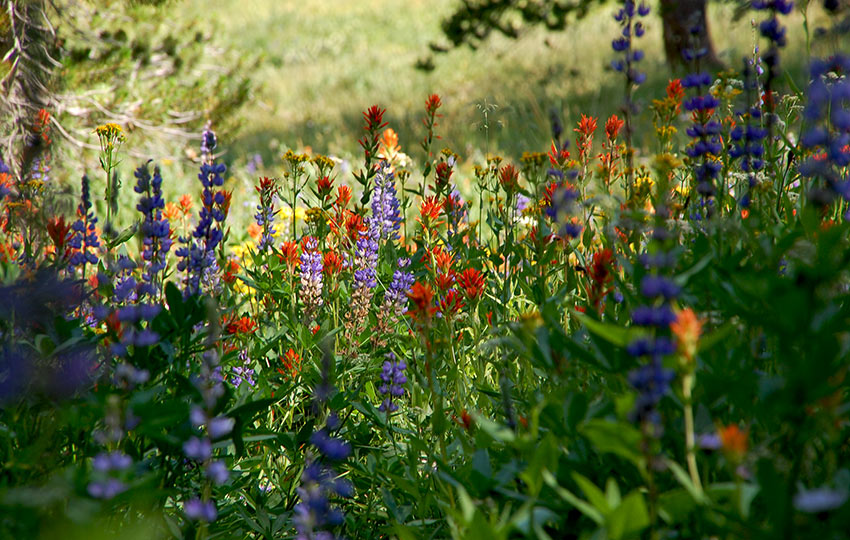 The United States is obviously composed of multiple climates. And, spring weather manifests at various times around the country. But May is usually the month that most Americans expect to see blooming flowers. This is evidenced by our repeated use of the old English proverb April showers bring May flowers.
The Sierra Nevada Mountains at Lake Tahoe, on the other hand, doesn't necessarily follow this adage. Our bloom season for wildflowers is more unpredictable than most US locations.
Simply put, Sierra Nevada wildflowers bloom within specific elevation ranges at specific times of the year.
For example, a wildflower that thrives in a wet environment (i.e. meadow) probably won't bloom in August. That is, it probably won't bloom in August at lower elevation meadows. Why? Because by the late summer, most of those meadows are dry. This is a result of the snowmelt and runoff from the previous winter having ceased. That said, you may still find that same variety of wildflower blooming at a higher elevation. Again, though, this is if the previous winter yielded a lot of snow.
---
Support Tahoe Trail Guide with a financial contribution via PayPal (single contribution) or Patreon (reoccurring contributions). Your support of Tahoe Trail Guide is very much appreciated!
Become a Patron!
---
Two primary factors (that go hand-in-hand) in determining ideal bloom times for Sierra Nevada wildflowers at Lake Tahoe are:
the range in elevation of the Lake Tahoe Basin
the previous winter's snowpack
Range in Elevation of the Lake Tahoe Basin
The lowest point in the Lake Tahoe Basin is the lake itself at 6,229 feet. And, the highest point is Freel Peak at 10,881 feet. Doing the math show us that there's about 4,650 feet of elevation difference between those two points. So, this dramatic difference yields varying wildflower species and bloom times throughout the basin.
There are many species of wildflowers that grow at nearly any elevation in Tahoe. Woolly Mule's Ears comes to mind as it often can be found growing at high and low elevations. However, many wildflowers (especially unique ones) have a very specific elevation range at which they'll flourish. Or, a wildflower may have multiple sub-species. And, each will have their own growing (elevation) range. In this latter example, I'm thinking of the Lupine genus. There are numerous sub-species of Lupine at Lake Tahoe. And, many seem to prefer one elevation over another.
If you're looking for a specific Sierra Nevada wildflower, definitely consult current reference books. They list the elevation ranges, climates, and time of year at which a given wildflower will reach its peak bloom.
Previous Winter's Snowpack
When looking for specific wildflowers or fields of wildflowers in full bloom, the most important factor to consider is the previous winter's snowpack.
Big Snow Years
The first reason is that the snowpack level determines the soil's moisture content. A normal winter will produce wildflowers on track with what reference books list as their peak bloom times.
However, big snow winters and "normal" winters followed by cool spring temperatures can shift the bloom season by 1-2 months.
So when the previous winter yielded a large snowpack, the ground at lake level can be saturated well into June. This is particularly evident in meadows such as Cathedral Meadows or Washoe Meadows State Park. Both of those meadows are located at lake level on the south shore of Lake Tahoe.
Depending on the specific area in which you're traveling, you could find yourself hiking through ankle-deep water following a big snowy winter. This, at at a time where other places across the country are experiencing summer-like conditions.
But by July (even after big winters) the ground at lower elevations will probably be dry and show signs of summer. At the same time, the higher elevations will most likely still be holding multiple feet of snow.
Putting into Context a Big Snow Year
The winter of 2016/17 brought massive amounts of snow to the Lake Tahoe region. For example, the Squaw Valley/Alpine Meadows Ski Resorts (west Tahoe) reported a season total of 720 inches of snow. And Mount Rose Ski Resort (northeast side of Tahoe) reported a total of 768 inches of snow for the season!
Not surprisingly, the trail to Winnemucca Lake, at Carson Pass (south Tahoe) which sits at just over 9,000 feet was still mostly covered in snow by July of 2017. I mention the Winnemucca Lake trail because it's a favorite among Sierra Nevada wildflower enthusiasts. This is due to the diverse soil and terrain found in the area.
Even Lake Aloha, which is at 8,116 feet (Desolation Wilderness), was still covered with snow on July 8, 2017.
Lastly, to provide more context for how crazy things can be here at Lake Tahoe … the Squaw Valley/Alpine Meadows Ski Resorts officially concluded their 2016/17 ski season on July 15th! Keep in mind, though, that even after big snow winters most Tahoe ski resorts do close in mid-April. This is because the ski resorts start to experience diminishing returns. They may still have plenty of snow with which to operate, but the customers aren't around anymore. So, just because the ski resorts may be closed doesn't mean that there's not tons of snow in the backcountry.
Low Snow Years
Following low snow and drought winters, you can usually find dry trails at lower elevations by April (below 8,000 feet). And, you'll often see wildflowers blooming by May.
In those same dry years, you might even be able to hike as early as March. However, don't expect to see any wildflowers at that point. During a dry year, the peak bloom season may shift ahead by a month or more. And, due to the lack of moisture in those dry years the wildflowers may peak for only a few days. For example, those wildflowers may only peak for a fraction of their normal bloom time.
Many visitors to Tahoe often miss out on peak bloom times during low snow years. This is because many of those wildflowers bloom before people even begin their summer vacations.
Parting Thoughts About Peak Bloom Times for Lake Tahoe Wildflowers
Again, the most important factor to consider when seeking Sierra Nevada wildflowers is the previous winter's snowpack. So, perform research before arriving at Tahoe from locations closer to sea level. This is because it can be very deceptive to know just how much snow is still present at higher elevations.
Consider the time of year in which you're visiting Lake Tahoe. Then, determine what the current snowpack level is in order to best choose where to hike.
---
Read my other article about tips for finding Lake Tahoe wildflowers for more information.
---
Resources for Finding Lake Tahoe Wildflowers
Check out the Lake Tahoe Basin Management Unit. The LTBMU is a division of the US Forest Service that manages the wildlands immediately surrounding Lake Tahoe. Their website provides information about Tahoe-related outdoor activities. If they don't have the answer, they're great about pointing you in the right direction.
I also recommend checking with the Tahoe Rim Trail Association. The TRTA offers classes and other information regarding hiking and backpacking at Tahoe. And, they'll often offer wildflower-specific hikes.
After that, I would look at some of the Tahoe news and information websites such as:
All of those sites feature some sort of wildflower-related articles at the beginning of each summer.
The four books I typically use to identify Sierra Nevada wildflowers are:
I also like to reference small pocket guides such as these. They're limited as to what they provide for identification. However, they tend to feature a surprise or two. And, purchasing them often goes toward supporting smaller-sized nature and ecologically based organizations.
Best Wildflower Hikes of Lake Tahoe
Please note that this is an abridged list. I'll eventually publish a dedicated article detailing the best wildflower hikes of Lake Tahoe. In the meantime, here's a good start (those without a link are articles I've yet to write):
Paige Meadows
Watson Lake
Freel Meadows
---
Read my other article about tips for finding Lake Tahoe wildflowers for more information.
---