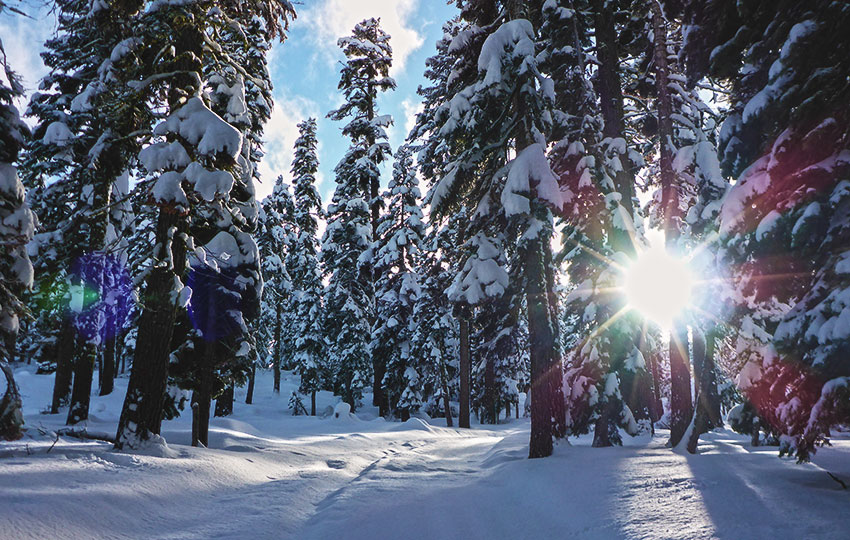 When most people cross-country ski or snowshoe from the Echo Lake Sno-Park, they'll automatically head toward Echo Lakes. There's another option, however, if you're in the mood to change things up and willing to travel off the beaten path. Although this alternative option doesn't reward you with views looking into Desolation Wilderness like you would find on the route to Echo Lakes, it's similarly fun, about the same distance, and is often a lot less traveled and tracked out. This Echo Summit alternative is to cross-country ski or snowshoe south about a mile along Forest Service Road 1104 to HWY 50 through the Echo Summit Recreation Residence Tract. I totally understand if you're skeptical about this choice and the fact that it doesn't sound very sexy. However, if you're looking for a quick winter adventure and you time it right (during or soon after a snowstorm), traveling along Echo Summit along this route can feel like touring through an isolated winter landscape, but knowing you're never too far from the safety of civilization.
Trail Data (approximations):
Location: South Tahoe – Meyers – Echo Summit
Category of Hike: Day Hike, Family Fun Hike
Total Mileage: 2.5 miles
Total Elevation Gain: 250 feet
Highest Point: 7,500 feet
Trail Condition: Variable conditions ranging from deep and untracked powder to tracked out and crusty snow
Considerations:
Purchase a Sno-Park permit in town because you can't buy one at the actual Echo Lake Sno-Park
Do not go in, on, or near any of the private structures in the Echo Summit Recreation Residence Tract
Adhere to all Leave No Trace principles
There are few trail signs and markers on public lands in the Tahoe region, so unless there are tracks to follow, the correct route may be difficult to identify–when in doubt, turn back
Be prepared for inclement weather and carry plenty of warm clothes, food, and water
Leave an itinerary of your plans with someone who'll call emergency services if you don't return by your prescribed time
Dogs are allowed, but keep them on leash and pick up after them
Parking:
Parking in order to cross-country ski or snowshoe along Forest Service Road 1104 is located at the Echo Lake Sno-Park (Sno-Park permit required). This Sno-Park is located on Johnson Pass Road, off of HWY 50 on Echo Summit. During winter months, Johnson Pass Road is only accessible from HWY 50 on the west side of Echo Summit.
Please note that during big snow years or right after a significant snowstorm, Johnson Pass Road is often reduced to a single lane and can be rutted out and bumpy from the excessive snow. If this is the case, you should consider using a vehicle equipped with all-wheel drive or 4-wheel drive and plenty of road clearance.
The cross-country ski/snowshoe route on Echo Summit via Forest Service Road 1104 begins at the Echo Lake Sno-Park.
Here's a map to help you find the Echo Lake Sno-Park.
Travel:
Begin your adventure on Echo Summit at the Echo Lake Sno-Park located on Johnson Pass Road.
From the Echo Lake Sno-Park, head further east (take a right out of the parking lot) on Johnson Pass Road. You'll travel a very short distance before reaching a less obvious road that heads south (to the right). There is a Forest Service sign indicating "1104," but it can be buried when deep snow is present.
Before heading south along Forest Service Road 1104, however, travel the super short distance to the parking lot of the Echo Summit Lodge of the California Alpine Club (CAC). This parking lot essentially is part of Johnson Pass Road and is often plowed and accessible. That said, it's not available or permitted to park in this lot (use the Echo Lake Sno-Park). The reason I recommend traveling to this point is because it provides an exceptional vantage point from which to look into the south shore of the Lake Tahoe Basin. Once you've snapped a few photos from this location, head back up Johnson Pass Road to Forest Service Road 1104.
Once you begin your adventure along Forest Service Road 1104, I recommend sticking to it for the remainder of the way. The road should be fairly obvious as it'll be the open swath of terrain among the trees. And although the road provides access to the private structures located in the Echo Summit Recreation Residence Tract, resist all temptation to travel near, on, or around any of those cabins. Just to reiterate, you wouldn't want strangers nosing around your house while you were away so show the same respect for the private structures on Echo Summit by leaving them alone.
As you make your way south and get close to the turnaround point (at about 1.25 miles, including the side trip near the California Alpine Club's lodge) you'll reach an area on the north side of the Caltrans Station. In this area is located a tall measuring stick used for documenting the accumulation of snow (see the map above for its general location). The photo in the link was taken on December 5, 2018, which was pretty early in the season all things considered. But it was inspiring to see that we had already received at least two feet of snow at that point.
After checking the snowfall, reconnect with Forest Service Road 1104 and continue to travel to the southernmost point of this short route. When you're ready to head back to the Sno-Park, return along the same route in which you arrived.
Because this cross-country ski and snowshoe route is relatively short, I usually save it for days where it's either storming or just finishing a storm. Again, it's not the sexiest of places to travel, but when it's storming and every tree in the forest is snow-flocked it's as good as any route of the same distance. And, you don't have to worry about getting lost or getting fined for parking on side of the road while snow removal operations are in effect (because the Sno-Park is open no matter what). One last note … occasionally I use this route from the Echo Lake Sno-Park as the beginning section of a longer trip south along the Pacific Crest Trail/Tahoe Rim Trail. Although, in order to travel farther you'll have to cross HWY 50 and then ski outside of the boundaries of Adventure Mountain (south side of Echo Summit). So exercise extreme caution when crossing HWY 50 and respect the nature of Adventure Mountain's business (i.e. travel higher up the hillside in order to stay out of their area). I will cover this extended option in a future article.