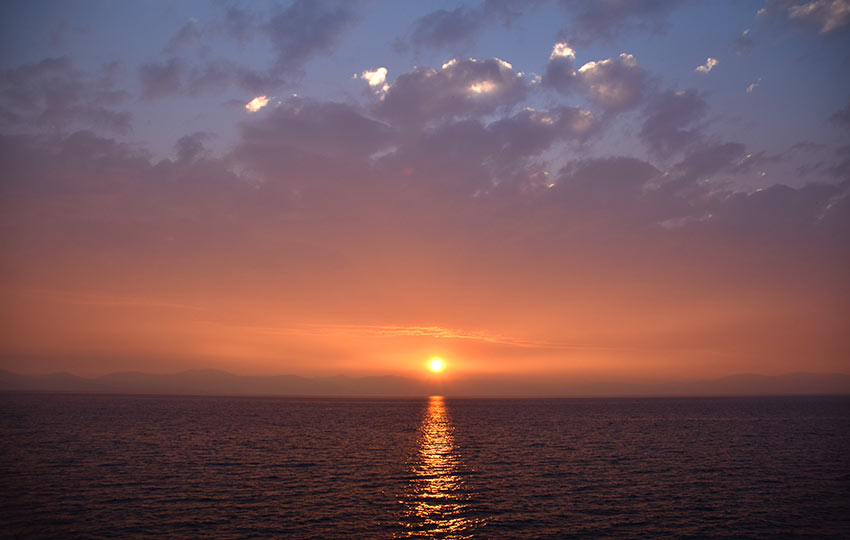 From the Logan Shoals Vista Point on the east shore of Lake Tahoe, you're afforded unobstructed, panoramic views looking west across the lake. Therefore, Logan Shoals makes for a perfect place in which to view sunsets at Lake Tahoe.
Also, parking for the Logan Shoals Vista Point is free and located directly off of HWY 50. This makes access to the vista point and the short hike below it quick and easy.
---
Support Tahoe Trail Guide with a financial contribution via PayPal (single contribution) or Patreon (reoccurring contributions). Your support of Tahoe Trail Guide is very much appreciated!

Become a Patron!
---
As beautiful as Logan Shoals is, however, I wouldn't plan my entire day around hiking there. The reason being is that the trek below the vista point is quite short at only about two total miles.
Realistically, most people just stop to take photos from one of the easily accessible vantage points at Logan Shoals. For example, I often plan a quick stop here when returning from Carson City. I'll time my trip "off the hill" so that I'm passing through the Logan Shoals area right around sunset.
That said, I'd definitely schedule a stop at Logan Shoals on your next trip along the east shore. And make the effort to hike down to the water's edge. The short hiking trail is worth exploring since so few people actually make the effort to hike down to it.
Logan Shoals Vista and Hiking Trail Data (approximations):
Location: East Tahoe – HWY 50
Category of Hike: Short Hike
Total Mileage: 2 miles (out-and-back)
Total Elevation Gain: 175 feet
Highest Point: 6,420 feet (parking area)
Trail Conditions: Paved walkway and packed dirt
---
For more short hiking options, visit Short and Easy Hikes in South Lake Tahoe.
---
Considerations for Hiking Logan Shoals Vista and Trail:
Be careful when maneuvering around rocks and boulders (especially those that are covered with sand) if you elect to walk beyond the paved path
Don't block the service road gate
Park so as to maximize all available spaces (i.e. don't parallel park in the widest section of the parking area)
Adhere to all Leave No Trace principles
There are few trail signs and markers on public lands in the Tahoe region, so unless there are tracks to follow, the correct route may be difficult to identify–when in doubt, turn back
Be prepared for inclement weather and carry plenty of warm clothes, food, and water
Leave an itinerary of your plans with someone who'll call emergency services if you don't return by your prescribed time
Dogs are allowed, but keep them on leash and pick up after them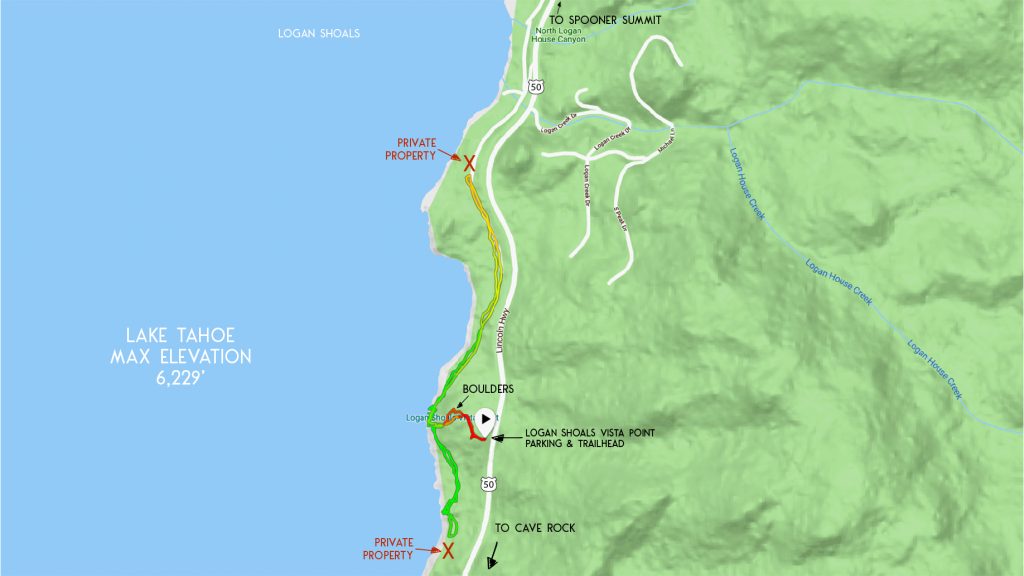 Parking Directions for Logan Shoals Vista:
Look for a relatively wide pullout on the east shore of Lake Tahoe just north of Cave Rock. That is to say that the pullout is located on the "lake side" of HWY 50, and it features a sign indicating Logan Shoals Vista Point.
As you might expect, this is where you'll park.
The only considerations when parking at the Logan Shoals Vista Point are … don't block the service road gate and don't parallel park.
The parking area is wide enough to park nearly perpendicular to HWY 50 without fear of obstructing highway traffic. So, most people park angled and as close to the next vehicle as possible to maximize the parking area. This pullout does taper off at either end, so park according to the actual space available.
Here's a map to help you find the Logan Shoals Vista Point.
Travel around Logan Shoals Vista and Hiking Trail:
There are multiple vantage points from which to see across Lake Tahoe from the Logan Shoals Vista Point. For example, I'm fond of the one featuring the mountain range infographic. It's cool to identify the visible mountain peaks located across the lake (on the west shore) using that graphic.
The paved walkway at Logan Shoals Vista continues a little further to a rock outcropping. From here, you can also catch amazing panoramic views of Lake Tahoe. Just walk past the public toilets to a circular-shaped resting area with three stone benches. Then, find the footpath on the north side of that circular area. It leads up to the highest point among large granite boulders.
As always, exercise care when maneuvering around boulders.
Certainly, be mindful if you're climbing around the boulders and using your phone as your camera. Once I was photographing the sunset from Logan Shoals, and a man near me set his camera down on top of the boulder on which he sat. Seconds later, the camera slid down the rock and fell into a crack no wider than two inches. I suspect that camera is still trapped in that crack to this day.
The short hiking trail below the vista point also begins at the circular-shaped rest area. Instead of taking the footpath that leads to those large granite boulders, however, hike down toward the lake. This little footpath is just down the hill from that circle-shaped area.
You'll descend approximately 175 feet. Then, you'll find yourself on a relatively flat and wide trail that travels in either direction of the vista point.
This trail is most likely the remnant of the original road around the east shore of Lake Tahoe. There are tons of historical photographs of Lake Tahoe in existence. Look around and you'll most likely find one that features the road around Cave Rock. I believe this to be part of that same road.
There's no right or wrong answer with regard to which direction you travel from this point. The total distance along the path is a mile or less. Regardless of which direction you take, you're going to run into private property on either side.
Honestly, the best views of Tahoe from this path are at points closest to where you came down the hill. At least that's my opinion, anyway.
The only place to safely navigate down to the actual lake is located a few hundred meters to the south. Otherwise, you're mostly going to be overlooking the lake from this trail.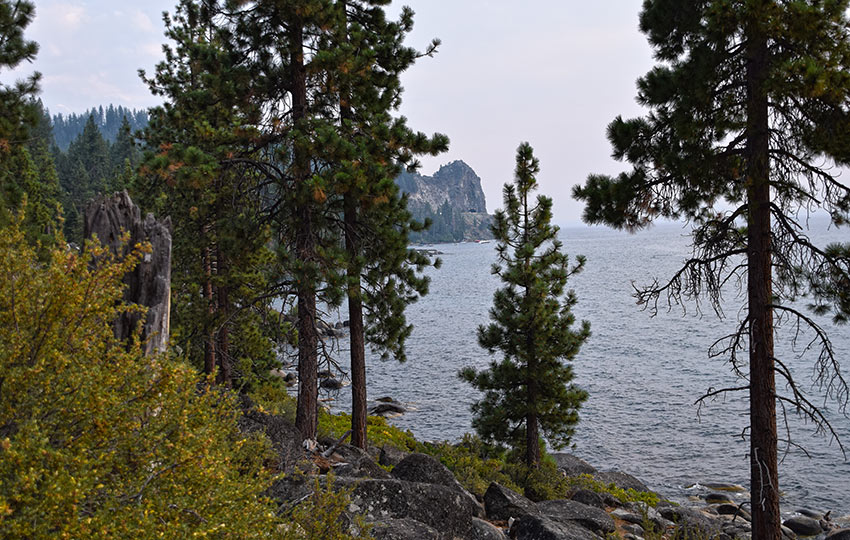 I apologize for stating the obvious, but be careful when hiking down the 175 feet from the rest area. The trail is steep, and there are numerous rocks often covered with sand that you'll have to negotiate.
Many people take for granted walking across this kind of stuff. But sand on granite is a recipe for a nasty slip and fall. So, just be really mindful of where you step when hiking down to the trail.
---
For other shorter hiking options, visit Short and Easy Hikes in South Lake Tahoe.
---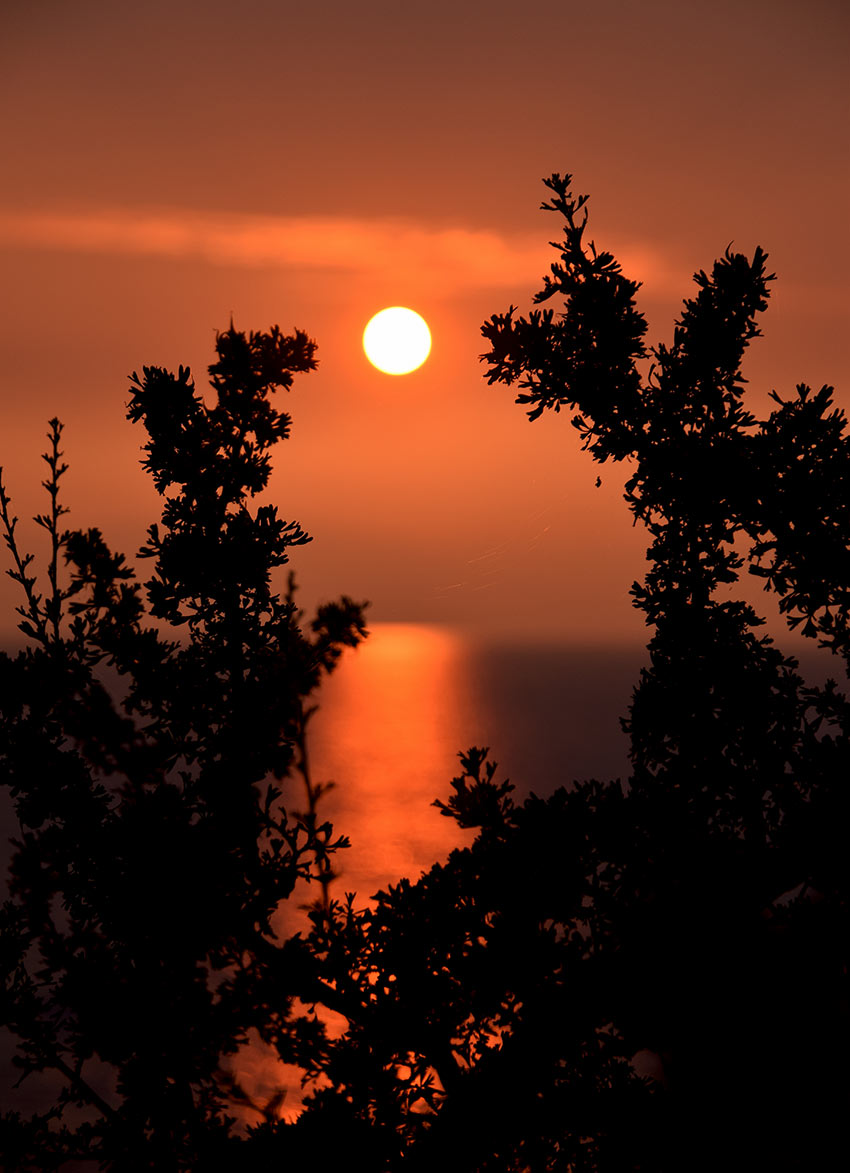 For the curious … according to the book Tahoe Place Names: The Origin and History of Names in the Lake Tahoe Basin, Logan Shoals was named after Robert Logan. He and a partner had owned and operated a short-lived but successful hostelry in the 1860s in nearby Glenbrook.
A "shoal," if you're unfamiliar, has many variations to its meaning. However, as a general oceanography term it's thought of as a type of sandbar that ultimately poses a threat to watercraft.
---
Do you have other insight, feedback, or trail updates about hiking Logan Shoals Vista Point?
If so, please post it in the comment section below for the benefit of everybody 🙂
---