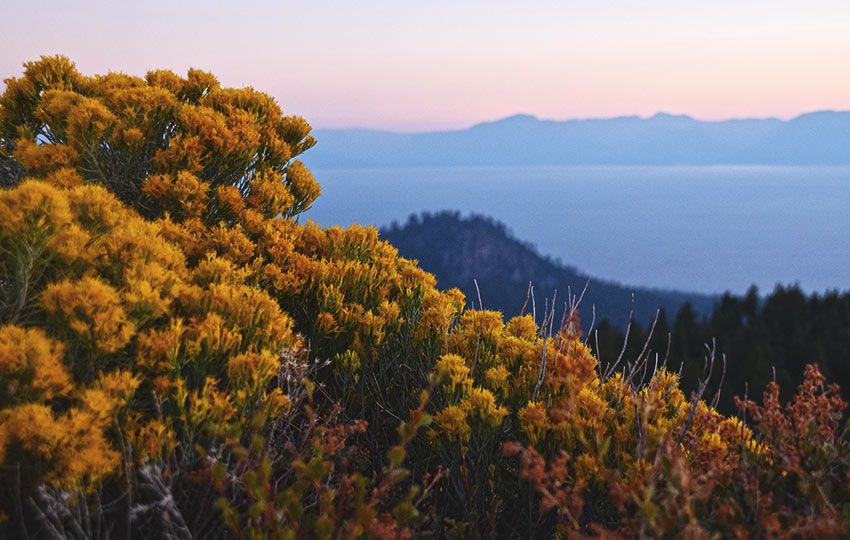 You'll be hard-pressed to find the trail to Captain Pomin Rock on any maps of Lake Tahoe. It's not that the location is inaccessible or covers difficult terrain, it's simply not that popular of a hiking trail. That said, hiking to Captain Pomin Rock is totally worth the relatively minimal effort required to reach it.
The trail is technically not even three total miles (out-and-back) and, although you'll have to negotiate around 650 feet of elevation in that mile and a half (one-way) hike to the rock, even that's easily accomplished by anyone with an athletic bone in their body.
The reason I say the hike is worth your effort is because the parking is free and easy, and once you scramble up to the summit of Captain Pomin Rock, you'll be rewarded with commanding, panoramic views of Lake Tahoe.
---
Support Tahoe Trail Guide with a financial contribution via PayPal (single contribution) or Patreon (reoccurring contributions). Your support of Tahoe Trail Guide is very much appreciated!

Become a Patron!
---
Captain Pomin Rock Trail Data (approximations):
Location: East Tahoe – Spooner Summit
Category of Hike: Day Hike
Total Mileage: 3 miles
Total Elevation Gain: 650 feet
Highest Point: 7,538 feet (Captain Pomin Rock)
Trail Conditions: Packed dirt and a rock scramble
Considerations for Captain Pomin Rock Hiking Trail:
There are no signs for the trailhead to Captain Pomin Rock, so you'll just have to find the worn footpath that begins on the side of the parking area
Use caution when scrambling to the top of Captain Pomin Rock as you'll have to negotiate a lot of dirt and sand on top of solid granite (i.e. slipping hazards)
Be alert and aware for bear and mountain lion activity as it has become more common in recent years on and around Spooner Summit
Adhere to all Leave No Trace principles
There are few trail signs and markers on public lands in the Tahoe region, so unless there are tracks to follow, the correct route may be difficult to identify–when in doubt, turn back
Be prepared for inclement weather and carry plenty of warm clothes, food, and water
Leave an itinerary of your plans with someone who'll call emergency services if you don't return by your prescribed time
Dogs are allowed, but keep them on leash and pick up after them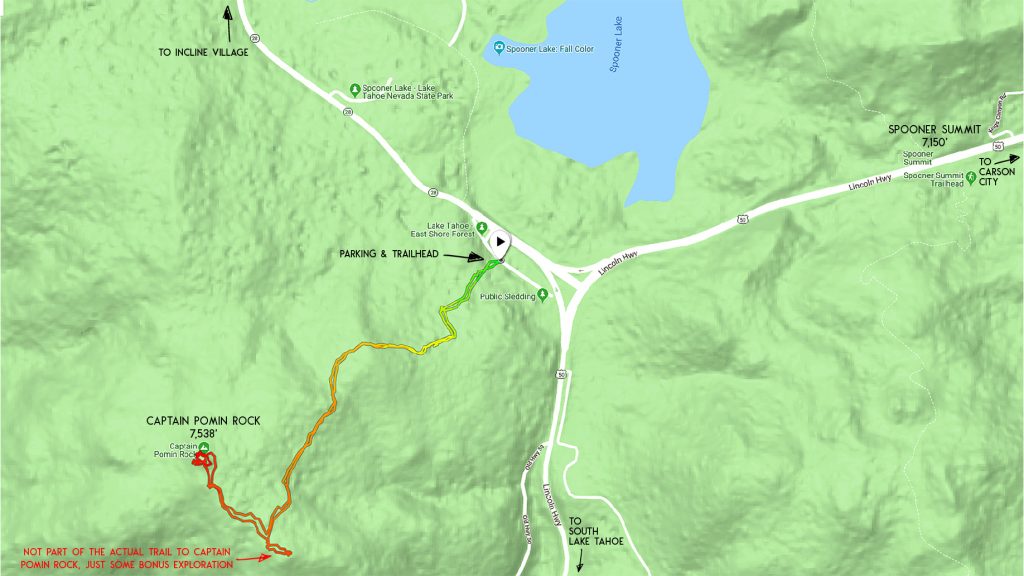 Parking Directions for Captain Pomin Rock Hiking Trail:
Parking for access to the trail to Captain Pomin Rock is located near Spooner Summit, roughly at the junction between NV 28 and HWY 50.
There is a small parking area (that looks like a frontage road) on the southwest corner of the intersection (just north of HWY 50 on NV 28) that you can park at.
Pull into the paved area from NV 28 and park anywhere along the small road.
The trailhead to Captain Pomin Rock is about 250 feet south from the t-intersection of the parking area.
Please note that this paved area is a multi-use location. It functions as the Spooner Summit Watercraft Station in the summer, as well as an aid station location for both of Bike the West's bicycle rides around Lake Tahoe (America's Most Beautiful Bike Ride and Tour de Tahoe).
I also imagine heavy equipment gets staged at this location for use during road construction season.
In the winter, people park here and sled down various aspects of the hillside adjacent to the parking area.
With all of this said, understand that this area may be off limits during various times of the year. If you find yourself in this situation, go hike to South Camp Peak or around Spooner Lake instead.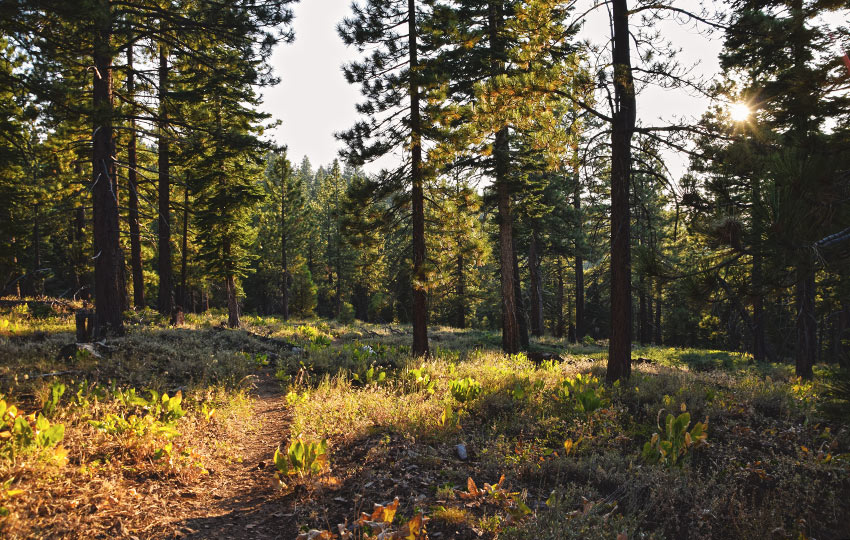 Here's a map to help you find the parking and trailhead for the trail to Captain Pomin Rock, although the locator pin is technically pointed at the Watercraft Inspection site.
Travel along Captain Pomin Rock Hiking Trail:
The trailhead to Captain Pomin Rock is an unmarked footpath that leads directly uphill from the parking area. This footpath begins about 250 feet south from the small t-intersection in the parking area. See the map at the beginning of this article for an illustration if this description seems confusing.
Begin hiking uphill along the footpath. In about a tenth of a mile up the trail you'll encounter another footpath that runs mostly perpendicular to the trail you're currently on.
Continue hiking straight along the same trail you set out on. Off to the right probably intersects with the small dirt road (that you'll eventually hike along for a short distance).
I don't know where the trail that leads to the left goes, but I suspect it just winds its way back down to the parking area.
Continue hiking straight along the trail for a couple hundred more meters. At which point you'll reach a large rock outcropping with various rock climbing bolts set in the granite walls.
Stick to the right of the outcropping and find your way to the dirt road just beyond the rocks.
Take a left (south) on the dirt road and follow it for a few hundred more meters.
You should see another footpath that leads off to the right (westerly direction). Follow this footpath through the forest and stick to it for the remaining distance to Captain Pomin Rock.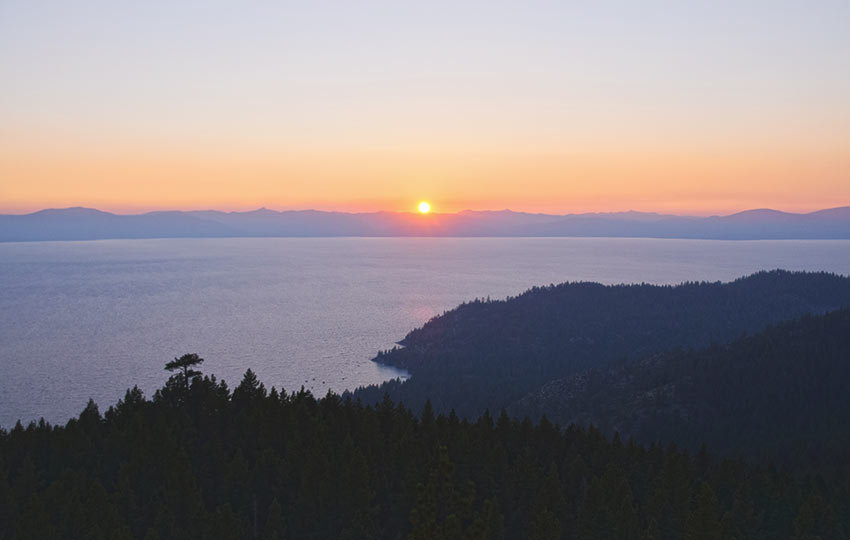 Once you reach Captain Pomin Rock (you'll know you've reached it because it's a massive outcropping of granite), hike around to its backside and find the path that leads to its top. Be very careful when climbing up this rock as there are a bunch of tripping hazards and lots of sand covering stone, which creates slipping hazards.
For those reasons, I would keep a really close eye on your young kids and less-than-sure-footed friends.
---
Do you have other insight, feedback, or trail updates about hiking Captain Pomin Rock?
If so, please post it in the comment section below for the benefit of everybody 🙂
---