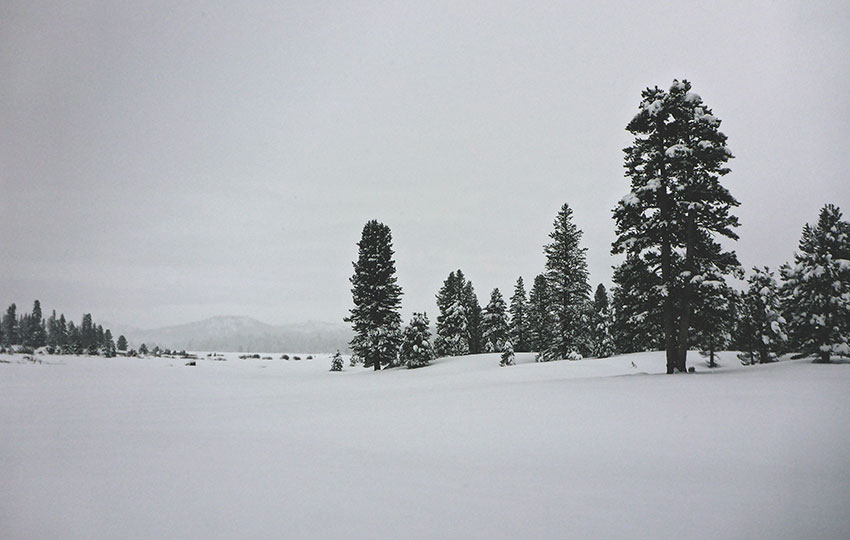 Cross-country skiing and Hope Valley go together like peanut butter and jelly. Although it can take some time for snow to accumulate in Hope Valley, you'd be hard-pressed to find a better location in the mountains where the terrain is flat for so many miles yet high enough in elevation to actually receive snow. The distance and flatness is sure to please every cross-country skier ranging from novice to expert. In addition to flat terrain and an easy solution to parking (thanks to the large Hope Valley Sno-Park, but be sure to arrive with your Sno-Park permit), you'll be treated to stunning views of Freel Peak, Thompson Peak, Waterhouse Peak, Stevens Peak, Red Lake Peak, Round Top, Markleeville Peak, Hawkins Peak, and Pickett Peak.
Please note that there are numerous areas in Hope Valley to cross-country ski and snowshoe, but this article specifically addresses locations accessible from the Hope Valley Sno-Park at Blue Lakes Road.
Trail Data (approximations):
Location: South Tahoe – Hope Valley – Hope Valley Sno-Park (Blue Lakes Road)
Category of Route: Beginner
Total Mileage: 1-10+ miles (depending on number of laps around meadow or distance you travel up Blue Lakes Road)
Total Elevation Gain: 50 feet to 500+ feet (depending on distance you travel up Blue Lakes Road)
Highest Point: 7,100 feet at Hope Valley Sno-Park
Trail Condition: Flat to gradually uphill (via Blue Lakes Road)
Considerations:
Before arriving at the Hope Valley Sno-Park purchase a Sno-Park permit online or in Meyers or South Lake Tahoe (permits not sold at the park) in order to avoid receiving a $94.50 ticket
The Hope Valley Sno-Park is nearly all flat, so it doesn't have any good areas in which to sled
Be aware that water features, such as Maxwell Creek and the West Fork of the Carson River, run through the meadow near the Sno-Park – travel near them with caution
The Hope Valley Sno-Park is a favorite location for snowmobilers as well, so always be aware of your surroundings and keep an eye out for them – they will slow down for you, but you need to also take responsibility for your own safety when they're present
Adhere to all Leave No Trace principles
There are few trail signs and markers on public lands in the Tahoe region, so unless there are tracks to follow, the correct route may be difficult to identify–when in doubt, turn back
Be prepared for inclement weather and carry plenty of warm clothes, food, and water
Leave an itinerary of your plans with someone who'll call emergency services if you don't return by your prescribed time
Dogs are allowed, but keep them on leash and pick up after them
Parking:
Parking (i.e. access) is one of the top reasons I enjoy cross-country skiing out of the Hope Valley Sno-Park. The parking area provides a no-hassle (thanks to the abundance of parking options available) access point that's located in the center of Hope Valley.
From the intersection of HWY 50 and SR 89 in Meyers, CA, (west side of South Lake Tahoe) drive south along SR 89. Drive up and over Luther Pass, and then descend into Hope Valley. At the end of this 13-mile stretch of road, you'll reach the intersection of State Routes 89/88 (aka Pickett's Junction). At this t-intersection, travel west 2.5 more miles on SR 88 in order to reach Blue Lakes Road. The Hope Valley Sno-Park is located at the north end of Blue Lakes Road.
The larger and most commonly used parking lot is closest to SR 88. There is a smaller loop lot just south of the bigger parking lot, but often it's reserved for snow removal equipment. Therefore, I recommend parking either in the big lot or along the short section of Blue Lakes Road that connects the two lots. There are pit toilets at both lots.
For cross-country skiing and snowshoeing in the meadow east of Blue Lakes Road and the Sno-Park,access is wherever is most convenient for you. There's no actual trailhead or entry point, just go out onto the snow.
For cross-country skiing and snowshoeing up Blue Lakes Road, just continue following the road past the gate on the south end of the Sno-Park (near the second parking lot).
Here's a map to showing the parking area for the Hope Valley Sno-Park (north end of Blue Lakes Road). Please note that although the locator pin on this map indicates the Hope Valley Resort Campground, it's actually for the Sno-Park.
Travel:
Begin your cross-country skiing and snowshoeing adventures from the center of Hope Valley at the Hope Valley Sno-Park on Blue Lakes Road.
Most appealing and obvious for people cross-country skiing or snowshoeing from the Hope Valley Sno-Park is to simply travel into the meadow on the east side of Blue Lakes Road. The meadow is huge and provides miles of area in which to travel. Depending on snow conditions I will either ski a large loop, a figure eight-shaped pattern (as shown on Map #1), or some modified version thereof. I'll either break my own trail, follow in the footsteps (or ski tracks) of those who've come before, or ski along snowmobile tracks. I generally like to head north out of the Sno-Park and toward the open forest that runs along SR 88, and then follow the West Fork of the Carson River south. Some people like to head directly to the river and then travel along its bank in either direction. Essentially, the terrain is flat and the options are endless.
There are two main factors that dictate my route around the meadow.
The first and obvious is the amount of snow coverage in the area. Whether I'm cross-country skiing or snowshoeing, I'm always concerned about ruining my gear by dragging it over rocks, shrubs, and other debris that can be hidden under a shallow layer of snow. However, more important is my own safety because there are water features that run through Hope Valley. The biggest feature is the West Fork of the Carson River, which runs directly through the meadow. However, I'm not as concerned about it as I am of the smaller tributaries that empty into it. The Carson River is so large and obvious that you can easily avoid getting too close to it, but those small tributaries, such as Maxwell Creek, that drain into the West Fork of the Carson River can easily be hidden by a lesser amount of snow. The reason they're problematic and hazardous is because you can wind up soaking your feet/legs if you punch through the snow into the water. Less hazardous but still problematic is if you get your gear wet because once your cross-country skis, for example, touch water snow is probably going to freeze to those spots and decrease your ability to effectively glide. My advice is to keep an eye out for large depressions in the snow, particularly if trees or shrubs line the depression, and go around them.
The second main factor that helps me choose a route through the meadow is based on the number of snowmobiles operating in the area. The Hope Valley Sno-Park is a favorite access point for snowmobilers, and many travel in groups of two or more as a safety measure. So the location can be a bit congested at times. That said, most of the snowmobilers usually just perform a couple of quick loops (if any at all) around the meadow and then head south up Blue Lakes Road. If there are a lot of snowmobilers present, I usually start off by traveling in a clockwise loop around the meadow (and skiing relatively parallel to SR 88) until everyone clears out. Also it's a good policy to be aware of your surroundings and keep your eyes on the horizon (looking for snowmobilers) as you travel through the widest and most open areas of the meadow. The meadow is slightly undulating so there will be times that your head will be just at or below the horizon line as viewed by someone in the distance. For obvious reasons, you don't want to be hanging out in these lower spots when you hear snowmobiles approaching.
The route for cross-country skiing or snowshoeing up Blue Lakes Road is straightforward. Just follow the road as far south (and up!) as you want and then back. Blues Lakes Road goes on for miles, and it does feel like it's mostly uphill as you journey further south. However, the pitch is never really that steep so it's not going to be all downhill on the return trip. I always forget this.
On my second cross-country ski session of the 2018/19 winter I wound up skiing five miles up the road thinking that it would be a sweet ride down. The snow was falling, the scenery breathtaking, and there had been only one snowmobiler that had traveled up the road earlier that day (i.e. I had the place to myself and fresh tracks to ski). I was in heaven. But when it was time to turn around I quickly remembered that it would be nearly as much work to get back to my Jeep as it had been leaving it. Needless to say, I was exhausted by the time I returned to the parking lot. Mostly this was due to the fact that it was only my second day on skis that season (but the conditions were so perfect I couldn't stop skiing!).
The obvious concern for cross-country skiing or snowshoeing up and down Blue Lakes Road is the snowmobile factor. In prime winter conditions the road is as idyllic as they come, lined by trees, granite boulders, and creeks. The road also features a short section of private property, so stay out where signs are posted. The point I'm trying to make is that the road is a relatively narrow and finite space, so you have to pay attention to traffic, mostly snowmobiles, approaching from either direction. They'll slow down for you, but that's based on them actually seeing you. This doesn't mean that you should travel directly down the center of the road.Rather, it just means to be visible, cautious and alert around bends in the road, and to stay out of harm's way (i.e. stick to the right always) as much as possible.